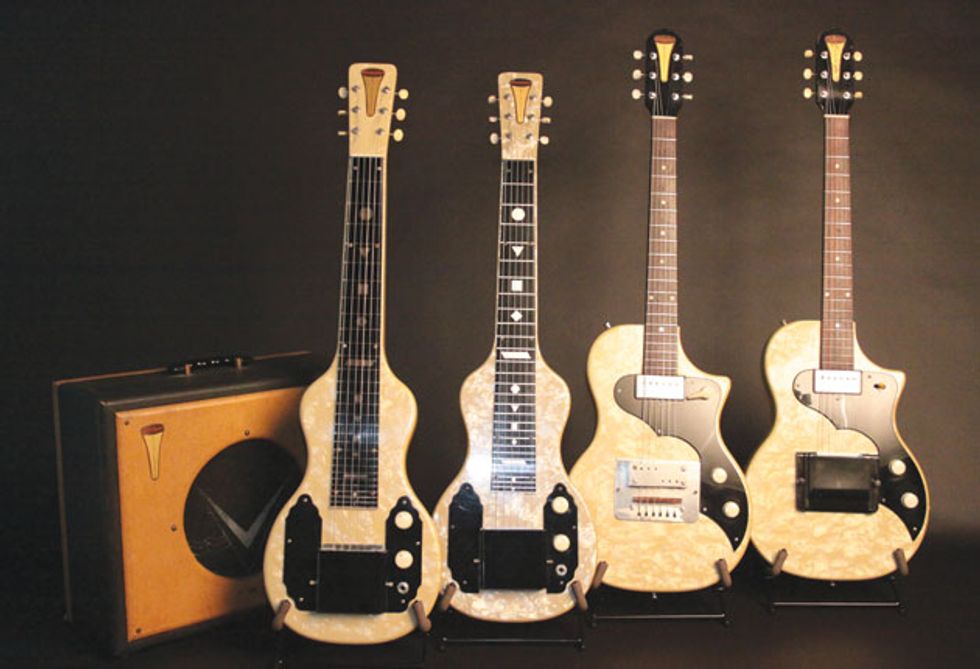 "Norman English was a lap steel player who ran a music studio in Lansing, Michigan. He had a good relationship with Valco and was able to order custom instruments directly from them. English Electronics' Tonemaster brand offered several sought after lap steels, Res-O-Glas guitars and amps," Ivankovich says of these Tonemasters. The lap steels have a 25-inch scale and Valco's legendary string-through pickups. Ry Cooder's Coodercaster guitar is based on the Valco string-through-bridge pickup and single-coil neck configuration. Photo by Chris McMahon.
To those outside the manufacturing industry, these business relationships may seem counterintuitive. But to those in the industry, it's business as usual.
"Our sports-focused nation may imagine a competition between companies," says Zinky. "But these companies were just trying to sell a few more units. Collaboration between factories was all good, because everyone got paid. When you have machinery that breaks down, or one factory with an overstock of necks, you do what you must to alleviate the problem. When you have a big contract or order you can't fill, you do what you must to fill it."
Despite this genius for adaptability, Valco went out of business in 1968, a year after merging with Kay. America's guitar lust had waned, the economy slowed, and cheaper imports flooded the market.
"The industry just keeps chasing the cheapest source," says Mike Robinson, president of Eastwood Guitars Inc., which now owns Airline and other vintage guitar brands and sells their replicas. "It wasn't that different in the '60s. But now you see less of the exact same models with the exact same parts, only with different brands. The only exceptions are the very least expensive Fender and Gibson copies, because those are such generic designs."
Though mass produced and frequently dismissed, these department store guitars are different from most guitars built now, in that they were built in the United States by people who were more likely to play them than, say, a factory worker in Korea or Indonesia. And many of them were, and remain, genuinely fine instruments that are increasingly sought after by collectors such as Ivankovich.
"The late-'50s guitars had a neck shape that was easy to play with small hands, but felt substantial, even if you had big hands," notes Zinky. "The pickups always sounded musical. And then there were the amps. Every Supro amp from the '30s through the '50s sounds like a good rock record when you turn it all the way up—except for the ones that sound like fantastic rock records. I don't believe that can be said for any other brand."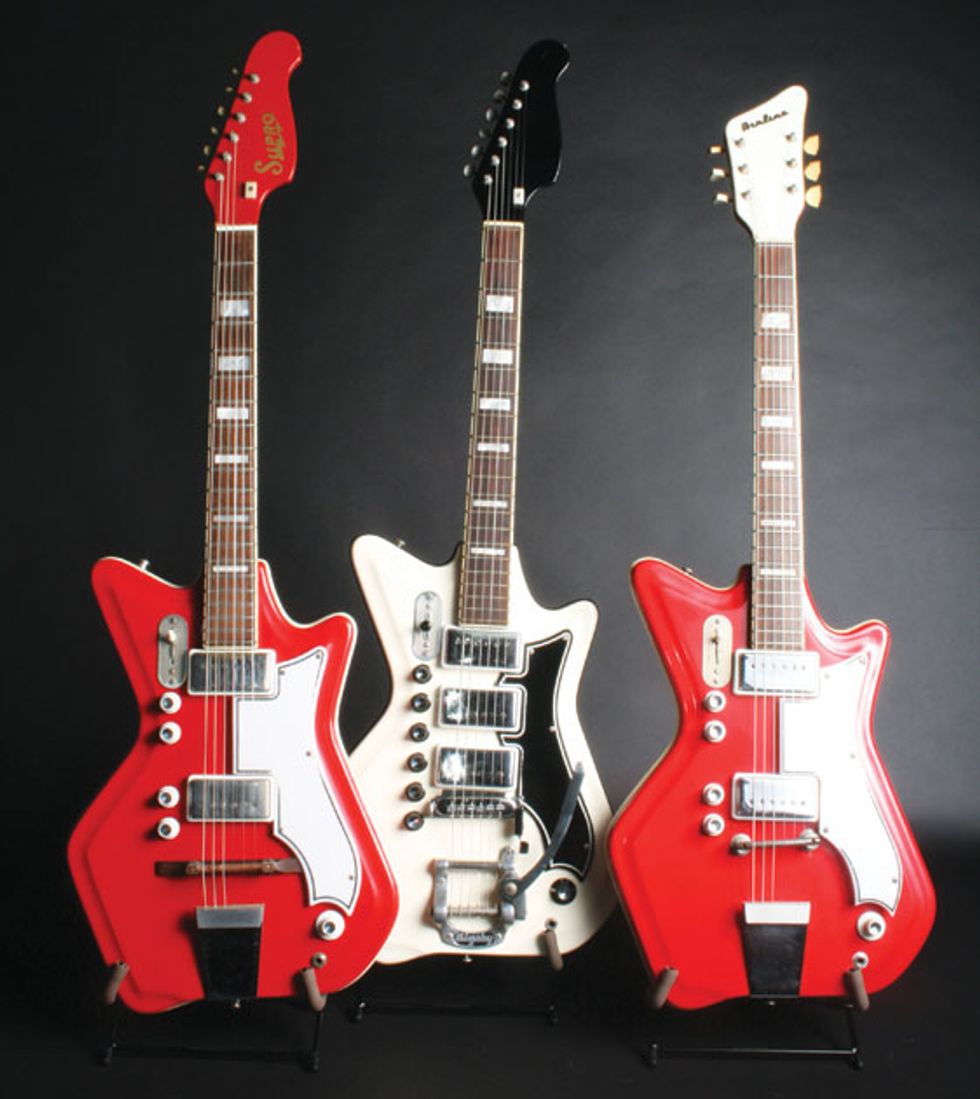 "J.B. Hutto was never an official endorsee, but he's often associated with a red Supro or Airline Res-O-Glas guitar," Ivankovich says. "Hutto featured one on the cover of his Hawk Squat and Slidewinder albums. Jimmy Reed used many different Valco guitars and often played the J.B. Hutto model in the studio and live. Jack White re-invigorated the model when the White Stripes made their debut using the Montgomery Ward Airline Res-O-Glas guitar. White's visibility has made this model the most collectible of all Airline guitars. Though not as high profile due to its rarity, the Airline Professional was gorgeous and, with its 3-pickup versatility, allowed players to shape almost any tone."
Photo by Chris McMahon.
The Department Store Guitar Revival
Nowadays the Kay, Supro, National, and Silvertone brands are enjoying renewed popularity. Replicas of these distinctive guitars are common, and bands such as the Black Keys, Grizzly Bear, the National, and the White Stripes and using these instruments (and their reproductions) to create something simultaneously new, gritty, and authentic.
"Every time someone hits with one of these time machines, it makes everything that's old new again," says Ivankovich. "That's what's so cool about Jack White and the Black Keys discovering the Harmony and Airline stuff. It's the same mentality that drove the blues guys: The other stuff is too expensive! Who the hell can pay $10,000 for a Les Paul? Go get an Airline, a van, and trailer."