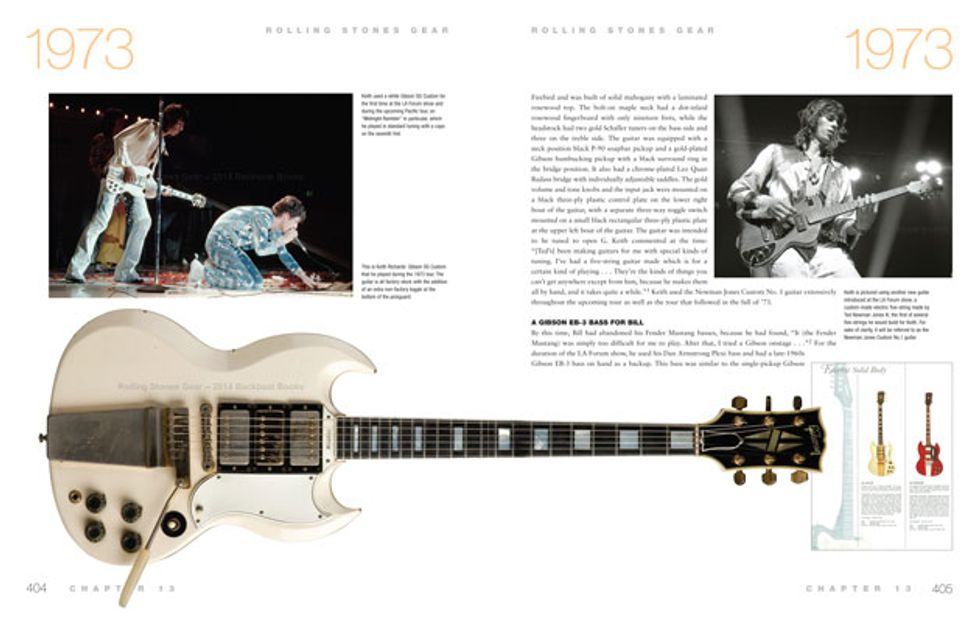 Two new electric guitars added to Richards' collection at this time were used as well, the first being a white Gibson SG Custom. A 24 3/4"-scale, all-mahogany guitar, it had a set neck with a bound ebony fretboard and pearl block inlays, a triple-bound headstock, diamond peghead inlay, and an inlaid Gibson logo. It came with gold-plated hardware and was equipped with three "Patent Number" humbucking pickups, two volume and two tone knobs, a white pickguard, a 3-way toggle switch, a Tune-o-matic bridge, and a Maestro Vibrola with a lyre and logo on the coverplate.
The SG Custom was also rewired with an additional non-factory toggle switch mounted to the pickguard. Richards used this SG at the L.A. Forum show and during the subsequent tour, particularly on "Midnight Rambler," which he played in standard tuning with a capo on the 7th fret. The guitar disappeared from his arsenal soon thereafter and now resides at a Hard Rock Cafe in Florida, which acquired it from Marshall Chess.
The second new guitar was a custom electric 5-string made by Ted Newman Jones III, the first of several 5-strings he would construct for Richards. Built of solid mahogany with a laminated rosewood top, the guitar resembled a smaller "non-reverse" Firebird. The bolt-on maple neck had a dot-inlaid rosewood fretboard with only 19 frets, while the headstock had two gold Schaller tuners on the bass side and three on the treble side. The guitar was equipped with a black neck-position P-90 and a gold-plated bridge-position Gibson humbucker with a black surround ring. It also had a chrome-plated Leo Quan Badass bridge with individually adjustable saddles.
From the Author:
One of the unique features is an additional toggle switch on the pickguard. It has something to do with the third pickup. The guitar has been modded quite a bit and now is a part of the Hard Rock collection. Keith gave it to one of the Chess brothers, who was working for the Stones at the time for their new record label. It's a cool guitar that he used only for a brief time in 1973: the L.A. Forum benefit show and the Pacific tour. Soon after that tour, Keith gave the guitar away.