In the previous installment of Beyond Blues, we explored the rhythm guitar techniques of the incredible Danny Gatton. As promised (or perhaps as threatened), we're back again to investigate some of his crazy lead guitar style.
To create his unique sound, Gatton incorporated influences from many different genres. If you did any research into his vast discography last month, you'll have noticed a dramatic change in sound from the country twang of his Redneck Jazz Explosion to the more straight-ahead jazz on New York Stories, to the rockabilly edge on Cruisin' Deuces, or the more blues-based playing on Relentless. There's no denying that all these years later, no one has truly mastered his style. The best we can hope for is to get our heads around a few of his ideas to bring an edge to our own music.
Our first solo (Fig. 1) consists of four basic licks played over a blues in G, each using different ideas. This doesn't function as a well-balanced solo, it's more of a "kitchen sink" approach, and Gatton would be more likely to take each of these ideas and develop them over a whole chorus.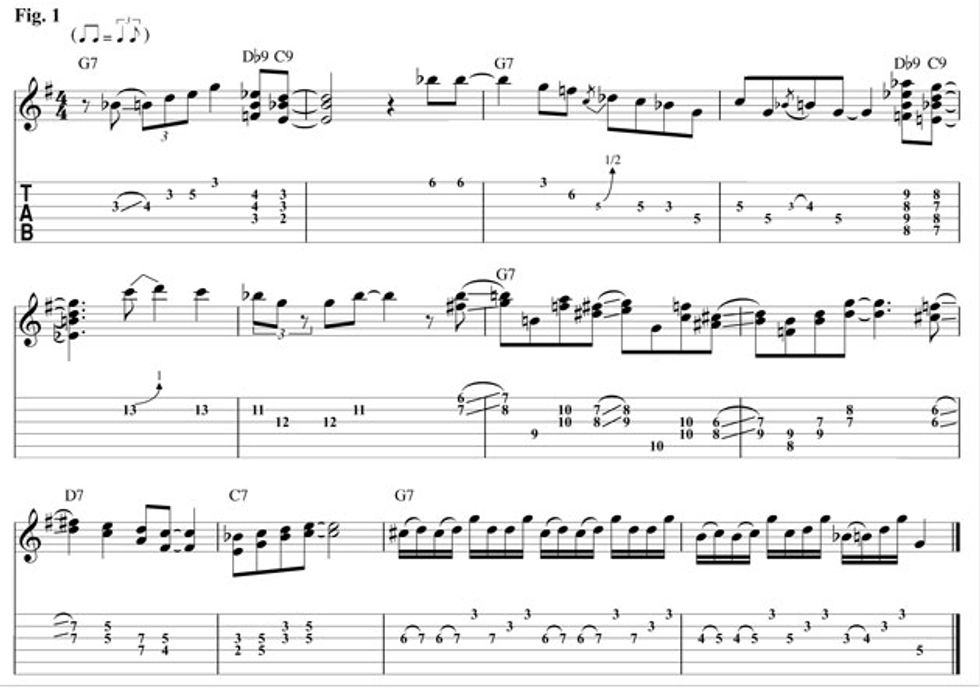 The first four measures feature a blend of country-blues phrasing and chord punches to outline the quick change to the IV chord (C7) in the second measure. The descending blues-scale phrase in the third measure is typical of this laid-back blues playing.
The next phrase takes place over the IV chord and is a fantastic idea, even if it's a little difficult to execute. In the audio example, you'll hear me do a swell with the tone knob, which creates a wah-like effect—almost like the note is crying. This is extremely tricky to do, perhaps even more on a Telecaster! To pull this off, practice reaching back with your pinky and picking closer to the bridge.
A country influence pops up next where we outline G7, D7, and C7 with double-stops. This may present itself as a bit of a finger twister, but take your time with it and try using it in each of the five CAGED positions I discussed in a previous lesson [http://www.premierguitar.com/articles/Beyond_Blues_Understanding_CAGED_and_the_V_Chord]. If you want to see how far one can take this technique, check out the mind-melting Scotty Anderson, who would play similar ideas at twice this speed while shifting all over the fretboard!
Our final lick in this solo is one of Gatton's devastating banjo rolls, in which he'd pluck the strings using a combination of flatpick and fingers. These hybrid-picking passages take time to get up to speed. Follow the picking pattern of flatpick–flatpick–middle–flatpick–middle–ring and build up from a slow tempo to something more challenging over a period of time. When playing these, Gatton would approach 200 bpm, so they're not for those who scare easily.