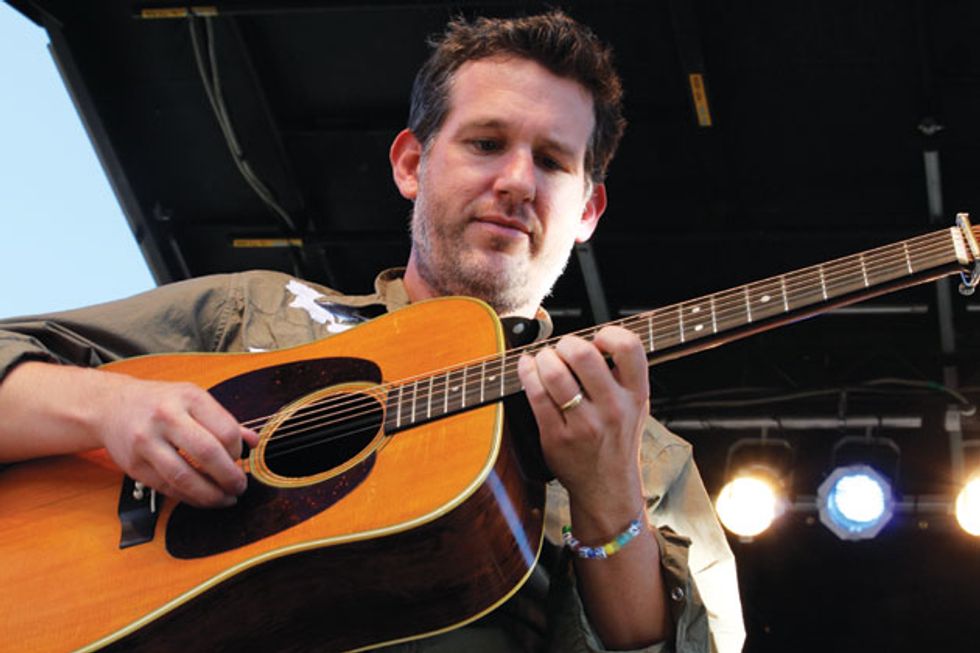 In the hills of Western North Carolina bluegrass music is a religion. A religion that is adhered to by legions of musicians who want to gracefully walk the border between gospel, country, blues, and soul. Guitarist Bryan Sutton grew up in the heart of this culturally rich region surrounded by a musically inclined family—a perfect storm for developing his virtuosic skills.
After moving to Nashville, Sutton landed a gig as a utility man in Ricky Skaggs' band, Kentucky Thunder. "I played fiddle, banjo, mandolin, and sang harmony parts with a little rhythm guitar," remembers Sutton. "It was a lottery hit kind of thing for me, really. I was just in the right place at the right time." Soon, word of Sutton's blisteringly fast runs and propulsive rhythm playing spread through bluegrass circles. In 1999, Sutton left Kentucky Thunder and started his solo career with 2000's Ready to Go. Since then, he's released three solo albums and won the IBMA award for Guitar Player of the Year a staggering six times–all while keeping an active career as a session musician, recording with everyone from Dolly Parton and Taylor Swift to Harry Connick Jr. and Diana Krall.
With his latest album, Into My Own, Sutton steps out of the shadows of Tony Rice and Doc Watson to create a singular musical vision, which, according to Sutton, was the goal. "This album was birthed out of this idea of trying to take steps as a musician—a total musician not just a guitar player—and to think about what I do as a stand-alone entity versus being someone's guitar player."
I've always been drawn to Mark Knopfler and how he integrates traditional sounds with his modern, more rock thing.

The quest to become more than just a guitar player meant Sutton had to raise the bar when it came to his singing and writing. "I've never made a record of stuff that I feel I could put onstage under my own name and have it, at least to me, feel like I could deliver that with any kind of confidence."
That confidence permeates every note of In My Own. Everything from old-style clawhammer banjo ("Been All Around This World") to the fast, flatpicked fiddle tunes his fans know and love are presented with admirable authenticity and a respect for the giants who came before him. PG caught up with Sutton to discuss his minimalist approach to recording, tracking with Bill Frisell, and becoming a self-sufficient artist.
You've really made a name as a first-call sideman. Once you became comfortable in that role, was it easy to lose sight of your personal musical vision?
I've always tried to keep that in mind and I do feel like there are things I do better when I'm just backing up a great vocalist. Over the last several years I've tried to avoid getting caught in this scene where I have to have some other person or entity with me, where I'm like you said, locked into the sideman role. I don't want to wake up in 20 years and wish that I had done it. Sometimes I hear where musicians try to do certain things and I would rather hear them play behind some singer, and maybe that's going to end up my case too, but I really want to try to recognize that pitfall and take steps to avoid it.
Are there specific artists that you feel you want to pattern your career after?
I would say more self-sufficient artists like Darrell Scott, Tim O' Brien, and Doc Watson. I see a power in it that I'm intrigued by and I want to explore this myself. It's about being aware that it's possible just to be a sideman—and there's nothing wrong with that, and I still want that to be a part of my scene—but I feel this is in me. There's a yearning to find a little more of this for myself. At least now I know I've tried it.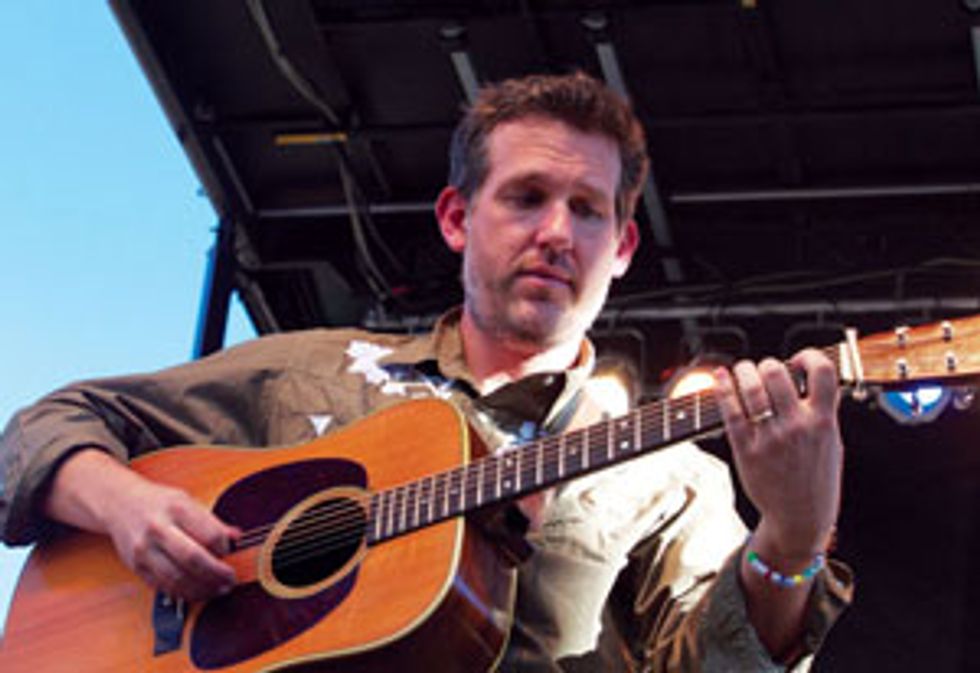 Where does composition come into the picture for you? Is it hard to make time for that?
It's easy for me to get bogged down in the mass of everything that's going on between sessions, as a player or producer, tours, or the teaching that I'm doing. I've learned to set some time aside or be aware of when it's like, "Okay, there's a good energy right now and I've got this idea." Basically, just offering more time to that.
Sometimes, even on planes, I'll have ideas for lyrics and I'll just try to sit there and imagine it while I'm in a seat for two hours. Or, if I'm home with a guitar, just knowing that I have a couple hours here to myself. Just use those moments. It's about finding little open times where I feel I can push something along. On my iPad I've got a constant churn of notes—unfinished things. I like knowing there's always something on the workbench.
With so many different projects at any one time, how do you fit in live shows?
When I'm out playing, there are things I'm associated with where my name is a little more part of the draw. It's less of a gig where I just happen to be there. I've tried to steer towards things that offer me an opportunity to play some of my original music. The Hot Rize band is a unique blend where it's a band under a singular name, but I'm not really a sideman in that, I'm one of the four. The collective artistry of that band has a good energy.
When I do dates with Noam Pikelny, it's equal billing, essentially. The other thing I'm doing is a trio with David Holt and T. Michael Coleman. It's more or less a Doc Watson tribute with that kind of music and spirit. But again, it's more like a band or collective.
As far as session work goes, it continues to separate itself as just what I do when I'm in Nashville. A lot of the records I'm playing on you probably wouldn't be able to tell if it was me or not. I guess that's why I love to play live dates where it really matters, at least to me, that it's me up there playing. I'm putting real specific, artistic energy into something where I don't necessarily do that as a Nashville session player working on some Top 40 country song.
On this album you cover everything from solo guitar to a bluegrass quintet. Which format do you feel most comfortable in?
That's a good question. I'm thinking about that because I'm trying to figure out what to do when I go out to play shows under my own name. Tim O'Brien has always been a great career model for me because he can make any of that work. I'm such a scattered kind of guy with this and I really love the variety, but if I had to peg it, I think a solid four-piece with bass, mandolin, fiddle, and me would be really fun. There are things with a trio that are just second to none but there's this power with a larger ensemble. All I can do is try to make a record that covers all that. If I had to put a band together to tour for this record specifically, it would probably be in the line of a bluegrass setup.
When you think of that larger bluegrass sound, what names come to mind?
I've always been drawn to the sound of Béla Fleck and Tony Rice or Sam Bush and Jerry Douglas. Those guys playing together create such a huge wall of greatness, you know. When I'm onstage and feeling that five- or six-piece bluegrass sound, it's about as close as a guy like me would get to a big rock show. It's that kind of power. It's a little harder to bring that kind of bigness and energy to a trio.