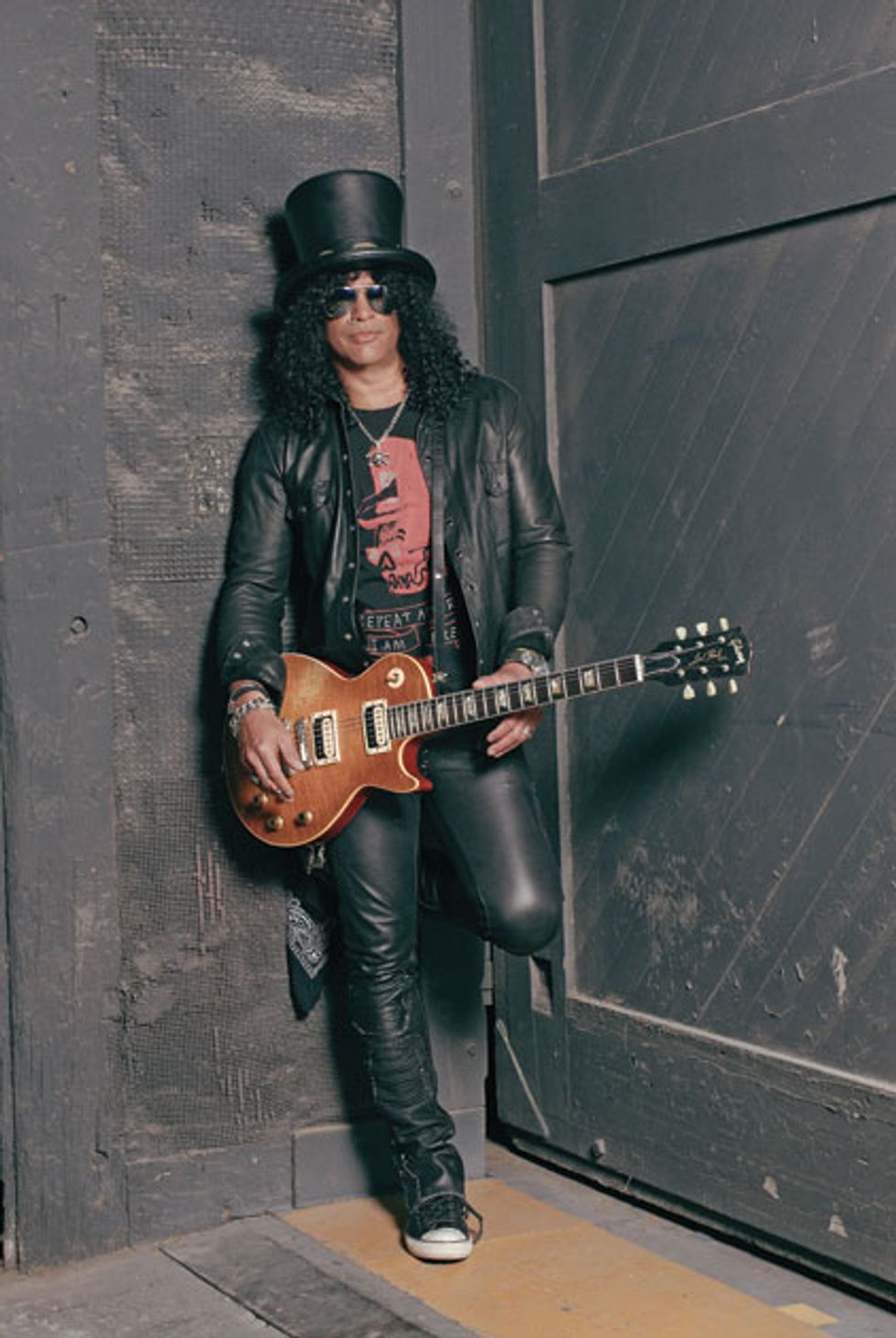 "Anybody who had a personality in rock-style guitar playing—that's what really turned me on and that's the direction I went," says Slash. "I never faltered from that, that's why I never became Randy Rhoads or any of those guys, especially in the '80s." Photo by William Hames / Atlas Icons.
It was 27 years ago when Guns N' Roses' Appetite for Destruction hit the scene and a young Saul Hudson, soon to be known simply as Slash, relit the Les Paul fire during a time that other guitarists were wielding super strats and wearing spandex. Today Slash remains as popular as any guitarist (living … or maybe ever) and is one of the few who emerged from the '80s unscathed by the musical canon of that era: glitz, glamour, and glorified shred. While many of his peers have disappeared in the rearview mirror, Slash is still making relevant rock three decades later.
When GNR disbanded in the mid '90s, the top-hatted, transplanted Englishman with a mop of curls and a side-mouth smoke went on his own with Slash's Snakepit. Then in 2002 he formed the supergroup Velvet Revolver with ex-GNR bassist Duff McKagan and drummer Matt Sorum, guitarist Dave Kushner, and vocalist Scott Weiland. Slash's larger-than-life guitar talent and the music he made with GNR overshadows these later ventures, but he's been making music ever since and remains arguably the most career-successful ex-GNR member.
With his current band, the Conspirators—Myles Kennedy, Brent Fitz, Todd Kerns, and Frank Sidoris—it appears Slash has found something he's been looking for: a band that ignites together. "It almost sounds weird. Because you play around a lot, and you get known for playing with a lot of people," Slash says. "You throw some people together temporarily—that was the original premise—guys who I didn't know. And there was this amazing chemistry that happened, and when I tell people that, they're like 'yeah, yeah, yeah whatever.'"
"I don't like to noodle around in the studio—it does not fascinate me. Playing in a room as a band is first and foremost the only way to do any kind of proper rock 'n' roll recording."

This chemistry comes through on the group's new album, World on Fire. With its cohesive sound, this naturally flowing collection of 18 barnburners provides a foundation for Slash's extraterrestrial, high-flying tones and extensive soloing. It should come as no surprise that guitar plays a dominant role here: It has been at the forefront of Slash's life since he first heard Aerosmith's Rocks at age 14. How apt that Slash and his Conspirators just kicked off their release tour with Aerosmith.
When it comes to recording, the M.O. stays simple for Slash: commit live jamming to tape. Another crucial element was to collaborate with someone who knew guitar: Slash picked Michael "Elvis" Baskette to produce World on Fire because from the get-go, Baskette had the vocabulary to have a conversation about tone. "He was really, really passionate about guitar sounds, so that was it. I said, 'You're on!'"
Though World on Fire is the second effort from this lineup, Slash and the Conspirators are just getting started. "There's really sort of a thing happening with these guys that's developed over the last four years—it started with a spark and it's really settling into something."
How do you approach making rock 'n' roll? How do you keep it fresh, and how do you keep evolving?
That's really something that the listener has to come to a realization of. I can't say that I purposely set out to do this and this and this, so it's going to be modern. The approach I use is basically the same, I've altered it a few times over the years for certain situations, but I like to work quick. I don't like to noodle around in the studio—it does not fascinate me. Playing in a room as a band is first and foremost the only way to do any kind of proper rock 'n' roll recording. I've always found that playing live to tape has worked. I did a couple of Velvet Revolver records with Pro Tools, and the first one, which was a pretty popular record, has a tendency to sound very linear, which is what a lot of new rock bands sound like. There's no dynamics because people sit there and tweak everything to line up. And they don't realize it's taking the actual energy and humanity out of the recording. People who listen to it don't know what it is, but there's something they're not getting.
When we did that with Velvet Revolver it was 'cuz I sorta didn't know any better. I witnessed that happening in the middle of the night. I'd left the studio and then came back to get my keys or something and found the engineer just tweaking everything. I was like, "What are you doing?" That was the first time I witnessed this in real time. Since then, I've been like, "No, I don't want to do it that way." So I stick to just recording as a band.
On our first record, Apocalyptic Love, the band was really developing, so I just recorded completely live to tape, no overdubs or any of that stuff. It was cool and we achieved it, and I got to see how good the band really was. This time around, I went back to recording live and doing my guitar in the control room and making sure it sounded right. I find that's the best way to do it. If anything sounds fresh, it's mostly from not trying to be retro.