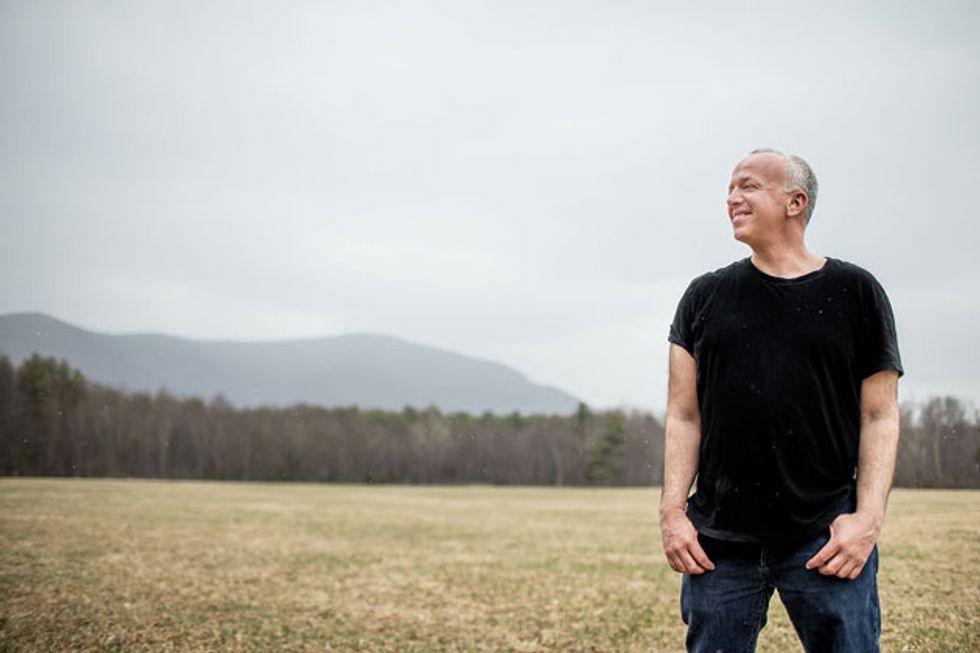 When writing his new album, Aaron Freeman (formerly known as Gene Ween) had a self-proclaimed "religious experience" with Dire Straits' "Sultans of Swing," which inspired his approach to recording "I Couldn't Play My Guitar Like a Man."
In the mid-1980s, the junior-high classmates Aaron Freeman and Mickey Melchiondo began making their eccentric home recordings together. The duo called itself Ween—a portmanteau of the words wuss and penis—and took the stage names Gene Ween (Freeman) and Dean Ween (Melchiondo). Ween's signature sound, relying on drum machines, strange guitars, and pitch-adjusted vocals, would be heard on a series of self-released cassettes in the late '80s, and on their first two albums, GodWeenSatan: The Oneness (Twin/Tone Records, 1989) and The Pod (Shimmy Disc, 1991).
On subsequent efforts Ween tinkered with its sound, hiring additional musicians for recording and touring, and even enlisting A-list Nashville musicians to record 12 Golden Country Greats (1996, which actually contained only 10 tracks). Throughout its career, though, the band's essence—its weirdness and its affinity for parody and satire—remained intact.
But the usual suspects, drugs and alcohol, had all along been taking their toll. In 2011, when performing in Vancouver, Gene Ween had what some fans described as an epic meltdown. Appearing erratic and unable to maintain a steady pulse on a tambourine, let alone tune his guitar, Gene was apparently abandoned by his bandmates, left to perform something resembling a solo set. What was next for the band was unclear.
The Vancouver incident turned out to be pivotal for Freeman. Not long after, he underwent treatment, and in 2012 he released the Marvelous Clouds, an uncharacteristically straight-faced solo album covering the music of 1960s singer/poet Rod McKuen. That same year he relinquished his stage name and disbanded Ween, acknowledging its good 25-year run.
In a recent return to form, Freeman put together the band Freeman, featuring guitarist Chris Boerner, bassist Brad Cook, keyboardist Dave Godowsky, and drummer Kyle Keegan. The band's new eponymous album (Partisan Records) is not the tribute to recovery that some might expect. "The last thing I wanted to do was write the quintessentially sober record, which I find is all about insecurity and wanting to preach," says Freeman. "Recovery isn't what defines you; it's something you do to survive. Artistically, I'm the same as I ever was."
We chatted with Freeman about that artistic process, his far-flung influences, and the straightforward setup he uses for all his guitar weirdness.
The new album's lead track, "(For A While) I Couldn't Play My Guitar Like a Man," has a curious title. How did it come about?
At one point when I was in recovery, I literally couldn't play guitar very much. My brain had been altered. It was kind of like when Jerry Garcia went into a diabetic coma for a few days and when he emerged had to relearn the guitar while he was laid up in the hospital. It takes a long time for the synapses to get back into alignment, and that's a very real thing in sobriety.
During the recovery process, I recorded a bunch of sketches and lyric ideas. Later when I listened back, I heard this little blurb, "I couldn't play guitar like a man," and I just started cracking up at how ridiculous it sounded. At around the same time I was driving in my car when "Sultans of Swing" by Dire Straits came on the radio, and I had a newfound religious experience with that song. Like everybody, I'd heard it a gazillion times, but at that minute it fucking blew me away. Maybe it had something to do with being sober and having a clear mind. I really like direct recordings; I like things to be tight and up close, and "Sultans" is like that: so freaking direct.
So basically, for "I Couldn't Play My Guitar Like a Man" just tried to mimic the way "Sultans" was recorded, the overall sound of it. It's one of my favorite songs on the record. At the end, the guitar is flying again. I encouraged one of the guys who played on record, Chris Boerner, to just let it rip.