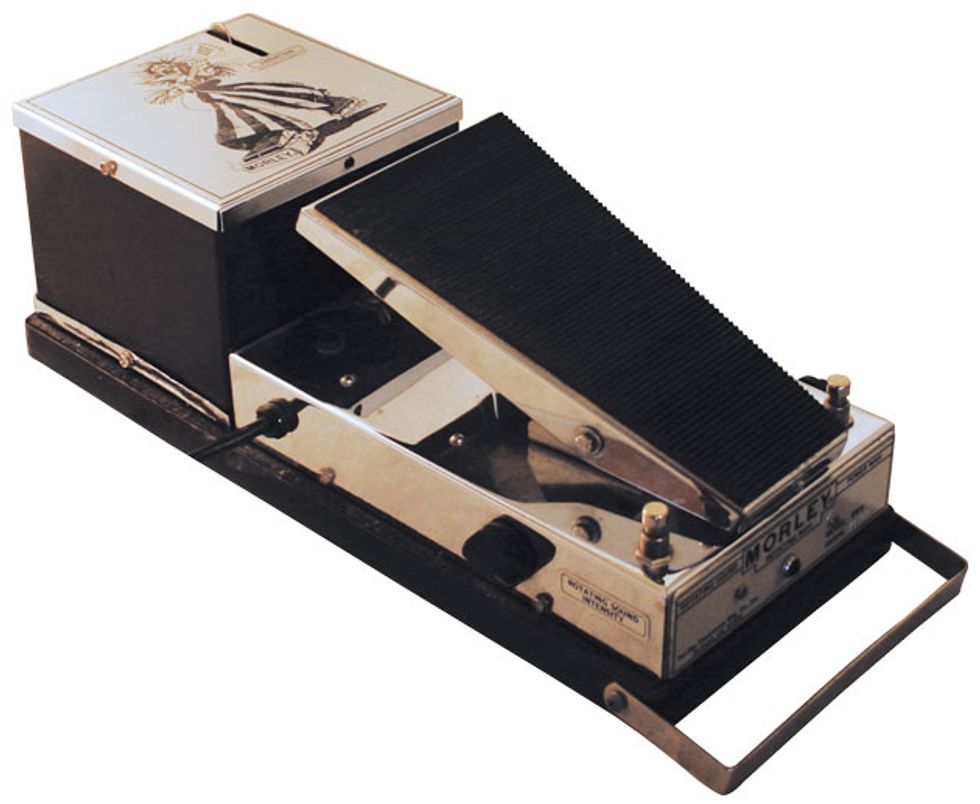 In the 1970s, Tel-Ray changed its name to Morley and released several large-format "oil can" effects.
Other Echoes of the '70s
In the early to mid 1970s, electro-mechanical echo machines were still the only game in town if you wanted delay. The Echoplex EP-3, now marketed under the Maestro brand, reigned supreme but other manufacturers began releasing new and more sophisticated designs.
The oil-can delay made a minor comeback when Tel-Ray Electronics changed its name to Morley in the early 1970s and released a whole line of very large, chrome-plated stompboxes. Some of these—including the EVO-1 Echo Volume and the RWV Rotating Wah Volume, and the EDL Electrostatic Delay Line—featured the Tel-Ray oil-can design.
Universal Audio's Cooper Time Cube warrants mention, too. Designed by Duane H. Cooper and Bill Putnam in 1971, it sent the audio signal through coiled, garden-hose-like tubing to create 30 ms of delay. Although the slight doubling effect was prized by several producers and engineers for its ability to sit well in a mix, it was more than a bit underwhelming as a delay compared to the average tape echo. Only 1,000 units were ever made.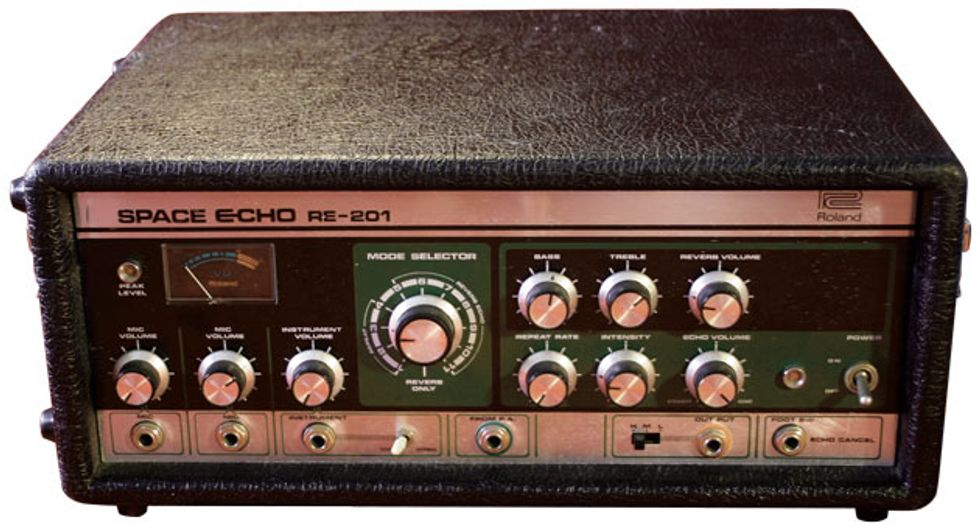 Roland's Space Echo RE-201 featured built-in spring reverb and a "free running" tape system that greatly increased tape life.
Japanese manufacturers made a number of unique effect contributions in the late '60s, too. One of the first Japanese delays, the Ace Tone Echo Chamber, was released in the early '70s as two different models—the EC-10 and EC-20. Both models had features that astute observers will recognize as precursors to the Roland Space Echo. Established in 1972 by former Ace Tone founder Ikutaro Kakehashi, the Roland Corporation entered the effects market and gave the Echoplex its greatest competition with several models of the Roland Space Echo. The first two Space Echo models, the RE-100 and RE-200, were similar to Ace Tone units in that they had multiple inputs and outputs, variable motor speed, and a multi-position rotary switch for selecting different delay settings. But these short-lived models were soon replaced by a new design that would become a classic: The next Space Echo iterations included the RE-101, RE-150, and—most famous of all—the RE-201. All three featured a new "free running" tape system that allowed a longer length of tape to be used, and that also reduced tape friction—both of which increased tape life. The RE-201 also featured built-in spring reverb. Around 1977, the company introduced the RE-301 Chorus Echo, which added the groundbreaking chorus effect from Roland's existing JC-120 amp. This was followed by the RE-501 Chorus Echo, an improved version of the RE-301 with balanced XLR ins and outs and noise-reduction circuitry. The SRE-555 was a rackmount version of the RE-501.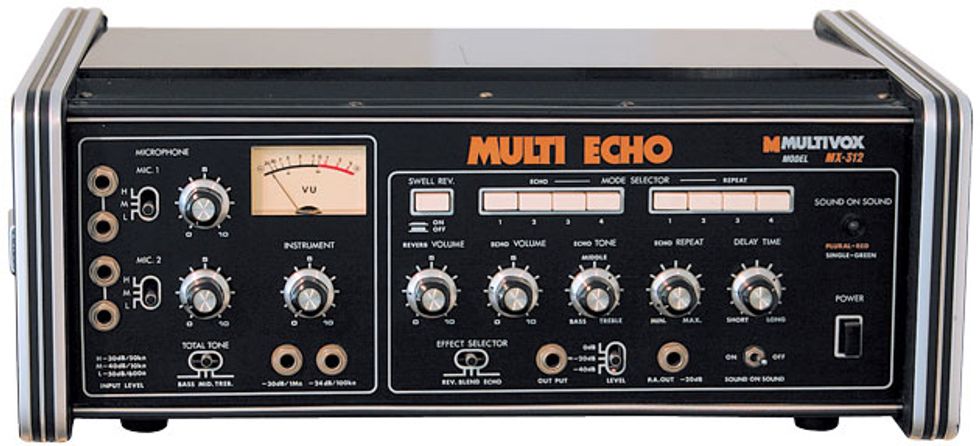 Electro-mechanical delays such as the Multivox Multi Echo can sound great, but they're bulky and difficult to maintain.
Other notable Japanese electro-mechanical delays from the '70s include the Korg Stage Echo (models SE-300 and SE-500), and the Multivox Multi Echo (models MX-201 and MX-312). Although electro-mechanical delays are still held in high regard by many musicians, they're not without their drawbacks. Their bulky size, high-maintenance, and unpredictable reliability keep many otherwise interested players at a distance. And by the mid '70s, a new technology emerged to singlehandedly relegate the electro-mechanical delay to the Island of Misfit Toys.