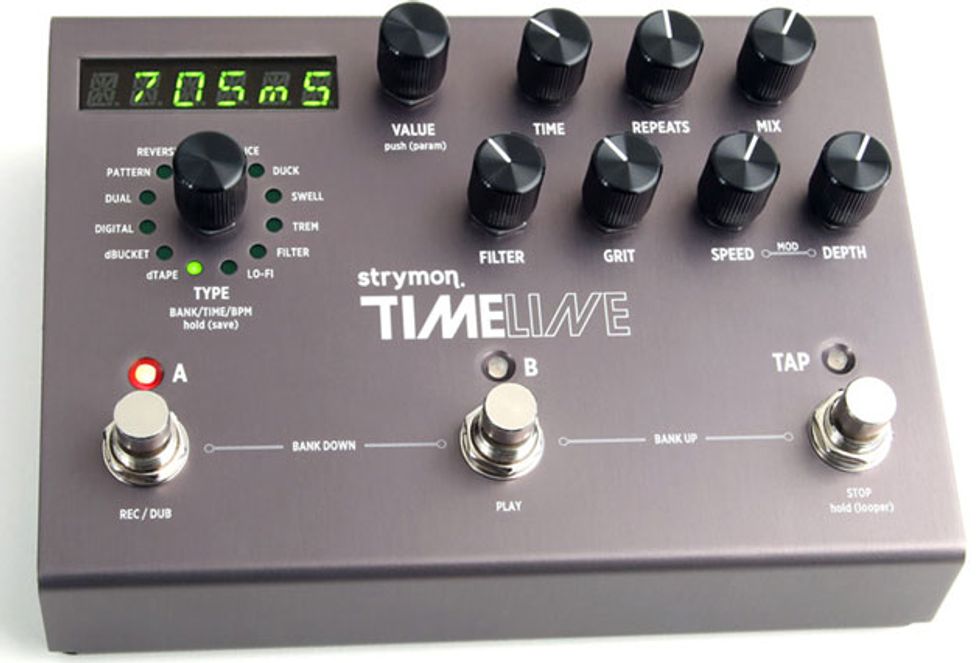 Today and the Future
At present, the effects market is completely and utterly saturated. If there's such a thing as too many choices, we're definitely there. In terms of delay, great units are available from many different companies, no matter what your preference—analog, digital, stompbox, rack, app, or plug-in!
Units such as Strymon's Timeline and Eventide's TimeFactor and Space pedals represent the pinnacle of state-of-the-art stompbox delay: Each unit offers more features, depth, and programmability than most players could use in a lifetime. And for those who don't want that deep of a dive, there are units like the Empress Vintage Modified Superdelay, a feature-packed digital unit that's a little easier to get your head around.
But analog delay is anything but dead. Semiconductor companies such as CoolAudio and Shanghai Belling are now manufacturing bucket-brigade-device reissues that have made possible a new generation of analog delays, including the über-boutique Toneczar Echoczar and Analog Man ARDX20, not to mention MXR's Carbon Copy, Way Huge's Aqua-Puss, and many, many others. And if that's not enough, Moog Music just released the Moogerfooger MF-104MSD Super Analog Delay, which uses six new-old-stock Panasonic BBDs.
Want more? The options are nearly endless: If you've got a hankering for authentic tape delay but don't want to take your chances on a beat-up old unit, you can get yourself a Fulltone Tube Tape Echo. And there are plenty of powerful digital boxes, apps, and plug-ins that aim to give you a taste of virtually every delay technology discussed here.
With a whole universe of delay at our fingertips, it's hard to imagine how delay will evolve in the future. We can certainly expect to see more of what we already have in a variety of forms from various brands, in endless cycles of repetition. Any further innovations will most likely take place in the digital realm. Portable looping units are becoming ever more sophisticated and compact, and new variations of "shimmer" delay effects will likely be available. Perhaps some predictive modeling algorithm will enable us to generate delay from a signal that has yet to be created—a virtual time traveling echo machine to bring us delays of future past.