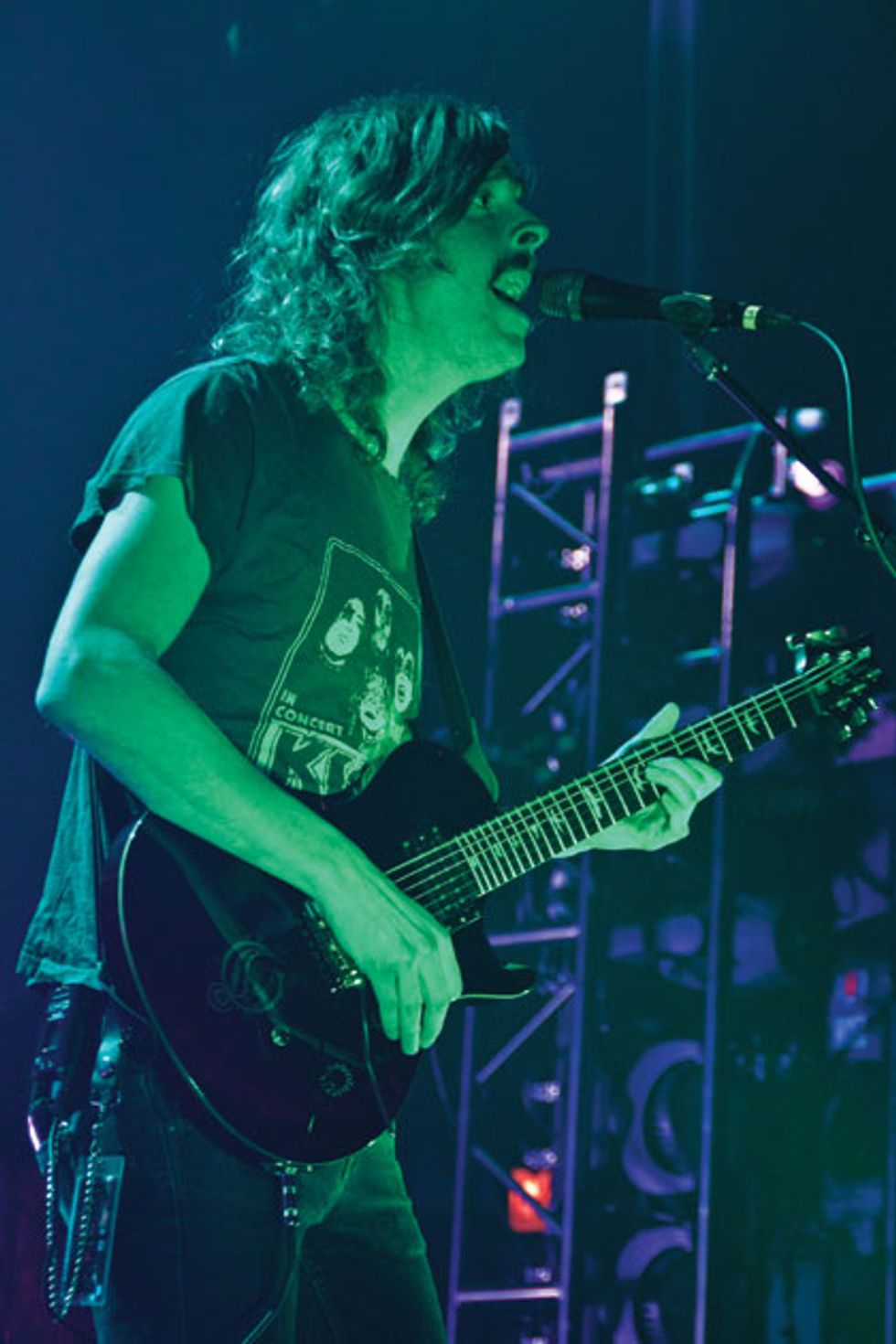 Frontman Mikael Åkerfeldt "I Feel the Dark" off Heritage during their stop at Chicago's Riviera Theater on April 13, 2012, while venturing the US on a co-headlining tour with Mastodon. Photo by Chris Kies.
Opeth frontman and guitarist Mikael Åkerfeldt doesn't care much for labels. "I'm really confused about what metal is these days," he says. "It's difficult for me to talk about. I can appreciate people who say that we're not a metal band—and I kind of like that because, to me, current metal is stale and boring."
When the quintet formed in Stockholm, Sweden, in the early '90s, Åkerfeldt and company churned out three impressive, stop-you-in-your-tracks albums full of crushing rhythms, guttural vocals, and dark themes about religion, death, and the occult. And while the band always experimented with dynamics and tempo shifts, with 1999's Still Life and even more so with 2001's Blackwater Park, Opeth started moving away from its intense roots.
"There were five or six years where I was listening to death metal," Åkerfeldt admits. "It rubbed off on me and I had to glorify that strong influence by making the music I was most passionate about in that given period of my life and career."
You can get help on how to achieve something—like using certain equipment properly or EQ'ing something a particular way—but I believe a true musician shouldn't take advice
and learn from their experiences.

But the path Åkerfeldt has chosen for Opeth since then is one of restless experimentation. He and his rotating cast of combatants have released 11 albums, and throughout, they've weaved a Family Circus-like path through aggressive music, swerving to make pit stops with more vulnerable numbers like Damnation's "In My Time of Need," veering into acoustic instrumental territory with Heritage's "Marrow of the Earth," and experimenting with extended prog voyages like Morningrise's "Black Rose Immortal." And on this year's Pale Communion, they even dabble in straight-up classic rock on tracks such as "River."
"I really don't like trying to recreate or reflect on something we've already done in Opeth," Åkerfeldt explains. "People will look at Watershed or Heritage and try to link the musical progression these albums have in common with Pale Communion as a trend towards something defined, but really it's just a continuation of the band's life and the music we've made and like to hear. We're not trying to be a certain type of band to capitalize on anything—we're just Opeth."
In our recent interview with Åkerfeldt, he also discusses his switch to Marshall amps, why he'd never give advice to another artist, and why he's not ashamed of the decidedly un-metal tunes on his iPod. Plus, we talk to Opeth lead guitarist Fredrik Åkesson about the making of Pale Communion.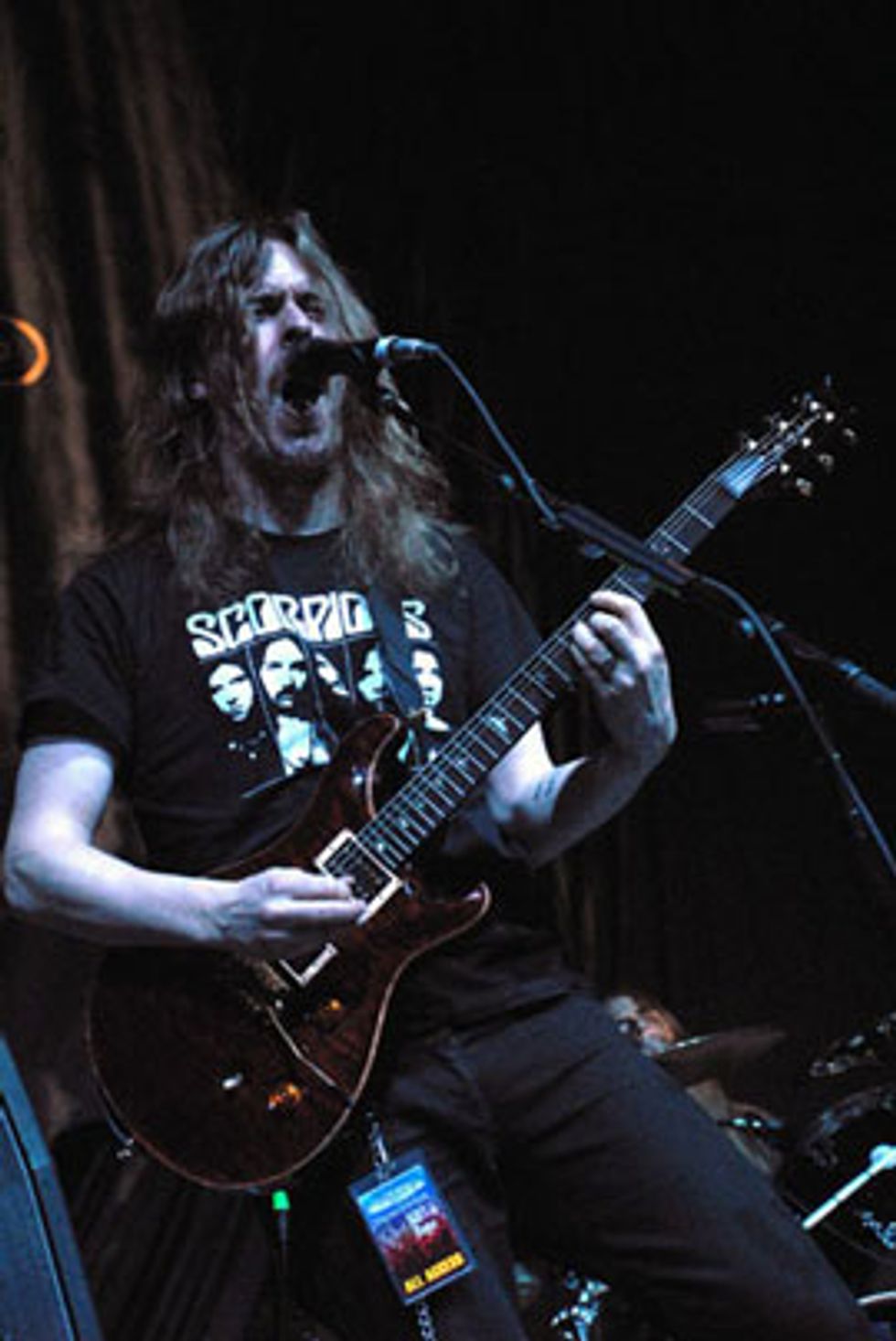 Mikael lets out a roar during Opeth's show at New York City's Terminal 5 on May 21, 2008.
Photo by Frank White.
Opeth has always had great dynamics, ranging from prog-rock and soft acoustic jams to death-metal ragers. Is that something you try to balance, or do you just write the songs as they come to you? I don't think about it too much, but I'm a big fan of dynamics. I'm still a metalhead obviously, but I don't try to stick myself to a single style just because we're expected to. The metal in this band will always be there, but I think we're more than just metal. The definition of metal is much different now. Again, it was never a choice that I made somewhere down the line that I don't want to write or play metal anymore. It's just something that happened. Recently, I haven't really been inspired by death metal music, or contemporary death metal music.
It seems to take multiple listens to reveal the full depth of albums like Pale Communion and Heritage. Yeah, I know exactly what you mean—that's the music I like to listen to. Maybe we're just in the wrong time or I need to stop making music that I like [laughs]. The music that stays with me is a bit more complex and deep than regular radio squalor or formulaic stuff.
Tell us about writing the 11-minute song "Moon Above, Sun Below." It was a bit of a weird piece of music. The working title was "Floyd" after Pink Floyd because of how slow the song starts. I remember that I wrote about five or six minutes of it and then called up Fredrik to come down and listen to it. At that time, I wasn't so happy with the whole song so I left the song unfinished to focus on songs that were further along and already had themes. Three or four weeks passed and Fredrik came back to the studio and said he had the solo ready for "Floyd." I'd forgotten he was working on it [laughs]. With his solo added to what I started, it was a completely new song.
As I was working on that song, I reverted to my 20-something writing style and disregarded a structure or theme—so I just let this song float, left the riffs on top of each other, added a bunch of musical twists and tempo changes based on riffs I had come up with. I decided to keep it like that. Why not? All the other songs had some kind of structure, so this song's structure was no structure [laughs].