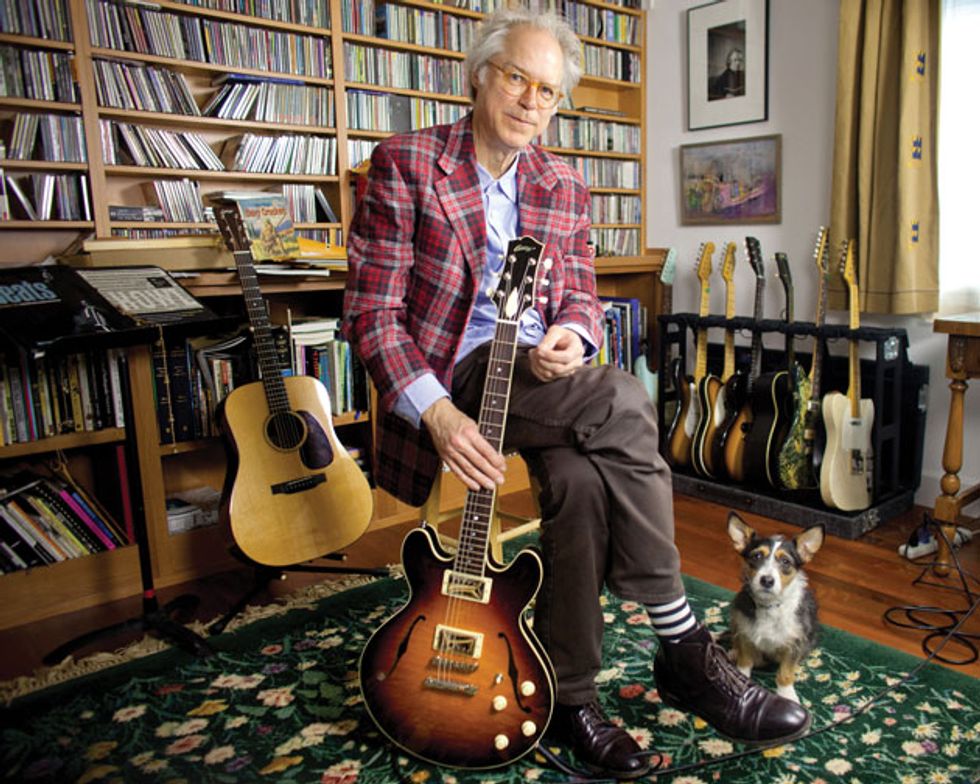 The versatile Frisell says he uses the same approach when playing any genre: "I just try to get as deep
into the music as I can." Photo by Monica Frisell
It's easy to forget how astonishing Bill Frisell's guitar style seemed when he arrived on the scene nearly four decades ago. Others had combined blues, country, or rock with jazz, but no one had yet synthesized them all—along with free improvisation, noise, and looping—into such a uniquely personal sound. Frisell was arguably the first electric guitarist to completely redefine the instrument since Jimi Hendrix.
After having recorded more than 50 albums, either as a leader or with others, it's understandable that an artist might want to look back, and Guitar in the Space Age is something of a musical memoir. Along with bassist Tony Scherr, drummer Kenny Wollesen, and Greg Leisz on guitar and pedal steel, the Denver-raised guitarist reworks some of the tunes that formed his musical DNA, and pays tribute to others that comprise the genetic makeup of any picker.
Eschewing obscurities for classics, Frisell and company place their stamp on such instrumental chestnuts as Duane Eddy's "Rebel Rouser," Link Wray's "Rumble," The Chantays' "Pipeline," and "Telstar" by the Tornados. They also assay "Bryant's Boogie" by Tele-master Jimmy Bryant and pedal steel virtuoso Speedy West. In fact, Frisell and Leisz could be considered a post-modern version of that dynamic duo. With the help of his unmistakable musical voice and a few pedals, Frisell brings the sound of Guitar in the Space Age into the digital era.
"I didn't want to just copy the originals … I just wanted to play the tunes with the language this band has developed from making music together so long."

What prompted you to record these classic guitar instrumentals?
It wasn't nostalgia. I was looking at tunes I thought I knew, back when I was getting super fired up about playing guitar. Viewed through 50 years of trying to figure out how to play, they look so different. I was playing a gig doing the John Lennon stuff [from 2011's All We Are Saying] with this band, when we fell into one of the tunes that wound up on Guitar in the Space Age. It made me think I should do a whole record of these tunes.
Another inspiration for this record was when Chuck Helm, the director of the Wexner Center in Columbus, Ohio, suggested we do the music of Speedy West and Jimmy Bryant. I said, "I can't play that fast." So he came up with the name "Not So Fast" and we played a show of that music—but slowed down.
Had you played any of the tunes when you were young?
I heard some of them before I ever had a guitar. My friend across the street had an Astronauts record and a little Stella, and I would go over there and pick at it. The first record I ever bought was a Beach Boys single with "Little Deuce Coupe" on one side and "Surfer Girl" on the other, and my brother had a Surfing with the Ventures album. By the time I got an electric guitar, it was past the surf music era. I sort of played "Pipeline." I never played "Telstar" because it was way too hard, but I heard it a lot.
Did you approach the tracking more like a jazz session or a pop record?
It was just playing the songs. Greg played a lot of guitar on this record, so there are a couple of places we overdubbed the steel, but we were mostly playing together in the room. I didn't really reharmonize anything or do much rearranging, but I didn't want to simply copy the originals either. I just wanted to play the tunes with the language this band has developed from making music together so long.