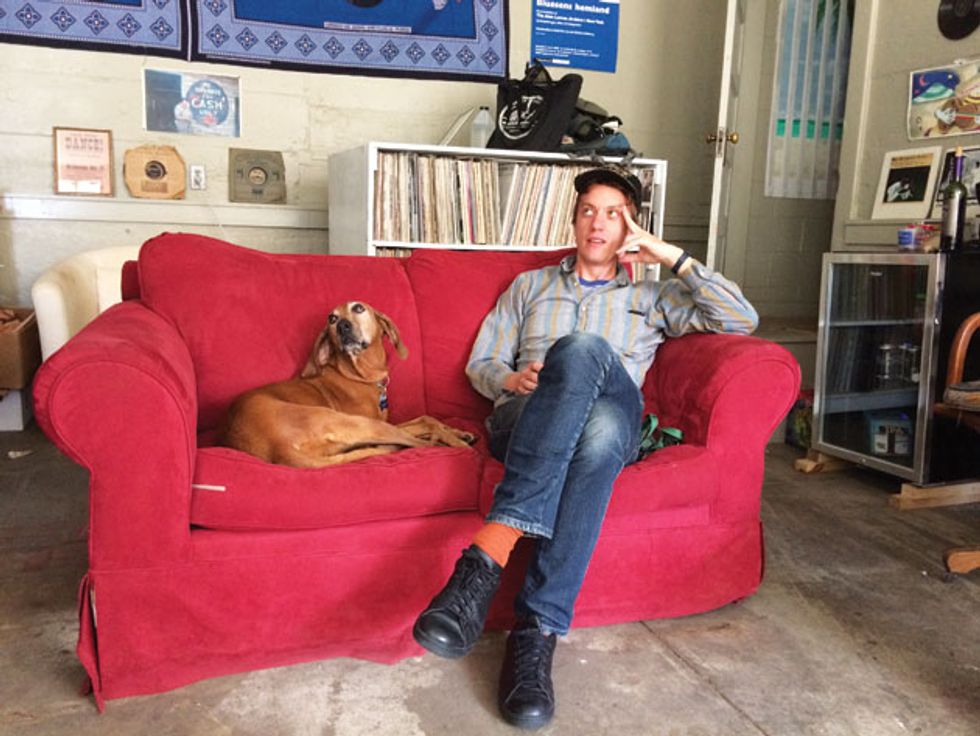 Photo by Nathan Salsburg.
Around the time he graduated high school in the mid '90s, Steve Gunn didn't exactly have the most catholic musical tastes. Like many of his skateboarding cohorts in a Philadelphia suburb, he listened almost exclusively to punk and hardcore. But then he moved out of his parents' place and into a house in the city that he shared with a bunch of eclectic music fans. Their listening sessions turned Gunn on to the experimental jazz, old blues, and world music that he's since distilled into his own explorative style on acoustic and electric guitar—a style that is, in a way, all about collecting records.
Many listeners know Gunn from his work as sideman for singer-songwriter Kurt Vile, a friend and collaborator. But Gunn, now in his late 30s and based in New York, has trafficked in a variety of situations over the course of his 15 years as a professional musician. He's often been found in more intimate settings, like solo-guitar excursions that take country-blues to strange new places, and an experimental duo with drummer John Truscinski.
Since his 2009 solo album, Boerum Palace, Gunn has been honing a vocal style that perfectly complements his idiosyncratic approach to the guitar. His 2013 album, Time Off, expanded the concept to a trio with bass and drums, and for the recent Way Out Weather—his most ambitious album to date—Gunn assembled a band that highlights his guitar mannerisms with harp, banjo, and other colorful instrumentations.
I'm pretty much a Craigslist-gear-bargain guy.

We recently spoke with Gunn about his transformation from a punk rocker to a multifaceted musician with far-flung influences, the methodology behind his playing, and his fondness for bargain acoustic guitars and expensive electrics.
What was the writing and recording process like for Way Out Weather?
Last year I traveled a ton, and I was really thinking about a lot of things while I was on the road. Basically, most of this stuff was written in airports or in vehicles driving to the next show—during the small window of time I had to do some thinking and jot down ideas in my notebook. I also carried a handheld recorder for documenting ideas on the guitar, just jamming and coming up with licks. When I got home, I devoted large blocks of time to digging through the massive amount of ideas that I'd compiled, to make sense of it all. Then I cut some demoes at home to send to the people that I envisioned being in the studio with to make the record, and we began a dialogue about how to work out the instrumentation. People started coming up with ideas, and some even recorded parts over the demo to email and discuss. Things sort of changed naturally during the recording process—a lot of great ideas definitely happened while we were on the fly—but the bedrock of the tracks were essentially already in place when we began working in the studio. We pieced through everything and cut all the tracks pretty quickly. It was a much different process than on the last album, because those were songs I had been playing for a long time, but never with a band. Back then we rehearsed together by playing five or so live shows before going into the studio. We didn't so much talk about engineering or arranging, we just went in and cut the album live. In any case, there were no snags with recording the new record. No egos were flung around, and—thanks to all the preparations—it all went really fast. It was such an awesome experience.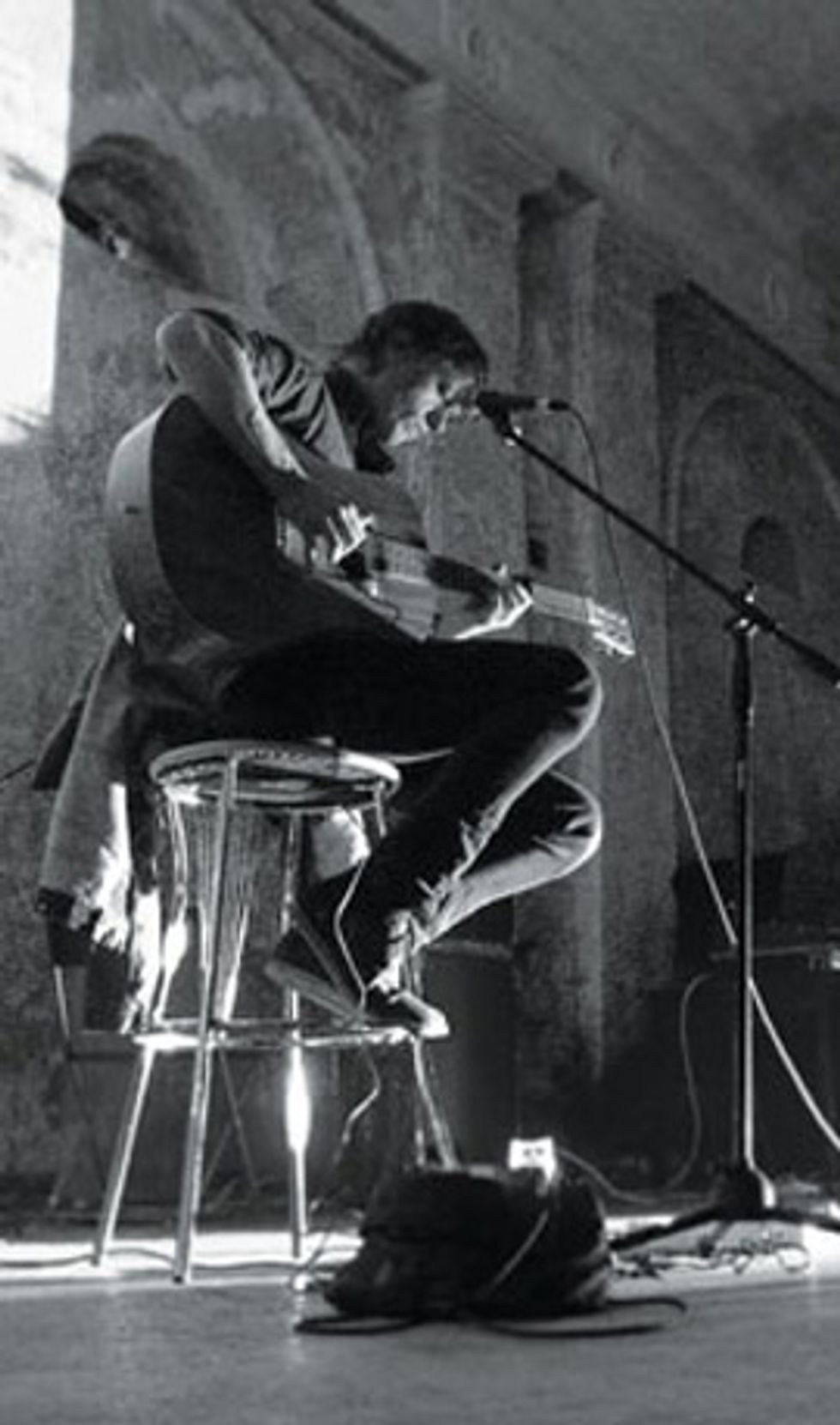 Photo by Constance Mensh.
Can you talk about your coconspirators on the record?
An old friend of mine, Mary Lattimore, played harp. She's from a lineage of great harpists. She was a big part of the recording process and improvised a lot on the record. It was pretty loose, since all of the musicians are great improvisers. Nathan Bowles played banjo and piano, but he plays drums in our touring band. He lives in Virginia and is a really incredible bluegrass musician who wins all these competitions. He's also in an experimental band called Pelt. Jason Meagher, who owns Black Dirt—the studio in upstate New York where we recorded the album—played bass on the record and is also in the live band. He was really important in talking about the engineering and how we wanted everything to sound. Justin Tripp, an old friend from Philadelphia, played piano and bass. I've played with John Truscinski for years in various outfits, and there was also this guy named Jimy SeiTang who did a lot of synth stuff to add textures. Then there was James Elkington, who lives in Chicago and works with Jeff Tweedy—he played lap steel and acoustic guitar.
What guitars did you use on the album?
I mostly play a Guild guitar—a D-35 from 1970. I like these guitars because I'm pretty much a Craigslist-gear-bargain guy—though I do have an expensive electric that was custom made for me. I'm afraid to get a really valuable acoustic for the amount of touring I do—I'd be afraid to kick it around. Guilds are perfect for me: They're well built but not expensive, and they sound so good and are especially easy to come by in the Northeast. I've been using them for a long time and will definitely continue to do so.