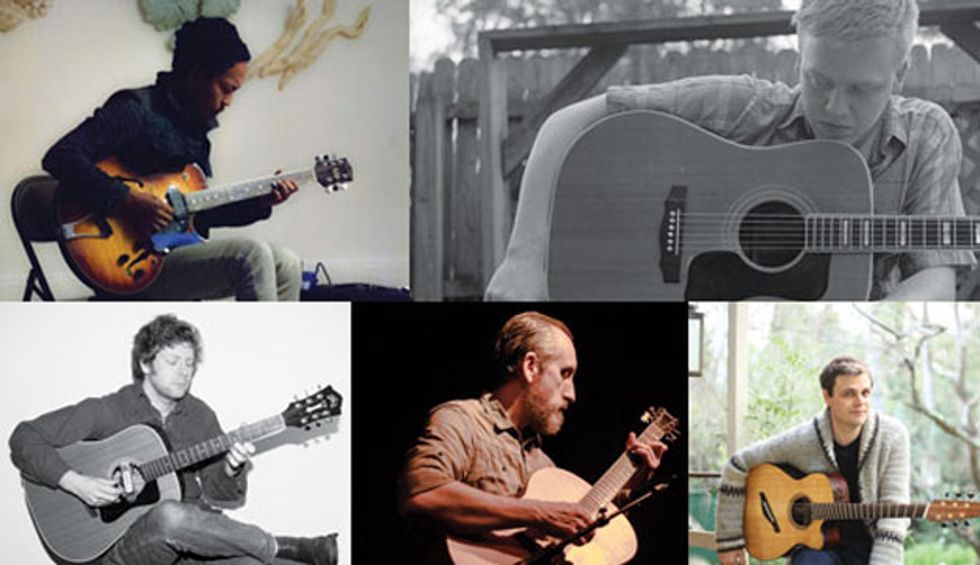 [Clockwise from top left] Tashi Dorji, Daniel Bachman, Cian Nugent, Chuck Johnson, and Adam Miller.
Click on the player you want to read about first.
Just ask acoustic guitar players, builders, and fans: They'll tell you we're in a golden era for the instrument. Not only are such venerable companies as Martin and Gibson producing some of the best new guitars in their long histories, but they're also delivering the most accurate reissues of their storied prewar classics. Independent luthiers around the world are crafting acoustic guitars of stunning quality, in every conceivable style from recreations of 19th-century parlor guitars to bold modern flattops that upend every aspect of traditional design.
At the same time, the acoustic guitar has never seen so many inventive practitioners. Virtuosos as far-flung—musically and geographically—as Richard Thompson, Tommy Emmanuel, and Pierre Bensusan remain vital after having collectively logged more than 130 years as music professionals. Thousands of younger guitarists have discovered these players' work, while simultaneously deriving inspiration from the American Primitive school. The latter includes John Fahey and Robbie Basho—steel-string pioneers who recorded in the 1960s and '70s on Takoma, the label the late Fahey started in 1959.
And these younger pickers aren't content to copy, but instead strive to forge personal, idiosyncratic styles from their many influences. To illustrate the diversity and creativity of this new generation of acoustic guitarists, we spoke to five emerging players who are making waves with their performances and recordings. Daniel Bachman, Tashi Dorji, Chuck Johnson, Adam Miller, and Cian Nugent cover a wide range of stylistic territory, and their music offers a glimpse into the state of contemporary acoustic guitar.
Bachman, Johnson, and Nugent are clearly indebted to Fahey and other Takoma fingerpickers, but because they bring many other influences to the table, they hardly sound derivative. Inspired by guitarists like Joe Pass and Charlie Hunter, Miller has developed an uncanny polyphonic approach to jazz. Coming from an entirely different direction, Dorji takes his cue from Derek Bailey and other iconoclastic musicians, and freely improvises stunning—and challenging—soundscapes.
Though all five guitarists sometimes play in ensembles, each really shines in the context of solo performance. For the most part, they avoid overdubs and electronic effects in the studio and onstage. And they all make the most out of a meager selection of gear. For example, Dorji favors a Hohner HW605, an example of which this author happened to find at a local thrift store for a mere $50. Once again, this proves the adage: It's not about what you play, but how you play.