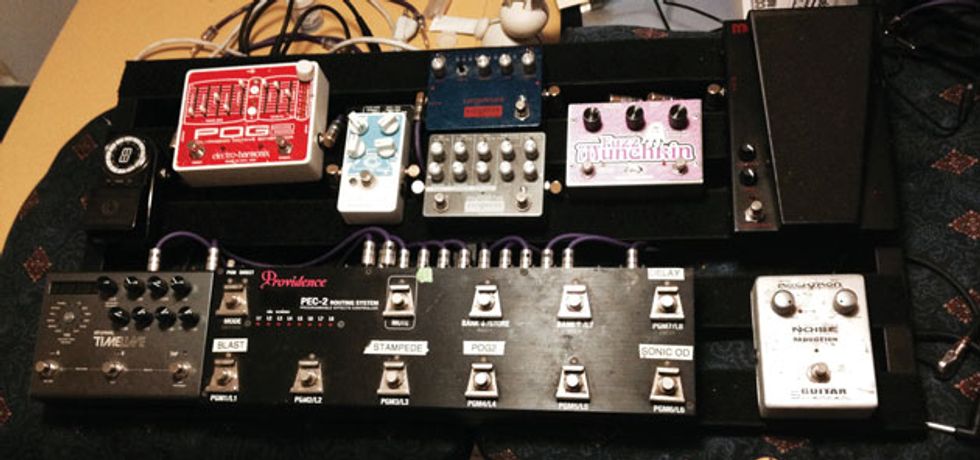 Middleton's North American pedalboard.
Pedals Galore
"One thing I love about touring around the world," says Scott Middleton, "is going to the cool local guitar shops and finding pedals made by the local guy."
During an Australian tour, for example, Middleton got friendly enough with Tim Brennan of Brisbane's Tym Guitars to acquire the rare and coveted J Mascis signature Fuzz Munchkin. After a show in Greece, he discovered Jam Pedals in Athens and bought their hand-painted, vintage-style Multi-Pedal. Canadian-based Empress Effects had him beta test their Heavy distortion. The list goes on.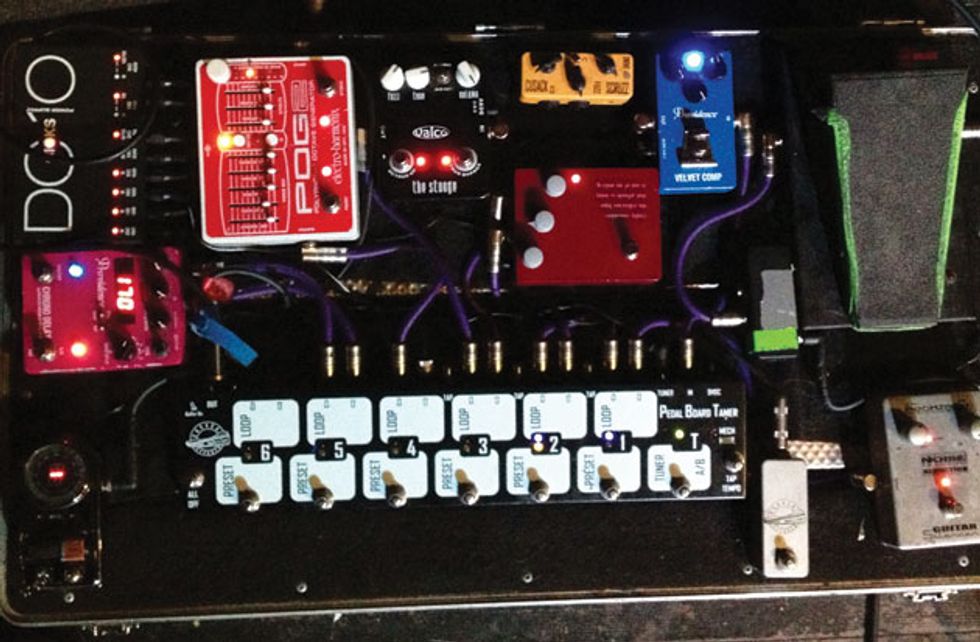 Middleton's European pedalboard.
Middleton has two pedalboards: one in North America and one in Europe. Both boards start with programmable switching systems. In North America he has a Providence PEC-2, and in Europe he uses a Cusack Pedal Board Tamer. He prefers the Planet Waves Chromatic Strobe Tuner, and his wah of choice is Morley's Steve Vai-signature Bad Horsie. He uses the Electro-Harmonix POG2, EarthQuaker Devices' Dispatch Master, a Strymon TimeLine, and a Rocktron Guitar Silencer. He powers it with a Cioks DC10, and mounts it on a Pedaltrain Pro. He is checking out the TC Electronic Flashback Delay and is enjoying the Empress Nebulus and the Neunaber Wet Stereo Reverb.
And then there's fuzz. Besides the Tym Effects Fuzz Munchkin, Middleton has an Empress Effects Multidrive, a Klon KTR, and Cusack Screamer Fuzz—and he loves them all. "I've got millions of pedals," he says.