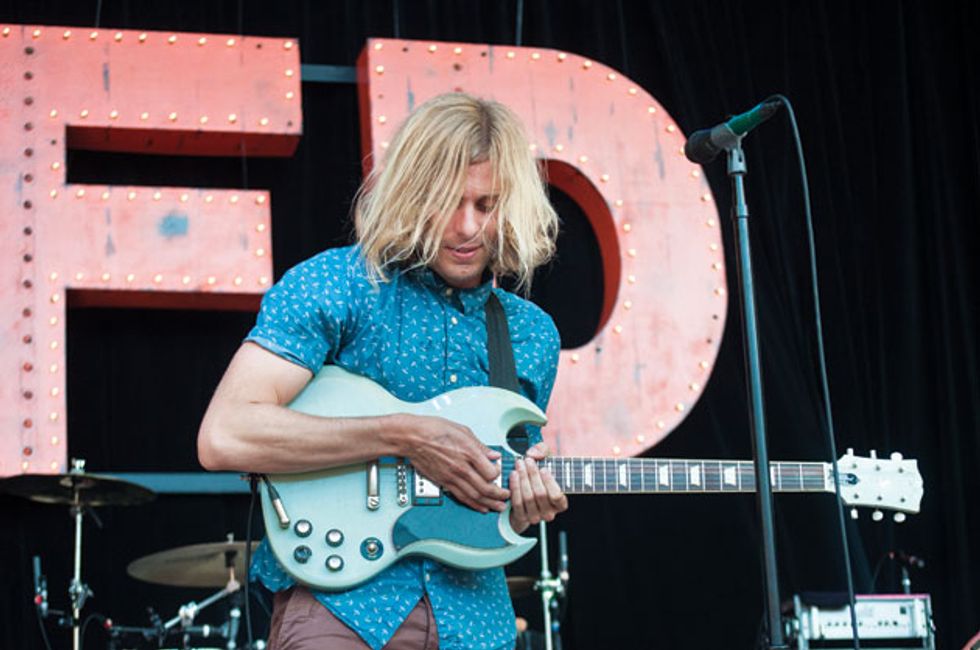 "It's pretty much the same guitar Spinal Tap's singer is playing," says Aaron Bruno of his favorite guitar—
a custom powder-blue Gibson SG. Photo by Amy Lane.
Aaron Bruno's biggest fear is to lose a musical idea. The AWOLNATION frontman often finds himself having twilight battles within his psyche, as his muse often hits at inopportune moments in the middle of the night when he should be sleeping. The problem: Should he get out of bed and record the idea? Or just let it go, get some shut-eye, and hope that another good idea will come around?
Judging by the currently charting single, "Hollow Moon (Bad Wolf)," which was born out of a 4 a.m. moment when a jet-lagged Bruno got inspired watching the sunrise—he should probably get out of bed whenever the music calls to him. Bruno says that song is among his favorites on Run, his band's sophomore album. Band is a relative term here, though, because Bruno wrote, performed, and recorded everything on the album with only his engineer, Eric Stenman, by his side.
AWOL's 2011 debut, Megalithic Symphony, came about much the same way, with Bruno tracking about 70 percent of the sounds. He wasn't prepared for the level of success reached by "Sail," his first hit. "I never expect anything to top the absolute phenomenon and freak of nature that 'Sail' became," Bruno says. "It's a weird miracle. If anything, it's great to have that as an advertisement for people to check out what I'm all about."
"Still to this day, my favorite part of this whole process is the discovery period of a song because you're the only one
who has heard it."

After years of trudging the trenches in punk and hardcore bands—Home Town Hero and Under the Influence of Giants among them—"Sail" has given Bruno the freedom to make his Megalithic follow-up the way he wanted. Run is a sophisticated collection of 14 songs that swim in contrasts, from Bruno's catchy melodies and pristine falsetto to his savage low-end lines punctuated by a fearless growl and thought-provoking lyrics. Though Bruno is the studio mastermind, AWOL tours as a traditional rock group with Bruno at the helm, Drew Stewart and Kenny Carkeet on guitars, and Isaac Carpenter on drums.
Citing influences as wide-ranging as Radiohead ("OK Computer is an example of a psychedelic art record that I'm still blown away by"), NWA, and The Shape of Punk to Come by Refused, Bruno says rhythm and groove are what he's about.
The core-shaking low-end on several of Run's tracks is an undeniable force, yet there was no actual bass guitar used on the album. Those parts are actually guitars, and sometimes it's hard to decipher what's happening. "It's a non-traditional use of guitars," says engineer Stenman, "but there are a ton of them and they play a huge role on the record."
Though Bruno has been playing guitar since he was in the single digits, bonding with his father over a nylon string and "La Bamba," he maintains he's a "basic level" player. Yet all of his songs start with a guitar and an idea. It's where they end up that's a little more complicated.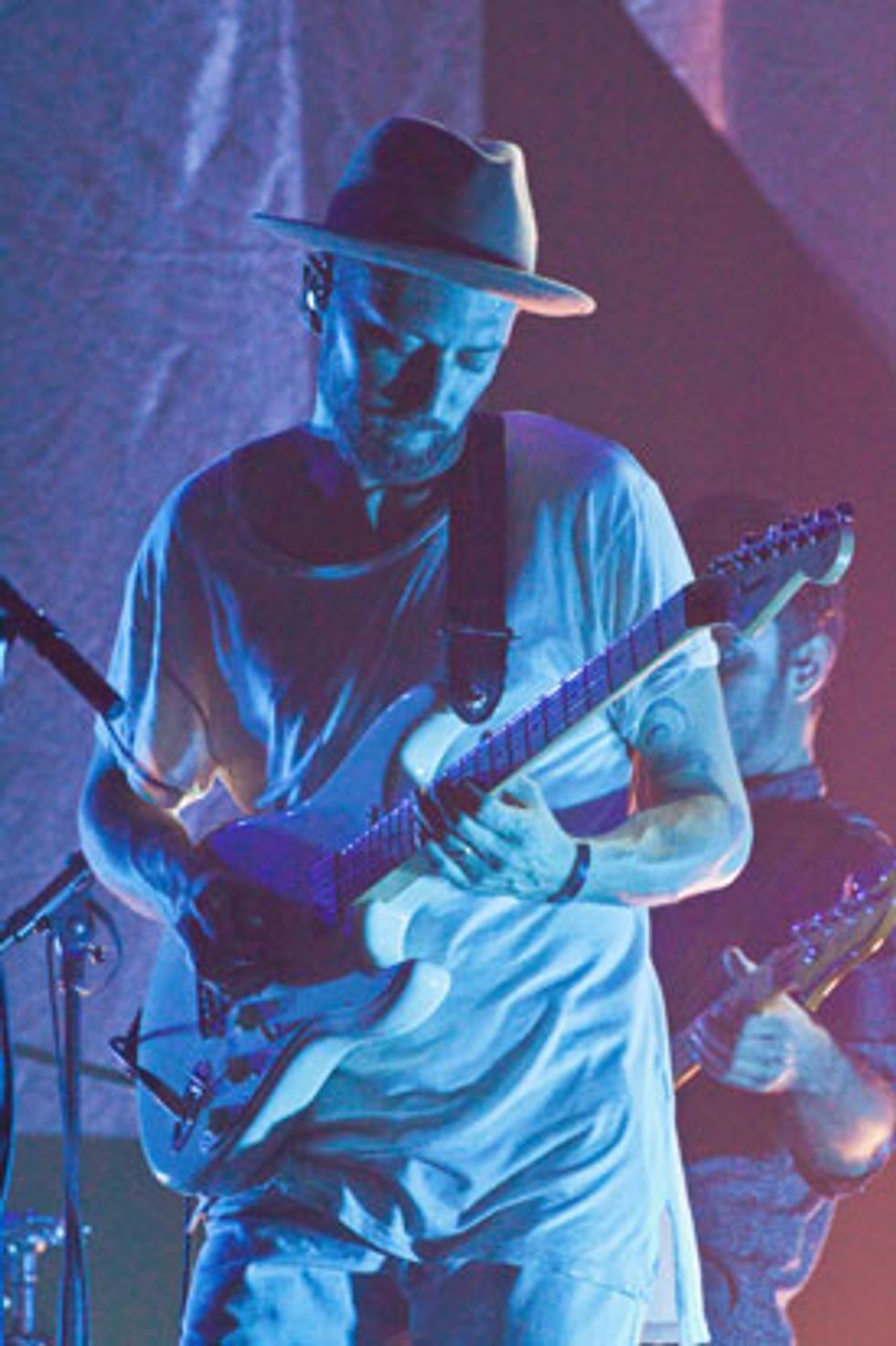 The live AWOLNATION experience is different from the recorded album. Onstage, Bruno mostly focuses on vocals and leaves the guitar to his hired guns, Drew Stewart (shown here with his dual-humbucker Fender American Standard Strat at SXSW 2015) and Kenny Carkeet. Photo by Chris Kies.
Can you recall any musical epiphany or "a-ha moment" where you realized this is what you're supposed to be doing?
The first epic moment would've been jamming with my dad, and him showing me a basic chord progression and getting me to stretch my fingers. That was not only huge musically for me, but also a huge bonding moment with pops.
It wasn't until high school that I decided to record my voice. Once I started writing and recording songs on an old-school 4-track Tascam recorder, I knew it was the best escape for me. It was constructive, creative, and therapeutic. It was really just an exercise to get away from everything else that was going on in my life and a way to figure out who I was.
When I added harmonies for the first time, I thought, "That sounds like a real record that a professional would do." I just felt awesome, secretly in my own bedroom. Still to this day, my favorite part of this whole process is the discovery period of a song because you're the only one who has heard it. That's really exciting. Then you throw it out there and it becomes everyone else's, but for the longest time it's my own little secret and that means the world to me.
What kind of guitarist are you?
I don't have one answer for that question. When it comes down to melody and lyrics, more times than not I go back to my guitar because that's what I feel most comfortable playing. I have a better understanding of it than any other instrument, besides drums. I don't do a lot of writing when I'm sitting on a drum kit, although I have, but not as frequently as a guitar.
Are you serious or laid-back in the studio?
It's very serious when I have an idea that's exciting to me because I'm motivated and it seems urgent and powerful. I become paranoid that I'm going to lose the idea if I don't let it flow through me as soon as possible. But I'm pretty mellow about the whole thing. I'm not a 9-to-5 studio guy. At a certain point my ears can't handle anymore and I don't even know what I'm listening to. That's when my judgment is skewed, so I never overdo it. I find that having a fresh, clear perspective is one of the key ingredients for doing the best work I'm capable of.
You wrote, performed, and produced everything on the new album. Does this come naturally for you?
There's no one to argue with—there's only one cook in the kitchen and that's great ... but it's also pretty terrifying to be alone. You have this body of work, and then at the end of the night you look in the mirror and go, "Is this really good or am I totally full of shit and I can't see it myself?"
There are darker, heavier moments doing it the way I did on this record because of that constant pressure that I put on myself. I think the end result was different and better than I could've done any other way because I was so critical. Other producers, they're going to move on to the next project, but for me, this is everything.
Do you keep musical notes while you're just walking around, living your life, and ideas hit you?
Exactly. It could be anything. It could be the rhythm of the left turn signal in my car combined with another sound I made when my wrist hit the side of the door. Maybe that sounds like a snare drum to me, and then all of a sudden I have this groove that I want to get to. I try my best to at least record voice memos on my phone, like I'm sure every other artist in the world does.
I get anxiety when I don't work on something. I have hundreds, maybe thousands of unfinished ideas that have something I think could be great about them.