14. The Bros. Landreth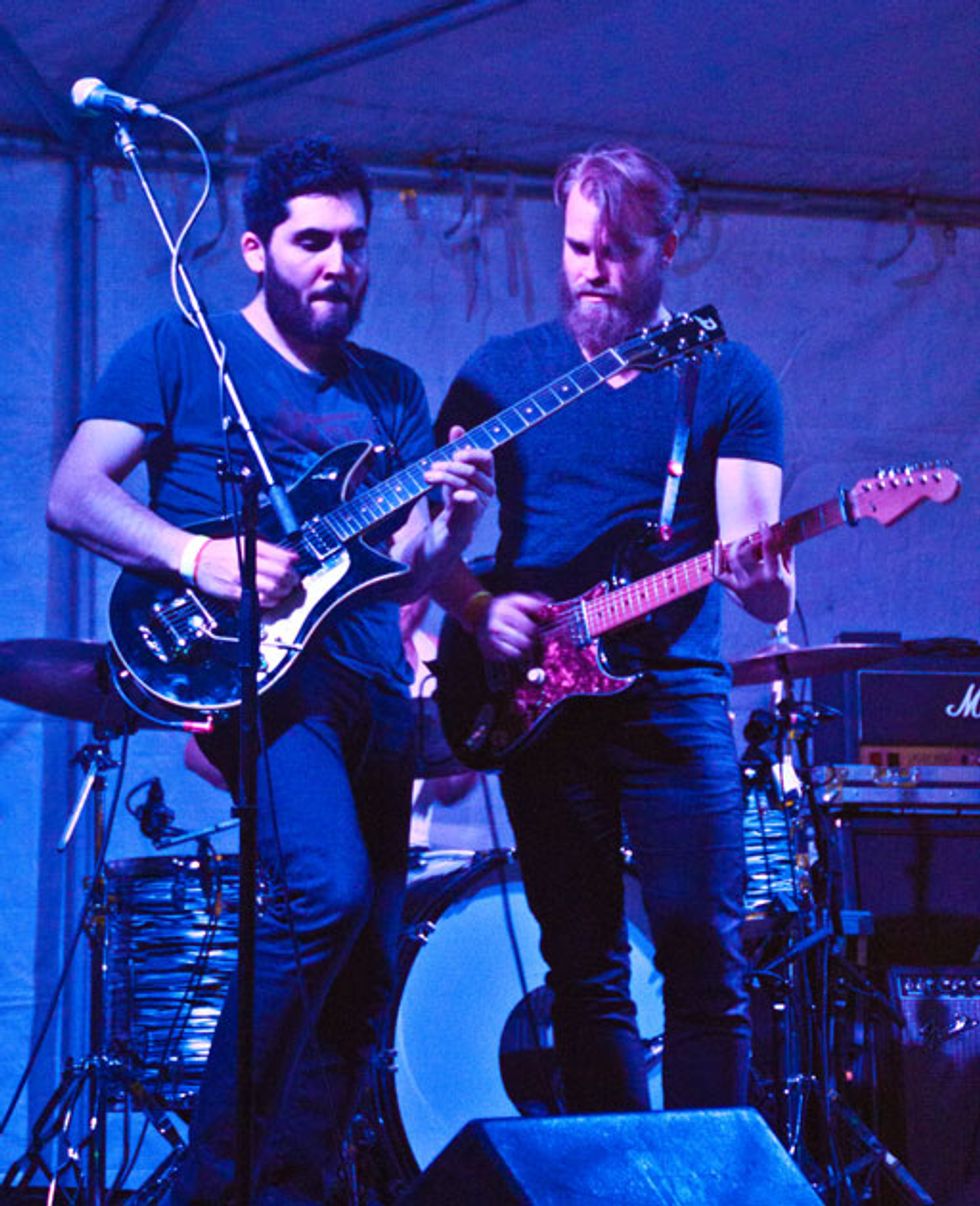 Winnipeg may be thousands of miles away from the Mississippi Delta, but don't tell Dave and Joey Landreth—the band's namesake. They have a kindred spirit with
Come Around Sundown
-era Kings of Leon and
The Dirty South
flavors of early Drive-By Truckers, but they're pop sensibility and harmonized vocals and guitars would've lent them to be a perfect opener for P-Mac and Wings. For more down-home tastes, the Bros. Landreth brazenly wear their I-love-Ry-Cooder patch on their collective sleeves as his silky-smooth slide influence can be heard all over their work. Singer/guitarist Joey Landreth's pleasing voice makes you think John Mayer has joined the Allman Bros. The best way to experience Dave, Joey, and the rest of the Canadian crew is to open a brew, hit the dance floor, and get boogying.
Dave Landreth's Gear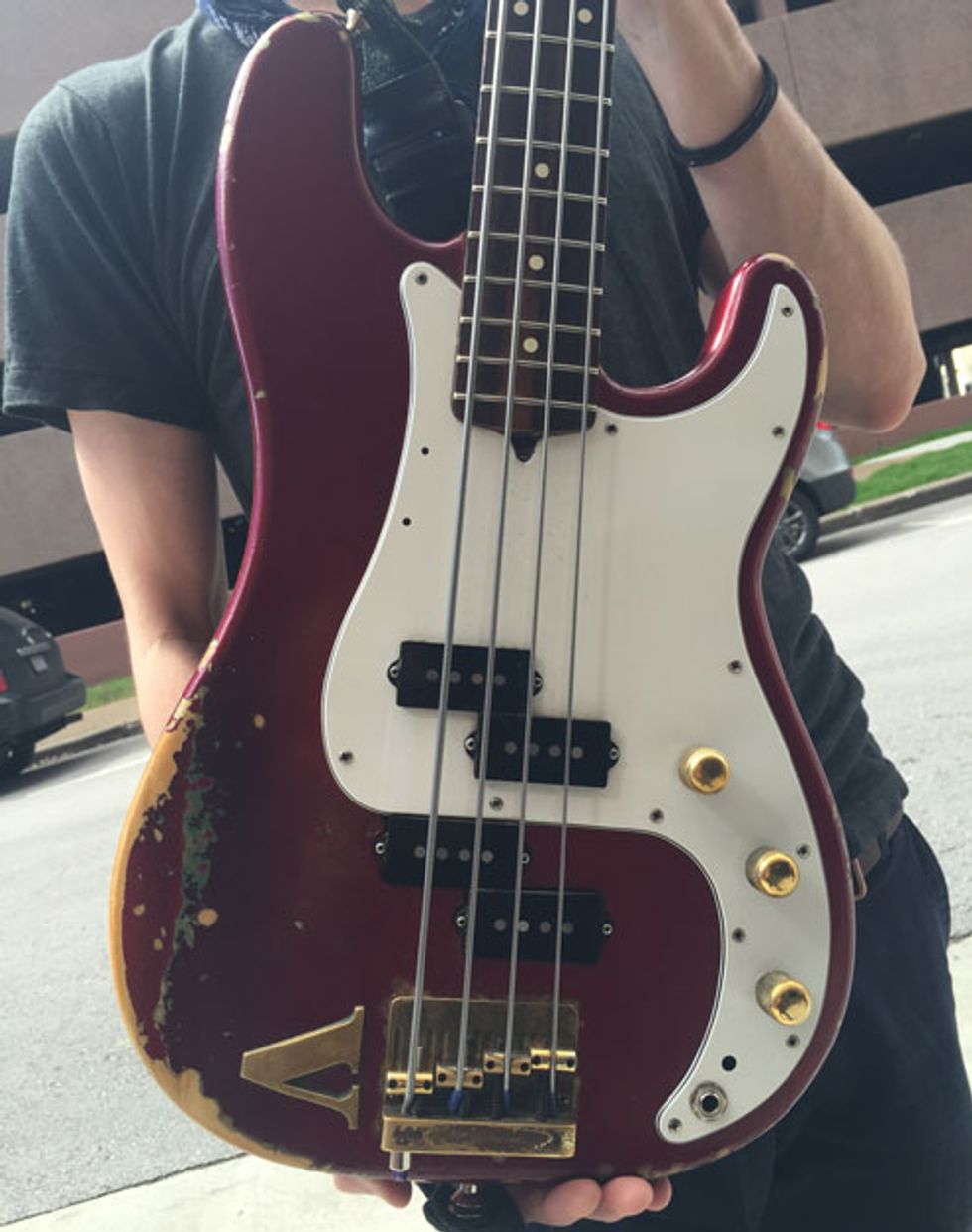 "I've gone through a dozen basses over the course of my career, but I've always come back to my 1980 Fender Special Precision—dubbed 'The Red Bass.' My Dad bought it brand new in 1980 and gave it to me in my early teens. It's got two Aguilar '60s Era P-bass pickups in it, an unorthodox but cool choice. I almost never use the bridge position, but if something demands a more Jaco-esque sound, I'll turn it on. The original neck with a matching headstock was converted to a fretless in the '90s, but I've since replaced it with an American Standard fretted neck that I picked up used online. I tune it B–E–A–D because I get a lot more use out of that low string than I did of the high G—it also keeps me from wanking too much. The upside down V over the bridge was something that my dad had on his guitar strap all the years that I can remember him playing that bass. He added it in 1987 when he quit drinking—the same year my brother Joe was born. He said the 'V' is for vices and if you turn it upside down then all your vices fall out. When I quit drinking in 2010, I glued it on the bass as a bit of a nod to the family curse. It's my favorite instrument, and certainly my most cherished and valuable possession. It's got some serious mojo.
"My go-to amp for the better part of the last decade has been an Aguilar DB 750 through an Ampeg 610. It's a solid combo and has survived almost without incident or breaking down over hundreds of thousands of miles of touring. It's a brick and it's got tone and headroom for days."
Joey Landreth's Gear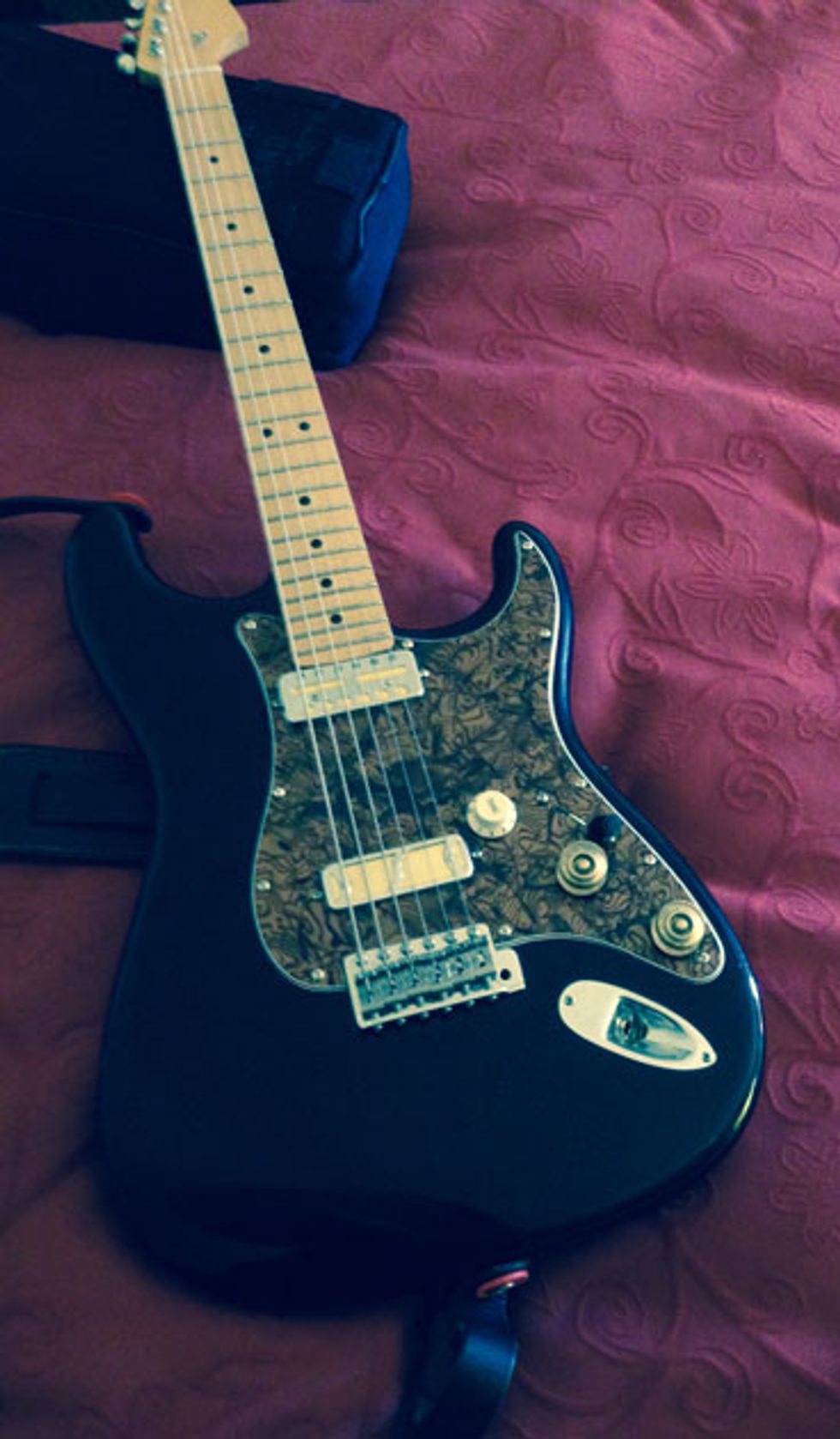 "I actually have two No. 1 guitars. I have a guitar tuned to open E (E–B–E–G#–B–E) that is a custom-made by Jordan McConnell. It's an absolute masterpiece that sounds and feels incredible. I have Bare Knuckle Mule pickups in that one. My other main guitar is a Ry Cooder-inspired S-style tuned to open C (C–G–C–E–G–C). I outfitted with a set of baritone strings (.068, .056, .044, .024, .020, .019). It's got vintage gold-foil pickups in it—I'm not sure what model they are—and the neck pickup is the same one that Ry Cooder uses.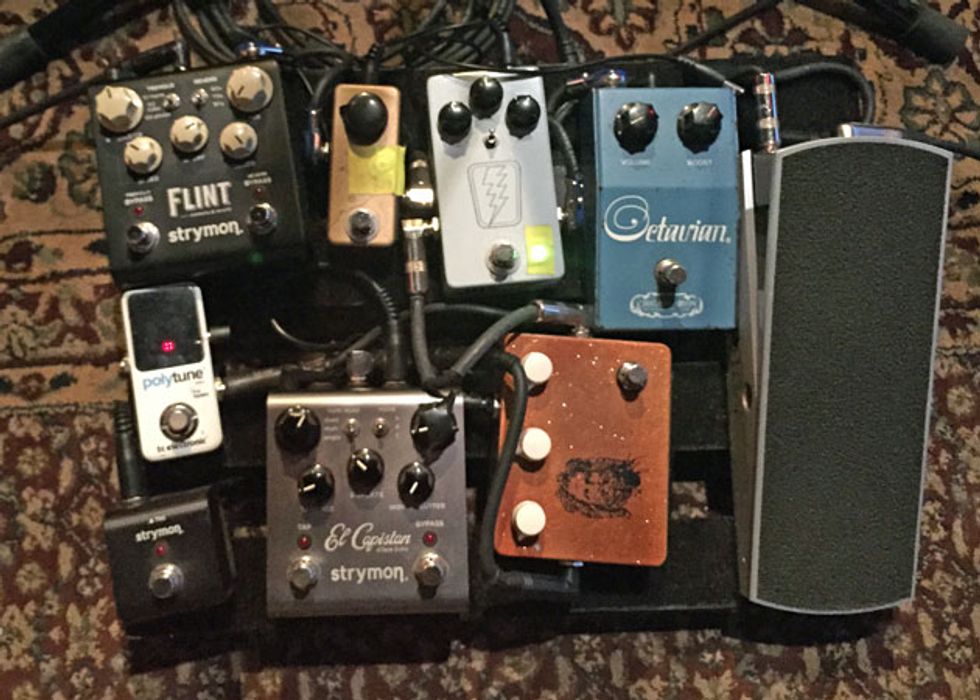 Pedalboard-wise, I start the chain with a Mission Engineering VM-Pro Volume Pedal. Then it's into the Chicago Iron Octavian, the JHS SuperBolt, and then into a Mythos Pedals Mjolnir Overdrive, which is my favorite take on the Klon Centaur with a little extra fairy dust sprinkled inside. A pedal I always have on is the JHS Prestige Buffer/Booster. I feel it adds a little extra dimension and hits the amp a little harder. And lastly, I finish things up by using a Strymon El Capistan delay and a Flint reverb/tremolo."
Ariel Posen's Gear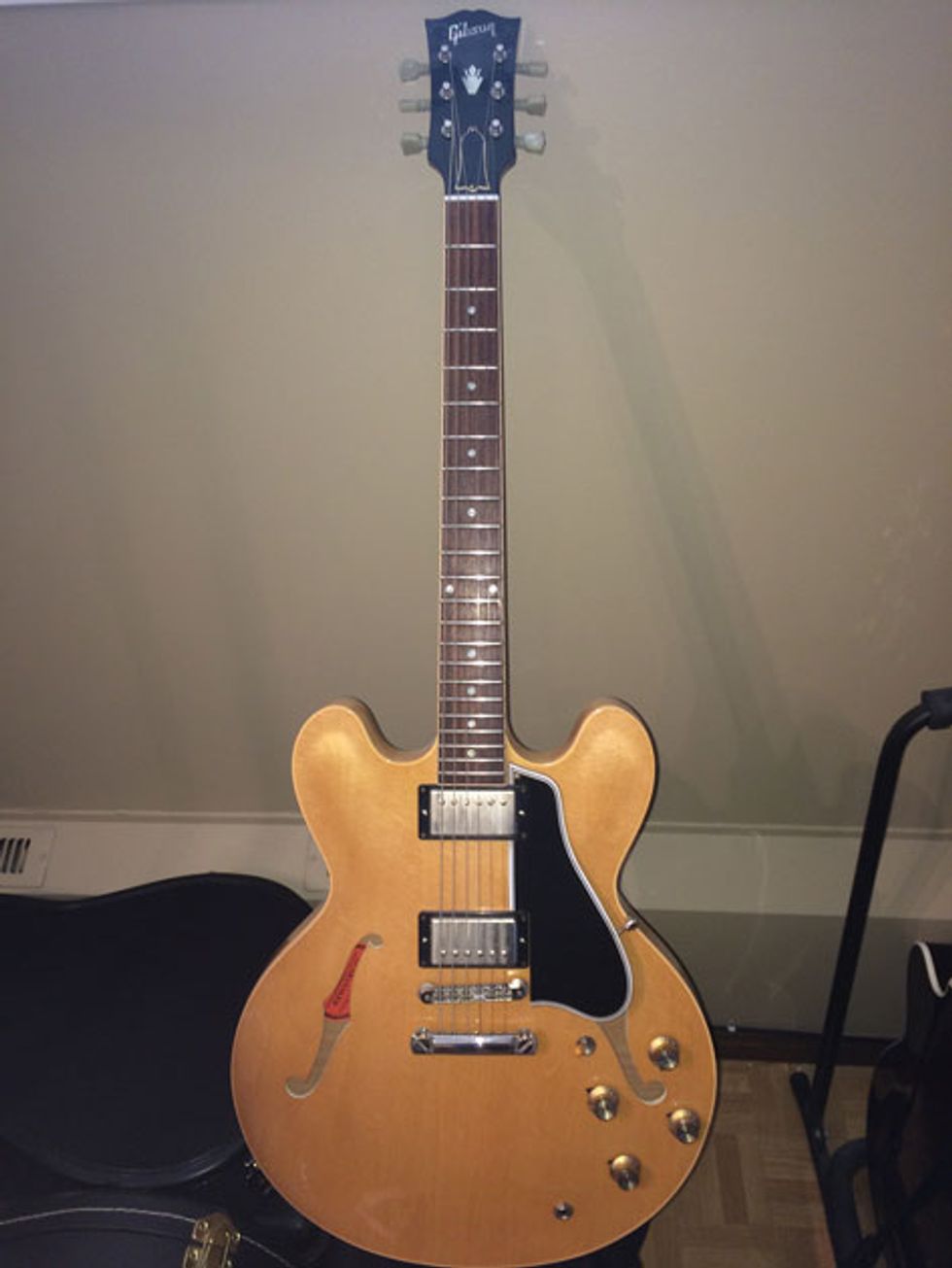 "Currently with the band, my most-used guitars on the road are my Gibson ES-335 and a Duesenberg Double Cat. When it's needed, I'll also rock a Duesenberg Fairytale Lap Steel. My 335 is a favorite because it is such a versatile-sounding instrument. I used to think the opposite of Gibson semi-hollows, but once I began to understand its intricacies and beauty, I've never looked back and use it on almost everything. The Duesenbergs are beautiful, well made, extremely reliable, and stay in tune all the time. The Double Cat is a great balance with the 335—they really complement each other.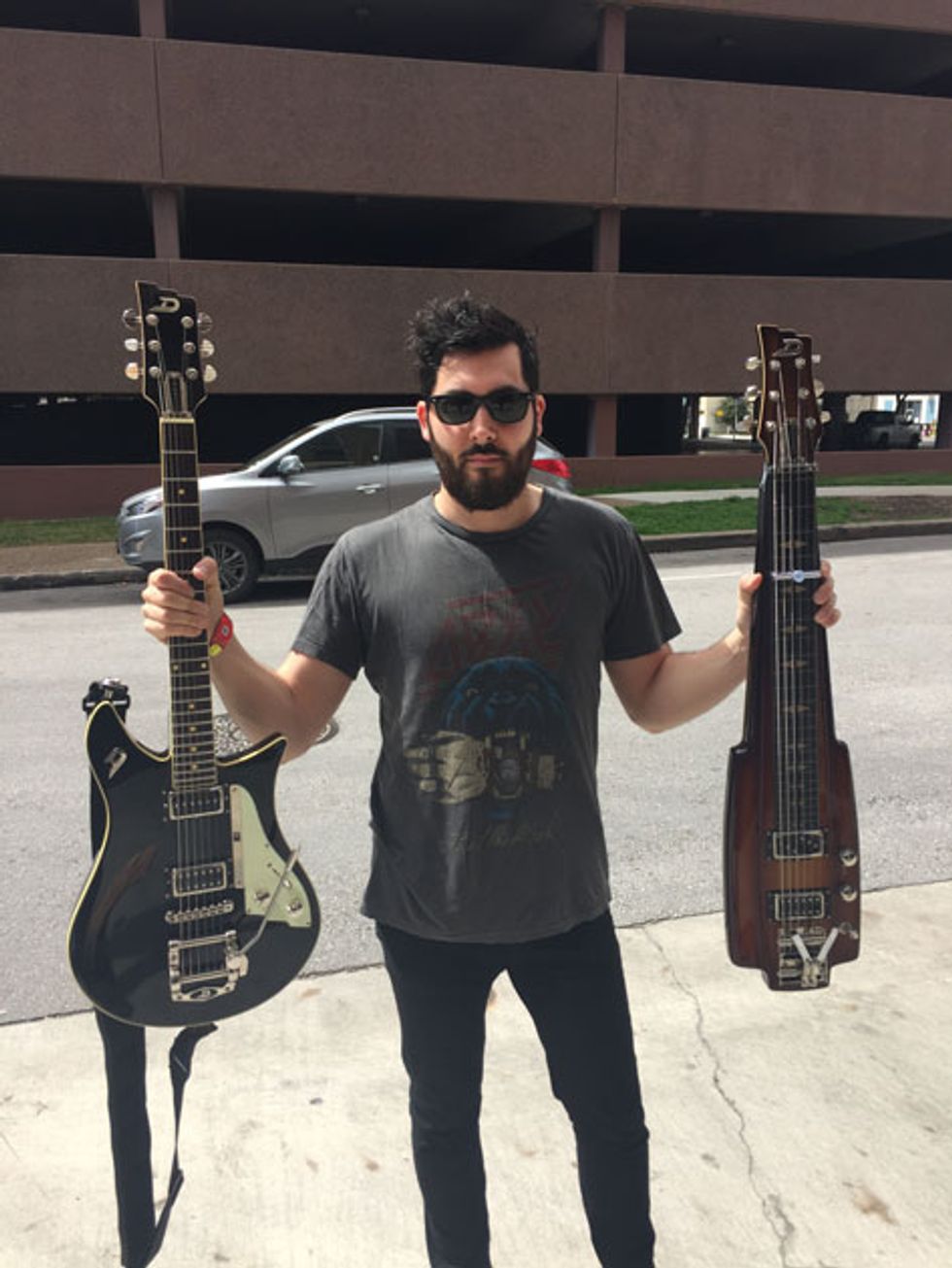 I try to keep it simple for pedals. The only real effects I use are trem, reverb, and delay (long or slap). I have a Strymon Timeline that I love—it has very warm and smooth sounding delays. The Strymon Flint is my main tremolo and I'm blown away by how remarkable the harmonic trem in that pedal mimics a real tank on an old amp so well. I'm a tube-amp-reverb guy, but I like to kick on the Flint's verb when playing lap steel to give it some extra air. Also, for backline amps with no reverb, the Flint certainly saves the day. For boosts/overdrives I've been using JHS pedals for a few years now. The Prestige, SuperBolt, and Morning Glory are my favorites. For my Klon-replica needs, I recently switched to a J. Rockett Pedals Archer. And I have a TC PolyTune and Dunlop DVP1 Volume Pedal. Everything is solidly strapped to my Pedaltrain board."