3. The Stone Foxes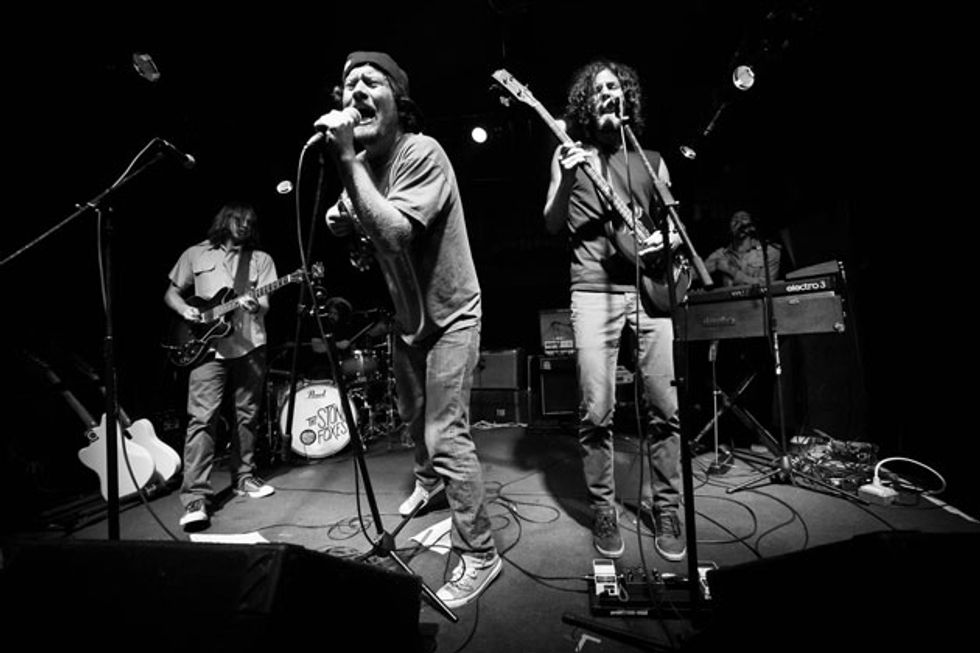 We're all familiar with the hokiness that often occurs when bandmates trade instruments and show off their barely adequate skills on secondary instruments. But when the Stone Foxes start playing musical chairs onstage, it welcomes in a raw, untapped energy source for the band and crowd. Lead guitarist Ben Andrews plays guitar, banjo, slide on a cigar-box guitar, and fiddle. Lead singer Shannon Koehler plays harmonica, drums and guitar. Drummer Brian Bakalian takes a rip on bass while bassist Vince Dewald hammers the skins. Throughout their high-voltage sets, the Foxes will swap positions with an effectiveness and aptitude that makes you question what their first instrument truly is. The Foxes' sound is based on classic, electrified blues song skeletons that are amplified, performed no-holds barred, and they add an explosive, anthem-like quality (à la early Cage the Elephant). In a live setting, you hear even more influences like country, rock, and a touch of Bay-Area psych jam.
Ben Andrews' Gear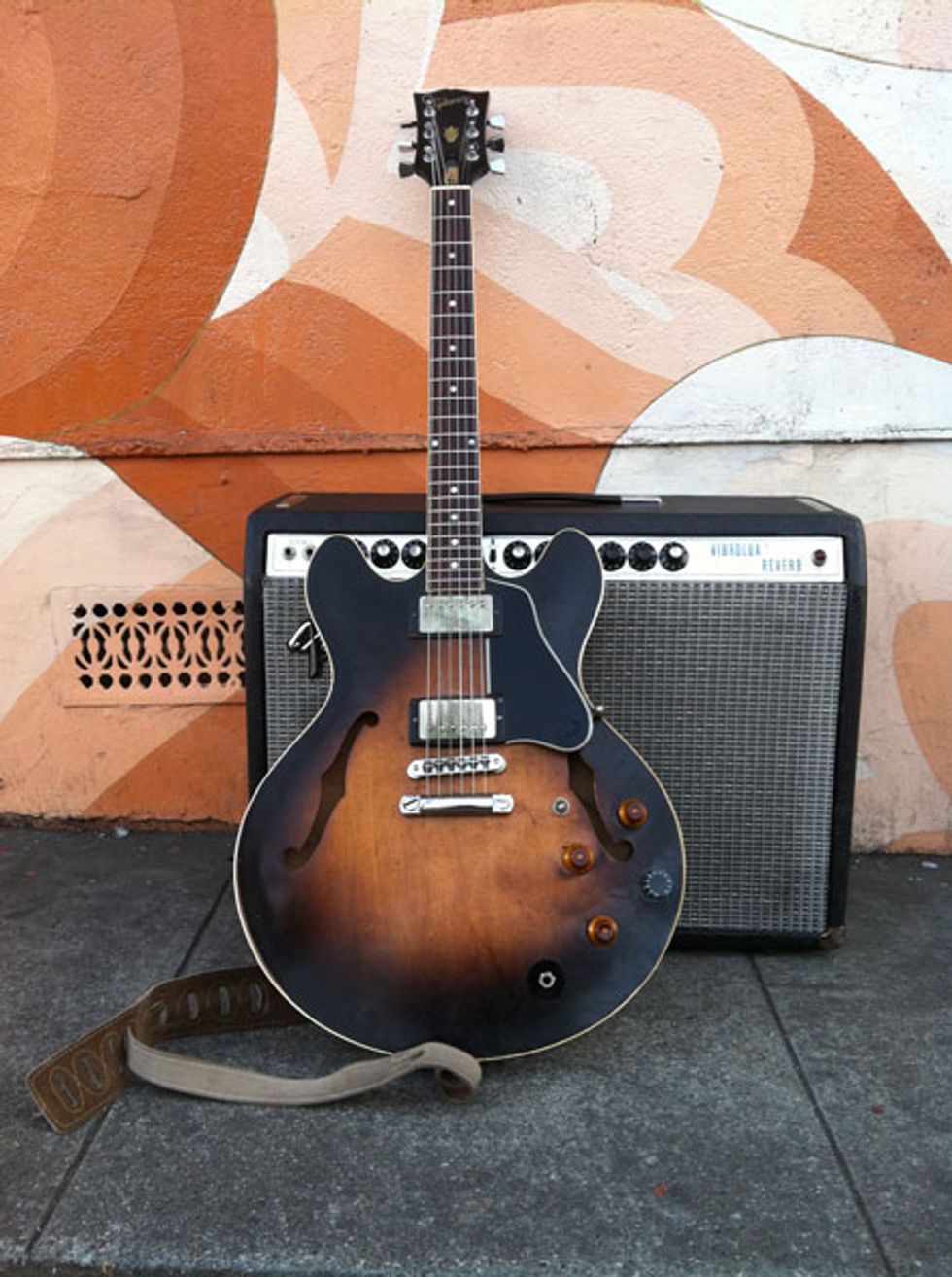 "My main guitar is a 1979 Gibson ES-335. It was the first guitar I ever bought and for the last 15 years it has been my go-to guitar—no matter what style of music I'm playing. It has a maple neck, which makes it a great road guitar cause the headstock will never break. (I'm pretty rough on it.) When I joined the Stone Foxes I needed a bright sound so I got a 1979 Fender Vibrolux from Real Guitars in San Francisco. I generally run it at about 2 with a boost (Fulltone Fat-Boost 1) in front and it breaks up great.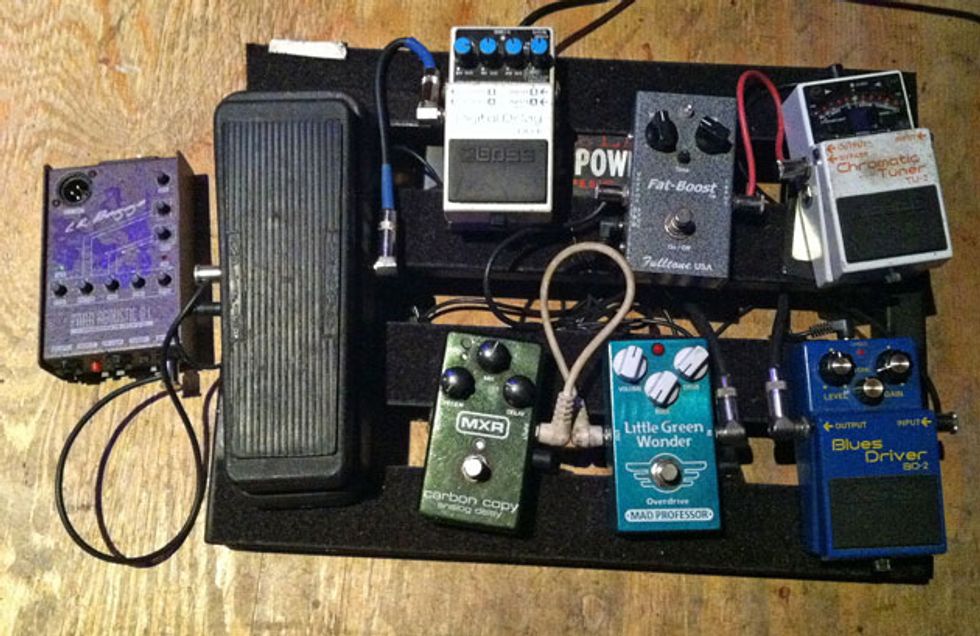 I use a couple overdrive pedals (Boss BD-2 Blues Driver and Mad Professor's Little Green Wonder) with the drive turned all the way down so it's just boosting the amp and adding a little bit of grit without too much coloring. The only other pedals I have are two delays (MXR Carbon Copy that is for short delays and the Boss DD-5 Digital Delay is for longer, ambient delays) and a Boss TU-2 Tuner. I also have a L.R. Baggs Para Acoustic D.I. for when I play fiddle."
Spence Koehler's Gear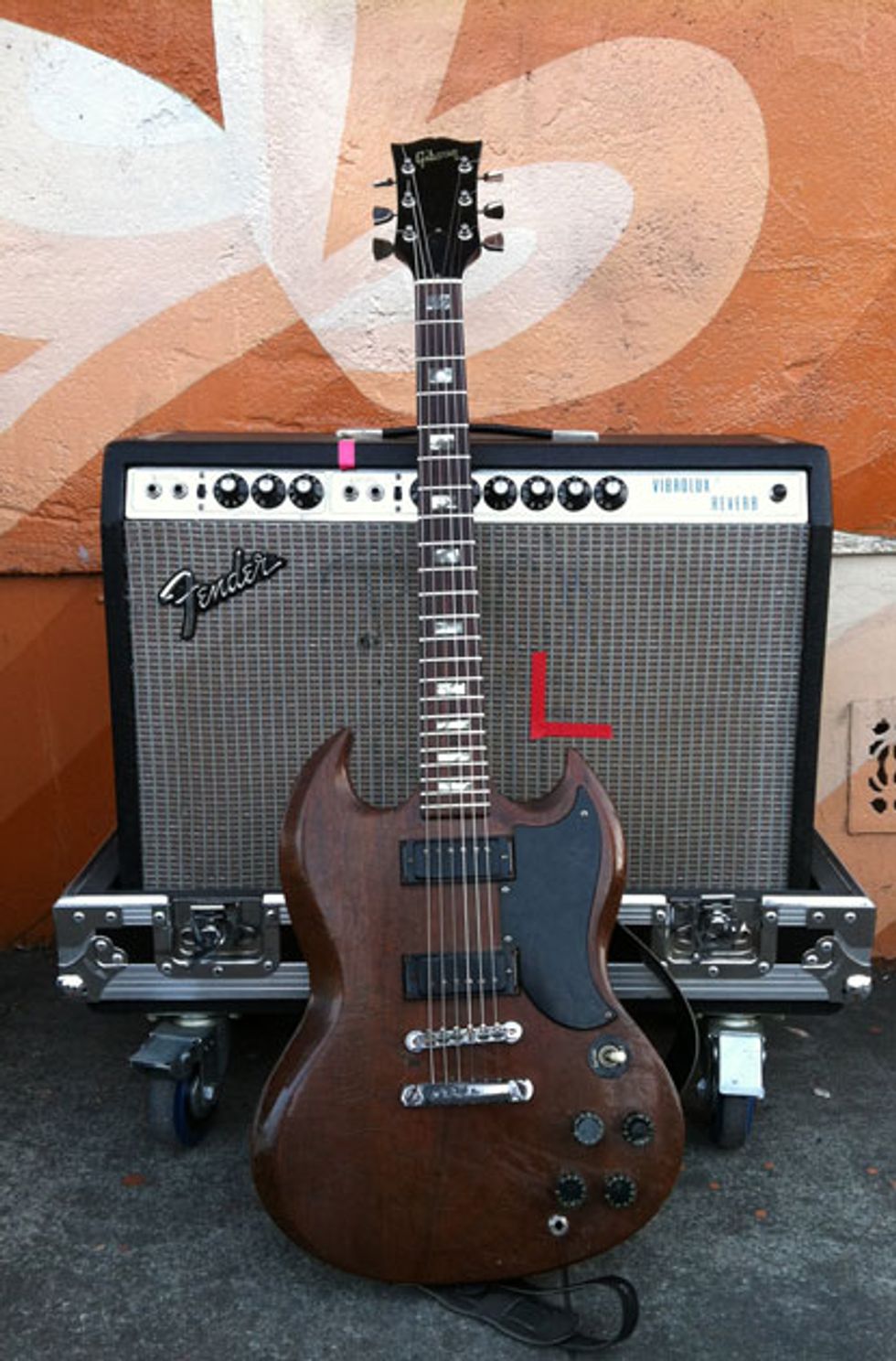 "My No. 1 guitar since the early Stone Foxes days has been a 1973 Gibson SG Special. I'd always wanted to get Angus Young's tone on
High Voltage
—that brittle, biting sound, so when I had enough money I went after the first vintage one I found that felt right and didn't need much work. I bought that and my 1975 Fender Vibrolux while we were recording
Bears & Bulls
with the cash I got from selling my '66 Ford Mustang I'd had since high school. The SG's taken some hits and had its headstock snapped twice (we don't exactly baby our gear). It has really versatile original mini-humbuckers that are warm and sharp, and the Vibrolux really complements those biting tones well. Add some lush Fender reverb, maybe some vibrato, and that's my sound.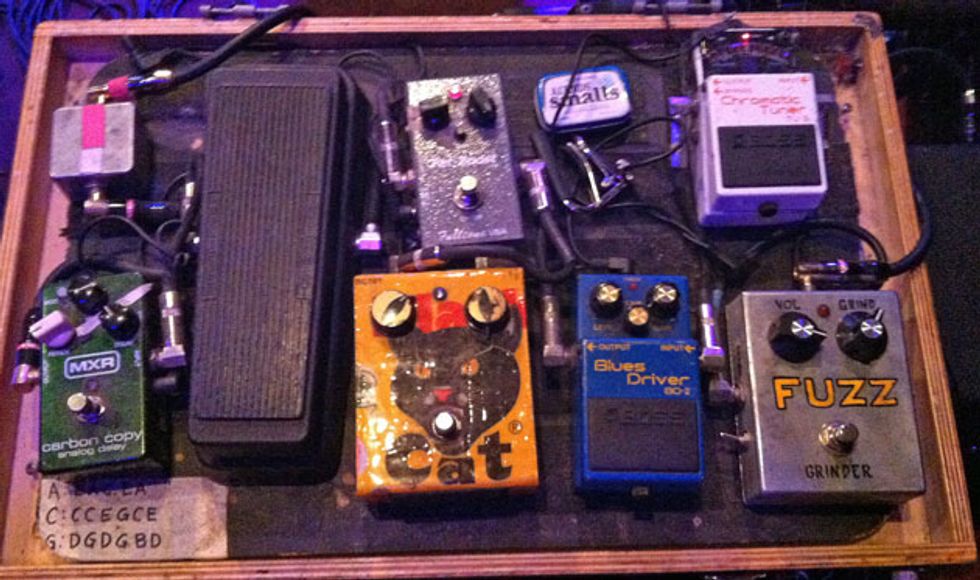 As for stompboxes, I've tried many and always come back to a certain few—the Fulltone Fat-Boost 1 and a Boss BD-2 Blues Driver are my main dirt pedals (and sometimes I'll add a Way Huge Angry Troll if I have room). I also use a germanium fuzz I built myself from scratch for our song 'Everybody Knows,' a Dunlop Cry Baby Wah, and an MXR Carbon Copy Analog Delay."
Vince Dewald's Gear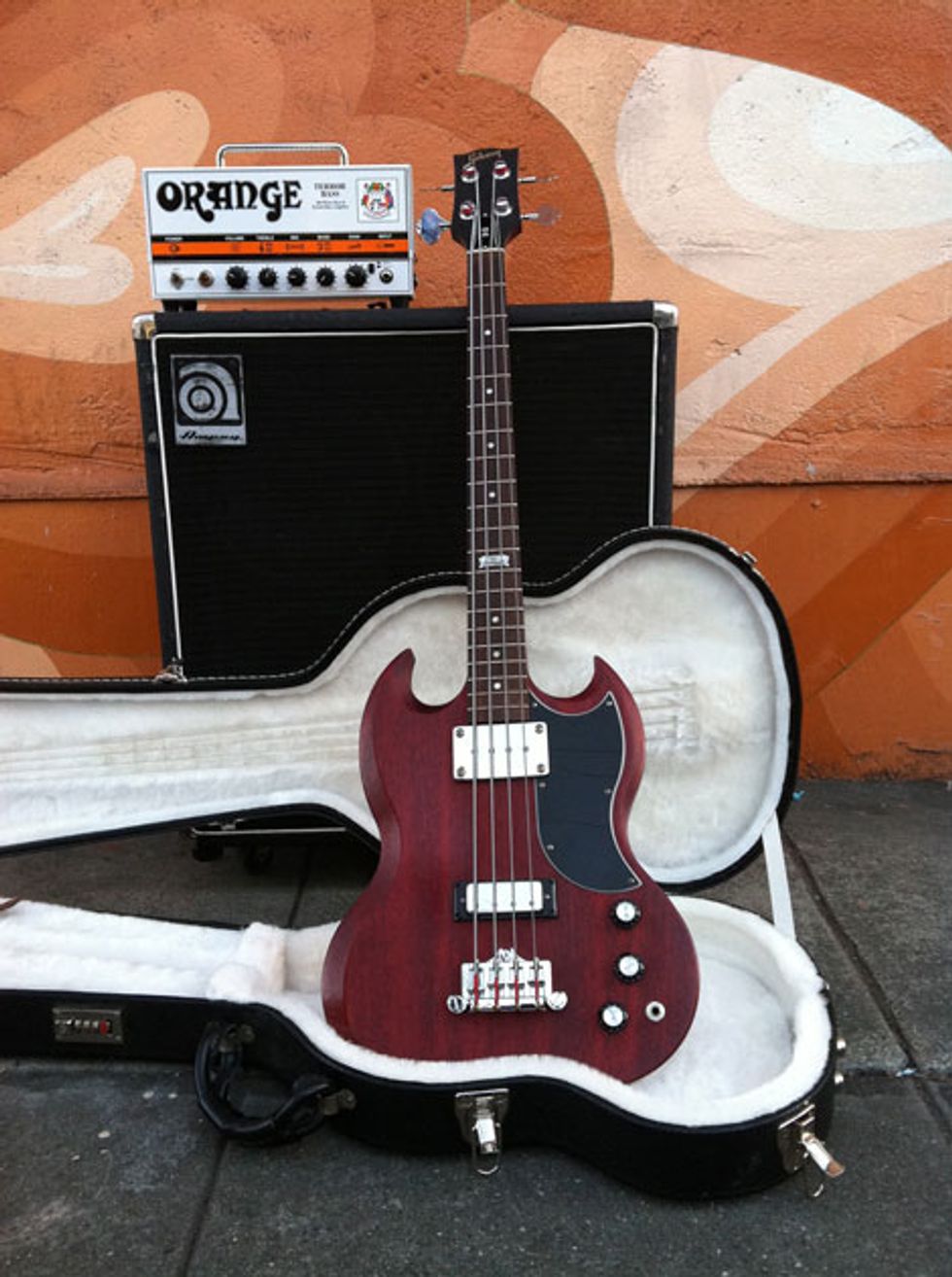 "I was looking for a dark-but-punchy bass sound—something with a blues gut with some high-end definition. Mike Watt and Jack Bruce are two of my favorites so it was a no-brainer when I got an SG short-scale 4-string. The Orange Terror Bass head and Ampeg 1x15 cab really mesh for a nice vintage sound that I love. My pedals are a Boss TU-2 Tuner, EXH LPB-1 Boost, and a Pro Co Rat Fuzz."