6. Badflower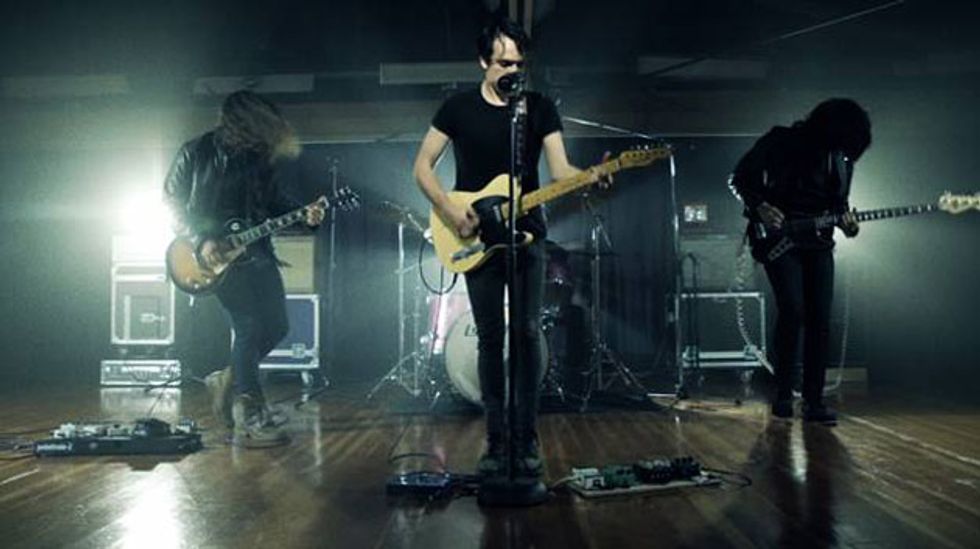 Many of the bands we've covered from SXSW are specialists based within a musical subgenre of another subgenre. That's not Badflower. They're an unabashed rock band from L.A. who builds floor-cracking songs on the backs of filthy, dual-guitar parts that are paired with guitarist/singer Josh Katz's cinematic storytelling that deals with digital-age morals, villains, and the fears and demons one holds inside. Lead guitarist Joe Morrow writes and executes winding, bending, guitar riffs that work perfectly over the top of bassist Alex Espiritu and drummer Anthony Sonetti's strong, rhythmic backbone.
Josh Katz's Gear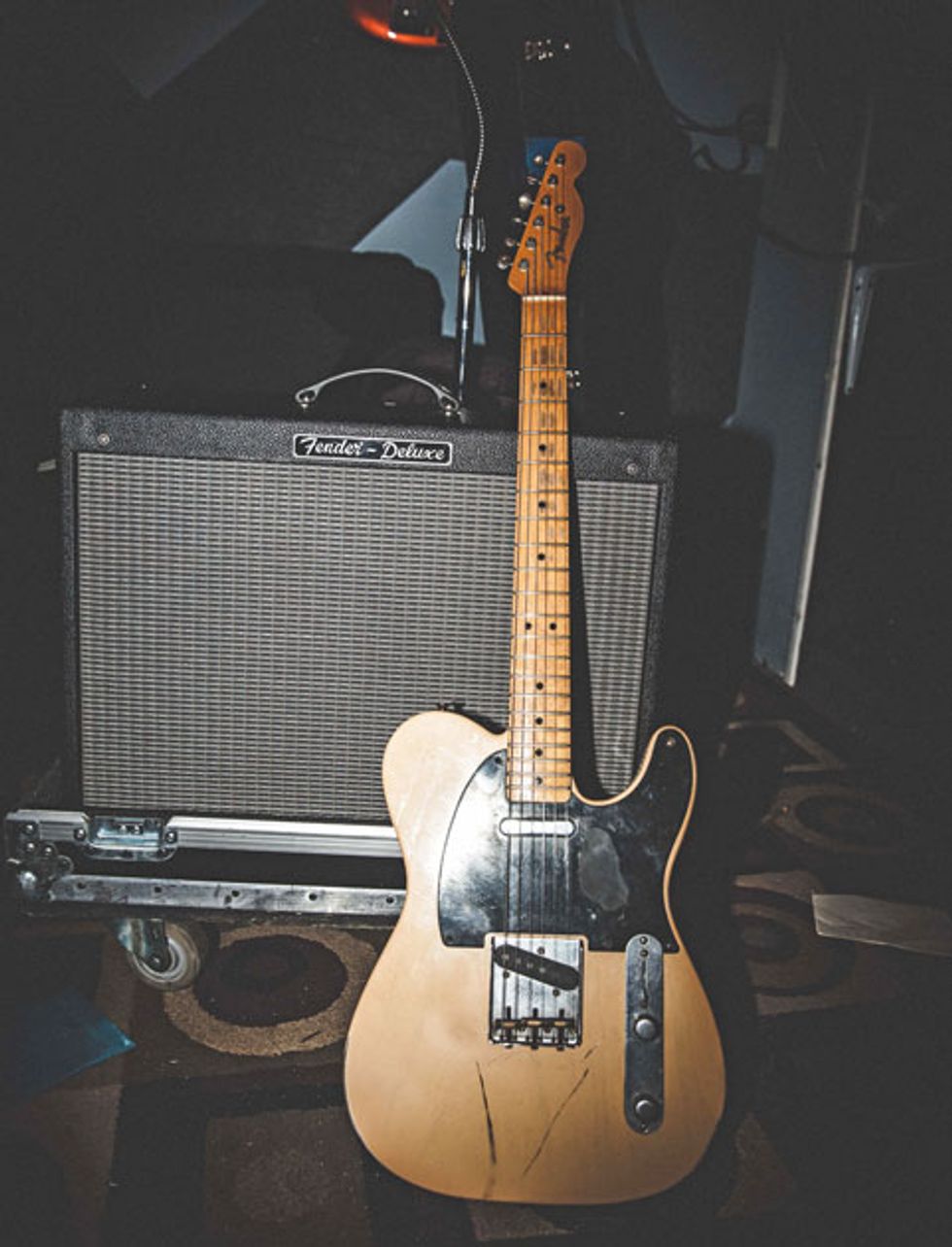 "I've been playing a Telecaster since I can remember. I've had several different makes and models, but as soon as I picked up Fender's American Vintage '52—I was hooked. It sounds unreal and feels amazing.

The stomps I use are a Pro Co Rat for aggressive, distortion/fuzz tones, a Strymon Flint for any reverb and tremolo needs, and an Ibanez TS9 Tube Screamer for some warm saturation. Everything runs into a Fender Hot Rod Deluxe III. It's as simple as they come—a single 12-inch speaker and 50 watts of pure volume and fury. I use a TC-Helicon VoiceLive Play for some reverb and delay on my vocals because you can never trust a sound guy [
laughs
]. At this point, I don't think I'll ever change my rig."
Joe Morrow's Gear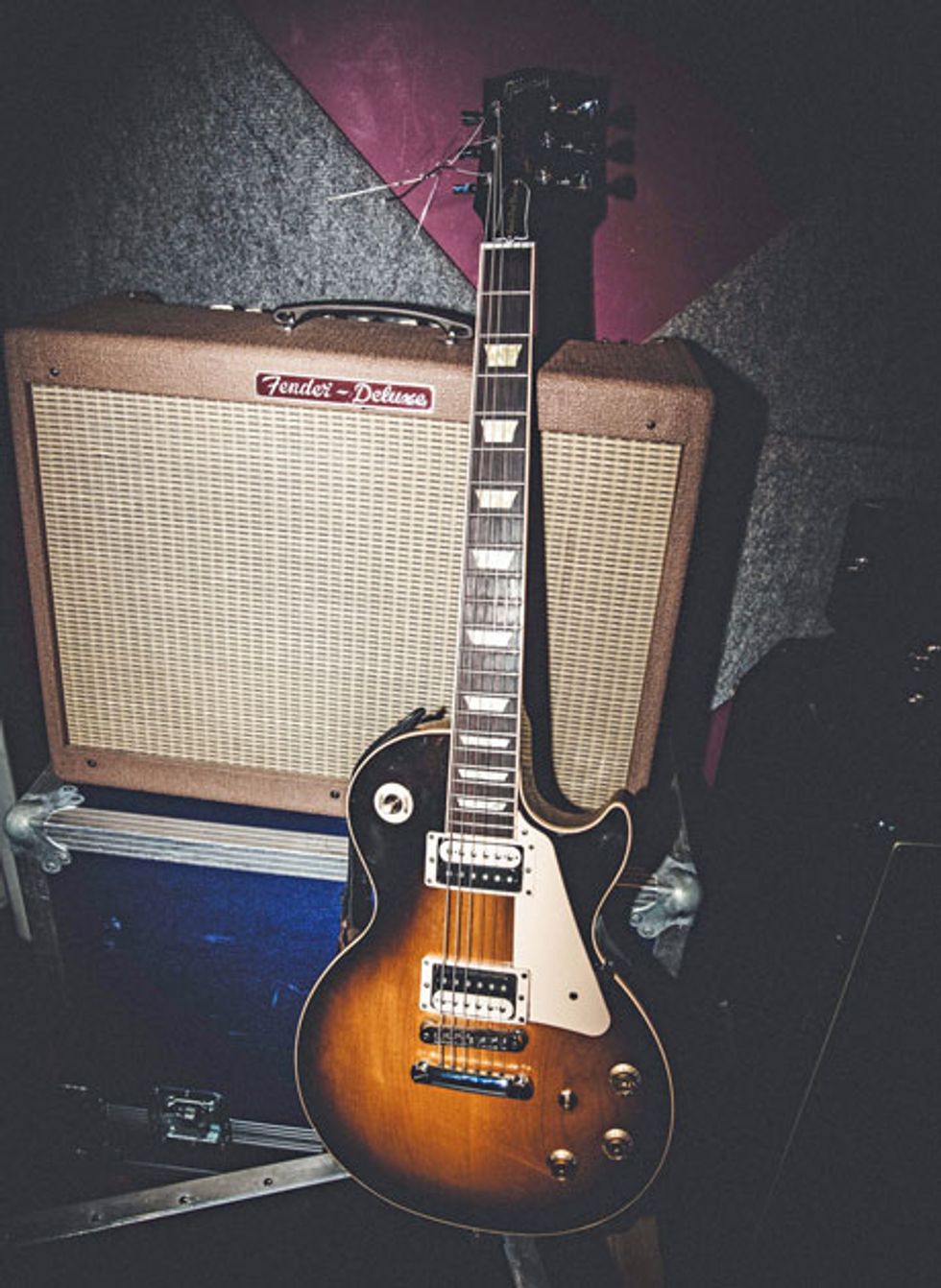 "I've always gravitated to the Gibson Les Paul. To me, it's the most classic symbol of rock 'n' roll. The thick tone just seems to suit my playing style and what I want to hear for my Badflower tone. That being said, my first
real
guitar was a Fender Stratocaster, which we still carry around as a backup.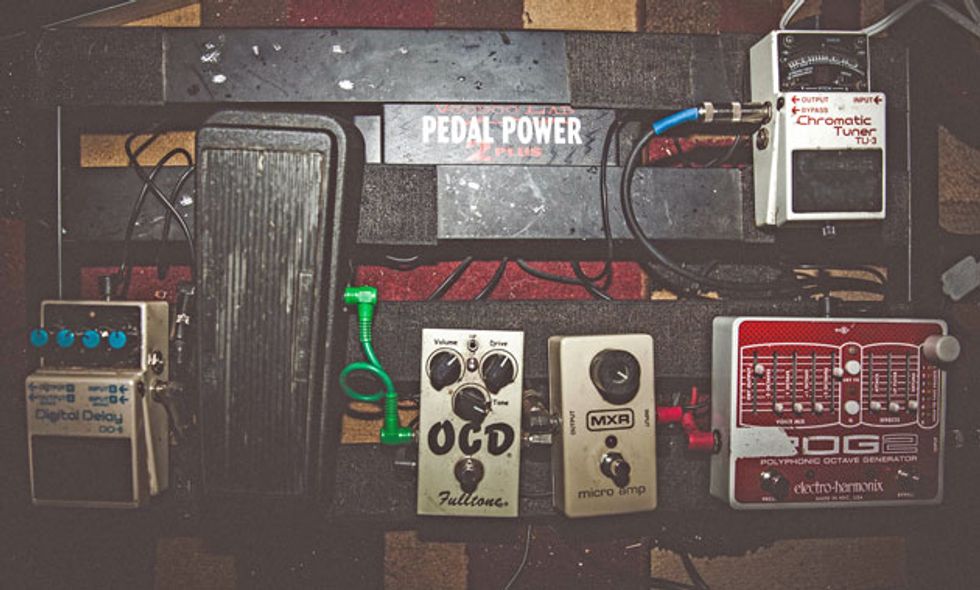 My pedalboard is pretty simple and that's how I like it. I've got a Fulltone OCD for added dirt—I really like this dirtbox because it's transparent, very dynamic, and really enhances the harmonics from my guitar. The MXR Micro Amp is almost goose'd to 10 for an extra volume boost in my solos. I use the Electro-Harmonix POG for an octave effect on our more riff-y songs. It gives my tone a little more thickness. And I have a Cry Baby wah. My amp of choice is a Fender Hot Rod Deluxe Special Edition that features brown tolex and a Jensen P12N alnico speaker. I love that thing and it's never let me down yet [knocks on amp]."
Alex Espiritu's Gear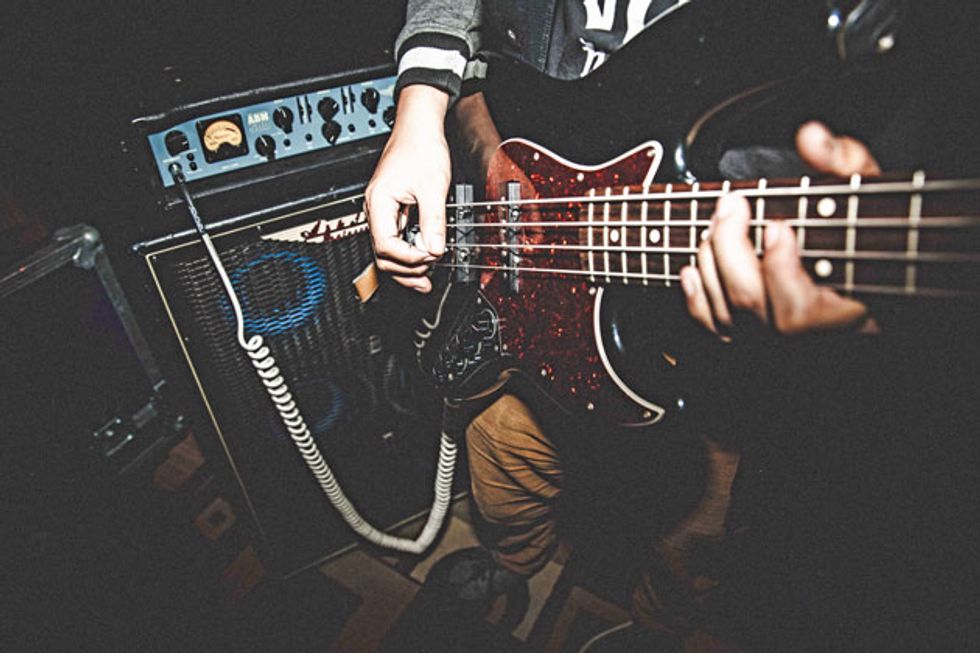 "I play a Fender Jazz bass because, since its creation along with the P bass, they're the basses that all basses have been compared to. My Jazz bass has a simple, straight-to-the-point tone. I've had this bass since I really started pursuing music seriously and it's been a great journey to able to grow with my instrument as a player and have it age with me—it sounds better every day. I play an Ashdown ABM 500 EVO III head with the matching 6x10 Ashdown cabinet. It gives me the clarity I desire, with tons of bottom end to rattle the stage and crowd. I love having the accessibility of pumping a single ECC83-S tube through the head as well. It offers up just enough grit to help me really pump the tone throughout the mix and not use any pedals for boosting or overdrive."
---
7. Happyness' Benji Compston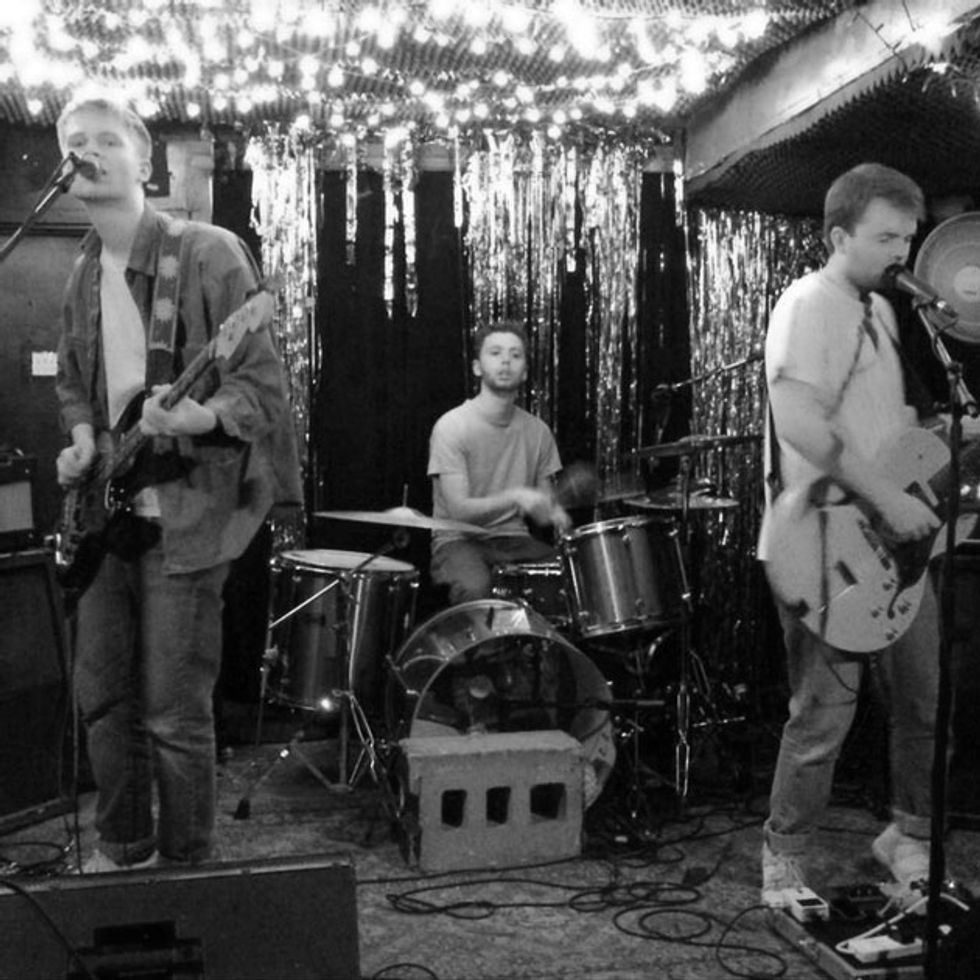 On the surface, Happyness seems like just another band cashing in on the resurgent popularity of softened indie rock. They do have a familiarity in their music in that they incorporate Pavement's wit, the pop sensibilities of Neutral Milk Hotel, and the soothing, moodiness felt in many bands of the genre (Sparklehorse comes to mind). While they're a young band, the London-based trio has an uncanny ability to take you to a completely different frame of mind like the sun-setting easiness that is "Orange Luz." One thing is for sure, with Happyness you'll enjoy the journey.
Guitars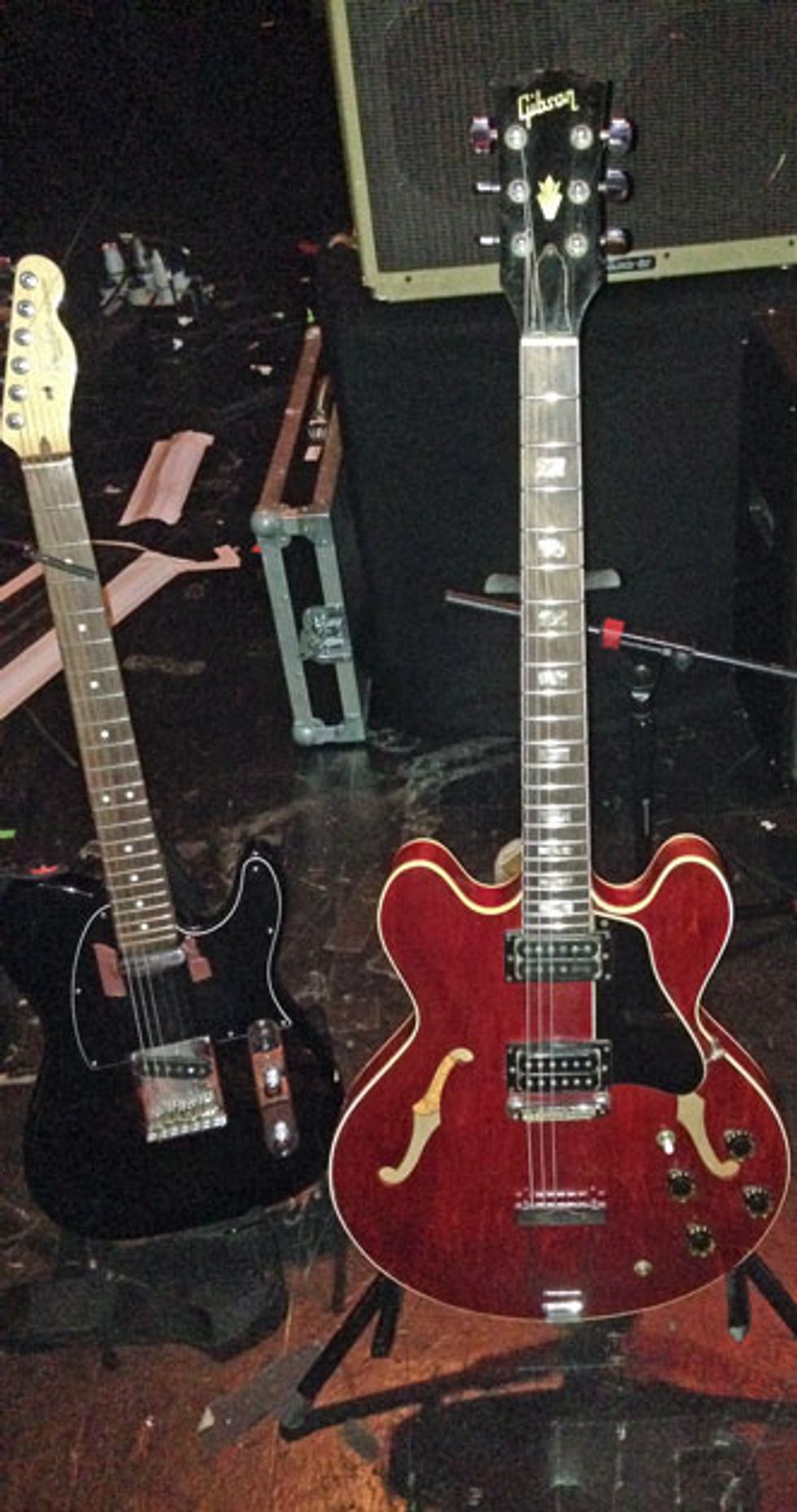 "Our setup consists of a pretty mismatched patchwork of stuff. We self-produced our album
Weird Little Birthday
using a bunch of cheap gear (a Roland Octa-Capture 8-channel digital interface, an Aria semi-hollow that has this cool, brittle, biting tone and when you drive it, it sounds raw as fuck) and then messed around with various 4-track tape players. For the most part, we just use whatever practice instruments we have lying around and it's kind of the same attitude live—working with what we can afford that doesn't suck like crap. That all being said, my main onstage guitar is a 1971 Gibson ES-335 and I also play a Fender American Standard Telecaster to save time changing tunings, so I'll bounce back and forth during a set depending how we have songs/tunings lined out."
Amps and Effects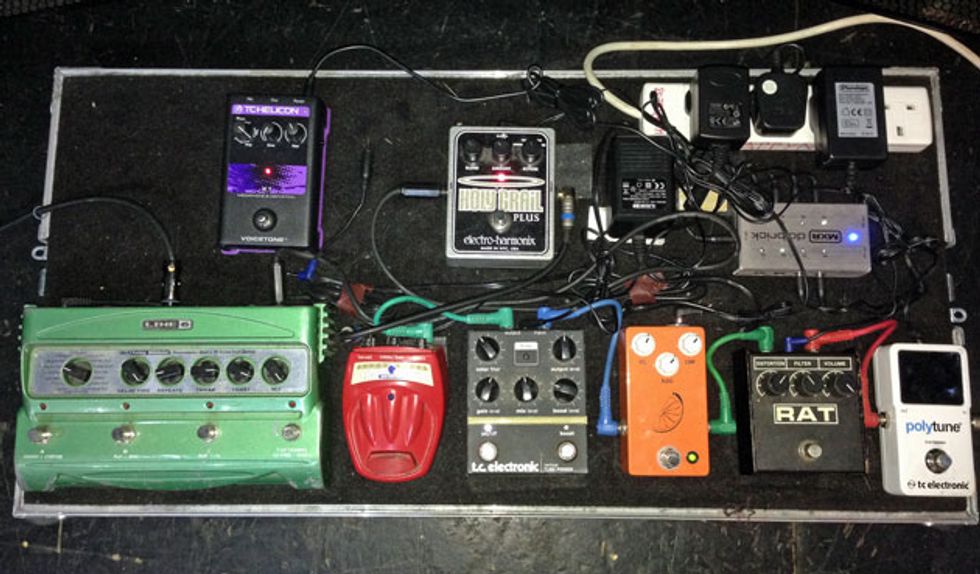 "Our main guitar amps are a Fender Hot Rod Deluxe and a Blackstar HT Stage 60 combo, but somewhere along the line we picked up a collection of 15-watt practice amps—like a cheap Marshall combo and a Roland Cube—that we run vocals through when we're doing stripped-down gigs. We'll run those practice amps and the front-of-house sound guys hate us when we turn up those combos and insist on running vocals through them. The distortion sound we use for our vocals is a General Motors 1971 Alternator running through a Toblerone box."
"My favorite thing on my pedalboard has to be the Danelectro Cool Cat distortion pedal—the red one. They're super cheap and have an awesome, tacky distortion sound that's really compressed and kind of harsh. We've run vocals through it—think: Satan-shouting-through-a-supermarket-PA—and we used it for loads of the distortion sounds on the album. The orange pedal on the board is a JHS Pulp 'N' Peel Compressor that's awesome. I keep it on throughout the set and it just softens everything a bit and warms stuff up—like a microwave. Other stomps I have on my board include Electro-Harmonix's Holy Grail Plus, a Line 6 DL4, TC Electronic's Vintage Tube Primer and PolyTune, and a Pro Co Rat."