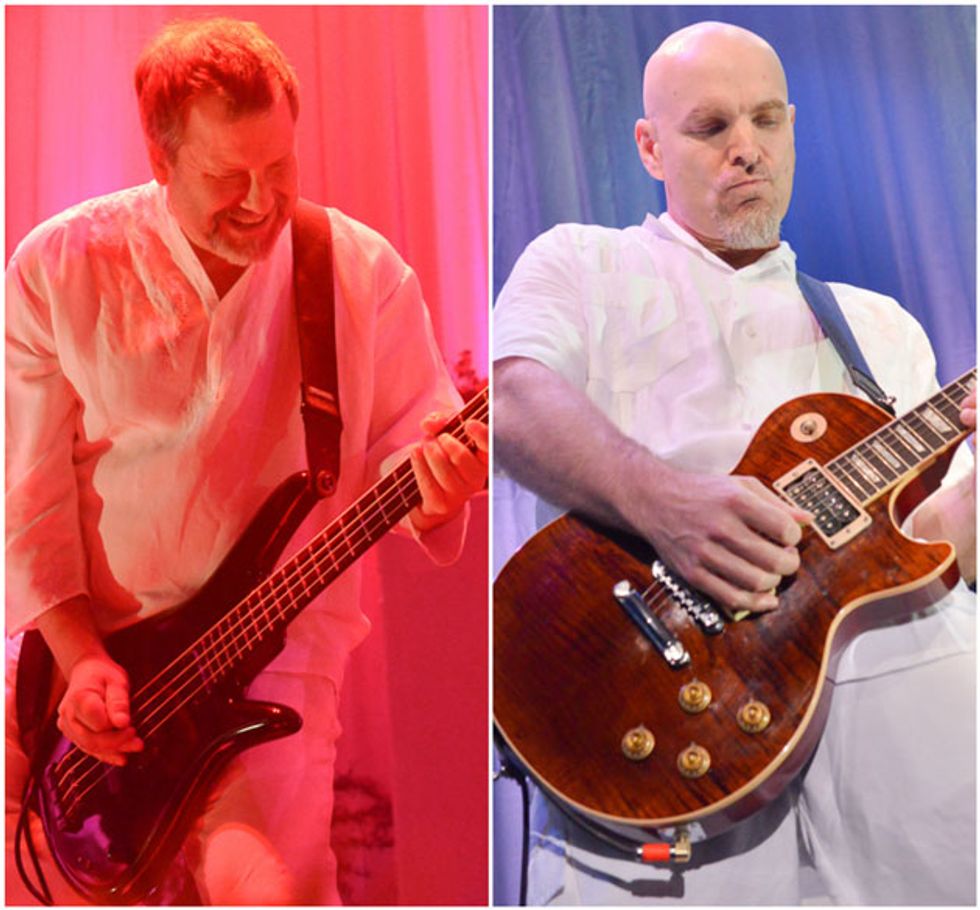 Co-founding member Billy Gould (left) hammers out grooving bass lines during the band's recent show in Japan at Shinkiba Studio Coast. The band's newest member—he joined in 1996—Jon Hudson (right) rips off a solo during the band's recent show in Japan at Shinkiba Studio Coast. Photos by Kazumichi Kokei.
In 1998, President Bill Clinton was in office, Michael Jordan and the Chicago Bulls won their sixth NBA title, AOL was the leading internet browser and email service, Armageddon was the No. 1 grossing film, and on April 7, the funk-metal misfits Faith No More played their last gig in Lisbon, Portugal.
Current members bassist Billy Gould, drummer Mike Bordin, and keyboardist Roddy Bottum started the band (originally named Faith No Man) during the early '80s in San Francisco, where they had a revolving door of singers and guitarists before drafting Chuck Mosley and Jim Martin for those respective chairs. This lineup released Introduce Yourself in 1987. The band eventually fired Mosley and replaced him with crooning, operatic, screaming sensation Mike Patton who solidified the band's sound and direction by incorporating a more extreme palette of influences, including heavy-and-loud ("War Pigs"), funk-rock ("Epic"), lounge-y, jazz vibes ("Edge of the World"), and least-likely, Middle-Eastern rhythms ("Woodpecker from Mars"). In 1989, they released the platinum-selling, Grammy-nominated The Real Thing, which catapulted them onto MTV's airwaves and into the mainstream consciousness.
With Patton firmly at the helm, the band pushed forward, blending and distorting musical boundaries on more adventurous albums: 1992's Angel Dust (guitarist Martin's last album), 1995's King For a Day… Fool For a Lifetime, and 1997's Album of the Year, which was guitarist Jon Hudson's first recorded appearance. While many of their albums were critically acclaimed, FNM toured relentlessly in an effort to win over audiences.
"Getting paid to play music is crazy, and to have that be your day job is just incredible. To go from that into management is
quite a transition." —Jon Hudson
"We pretty much toured nonstop for a decade because label reps and publicity people would say this area isn't getting you," says bassist Gould. "We would record, rehearse, tour, and repeat that cycle every two years or so. By the end of Album of the Year and touring in 1998, we'd had enough of each other and had to go our separate ways. We were toast."
So they went off and did their own things. Patton put all his energy into Fantômas, Mr. Bungle, Tomahawk, Peeping Tom, Italian operas, video-game voiceovers, and even did time as a singer for Dillinger Escape Plan. Bottum pursued new music as singer/guitarist for Imperial Teen. Bordin went on to drum with Ozzy Osbourne and Alice in Chains' Jerry Cantrell. Gould worked with Jello Biafra, Brujeria, and produced several albums on his Koolarrow Records label. And guitarist Hudson left music altogether.
Around 2007 or 2008 when Roddy got married, most of the band attended the ceremony and reception, marking the first time they'd been together since the '90s.
"Since it was a personal thing and we were there to celebrate Roddy's happiness, we had no pressure or expectations," says Gould. "It was real casual, but I was apprehensive about it since we hadn't been in the same room together in nearly a decade, but everything was great. My thing was if the vibe was weird, tense, felt forced, or we didn't get along, it would be a telltale sign that any type of a reunion wasn't in the cards. Thankfully, everything went great and that was the first step to where we are today."

Billy Gould's signature Zon Sonus bass has an onboard preamp designed with Greenhouse Effects Roy Zichri so Gould doesn't need any effects onstage. The bass also has proprietary-designed Bartolini pickups first put in his basses in the early '90s.
After years of reunion shows and festival appearances, the band quietly decided to start recording new material. Released nearly two decades after Album of the Year, FNM's new album Sol Invictus proves they can still harness the manic energy of their earlier music. We recently caught up with Gould and Hudson, and they described the reformation process, what it's like to self-produce a record, and why neither of them use distortion or overdrive pedals.
Jon, you essentially quit professional music. What was your day job?
Jon Hudson: I worked in property management—I oversaw condominiums for Homeowners Associations in the Bay area. Getting paid to play music is crazy, and to have that be your day job is just incredible. To go from that into management is quite a transition.
When the band split up, I toyed around with having my own band and putting out my own record, but I couldn't really find the right people to work with at the time. I was also trying to be realistic about it. I just thought, look, I had a great run with the band, but it didn't pan out, so I switched gears and grew up. Managing a portfolio of properties was probably the most challenging thing I've ever done. I'm glad to be playing music again for my day job [laughs].
Do you remember when you decided to move beyond playing reunion shows and actually make a new album?
Billy Gould: A lot sooner than we announced it. The problem is when you haven't put out music in 18 years and you start hinting that you're going to do something, the hype machine starts up. We just wanted to be absolutely sure that we had enough material we were really happy about—that means all of us, not just one of us—before actually taking the necessary steps to being a living, breathing band again.
Hudson: For about five or six years, we just enjoyed playing the old material. It was nice to be around the guys again. I don't remember who brought it up, but at some point we decided to try writing new material. It was so informal that it practically went by unnoticed. It was very relaxed and we had no pressure on delivering anything other than to ourselves.