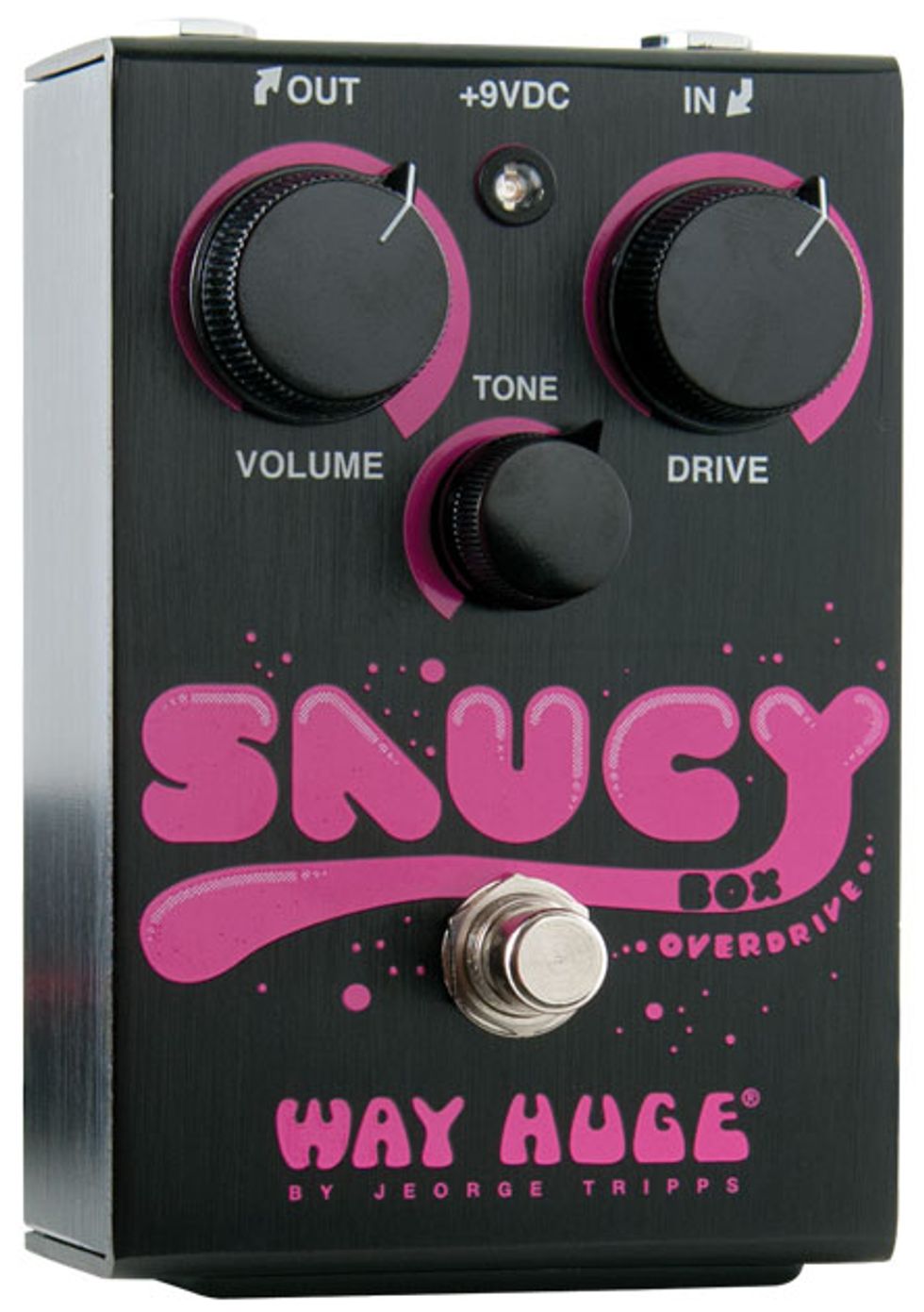 Overdrives are old hat for Way Huge. The super-simple Red Llama and the hyper-tunable Pork Loin are both considered modern classics in some camps. And the new Jeorge Tripps-designed Saucy Box, in some ways, seems designed to inhabit a world between those two pedals. It's simple, but can also move with grace and menace between near-clean boost tones and the upper reaches of the medium gain spectrum.
Split Personality
Like the Pork Loin and a lot of other overdrives, the Saucy Box's overdrive tone is the product of output from discreet clean and overdriven signals. But where boxes like the Pork Loin enable adjustment of the wet/dry mix, in the Saucy Box the ratio is fixed. This means slightly less flexibility for compulsive micro-tweakers. For everyone else it means a nicely balanced and relatively transparent fundamental voice that you can dirty up with a single knob.
Ratings
Pros:
Happily ranges from clean to filthy.
Cons:
High-end can be hard to tame with bright amps.
Tones:


Ease of Use:


Build:


Value:



Street:
$129
Way Huge Saucy Box
jimdunlop.com
Classy, Trashy, and Little Thrashy
The Saucy's circuit works a lot like that of the Klon, and like that pedal, it will excite harmonics and add heat at low gain levels without coloring your guitar's voice excessively. These near-clean, low-gain levels are among the Saucy's sweet spots, and here it'll do a beautiful job of thickening flimsy-sounding single-coils or putting extra mass behind a low-output amplifier—killer stuff for muscular but jangly power pop.
Even at low-gain settings, the tone control can come at you pretty hot. Using a blackface Fender Tremolux (outfitted with pretty bright 75-watt Eminence Red Coats), I found myself rolling the Saucy's tone back to the lower third of its range, though I could add a little extra top end with humbuckers.
Nudging all the controls toward noon is a ticket to beautifully raunchy chords and slightly sizzling lead tones (the neck pickup on my Stratocaster loved this setting.) But some of the greatest revelations are what happens at the highest drive settings—especially when you crank the volume and tone along with it. Here the pedal isn't just hot and responsive to pick attack and dynamics, but brash and fiendishly skanky—a perfect recipe for fast and thrashy Black Flag riffage, but also ideal for Clapton's Cream '67 timbres when you back the guitar tone down to nil. At these extremes the Saucy Box has a near fuzz-like aggressiveness with less compression and sizzle and a much more dynamic touch. It's fantastic for stacking a really searing lead tone on top of a wide-open amp, and stays sweet when you back off the guitar volume just a touch.
The Verdict

The Saucy Box may be simple, but it speaks in voices from subdued and singing to rambunctious. If you don't often have to switch quickly between radically different gain levels or require over-the-top fuzz or distortion textures, the Saucy box could end up covering most of your gain needs.—Charles Saufley
Watch the Review Demo: