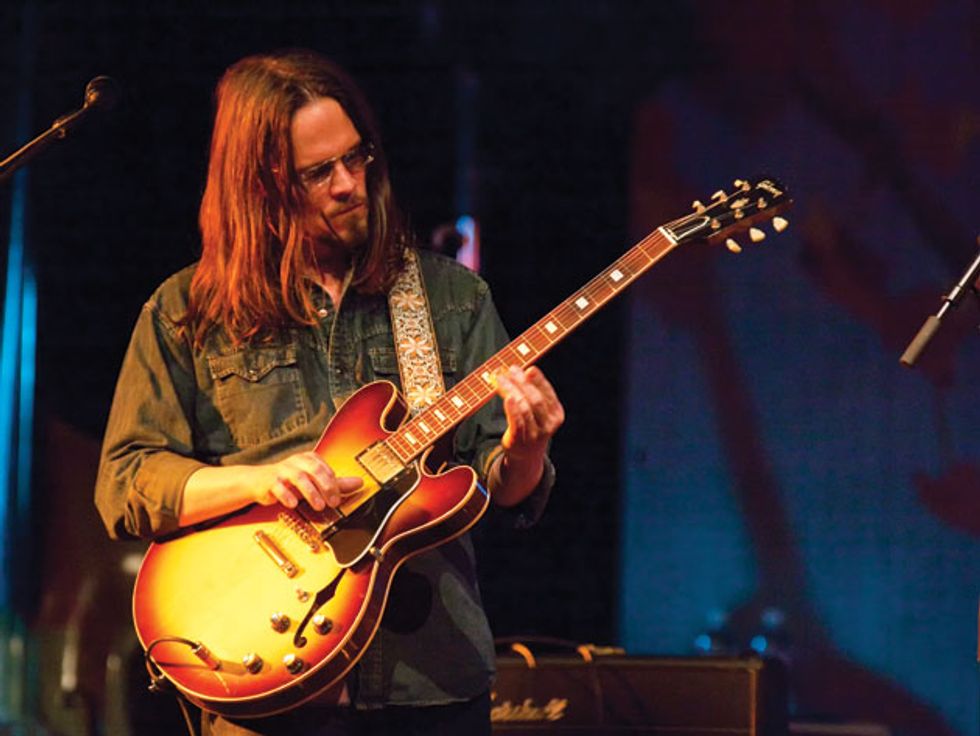 Photo by Tim Bugbee — Tinnitus Photography.
The group quickly cut a broad path through the rock, jam, and roots worlds. Despite a long history of traditional African-American spiritual institutions frowning on secular intrusions upon their music (from Delta bluesman Son House being run from the pulpit to denunciations of Ray Charles for mixing blues and gospel on his breakthrough 1954 hit "I've Got a Woman"), Randolph has retained his status in the House of God denomination. He still plays in the church he grew up in when he's home in Irvington, New Jersey, and he looks forward to performing at the annual Southern Sacred Steel Convention this June in Nashville.
"I have no idea where the energy in my playing comes from, but it's definitely there," says Randolph, who, before he got the Asher lap steel he sometimes plays with a strap around his neck, was known to leap up and drag his pedal steel around the stage when moved by the music.
"We can't have a set list! The Word has to be unbridled!"
—Luther Dickinson

"I think I'm a sheer case of ADD," he continues. "A lot of times for me it's a fine line between trying out something that jumps into my mind and going over the edge. The guys in the Word are such great players that they inspire me to go both inside and outside the lines. But I learned improvisational playing in the church, so that's where it comes from for me. The preachers go into these long spontaneous passages. The singers start stretching out songs. People start to dance and shout, and we have to keep the music going behind them and try to reflect the rhythm and the spirit of what they're doing. It all comes from the heavens, so we have to be attuned. That really put me on the right level for playing with Luther, Cody, Chris, and John, who are such totally bad musicians."
"A force of nature" is how Dickinson describes Randolph. "I feel like we're all so fortunate to live in the age of Robert," he says. "He's taking the steel into new territory, but Robert still talks about playing a rhythm the way Willie Eason, Sonny Treadway, or the other pillars of sacred steel played it. Now there's a whole new generation of steel players coming up, and Robert's their only reference point. That blows his mind.
Luther Dickinson's Gear
Guitars
Gibson Custom Shop Luther Dickinson model ES-335
Gibson ES-330
Gibson ES-125
Gibson Les Paul
Harmony Sovereign Acoustic
Scott Baxendale Custom Acoustic
Amps
Fuchs Overdrive Supreme Combo
Fuchs Full House Combo
Marshall plexi 100-watt and 50-watt heads
Fuchs Cabinets
Effects
Radial Switchbone switcher
Analog Man King of Tone overdrive
Foxrox Octron octave pedal
Strings and Picks
DR strings (.011-.050 and .010-.046)
Custom stone picks
Dunlop 212 slides
Robert Randolph's Gear
Guitars
13-string Jackson pedal steel
6-string Jackson acoustic pedal resonator
Asher lap steel
Amps
Peavey Robert Randolph Signature Steel Guitar Amp
Effects
Dunlop Cry Baby 535Q
Radial Tonebone JX2 Pro switcher
Boss FT-2 Dynamic Filter
Crowther Audio Prunes & Custard overdrive
Empress ParaEQ equalizer
Electro-Harmonix POG 2 octave generator
Cusack Screamer Fuzz
JAM Waterfall chorus/vibrato
EBow
Strings and Picks
DR custom strings
Dunlop thumbpicks
Shubb Robert Randolph slide bar
"Live, when Robert starts something we've never played—which he does a lot—we don't even know what key he's in, and that's when you break new territory. That's when you have that awkward moment of creativity that keeps you on your toes. Like Jack White, Robert has an inspiring ability to keep things creative onstage. He's also a great teacher and motivator. He wants that driving church rhythm happening on every instrument. He calls it 'strokes.' If you're slacking on the stroke, he's gonna look back at you, like, 'Give it to it!' He broke his hand and has been playing the last few gigs with a cast—playing with one finger and still smoking everybody. His melodies are so soulful, but infused with lightning."
Dickinson and Randolph are both ferocious pickers with intriguingly subjective styles. Randolph wears a thumbpick on his right hand and plucks with his other right-hand fingers (when they're not in a cast). Meanwhile, Dickinson follows the path of old-school blues guitarists, who did whatever they needed to get the job done. He uses a flatpick when necessary, but usually plucks with his bare right-hand fingers. On Soul Food, Dickinson plays in open D, open C, open G, and standard tuning dropped a step. Meanwhile, Randolph, inspired by an F-tuned lap steel he found waiting at Royal, played it on Soul Food, along with his G-tuned pedal acoustic resonator and his 13-string pedal steel (in his current favorite tuning of F#, D#, G#, E, D, B, G#, E, E, B, G#, E, C).
Dickinson is no lamb when it comes to gospel. "Luther might actually know more gospel numbers than me," Randolph enthuses. "I learn new tunes from him all the time."
Dickinson's grandmother played piano in a Baptist church, and his father relayed the old-school hymns that he heard coming of age in Arkansas, Chicago, and Memphis. Dickinson is also steeped in the repertoires of Fred McDowell, Son House, John Hurt, and Blind Willie Johnson, who had no compunctions about blending the spiritual and the secular. And at least one flavor in Dickinson's fat musical layer cake comes directly from his North Mississippi hill country mentors, bluesmen R.L. Burnside and Othar Turner. "It's really cool," he observes, "how Robert, John, and me bring together all of these overlapping angles."
Medeski brought a modernist perspective to Soul Food, according to Dickinson: "I did a mix, but it was too straight-ahead. John went in there and fixed the shit out of the album, creating arrangements by moving the tracks and really making it pop."
Dickinson says he seeks the same goal every time he plays: "It's not about the song, really, or about any one musician. It's about getting a group feeling with the other musicians
and
the audience. Like the Allman Brothers say, it's about 'hitting the note.'"