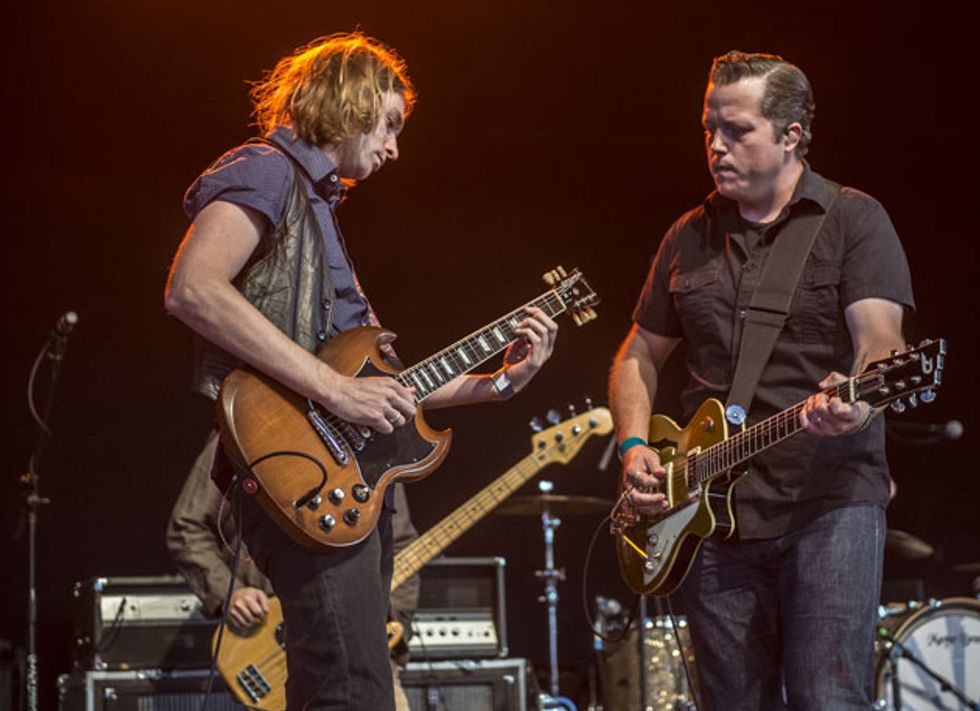 The twin-guitar attack of Isbell and Sadler Vaden comes to life on the new album. "For the most part, it just came through naturally," says Isbell. Photo by Brian Glass
How big an influence was R.E.M.?
They were huge, man. When I was in the Truckers I spent some time with those guys. That was a really big deal to me. Pete [Buck] would let me borrow guitars when we were in the studio. I got to sing karaoke with [Mike] Mills and have beers with him, stuff like that. That band is a really big deal to me. They made beautiful music for a long time.
You grew up in North Alabama, not far from the Muscle Shoals scene. How does that influence manifest in your songs?
"Palmetto Rose" is a good one for that. It has a bit more of a backbeat than some of the others. There's a lot of Rolling Stones in that song. Chad [Gamble, drummer] and Jimbo [Hart, bassist] are from Muscle Shoals also, and just about everything we do has that flavor just because of how those guys play. They have such a loose groove, where the tempo stays put, and they sit right on the back edge of it. It's such a beautiful thing.
You play a little Merle Travis-style solo on "How to Forget." Was Merle one of your guys growing up?
Oh yeah. I'm not great at that style. It's a lot like playing the piano because you have to really get your thumb to do a certain type of muscle memory. I wouldn't say I'm that type of player, but I can do just enough to augment the songs I write. My uncle and granddad were big Chet Atkins fans, so I grew up listening to a lot of Chet. I saw him in concert as a kid with Steve Wariner opening. It was amazing.
Jason Isbell's Gear

Guitars
Martin D-18 Authentic 1939
Martin Custom D-35
Martin HD-28E Retro
Fender Custom Shop 1960 Relic Telecaster Custom
Gibson Collector's Choice #12 1957 Les Paul Goldtop
Duesenberg Fullerton Elite
Duesenberg Starplayer TV
Amps
Sommatone Roaring 40 Head with 2x12 cab
Magnatone Super 59 Head with 2x12 cab
Effects
AnalogMan Sun Lion
Klon Centaur (silver, no horsie)
Origin Effects SlideRig Compact Deluxe (x2)
Greer Amps Lightspeed
J. Rockett Blue Note
Electro-Harmonix Micro POG
Strymon Flint
Strymon Deco
Wampler Faux Tape Echo
Wampler Faux Spring Reverb
Fishman Aura Spectrum DI (x2)
Selah Effects Quartz Timer
Mission Engineering Expression Pedal
Mission Engineering Expressionator
Strings, Picks, and Accessories
Ernie Ball Regular Slinky (.010-.046)
Martin SP Medium (.013-.056)
Dunlop Tortex 1.14 mm picks
Elliot and G7th capos
RJM Mastermind GT/22
RJM Effect Gizmo
RJM Mini Effect Gizmo
Your tone on that track is very organic.
That solo was Dave's '59 Gretsch Jet Firebird with the quiet Filter'Tron pickups through a Fulltone Tape Echo and probably an old Ampeg Rocket from the '60s.
The solo to "Children of Children" is ethereal and moving. How did you get that singing tone?
That was the Dumble for sure. I also used the Dusenberg Starplayer and the Origin Effects Slide Rig compressor. That compressor is really, really cool. It took me a while to get it transparent enough. That word is used way too much in the effects world, but with a compressor it makes sense. I didn't want it to seem like too much of an effect. I just wanted to have a lot of sustain. I didn't take long on that solo, maybe two or three takes.
Which guitars do you take on the road?
I've got a double-bound Masterbuilt Tele that Paul Waller built. There's a Gibson Collector's Choice #12 goldtop that I put some non-potted pickups in. I haven't had a Les Paul in years. I played one with the Truckers quite a bit, but it got stolen and I could never find one I liked enough to replace it. That goldtop is just a great guitar, especially if you put in pickups without the wax, so you can get that real sparkly top end that PAFs had.
I've seen you play Duesenbergs quite a bit.
I have two Duesenbergs: a Starplayer TV goldtop and a Fullerton Elite. Both are really great. The Starplayer was my No. 1 for many years—I've got two identical ones. Those guitars stay in tune really, really well. I like how those pickups sound. The middle position on the Fullerton is really cool, because it's essentially got a P-90 in the neck and a humbucker in the bridge. Of course, Duesenberg makes all their own stuff, so they're not exactly like other pickups.
How about acoustics?
I've got a couple of Martins. My backup acoustic is an HD-28 Retro, and I've got a pretty new D-18 Authentic 1939. Martin gave me that for my birthday—it's unreal! They built me a D-35 I helped design about a year and a half ago. That's a great guitar, but that D-18—I don't know if it's something about the mahogany, or what. It's super light and super loud. It uses hide glue, and the bracing is done in the old, pre-war way. It's really great.