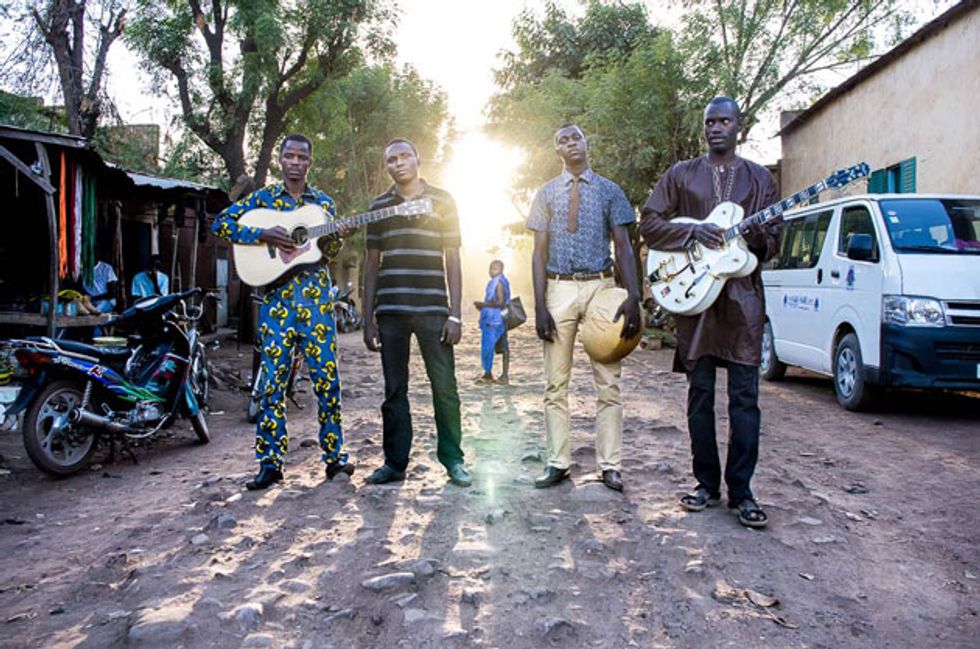 Songhoy Blues in Bamako, Mali, where Garba Touré [far left] and Oumar Touré [far right] formed the group after fleeing Mujahadeen-occupied territory. Photo by Andy Morgan
The Timbuktu region of Northern Mali was once home to a vibrant and diverse music scene. The area gave birth to the "desert blues"—a hybrid of American blues influences and traditional West African musics. Influential figures like guitar legend Ali Farka Touré, the Grammy-winning Tinariwen, and Afropop superstar Salif Keita hail from there. Music is ingrained in the area's cultural DNA.
But that changed in 2012. On the heels of civil war and what the BBC called "an inconclusive military coup," Islamists seized control of Northern Mali, imposed sharia law, and outlawed music. "We, the Mujahideen, henceforth forbid the broadcasting of any Western music," an Islamist rebel declares in They Will Have to Kill Us First, a film about the plight of Mali's musicians. "We have informed all radio station owners: We do not want Satan's music."
"The armed militants sent death threats to local musicians … many were forced into exile," the New York Times reported in May 2013. "Live music venues were shut down, and militants set fire to guitars and drum kits. The world famous Festival in the Desert (Festival au Désert) was moved to Burkina Faso, and then postponed because of the security risk."
"We decided that the best way to protest—to talk about our problem—was through music rather than protesting in the street."
—Garba Touré

Many musicians (and thousands of others) fled to Bamako, Mali's capital. Among the exiles were Garba and Oumar Touré. (They aren't related—"Touré" is the Malian equivalent of "Smith.") "We had to flee from the North and we went to Bamako," Oumar says. "That is where we decided to put something together."
And put something together they did. Their band, Songhoy Blues, is an infectious, groovable, funkified take on desert blues. "People like Ali Farka keep the tradition and stick to one style of playing," Garba says. "Our generation is a new generation. We added pedals and effects and tried to find something new to get beyond the tradition."
Garba, Songhoy Blues' guitarist, started playing about 15 years ago. His father (also named Oumar Touré) played guitar and congas in Ali Farka Touré's band, and music was a constant presence at home. Garba was drawn to the guitar. "I stole a guitar from my father to start playing," he says. He is self-taught despite his musical pedigree. "I learned from friends. They showed me how to do different things."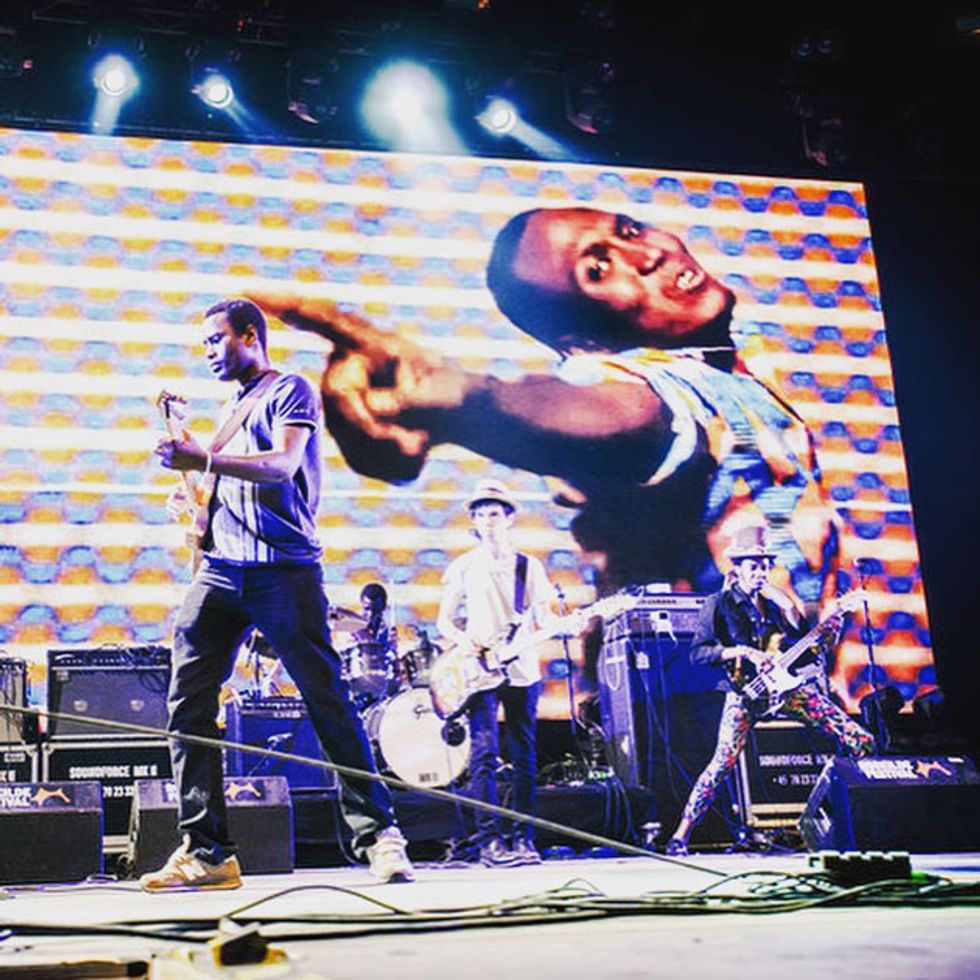 Songhoy Blues onstage, accompanied by producer/Yeah Yeah Yeahs guitarist Nick Zinner.
Both Garba and bassist Oumar grew up listening to an eclectic stew of Western and local musics. "We were listening to lots of rock and blues in addition to the traditional music coming from Mali," Garba says. "I was listening to Jimi Hendrix, Ry Cooder, Carlos Santana, B.B. King. Those kind of people."
"Sometimes we didn't know what we were listening to," Oumar adds. "But it felt good, so we listened."
They started Songhoy Blues soon after arriving in Bamako. "Aliou [Touré], our lead singer, was asked to play a wedding," Garba says. "He asked us to play with him, and that's how we started. From that we decided to continue, to develop a repertoire, and to play together more." But the band wasn't just for entertainment—they had a message. "We were at a demonstration where people from the North were protesting the occupation. We decided that the best way to protest—to talk about our problem—was through music rather than protesting in the street."
They performed for other refugees and built a strong local following. "When we started it was at the time of the crisis and there was a curfew," Garba says of the Bamako scene. "You were not able to go out to listen to music at that time, but it got much better."