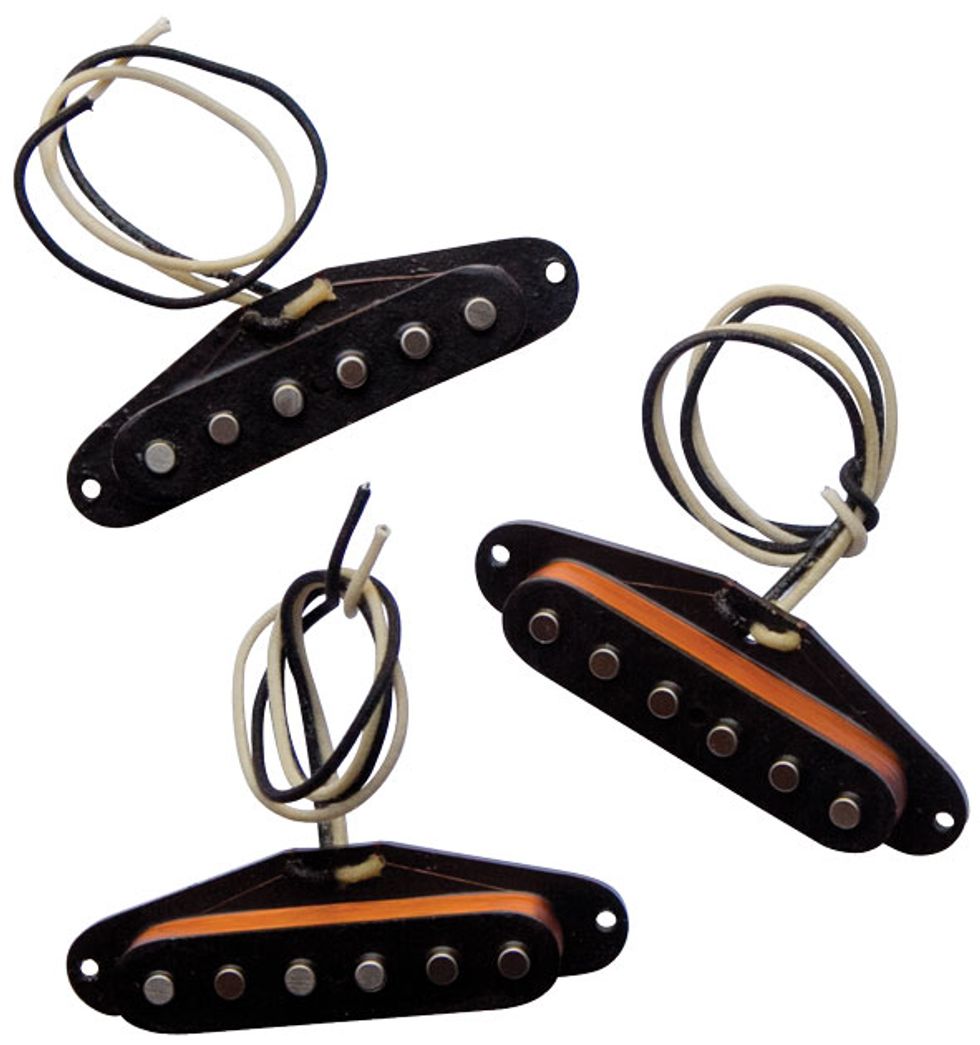 Amalfitano Custom/Vintage Strat Set
DC resistance:
Bridge: 6.7k (advertised), 6.48k (measured)
Middle: 6.3k (advertised), 6.33k (measured)
Neck: 6.3 (advertised), 6.24k (measured)
To hear each pickup position alongside the other reviewed models, see "Five Pickups, Side by Side."
Amalfitano is a perfect example of a customization-friendly shop: Jerry Amalfitano's stock vintage Strat trio, the '62 Set, employs alnico 3 magnets, as did the earliest Strats. But when we requested an alnico 5 set for review, he quickly made one, and he assures us that any customer can make similar requests. (The Custom/Vintage set heard here is the only entry in this roundup that's not a stock item.)
These are bold-sounding pickups with uncommonly powerful lows and intense upper-midrange presence. Like many Strat pickups, they can be a bit edgy when playing clean in position 1 (bridge pickup alone), but bountiful lows balance that upper-mid bite. That 2 kHz edge pays dividends in other ways: positions 2 and 4 have a gorgeous airy quality, while distorted notes maintain a crisp attack. There's nice, zingy sustain at all settings.
This is the highest-output set tested—and at $100 per pickup, the most expensive.
Ratings
Pros:
Excellent definition clean and distorted. Hefty lows. Beautiful combined-pickup tones.
Cons:
Pricy.
Street:
$300
Amalfitano Custom/Vintage Strat Set
amalfitanopickups.com
Tones:


Versatility:


Build/Design:


Value: