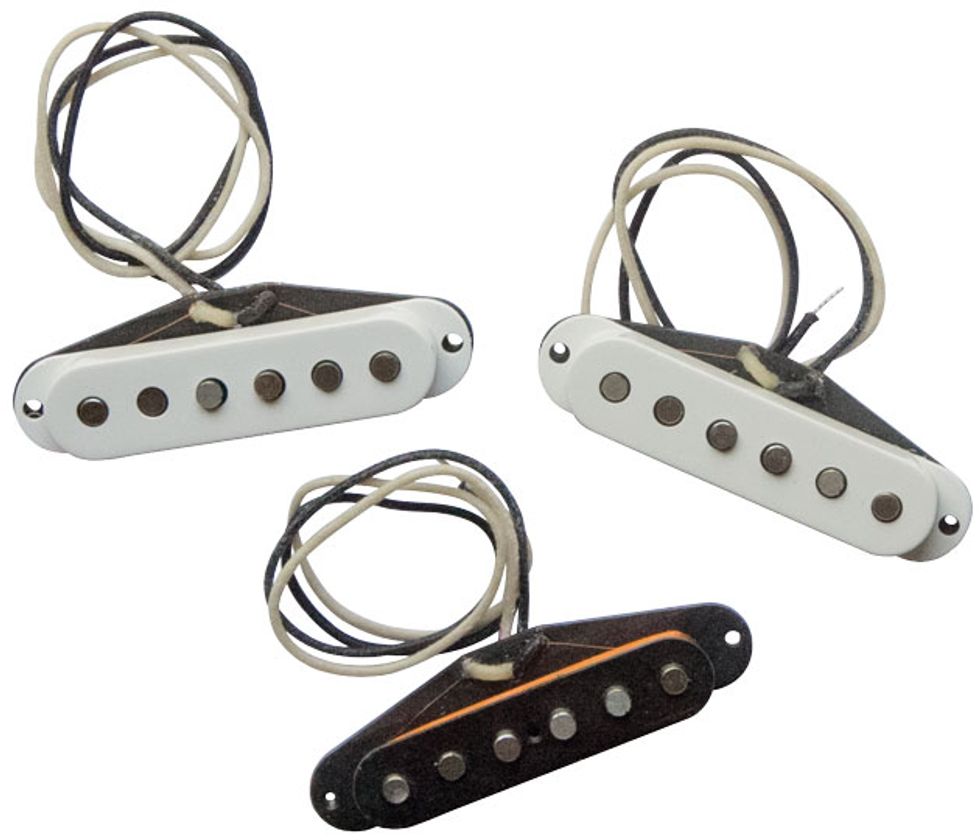 Fender Custom Shop Custom '54
DC resistance:
Bridge: 6.5k (advertised), 6.43k (measured)
Middle: 5.9k (advertised), 6.21k (measured)
Neck: 5.9k (advertised), 6.05k (measured)
To hear each pickup position alongside the other reviewed models, see "Five Pickups, Side by Side."
If you averaged together every vintage Strat pickup, you might wind up with something like Fender Custom Shop's Custom '54s. They're not too bright … not too bassy … not too hot … not too timid … and not too eccentric. They're quintessentially Strat.
Tones are straightforward but attractive. Unlike some of these sets, Custom '54s have no big bass bump and no particularly prominent treble frequencies. The bridge pickup is edgy at clean settings, as you'd expect from a traditional Strat. Positions 2 and 4 are relatively muted, yet they maintain a pretty sparkle. There's no unwanted "woofiness" to the neck pickup—a scoop centered around 150 Hz keeps things clear without surrendering too many lows. Distorted lead tones are bright, but not brittle.
The Custom '54 set sounds exactly how you'd expect a solid vintage-style Strat set to sound—and that's precisely what many players desire. And at $199 per set, they're an excellent deal.
Ratings
Pros:
Textbook vintage Strat tones. Great neck pickup clarity. Nice price.
Cons:
Too conventional for some?
Street:
$199
Company
fendercustomshop.com
Tones:


Ease of Use:


Build/Design:


Value: