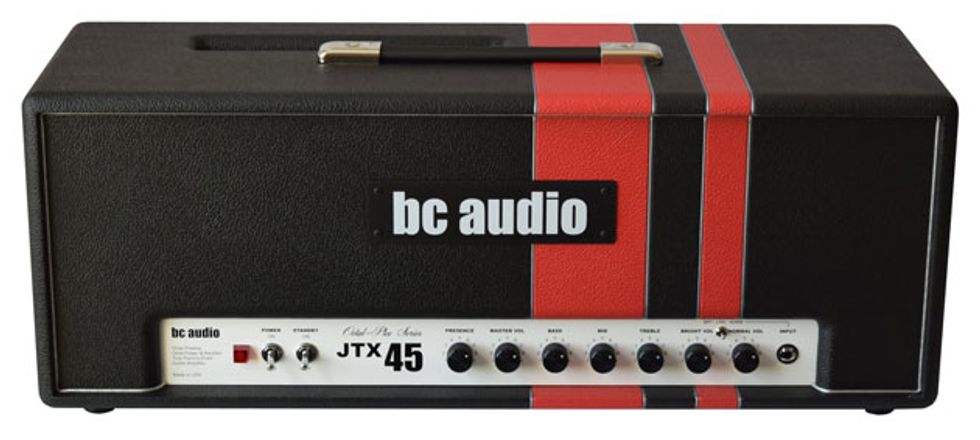 San Franscisco, CA (October 1, 2015) -- Boutique guitar amp builder BC Audio (bcaudio.com) is now shipping a new family of guitar amps based on 1960s British plexi circuits that have been adapted for octal preamp tubes and built with true point-to-point construction techniques. Each amp can be customized with a number of circuit variations and optional features. Three models will be offered initially, with more planned for the future. Prices start at $2000.
"It's no secret that I've always loved old plexis, but the world does not need yet another faithful reproduction or clone," says BC Audio founder and award-winning guitarist Bruce Clement. "I want to bring our signature BC Audio features – octal preamp sections and true point-to-point wiring – to players in a super-familiar format, then give them the opportunity to easily customize the amp without the need for an engineering degree."
Models include the JTX45, based on the earliest plexi amps, with KT66 power and GZ34 tube rectifier; the JTX50, based on the "flag logo" transitional 50-watt model, with EL34 power and GZ34 tube rectifier; and the JMX50, based on the late '60s/early '70s 50-watt plexi.
Options include a post-phase inverter Master Volume, Bass Spec, tube buffered effects loop, Gain Boost, Volume Boost, "BC Ultimate Voicing" and the a number of additional circuit mods.
Prices start at $2000 direct from BC Audio; matching speaker cabinets are available from $750.
For more information:
BC Audio