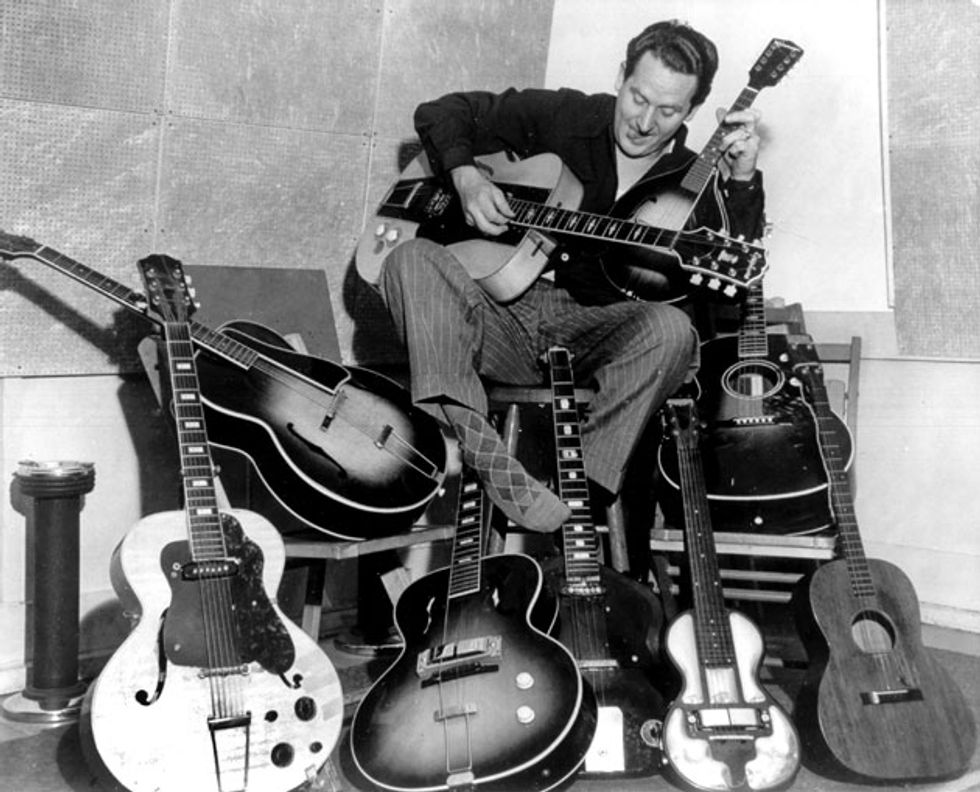 "I've loved the guitar ever since Pie Plant Pete let me hold his," Les Paul said. "I went to sleep thinking about them, woke up thinking about them, and dreamed about what I was going to do with them in between."
In May 2007, a 92-year-old Les Paul returned to his birthplace, Waukesha, Wisconsin, to put on a concert. Local fans and members of the media lined the gate at the airport, waiting to get a glimpse of their hometown hero.
Amid the screaming crowd, the television cameras, and the reporters with microphones at the ready, a young man with obvious physical challenges sat in an electric wheelchair. As Paul walked through the crowd, he held up his hand for the media to halt. He walked toward the young man in the wheelchair, then leaned over and whispered in his ear. The young man's eyes grew wide, a smile spread across his face, and his body began to shake with joy as Paul gently rubbed his back. After a few minutes, Paul stood up, stepped back, and motioned that he was now ready to address the rest of the crowd.
"It was as though Les had been an angel who had come down and inspired that young man," says Sue Baker, program director for the Les Paul Foundation. Baker was the executive director of the Waukesha County Museum at that time, and present at the airport scene. She witnessed Paul's effect on people many times over the years. "I loved spending time with him," she says fondly. "If you knew Les Paul, you just had to love him and be inspired by him."
This is a story about Les Paul, the man. The creative force with an innovative mind who always had a plan for action.
And so, it's fitting that the first thing a visitor encounters upon entering the Les Paul Big Sound Experience—a 53-foot interactive mobile tour that's been traveling the country for the 100th anniversary of Les Paul's birth—is a video of Paul himself, where he intimately describes his main pursuit in life.
Visitors are greeted with this short video of Les Paul explaining his passion for sound.
"I want sounds that have never been heard on Earth," he says. "I want new sounds. And to create those sounds is terribly important. Sound has been the most important part of my life, in music."
This little window into the soul is a fitting kickoff for a tour through the life of one of the great musical minds and inventors of the 20th century. Les Paul would have been 100 years old on June 9, 2015. Those at the Les Paul Foundation knew they wanted to do something big to celebrate this benchmark.
"This man deserves recognition that he just doesn't have," says Jeff Salmon, a trustee of the Les Paul Foundation who came to know Paul by seeing him play hundreds of times in New York City. "We decided the best way to do that is to take Les to the people."
And thus the Les Paul Big Sound Experience was conceived to honor the guitar godfather's legacy by showing slices of history from his personal life. Most guitar aficionados know about the man who helped develop Gibson's first solidbody guitar, but there are some out there who think "Les Paul" is literally just a guitar model.
From the opening 45-second snippet of Les Paul talking about sound, to listening stations with hit records of him playing those sounds, to audio samples of the guitars he invented, to all of the many interactive kiosks and storytelling aspects of the tour, visitors learn how a radio-obsessed little kid went from a small town in Wisconsin to playing the Iridium in New York City every Monday night, and how he forever changed the way popular music is recorded.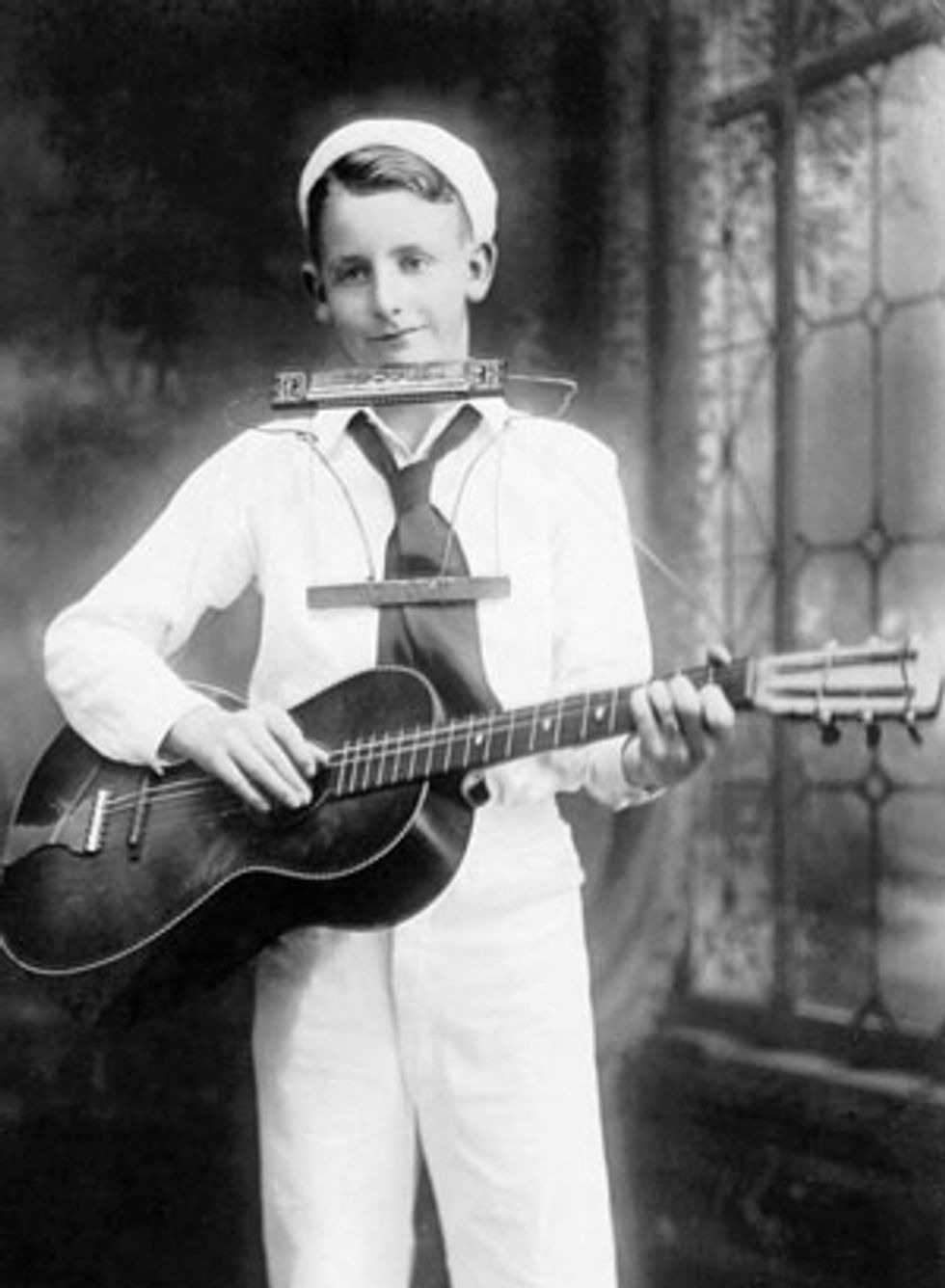 At age 8, Les Paul invented a homemade harmonica rack using household items such as a wire hanger. The rack allowed him to play both sides of the harmonica without putting his guitar down.
A Curious Kid
The Big Sound Experience has a "layered" floor plan, meaning that visitors can choose what they want to explore: There is no chronological order and each portion of the exhibit can stand on its own. For example, you can get your picture taken with Les Paul and have it emailed to yourself. You can make your own multitrack mix by adding or subtracting instruments and effects into Les Paul's "Brazil." You can learn about the evolution of guitars that led to the Les Paul model.
But perhaps the most impressive part of the Experience lies in discovering the many dimensions of Les Paul's life, from his professional and historical milestones, to his larger-than-life personality and resolute spirit.
As the story goes, at age 8, Les Paul began playing harmonica and invented a type of rack that would allow him to play both sides of his instrument without putting his guitar down to readjust. He bought his first guitar—a Sears and Roebuck Troubadour—at age 11 for less than $5. By 1928, at age 13, he was performing with his own stage name: Red Hot Red.
"I've loved the guitar ever since Pie Plant Pete let me hold his," reads a quote from Les Paul in the Experience tour. "I went to sleep thinking about them, woke up thinking about them, and dreamed about what I was going to do with them in between."
It's well documented that he was obsessed with guitars from an early age. But another obsession surfaces in the Big Sound Experience journey, and it starts with a kid thirsting for knowledge and wanting to know how everything works. In the early 20th century, radio was the medium people used to follow what was happening around the world and Paul wanted to know all about it. He became particularly entranced after performing at regional radio stations, where his access let him learn about the radio process from station engineers.