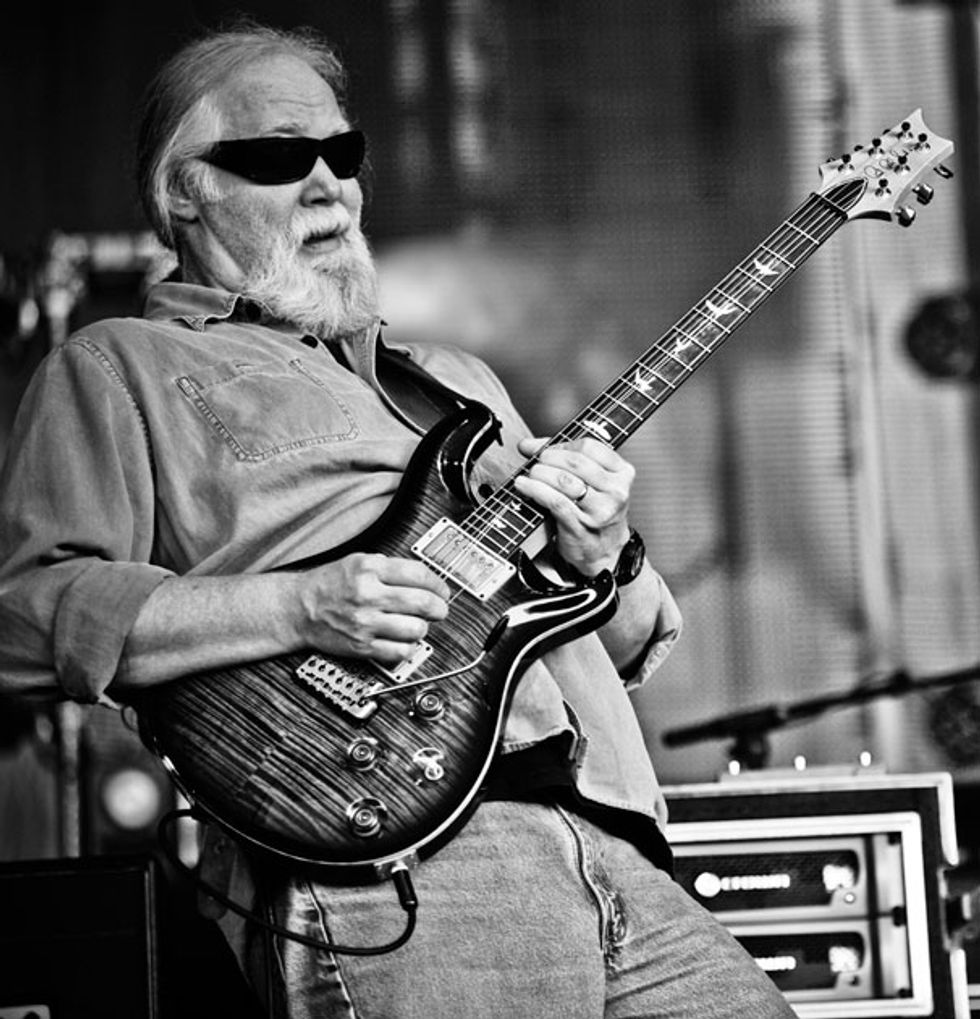 Herring digs into a huge bend on one of his customized PRS guitars. Photo by Andy Tennille
Here's a question that comes up every once in a while during an interview: "Are there any guitarists you count as influences who might not be as familiar to our readers (or listeners) as more household names such as Van Halen, Hendrix, or Metheny?" My first answer, for quite some time now, has been the same: Jimmy Herring.
Although he isn't the first to bridge the gap between high-energy rock soloing and jazz-inspired improvisation (the '70s recordings of Jeff Beck as well as those of drummer Billy Cobham, featuring the late guitarist Tommy Bolin, come to mind), no one to my knowledge has taken it to the level that Jimmy has. If you're someone who enjoys the "screaming" of rock and blues solos, but has grown tired of hearing predictable pentatonic patterns, or if you've ever been intrigued by modern improvisation—chromatic lines, extended triads, outside phrases—but have had to adjust your tastes to accommodate the mellifluousness of traditional jazz guitar tone, then Jimmy Herring might be, depending on your theological juxtaposition:
A. The answer to your prayers.
B. An evolutionary milestone.
C. The embodiment of the term "best of both worlds."
I first became aware of Jimmy, who was born in Fayetteville, North Carolina, in the early '90s after an encounter with the great keyboardist T Lavitz (who sadly passed away in 2010). T was best known for his work with the pioneering Southern fusion band, Dixie Dregs, with whom he'd played alongside the virtuoso guitarist Steve Morse (currently of Deep Purple). T had mentioned this fantastic new guitarist I must check out from an Atlanta-based band with a strange name: The Aquarium Rescue Unit. "Aquarium what?" I'd replied, writing it down. (Note: when Steve Morse's bandmate recommends a guitarist, you listen.)
"A good Les Paul, we're talking about the late '50s, sounds like a Tele on steroids. That's why you see those old cats playing funk on
a Les Paul."

With help from the friendly owner of a newly opened record store in Berkeley called Amoeba (their flagship store, before the now famous San Francisco and Hollywood locations), I managed to track down used copies of the band's two hard-to-find albums: the eponymous live debut, Col. Bruce Hampton & The Aquarium Rescue Unit, and their studio follow up, Mirrors of Embarrassment.
These purchases would be invaluable. I'd never heard guitar solos developed like this before, played to music that was highly sophisticated yet fun and grooving—not just for fans of technical proficiency. In addition to Jimmy, there was Oteil Burbridge, who blended the bass skills of Jaco Pastorius with George Benson-like vocal scatting, and Matt Mundy, whose mandolin sounded as though he was channeling the harmonic density of saxophonist Michael Brecker. No territory was off limits. Rock, funk, gospel, bluegrass, country, and more were handled with flawless ability and reverence for each genre, all fronted by a slightly elder statesman from the Woodstock generation. Col. Bruce was no virtuoso, but his highly creative wordplay and quirkiness formed the perfect countercultural counterpart to the young wizards. Live, they were mind-altering—an experience matched only by walking in during a sound check in San Francisco and having Jimmy jump down from the stage with a hand extended, a genuine smile, and a "Nice to meet you!" To this day, he holds my title of "Nicest Guy in the Guitar Community."
Discovering Jimmy and ARU, while musically intoxicating, was also sobering. It shed light on a difficult truth of the business of music and the arts in general: talent is no guarantee of success. It was hard to witness a band so undeniably good (and such nice folks, to boot) be subject to poor distribution, years of endless van touring, and virtually no luck breaking into higher levels of the music industry. Big names of the jam world, including Phish, Dave Mathews, Bruce Hornsby, and Blues Traveler, did what they could do. They took ARU on tour and nudged their respective record labels, to no avail. Meanwhile, one of ARU's tunes, "No Egos Underwater," was picked by bandleader Branford Marsalis for the repertoire of NBC's The Tonight Show with Jay Leno, while another ARU fan, actor and director Billy Bob Thornton, cast Col. Bruce in his Academy Award winning breakthrough film, Sling Blade.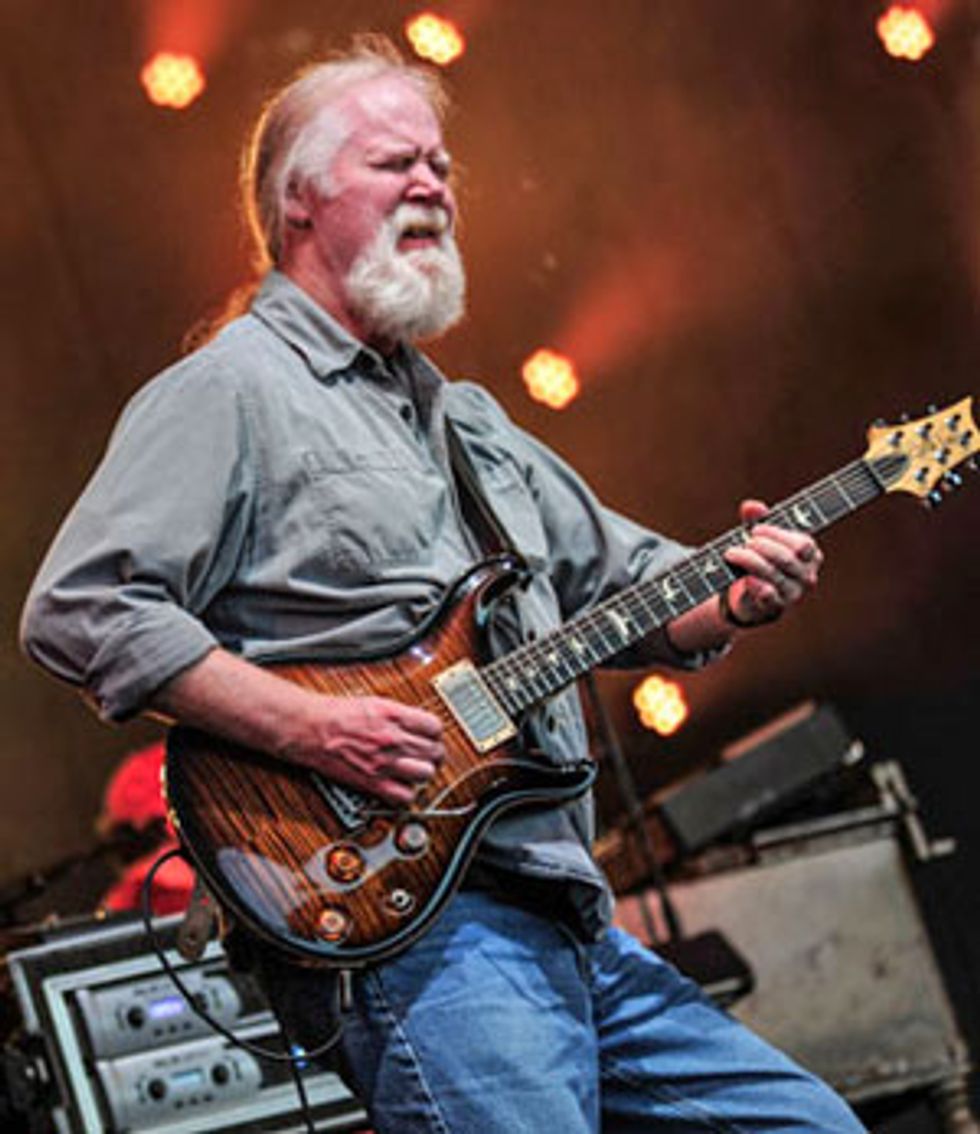 For the majority of Street Dogs, Herring simply relied on a Hughes & Kettner Tube Factor, an Eventide Space, and—for one song—a Vox wah. Photo by Andy Tennille
Not even these nods from within the mainstream entertainment world seemed to make a difference. There was even a revamped ARU with a melodic young vocalist, Paul Henson, in place of Col. Bruce, and more accessible, streamlined tunes. While the fanbase approved, it failed to grow. Like hard rock trio Kings X, ARU was one of those occasionally unfortunate artists whose prestige among peers is limitless, but whose lack of popularity is perplexing.
The good news is that Jimmy would find some fabulous outlets for putting his skills to use, including a tour with the Allman Brothers (which then had Oteil as their permanent bassist), Billy Cobham and T Lavitz's Jazz is Dead, the Grateful Dead's Phil Lesh, and, since 2006, one of jam's biggest groups, Widespread Panic. Their latest album, Street Dogs, features terrific songs and live jams, with Jimmy boldly venturing into some new territory.
Meanwhile, ARU recently embarked on their first extensive reunion tour in honor of—oddly enough—their 26th anniversary (Col. Bruce's idea). The tour wrapped up at the Brooklyn Bowl, close to my home, and I was grateful it fell on a rare day I was off tour. Jimmy and the guys sounded as good as ever, and afterwards he and I had a great hang. A few days before, we'd been able to reconnect and discuss all of the above and much, much more.
Jimmy Herring's story is an amazing one, with tales of guitar artistry, adventure, inspiration, and many memorable characters encountered along the way. I'm grateful for the opportunity to share this in-depth conversation with my friend Jimmy, one of the nicest guys I know—who just happens to be one of our true treasures of modern guitar playing.