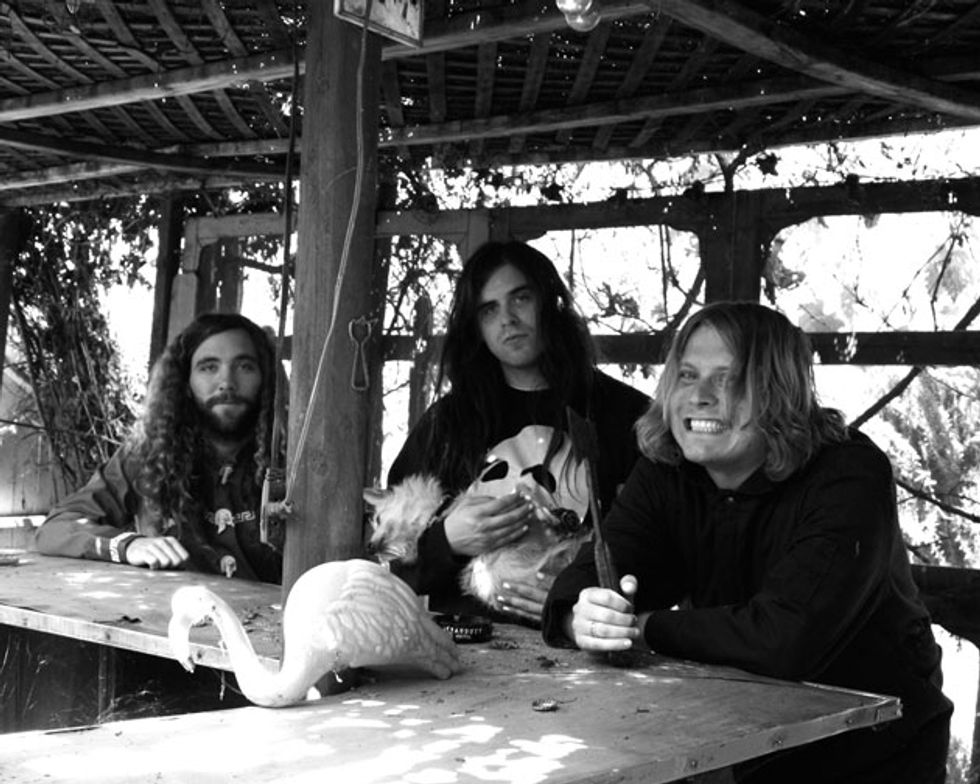 Photo by Denee Petracek
Want loud? Los Angeles-based power trio Fuzz does that, pounding out relentless, ear-splitting riffs with abandon. But they do more, too. For starters, Fuzz is a guitar band par excellence. Name another band where every member—even the drummer—is a guitar-playing badass. Team Fuzz dominates the new wave of SoCal garage-punk-psychedelic-stoner-rock. They are prolific, restless, enigmatic, ubiquitous—their combined output is prodigious—and they're forever releasing, touring, or supporting something.
At their core, Fuzz is simple enough. Ty Segall (singer, songwriter, guitarist, and solo artist) sings and plays drums. Chad Ubovich (guitar and vocals with the Meatbodies, guitar and bass with Mikal Cronin) holds down the low end. And Charles Moothart (guitar with Ty Segall, GØGGS, and more) plays guitar and is the band's primary riff generator. With so many different projects, maintaining focus could be difficult. Moothart says it isn't. "Fuzz is a very specific sound so it's an easy thing to separate in that way," he says. "We know what the vibe is going to be and we know what we're trying to do."
YouTube It
Watch Fuzz captivate France's Rock en Seine 2015 festival with their bombastic brand of scuzz rock fueled by dual Death By Audio Fuzz War pedals and a bit of makeup for good measure.
That vibe is a doozy. Fuzz roars in the spirit of Black Sabbath, Blue Cheer, and the Groundhogs. They draw from the same reservoir of riff-centric proto-metal. But the comparisons end there. Fuzz's songwriting oozes the band's personality and their tones are thoroughly modern. Armed with an assortment of Music Man, Fender, and Ampeg amps, and enhanced with a Death By Audio Fuzz War—the band's pedal of choice—they create grit, muscle, dirt, and a different kind of gnarly. "We're just trying to rock 'n' roll and be primordial and loud and headbang," Ubovich says. "We're not trying to be heady. Isn't that what rock n roll is for? I don't know … escapism? Uh … fun?"
Fuzz released their self-titled debut in 2013 and have recently followed it with a new album, called simply II. We spoke with Moothart and Ubovich to discuss II and get their thoughts on riffs, songwriting, tones, amps, their intense loyalty to the DBA Fuzz War, and how to skate right to the sonic edge without making a mess.