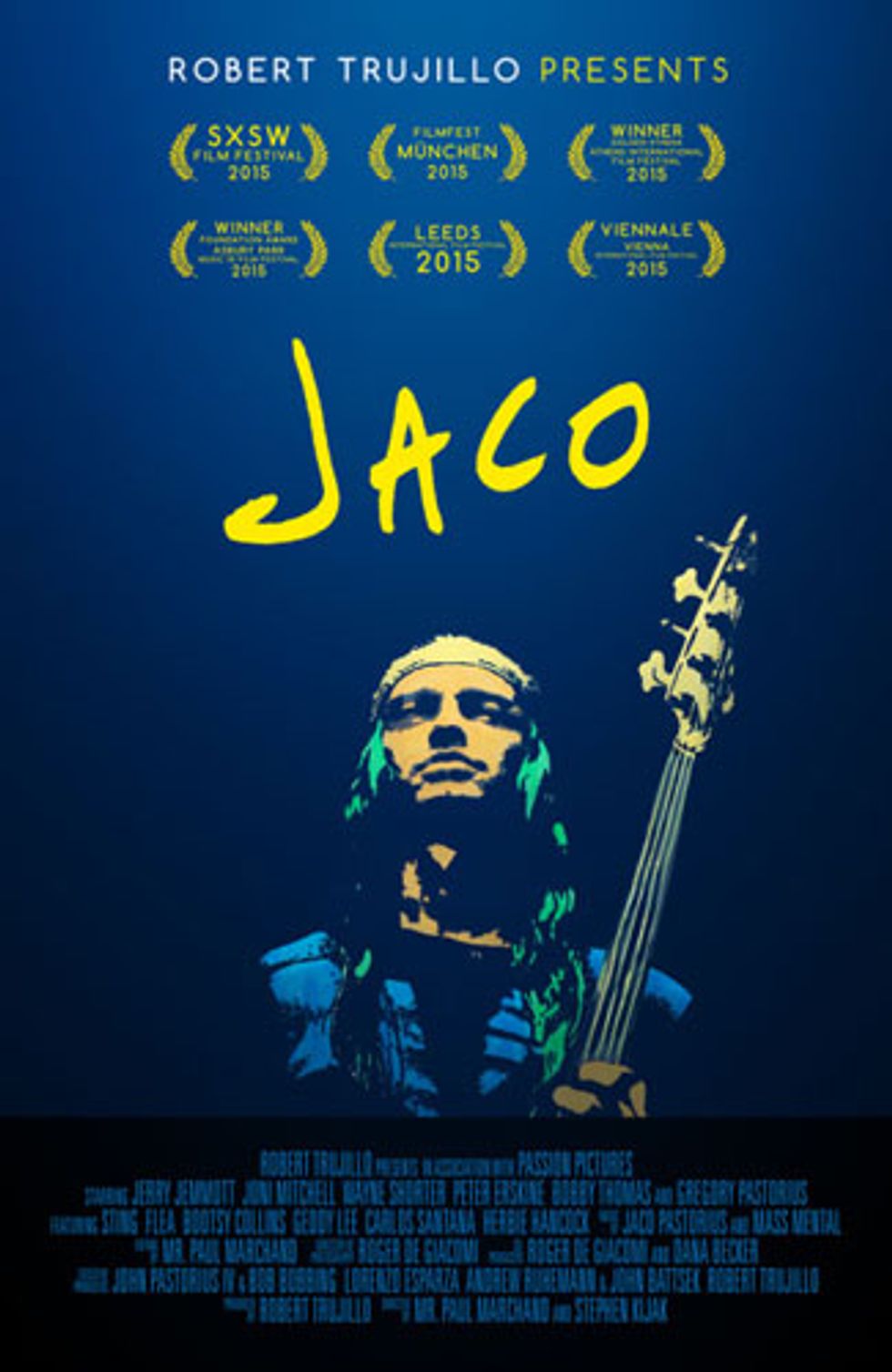 Metallica bassist Robert Trujillo has invested his heart and soul creating a documentary about the brilliant creativity and tragic life of his hero, the legendary and innovative bassist Jaco Pastorius. Photo by Jeff Yeager
Not long ago, Metallica bassist Robert Trujillo wrapped the six-year Herculean task of creating a documentary about the life and death of his biggest influence: jazz great Jaco Pastorius. The film has been a labor of love, fueled by an impression the legendary bassist made on him long ago. "Jaco really moved me back in 1979 when I saw him live for the first time," he recalls. "I just thought to myself, 'This mysterious figure is the real deal and he's really cool.'"
Best known for his pioneering fretless work, Jaco Pastorius unabashedly considered himself the greatest bass player in the world. He combined an R&B musician's feel for rhythm with a jazz horn player's melodic sensibility and applied it to a diverse array of musical styles. His work with Weather Report, Joni Mitchell, Ian Hunter, Pat Metheny, and his own Word of Mouth Big Band is universally recognized as groundbreaking. When he first burst onto the scene in 1976 with his debut solo album, Jaco Pastorius, he immediately inspired generations of bassists to rethink their approach to the instrument. He died in 1987 at just 35 years old.
"The role of a producer can be different in different situations. In this case, neutrality was key."

Simply titled Jaco, Trujillo's film—directed by Paul Marchand and Stephen Kijak—was officially released by Passion Pictures in November 2015. It chronicles the mercurial rise and fall of the world's most innovative bassist through deeply intimate interviews with family members, friends, and bandmates. It also illuminates his life through concert footage, archival prints, video interviews, audio recordings, and home movies. Highlighting Jaco's music and personal life, as well as the mental illness from which he suffered, Jaco delicately reveals the fragile artistic genius who consciously set out to redefine the bass guitar's role in popular music.
Producing the film was a first-time experience for Trujillo, who initially carved out a niche for himself in the '80s as part of the Los Angeles-based crossover thrash band Suicidal Tendencies. He then launched the funk-metal group Infectious Grooves in 1989, before moving on to Ozzy Osbourne's band in the '90s and subsequently Metallica, where he replaced Jason Newsted in 2003. When not playing bass in metal's biggest act, producing—and now promoting—Jaco has been his primary focus.
How did you first become involved in Jaco?
Loosely, my relationship with the project goes all the way back to 1996, when I first met Jaco's son, Johnny Pastorius. But then, about six years ago, I went through Florida with Metallica and Johnny showed up with [Jaco's childhood friend] Bob Bobbing, who was working on the film. He didn't know anything about Metallica, but he was impressed that the bass player from this big-time rock band was influenced by Jaco and passionate about his influence. So, Bob pursued me to become part of the team.

Jaco Pastorius blended a jazz genius' vision of harmony with prodigious technique that incorporated harmonics, bass chords, Latin influences, and hellacious funk—plus the charisma of a rock star. Photo by Brian Risner
What did you feel you could contribute?
At a certain point I realized that, for this film to actually be made, there needed to be money and I needed to put forth that money. I don't like to use the word investment because it doesn't really apply to documentary films. Documentaries are quite charitable, if you ask me. They cost a lot to make and yet they don't make money. Just the licensing of songs and the archival photos and footage alone is an enormous expense. That's why we had to raise money through a PledgeMusic campaign. I ran out of money, literally, in the last phase of the project. But I also get very passionate about things and I was consumed by this and felt like I was the one to pull it off.
What was your role as producer, aside from the financial commitment?
The role of a producer can be different in different situations. In this case, neutrality was key. You have different family members—it's not like you have one or two. [Jaco was married twice and has children from both wives.] And then you've got friends. Jaco had a lot of friends who were very passionate about him, but they didn't always get along with each other, so there was a lot of mediating. I like to refer to the position as "Switzerland," being neutral, and really trying to keep things as cool and peaceful as possible. Ultimately, honoring and respecting the family was very important to me.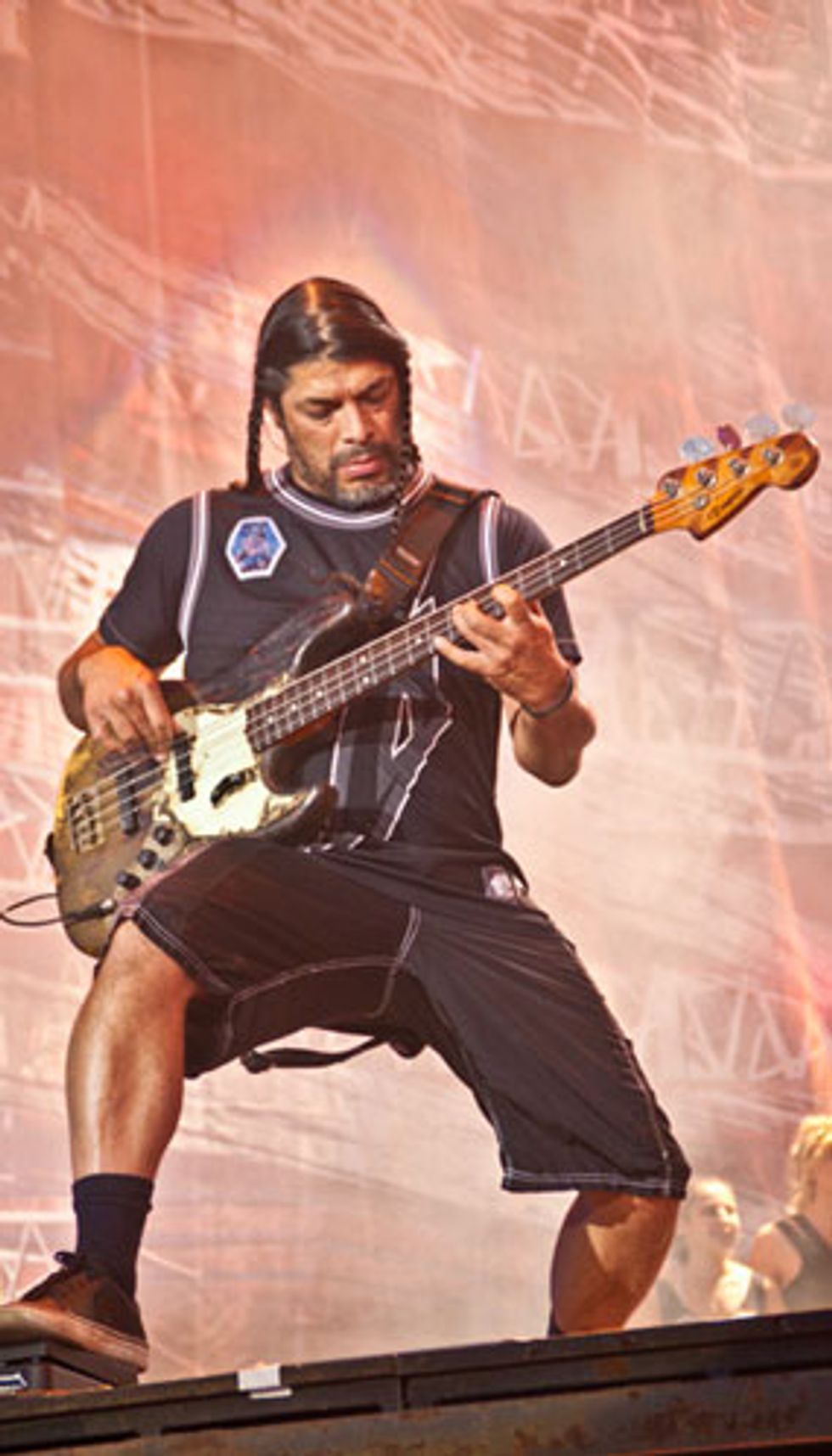 The Jaco film's biggest supporter, Robert Trujillo, is seen here rocking his bass wah for the intro of "For Whom the Bell Tolls" during Metallica's set at this year's Lollapalooza. Photo by Chris Kies
Were there any misconceptions people had about your involvement in the film?
I think people think I have this unlimited treasure chest of money, but it doesn't work that way. I always say, "I didn't write 'Enter Sandman.'" I've been in Metallica for nearly 13 years and I've only been involved in one album [2008's Death Magnetic]. So, I just want people to understand that, financially, it's different for me.
With no prior filmmaking experience, what steps did you take to ensure a quality product?
I had a great film team—especially the director Paul Marchand. He was originally the editor and ended up taking over as the director three years ago. The magic that you see on the screen is Paul. He and I wrote it, but bringing that to life on the screen is a major challenge and he's a very gifted filmmaker.
I also got a lot of great advice from people who had made great films, like Allan Slutsky (aka Dr. Licks), who did Standing in the Shadows of Motown, Sam Dunn, who did the Rush: Beyond the Lighted Stage documentary, and Joe Berlinger, who did Some Kind of Monster for Metallica.
Was there anything that you discovered about Jaco through the making of the film that you didn't know before?
Jaco suffered from bipolar disorder. So I'm better at understanding what's going on there and how it can often be deeper than just drug addiction. There's always going to be another side to the story. Back in the '70s and '80s there wasn't as much awareness. There's a little more help nowadays, but I don't know, maybe Jaco didn't want the help. It was a touchy situation because a lot of people did care for Jaco—it wasn't like people didn't care for him.