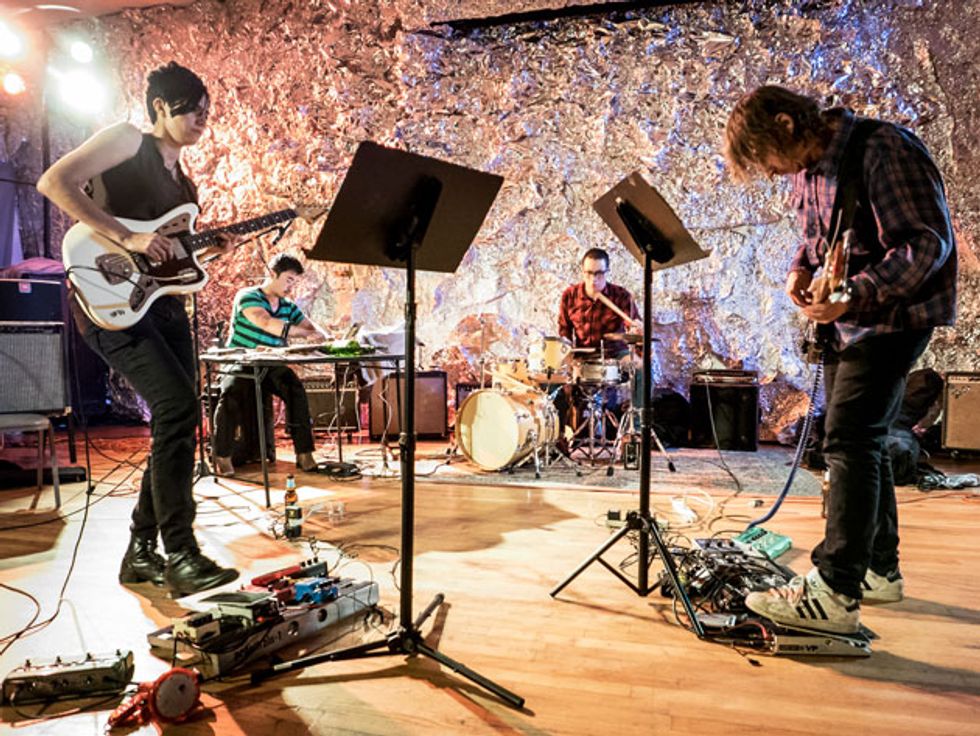 Mendoza describes her band Unnatural Ways as eccentric rock. "I listen to a lot of metal and a lot of music that has a more open approach to songwriting," she says. "It's not verse/chorus/verse—it's more proggy." Photo by Peter Gannushkin
Ava Mendoza creates edgy, challenging music. She plays guitar and stompboxes and, no, she doesn't use pedals to mask inferior technique or shoddy ideas. Her command of the instrument is prodigious, her tonal palette is expansive, she has an intuitive improvisatory awareness, and her lunchbox is chockfull of sonic goodies. Not staid or vanilla, her playing is a profound testament to the state of contemporary guitar.
Mendoza has deep roots, too, and that includes years of classical training, a rich knowledge of old-school blues and traditional fingerstyle, a profound awareness of no-wave punk and sonic weirdness, and significant exposure to the free jazz masters. She also has the ears and chops to assimilate her disparate influences and execute difficult music.
Not an easy feat.
But also not unnoticed. Mendoza is best judged by the company she keeps. She has worked with bassist Jamaaladeen Tacuma (Ornette Coleman, James Blood Ulmer), Fred Frith, the Geraldine Fibbers' frontwoman Carla Bozulich, genre-crossing experimentalists Tune-Yards, and many others. And her duets with Wilco's Nels Cline are astounding.
Mendoza grew up in Orange County, California, but spent high school boarding at the Interlochen Arts Academy in Michigan. "I escaped when I was 15," she says about leaving Southern California. "Interlochen has academics, but it is really arts focused. It has theater, dance, music, and writing." She studied classical guitar, but her studies were at odds with the rock, punk, no wave, far out, and experimental music she was listening to. She studied folk blues and traditional Americana as well, which was an easy transition for an acoustic fingerstylist. But soon she was abusing solidbody electrics. "I played in rock bands—punk bands that had free sections and were into improvising," she says. "I think that was part of how I learned to play on electric. Plus, I was always still studying Ornette Coleman and Albert Ayler—trying to figure out how they constructed their lines."
I listen and react. It is so different based on who I'm playing with. I try to use everything I know about music and everything I've trained my ears to hear.

After high school, Mendoza studied at Mills College and settled in Oakland, and was a fixture on the local music scene. But two years ago she took the plunge and moved east to Brooklyn—not that New York is easier or conducive to lugging a lot of equipment. "New York is forcing me to strip down my gear because I don't have a car here," she says. "Every pedal counts."
Mendoza is busy. She is an active player on the New York avant-rock scene. Her band Unnatural Ways is working, touring, and a new album on John Zorn's Tzadik label is due this spring. Half an album of solo material is due soon as well, bearing the title Ivory Tower. "It is a split with Sir Richard Bishop," she says. "He is on the other half."
Premier Guitar spoke with Mendoza about her influences, her unusual journey from classical guitar to American fingerstyle to free electric madness, how she discovers new modes and sounds, and the different ways she abuses Whammy pedals and her Line 6 green box.
When did you make the transition from classical guitar to what you do now?
I had played classical guitar from when I was a little kid, but by the time I was 12 or 13 I was getting more into rock. A couple of years later I was into punk rock and these no wave bands that I like. I wanted to not play classical music more and more. I kept exploring interesting weird rock bands. There were a couple of bands from Southern California—like the Red Aunts and the Geraldine Fibbers—that I was really into. And from there I made the left turn to more avant-garde jazz.
Who were some of the people you were listening to?
Sonny Sharrock. He was a big early one. Albert Ayler. Ornette Coleman. [Saxophonist] Peter Brötzmann. I played classical music for so long, all of a sudden I was like, "Oh, there is this whole expressive crazy world of music." I got really into that.
Were you also listening to American primitive and the old-school blues guys?
I love lots of that music. Robert Johnson and Reverend Gary Davis and Skip James. I started getting into it because I loved it, and because I knew how to play fingerstyle. I didn't know how to play with a pick. Almost all of those players played fingerstyle. I wanted to play electric and write my own music, but I guess their approach made sense to me because they were playing with their fingers.
Did you find that the technique transferred easily from classical to blues?
Yeah, for the most part. I spent a long time trying to figure out people's tunings, but once I was there, a lot of those techniques are kind of the same. Maybe there is more walking bass stuff—and the feel is different, of course—but a lot of the actual technique is similar.
Did you experiment with thumbpicks or fingerpicks?
I've never been able to use those. I never worked on it long enough and they always got caught up in the strings. When I was in my early 20s, I started playing with a flatpick and practiced using that with hybrid picking. Now, usually I use a flatpick with my middle and ring fingers.
You go back and forth between fingerpicking and hybrid picking?
Yes. When I play with bands, for the most part it is hybrid, but when I play solo I fingerpick more. The one weird thing that I still do, a holdover from classical guitar, is put fake nails on my middle and ring fingers—drugstore-bought fake nails that you glue on with nail glue. I put those on because real nails are too thin. Fake nails are thicker and sound more like a flatpick. I can get the same tone with my fingers and the pick.
Did you have any important teachers or mentors that pushed you in a certain direction?
I went to Mills College, and Fred Frith was there. I took his improv classes and then later I ended up playing with him in his groups.
What did you learn from him?
Well, it wasn't guitar stuff—he doesn't want to teach guitar lessons—but he would talk about improvisation a lot. And then learning his music. He has a record called Gravity from 1980—a kind of prog album—and I played in his re-creation of that. It was a good "learning hard music" exercise for me, absorbing and arranging that music.
Having digested so many disparate styles, do you see them as distinct entities or are they related in some way for you?
I definitely view them as distinct styles, but the way that I've used them in my own playing is more taking from their techniques. I've been influenced by many types of music, but I am not thinking, "Here I am playing in this traditional context. Here I am playing in this sonic rock context." I'm just trying to play music in whatever situation I'm in.
Albert Ayler and Ornette Coleman are both great examples of that as well. Their playing is so out there and yet rooted in folk music and melodies.
Yes, definitely for them. I think punk rock and no wave stuff from the '70s and '80s is that way, also. I don't really see them as working against each other. The reason I got into all of those musics is that I wanted to hear stuff that was a little bit more raw and direct than things you could find on the radio—a little less slick sounding. All those fulfilled that and weren't as sculpted as a lot of the modern music I heard.