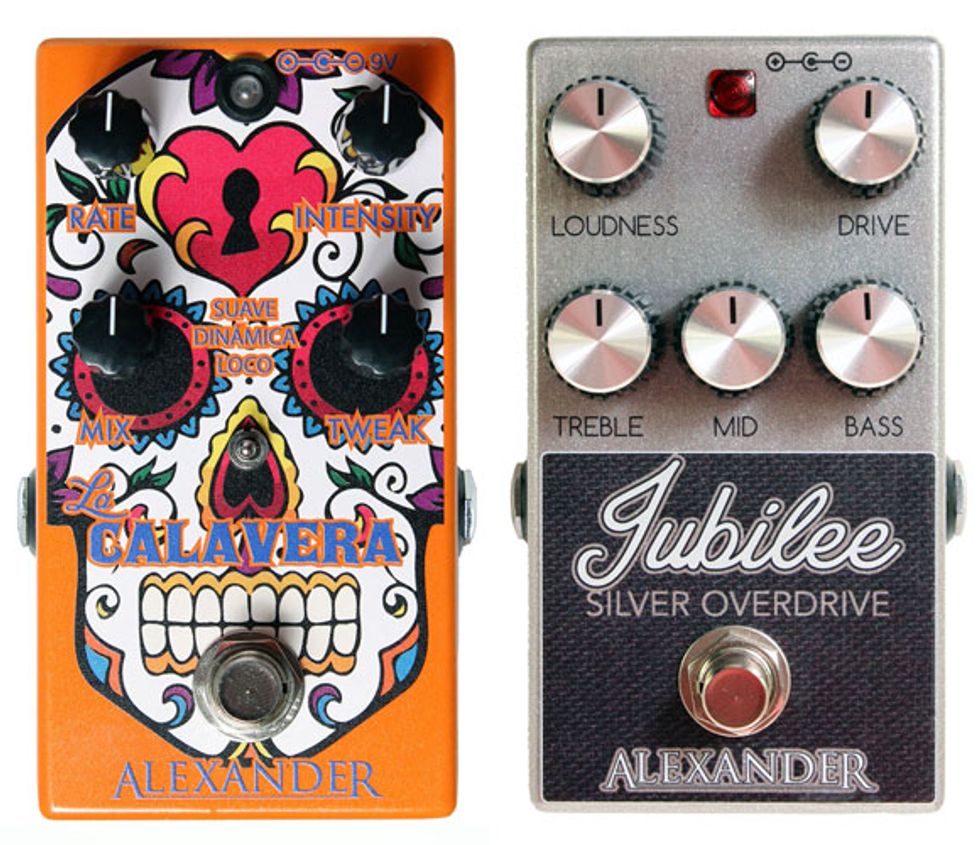 Garner, NC (December 28, 2015) -- A full-fledged festival of phasing, La Calavera combines an offering to the more traditional effects of days gone by with the essence of rebirth and revolution. Wake the dead with a colorful celebration of vibrant vibes and multiple modes of modulation.
La Calavera's three modes offer a wide range of phasing possibilities: Suave mode contains a ten-stage "studio" phase shifter for lush swirl with adjustable depth and feedback. The Dinámica mode features a four-stage "stompbox" phaser design where the phase speed is controllable by the player's touch. Finally, the Loco mode combines a six-stage phase shifter with an adjustable ring modulator for otherworldly effects.
Each phaser mode has a full wet / dry Mix control for dialing in any amount of phase or vibrato, and a wide-ranging Rate control offers speeds from glacial to ray-gun. The Intensity controls the phaser sweep range, while the Tweak knob controls a different set of parameters in each mode.
Features:
Four knobs to control Rate, Intensity, Mix and Tweak
Three available control modes: Suave, Dinámica and Loco
Buffered bypass switching with a soft-touch footswitch
9-volt operation and a standard DC input
La Calavera is shipping now and carries a suggested retail price of $189.99. Alexander Pedals donates a portion of all profits towards the goal ending childhood cancer.
Welcome to the Jungle. Turn it up (all night) to get those Sunset Strip tones big enough to match the hair that defined an era. It's so easy if you're out to get the true sound of that classic British lineage - it's capable of everything from sweet, subtle and slick, to a sleazy rock n' roll roar. Where do you go now? That's up to you – but at last, your licks will be as tight as your spandex.
The Jubilee Silver Overdrive is a faithful reissue of the original Jubilee pedal made by Pharaoh Amplifiers in the early 2000s. The originals were all shipped to a single Japanese distributor and very few of them ever made it back to the US. Now the Jubilee is back with a pedalboard-friendly enclosure, soft-touch switching, and all the grind and crunch you could ask for.
For more information:
Alexander Pedals