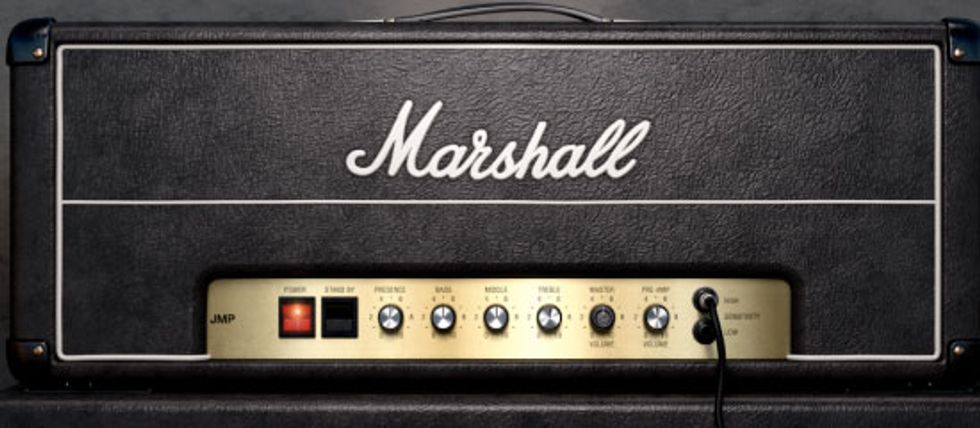 Scotts Valley, CA (February 1, 2016) -- Universal Audio is pleased to announce the exclusive Marshall JMP 2203 Guitar Amplifier, developed by Softube. All three plug-ins will be released as part of UAD Software v8.5 in early February 2016.
Developed by Softube exclusively for UAD-2 and Apollo interfaces, the Marshall JMP 2203 Guitar Amplifier Plug-In is an expert emulation of the legendary ultra-flexible 100-watt amplifier used by everyone from Iron Maiden and Slayer, to Jeff Beck and My Bloody Valentine. All Marshall plug-ins include UA's Unison technology; Apollo user's guitar pickups will see the exact impedance load as if they're plugged into a vintage Marshall amp — a feature found only on Apollo audio interfaces.
Introduced in 1975, the JMP 2203 is widely regarded as one of Marshall's premier amplifier designs. The amp quickly caught on with players of all stripes with its abundance of dense crunch and power.
Features:
The world's only authentic and licensed plug-in emulation of the classic
Marshall JMP 2203 amplifier
Unison technology for Apollo interfaces offers authentic tone, touch, and feel of original JMP 2203
Five essential virtual microphone options
Over 50 presets designed by legendary AC/DC engineer Tony Platt
$199 street
For more information:
Universal Audio