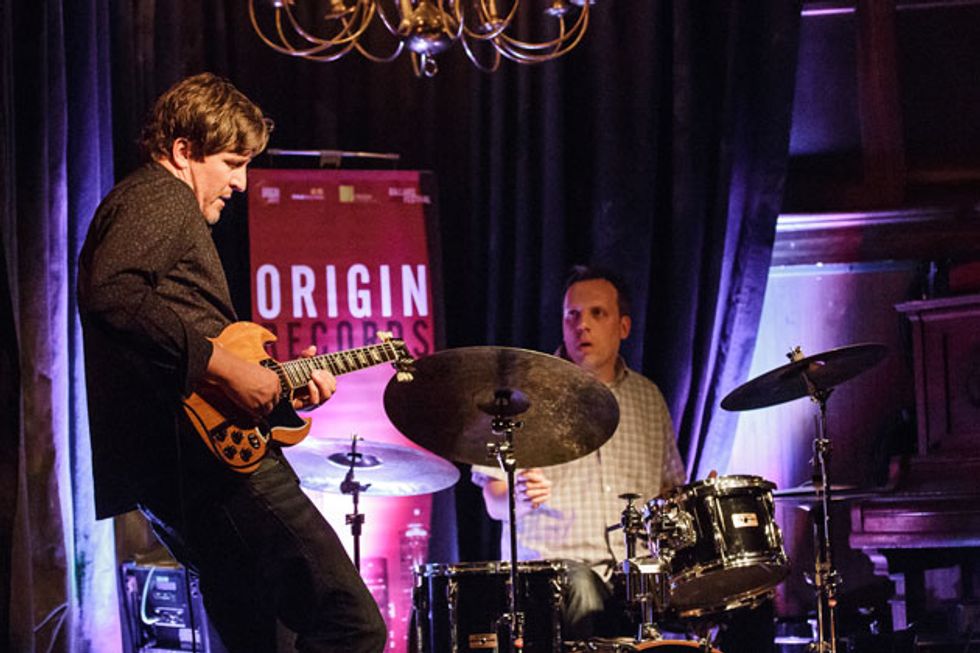 Christiansen digs into his korina-body Gibson SG reissue on stage at Seattle's Ballard Jazz Festival in May 2016, with drummer Matt Jorgenson, from the guitarist's Lone Prairie Band. Photo by Jim Levitt
For the most part, jazz and the Americana traditions are distinctly different idioms. But there are rare musicians who merge the two approaches to arrive at a signature sound. Bill Frisell is an obvious example, and then there's Midwestern guitarist Corey Christiansen. On his most recent album, Factory Girl (Origin), Christiansen explores classic folk and frontier songs, filtered through a lens of modern jazz, blues, and rock—using a much wider tonal palette than the standard-issue, dark jazz sound.
A guitarist since the age of 5, Christiansen, now 44, had the benefit of spending his formative years in a musical household. His father, Mike Christiansen, was his first teacher. The elder Christiansen founded the guitar program at Utah State University and was the school's director of guitar studies for four decades. Today, the younger Christiansen has that gig at USU. Corey discovered jazz in his teens, but much earlier than that he was exposed to the Americana tunes that he's been revisiting in recent years.
The professional trajectory of a typical jazz musician is to apprentice under an established player before working as a band leader and then, perhaps, on the strength of their recording and performing career, teach at a university. But Christiansen—who has led a triple life as an educator, editor, and performer—took an opposite path. In 2000, after receiving his master's degree in music from the University of South Florida, he took a gig with Mel Bay, one of the leading publishers of music-education books and videos.
At Mel Bay for the better part of the 2000s, Christiansen worked not just as an author and editor, but as a clinician—a gig that had him performing all around the world in workshops and clubs, sharpening his conception of the guitar. In 2004, he kicked off the company's in-house record label, Mel Bay, with his strong debut as a leader—Awakening, a quartet album mostly of standards.
Christiansen lived in St. Louis while with Mel Bay, and developed a personal guitar-playing style by synthesizing the urban influences of both traditional and contemporary guitarists, as well as the Midwestern strains he was exposed to in his youth. The cowboy tinge is especially apparent on Factory Girl, his follow-up to 2013's Lone Prairie.
"Many jazz records get done very quickly, with just one specific tone: that warm, clean guitar sound. This record is not about that. There are a lot of different textures going on."

With his feet planted firmly in the jazz tradition, Christiansen stakes out new territory in classic American songs like "Shenandoah" and "John Hardy." He imbues the music with uncanny harmonic and timbral details, through both the use of effects pedals and, occasionally, a resonator guitar. It's great fun to listen to.
Calling from his home in Utah, Christiansen—ever the professor—broke down his music for us in conceptual terms while also detailing his rig in a way that will inspire serious envy in any gearhead.
You were with Mel Bay for many years and then became a recording artist. How did this transition happen?
I got the job with Mel Bay around 2000 as their guitar/senior editor. Part of the deal was they wanted me to go around and do workshops and clinics while promoting their products. I've always had a real affection for teaching and love it as much as playing. Traveling all over the world, I began booking gigs in the places I was doing workshops and, in doing so, I realized I needed a record. I put one out cheaply in 1998 [Synergy] and then, around 2004, we started doing Mel Bay albums. I was the first artist on the label, and that's how I really launched my performing career.
Where's your home base these days?
I live in northern Utah. I lived in St. Louis for a while, but moved here seven or eight years ago and teach at USU. I live north of Salt Lake City in a really small college town, Logan. It's picturesque and beautiful. There really isn't a strong jazz scene, that's for sure, but we do have a jazz program at the school, and all of the musical events are centered around the university, which is great. Salt Lake City, on the other hand, has a scene where a lot of strong musicians live and play.
What's it like to be a jazz musician in Logan, as opposed to a big city?
Even when living in St. Louis I didn't play locally as much as on the road, so that's the reason it made sense for me to move. The world has become a pretty small place, and so a lot of us jazz musicians who've lived in bigger cities at one point can now live anywhere.
For me, it came down to a lifestyle choice. Sure there's some things I'm missing out on. I've got friends in New York City who can hop on a subway and hear incredible music any day of the year. That's not really the case for me here in Logan, Utah. [Laughs.] What I've found is that it's good for me to be able to go on the road while enjoying other things at home: the best of both worlds. I like to fly-fish, hike, and spend time in the outdoors in general.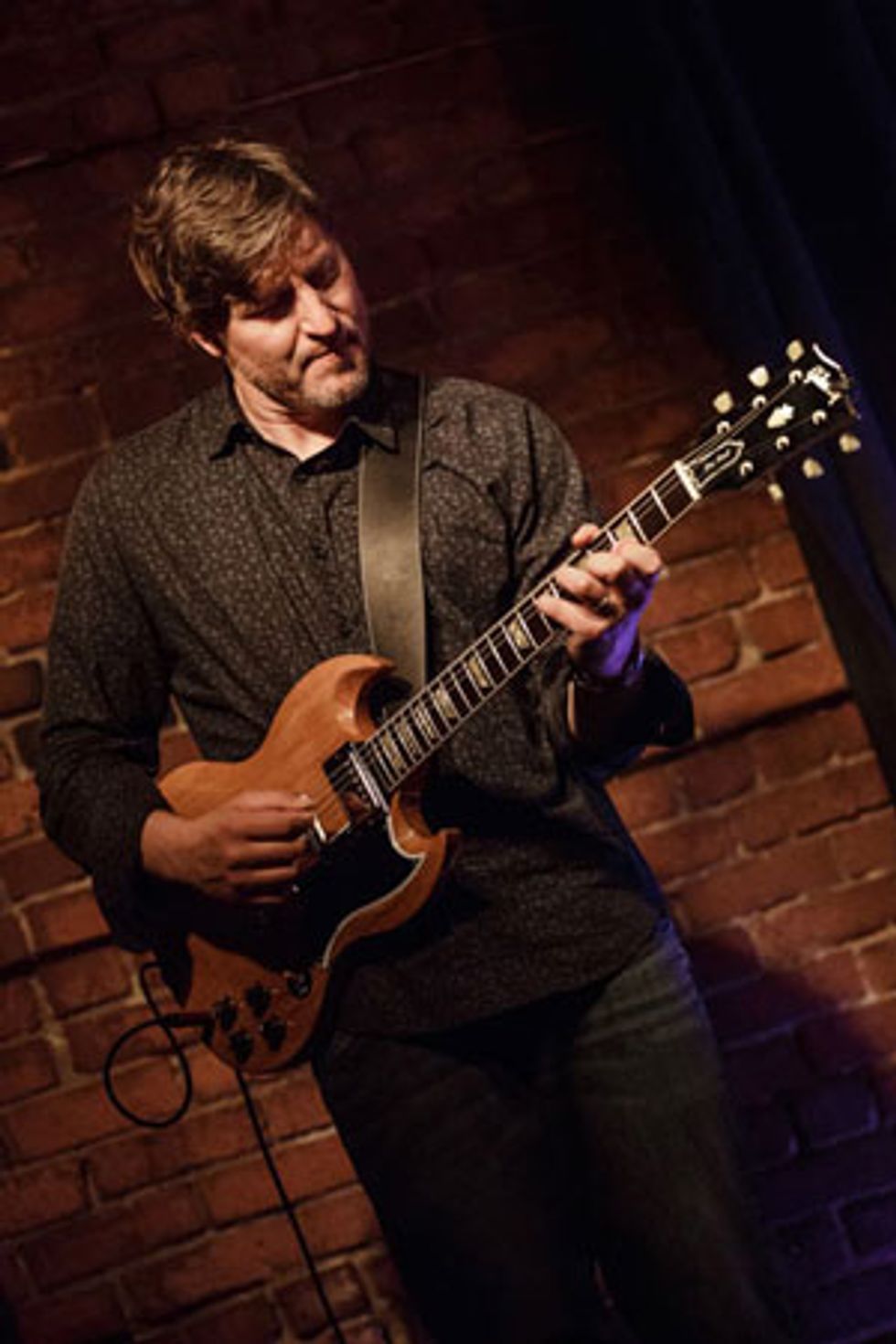 Living in Utah and spending time outdoors has influenced Christiansen's sound and song list, and allowed him to maintain what he describes as a healthy, balanced life. Photo by Jim Levitt
Does this setting inform your music?
It totally does. It's interesting because I moved back to the same city I grew up in. To give you a visual reference: If you've ever seen the movie Napoleon Dynamite, that's the valley where I spent my formative years. The valley is split between Idaho and Utah, and the movie was mostly filmed on the Idaho side. I grew up playing a lot of cowboy music and my heritage goes way back to the homesteaders—the pioneers who settled here. I became a jazz guitarist in my teens and that's where my whole career has ended up, but moving back initially awakened my love for all these old cowboy tunes. That's what my recent work has been about: fusing these two worlds of mine—more urban music and then this very non-urban music of the American frontier.
You used crowdfunding for Factory Girl. What was that experience like?
I used Indiegogo for this record. Here's the thing I found out doing that: It's a full-time job. Some people look at it as free money, but that's not the case at all. It's a lot of work to manage a crowdsourcing campaign. We ended up being funded at 104 percent, so we exceeded our goal. We offered really great perks. A lot of people preordered the album and what I found out is there are a lot of people who want to be part of the creation process, more than just support you on the back end with the purchase of a CD or download. There are a lot of good people who support great music and put their money out there.
How did your Indiegogo campaign impact the music you recorded?
It funded the record, but was something so much bigger. We went into the studio knowing there were X number of people already excited about the album. That gave us some confidence and empowerment, and it made it a little more exciting to be able to make an album with specific faces in mind of people who were supporting our music. It really took the music to an inspiring new level.
Did the supporters have any actual input in the finished product?
It was more about my band—great guys who are great musicians. I hired them because I don't really have to tell them much about what to do. The information I gave them for the tunes wasn't overly scripted, and I had a lot of faith in them and what they do. Both Jeremy Allen and Matt Jorgensen, the bassist and the drummer, were there throughout the writing of the tunes and the recording process. They had enough valuable input and insight that I decided to list them as co-producers. I didn't let any of the supporters get too involved with ideas and opinions about where the music would go. I had a pretty good idea of what direction the music would take, given the people I hired.
What was it like to work with musicians not based in your area?
[Keyboardist] Zach Lapidus lives in New York. Jeremy [Allen] and I taught at Indiana University Bloomington, where I pioneered their jazz-guitar program. [Percussionist] Michael Spiro is from the Bay Area and also teaches at Indiana University. For a while, he and I were commuting there every other week. Matt [Jorgensen] is from Seattle, so the band is from all over the place, literally from coast to coast.
The guys flew in a day early, and we were able to rehearse and do a concert at Utah State before hitting the recording studio. We had two days at June Audio in Provo. It's a great studio where bands like Imagine Dragons and Neon Trees have spent a lot of time. I like that studio because my friend Scott Wiley, who's the engineer, gets great guitar tone. He knows how to record guitar really well.