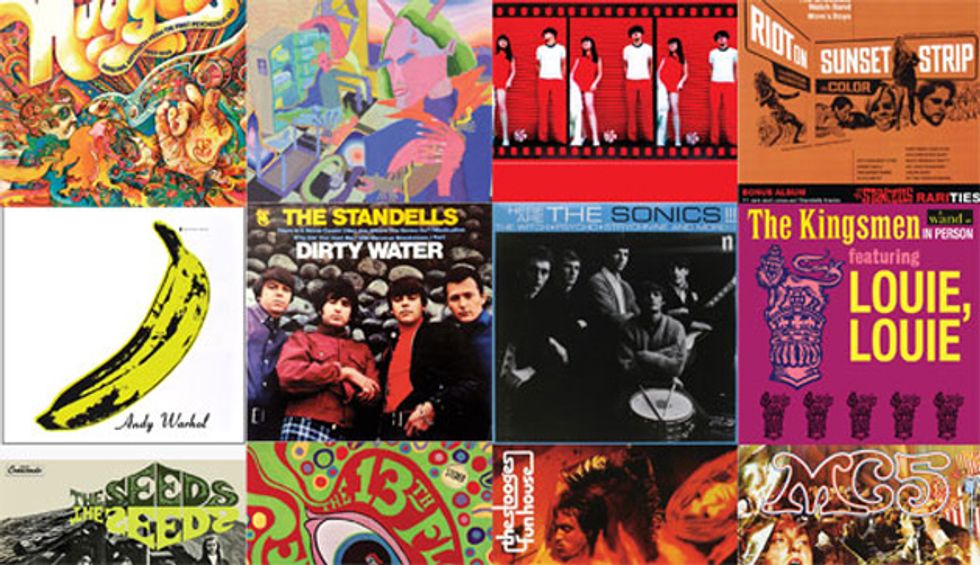 It can be loud, brash, brutal, experimental, and even psychedelic, but arguably no other style of music has experienced as many revivals as garage rock. Maybe that's because it taps into the essence of what rock 'n' roll is all about: Just turn up your guitar, and play like you mean it.
If you've ever spent a Saturday afternoon in a friend's basement slugging beers and banging out guitar jams through a few raggedy amps, a beat-up drum kit, and a makeshift PA (possibly a cheap microphone hooked up to another raggedy amp), then you know what it's like to play in a garage band. There's no rarified air or mystery to it. Rock 'n' roll, as every rock critic from Lester Bangs to Lisa Robinson has asserted over the years, is the great equalizer—a democratizing force that imbues us all with the inalienable right to unleash our rebel yell. In the end, all you really need is the desire … and a dream.
So what then is "garage rock," exactly? The term itself gets tossed around a lot these days, and rather glibly at that, but it comes down to a few key ingredients (and it's not just about where you play it or how "lo-fi" it sounds). For starters, it has to be electric-guitar based. You can have a Farfisa organ, even a horn section, or backing singers, but without guitars and amplification, it ain't garage. Then there's the do-it-yourself factor. Covers are allowed, just as long as you give them your own unique spin—the farther out, the better. And finally the kicker: Attitude is an absolute necessity.
"When you picture someone in a garage or a basement or at home or wandering down the street, trying to find a way to express their inner core, that's what it's about." —Lenny Kaye
Patti Smith Group, Nuggets curator

Ironically, this most all-American of pastimes got its kick-start when the Beatles and the first British Invasion started dominating the airwaves back in early 1964. Before then, '50s rock and rollers like Ritchie Valens and Buddy Holly—who, incidentally, recorded a clutch of early demos in his parents' garage with his backing band, the Crickets—had helped set the tone for what was to come. By 1963, with the release of their classic version of "Louie Louie," the Kingsmen staked a claim for what may very well be the first true garage-rock record. Just on the basis of Jack Ely's unhinged, almost indecipherable vocal performance and Mike Mitchell's wacky Strat solo, the song certainly qualifies.
"When you picture someone in a garage or a basement or at home or wandering down the street, trying to find a way to express their inner core, that's what it's about," says Lenny Kaye. And he ought to know. Besides his punk-rock bona fides as the founding guitarist of the Patti Smith Group, he also curated the famed Nuggets: Original Artyfacts from the First Psychedelic Era 1965-1968 compilation for Elektra back in 1972. The double album features 27 key tracks by such stage-proven stalwarts as the Seeds, the Standells, the Shadows of Knight, Blues Magoos, the Electric Prunes, and many more. Nuggets has long been recognized as a lodestone in the garage-rock canon, because it provided, for the first time, an encapsulated history and context for a sound that detonated across the latter half of the 1960s. Fueled by hungry, fiercely iconoclastic bands that had emerged from underground scenes around the country, garage rock had all the earmarks of a musical movement.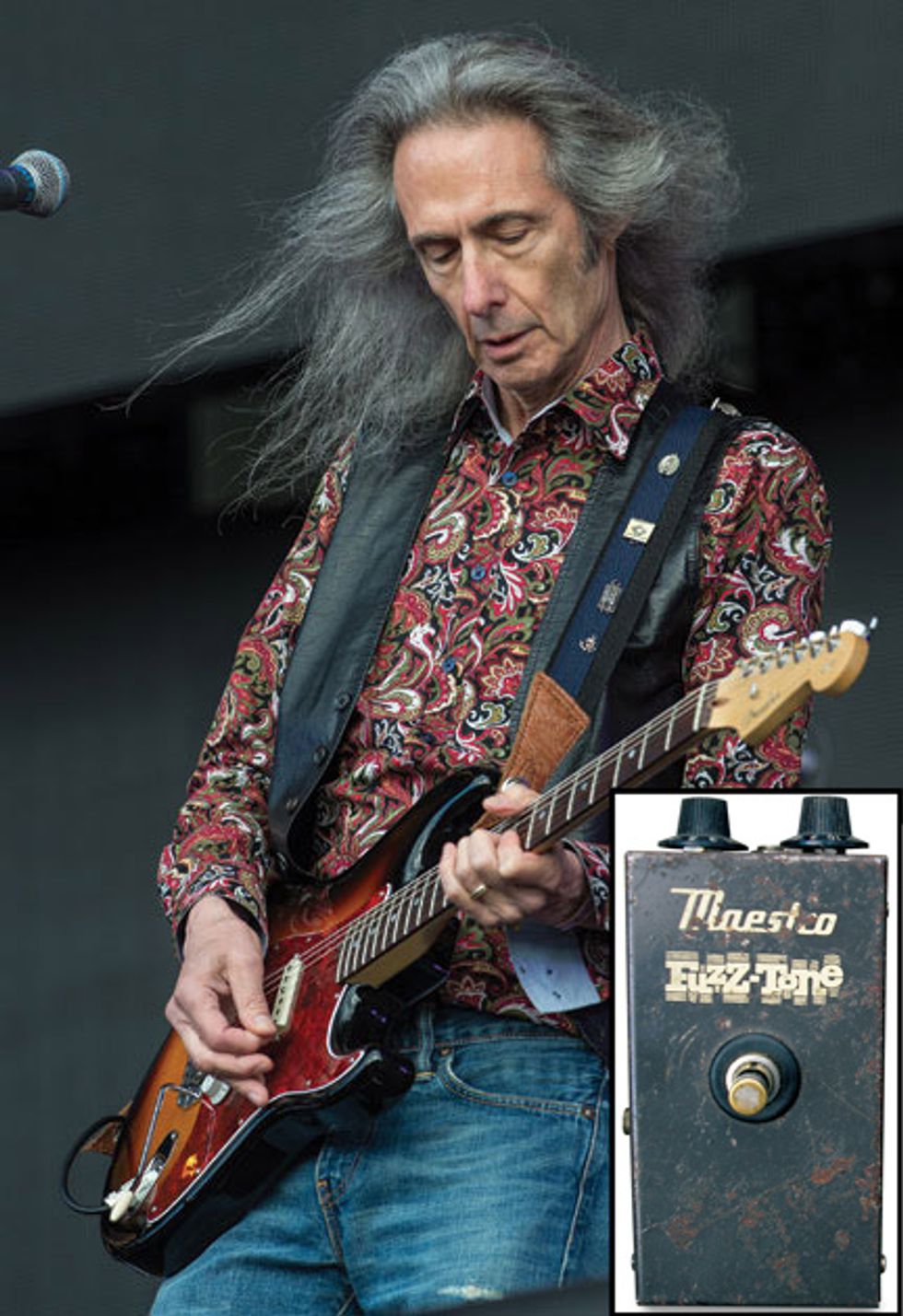 Lenny Kaye, lead guitarist for the original Patti Smith Group and curator of Elektra Records' canonical Nuggets garage-rock compilation, performing in London's Hyde Park on July 1, 2016. Photo by Brian Rasic/WireImage. (Inset) One of Kaye's fond gear memories from the early years of the garage movement was seeing the game-changing
Gibson Maestro FZ-1A Fuzz-Tone. Photo by Simon Murphy.
"This was the renaissance for rock and roll," Kaye observes. "Especially for the guitar, where the instrument became the primary source for innovation and inspiration. It made the garage band very guitar-friendly, because the one thing you needed was a guitar, y'know? And it coincided with the explosion of mass acceptability of the guitar, and its sense of electronic potential. When I was playing with my own band the Zoo, I remember seeing the first Gibson [Maestro] Fuzz-Tone, the FZ-1A. So when we played 'Satisfaction' or 'Wild Thing,' we could replicate that stinging, sustained tone."
This Is a Journey into Sound
Although the preferred gear varied wildly in the early days of garage, Fender Strats, Mustangs, Teles, Precision basses, and Jazzmasters rose to the top, often powered by Fender Twins, Super Reverbs, and Showmans. But almost as soon as the Beatles came on the scene, the amplification began to shift. Up until late '63, the Fab Four had relied on the workhorse Vox AC30, but their screaming fans consistently drowned them out. Vox outfitted the band with the larger and louder AC100 amps and cabinets (prototypes for the U.S.-made Super Beatle, introduced in '66), so by the time they reached American shores in early '64, the word was out.
One teenaged guitarist based in San Francisco had been following the development closely. Cyril Jordan hadn't yet founded Flamin' Groovies, a future cult favorite in the Bay Area and southern California—and, with the 1971 release of Teenage Head, a band that was destined to be considered a key progenitor of punk rock and the garage offshoot known as "power pop." But Jordan was already a well-informed aficionado of guitar gear, and he put his knowledge to good use.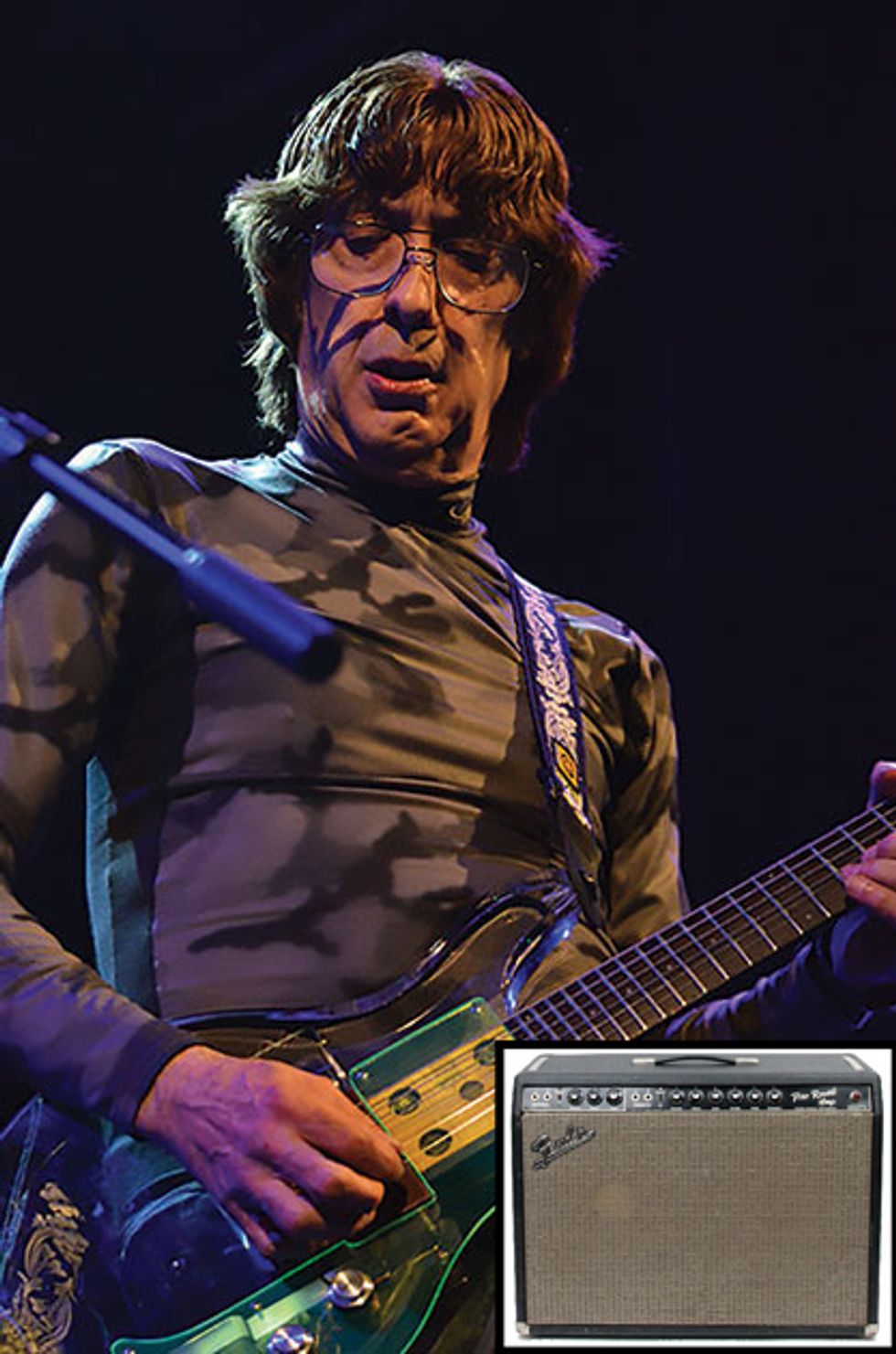 Flamin' Groovies founding guitarist Cyril Jordan onstage in 2013 with one of his favorite axes, a Dan Armstrong Plexi with swappable pickup modules. Photo courtesy of Cyril Jordan. (Inset) Influential San Francisco guitarist Cyril Jordan was often found plugged into a Fender Pro Reverb onstage with punk forefathers Flamin' Groovies.
Photo courtesy of Bernunzio Uptown Music.
"I started getting guitar catalogs in 1959, and in '63, my cousin in Holland sent me a Vox catalog," he says. "This was just before the Beatles came to America. It was weird, because the Vox amps were drawn in pencil—there were no photos. And then when the Beatles show up on Ed Sullivan with their Vox amps, I'm like, 'Oh, those are from the catalog my cousin sent me!' So I went to a store in my neighborhood called Angelo's Music, and I kept bugging Angelo to look at this catalog. Finally he takes a look and says, 'What's the big deal?' And I told him these are the amps the Beatles use. As it turned out, Angelo was a rep for the Thomas Organ Company, and guess who got the franchise for Vox in America? I didn't figure this out until decades later."
Jordan himself was a proponent of the Fender Pro Reverb, which he retrofitted with Electro-Voice speakers before the Groovies recorded their defiantly oddball, multi-styled debut, Supersnazz, in 1968. He also owns one of the original Dan Armstrong Plexiglas guitars, which he still plays to this day. "At the time, they were going for $400 and came with two extra pickups that looked like chocolate candy bars," he says. "You could slide one out like a cassette and put the other one in—it was amazing. I always used it on basic tracks, and later on I split the signal so I could play live in stereo. I took it back to mono about five years ago. It still has a great shredded sound, because I go into a Roland JC-120 for pure treble, with a Brian May Vox AC30 on the bottom."
As guitarists across the U.S. picked up on the Beatles' built-for-sound Vox AC100 behemoths, the marketing gurus at Vox were already plotting the company's entry into the American market by sponsoring a few emerging bands, including two stalwarts of the L.A. garage scene—the Seeds and the Standells. The 1967 exploitation film Riot on Sunset Strip features the Standells playing through Vox amps (with guitarist Tony Valentino wielding a Telecaster and bassist John Fleck slinging an Eko 995), while the Seeds' Jan Savage, who favored a Fender Mustang, also played a Vox Bobcat through the Super Beatle, later models of which upgraded the trapezoidal V1141 head with a built-in "distortion booster."