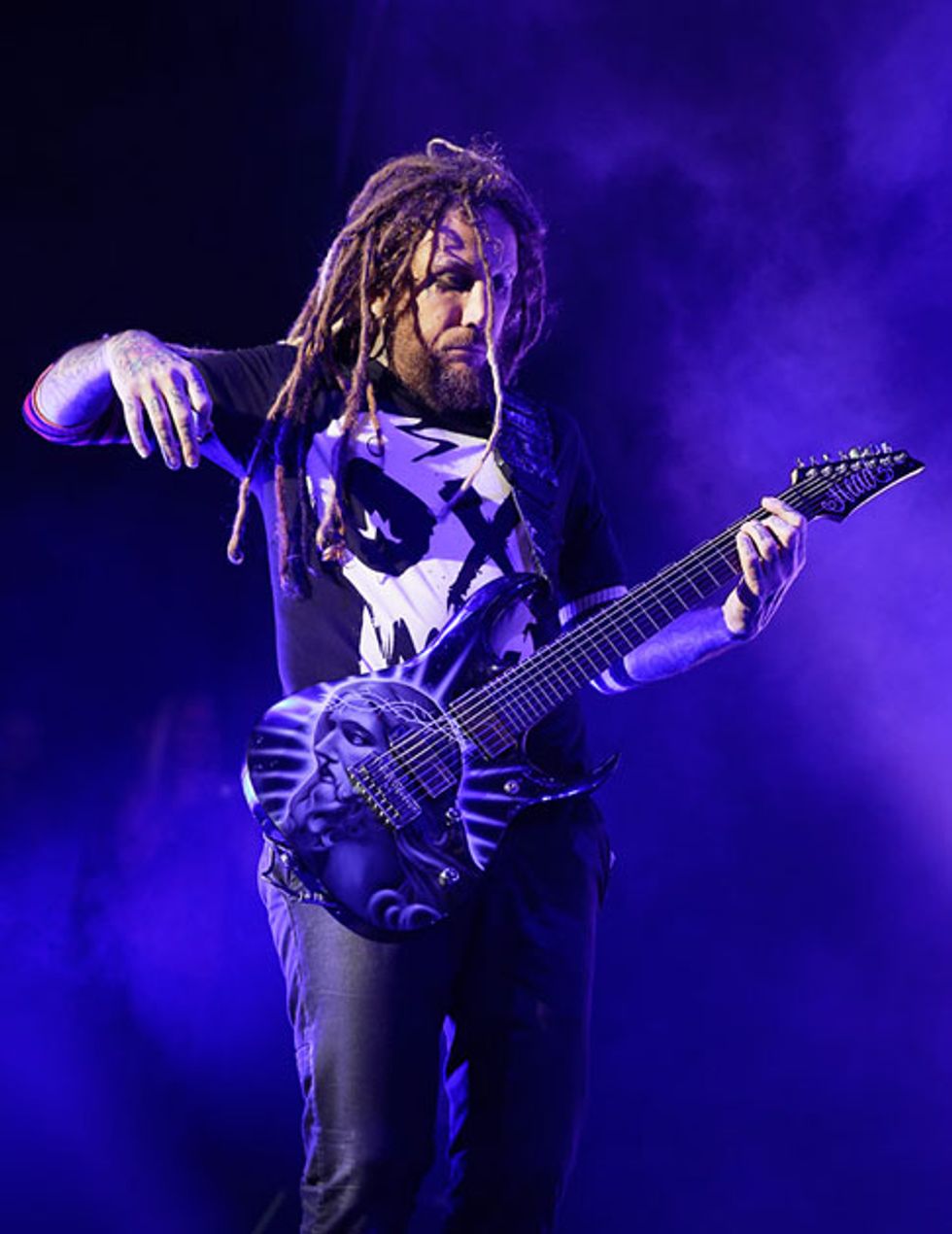 Head plays his Ibanez Komrad at a show in Detroit, Michigan, in August 2016. One of his techniques is to use reverb as an atmospheric touch under the verses of Korn vocalist Jonathan Davis. "When there's room for it to breathe, I use it there, mainly for melodies," he says. "I don't use it on chords or anything." Photo by Ken Settle
Korn created their own sound and spawned the nü-metal genre by fusing rap and metal over detuned, 7-string guitars. Their innovations paved the way for the now ubiquitous 8- and 9-string guitars, and over the band's more than two decades of music making, they've never stopped pushing the envelope. Their 2011 release, The Path of Totality, featured EDM producers like Skrillex and Noisia, and had a notable dubstep influence that looked well past the metal musician's toolbox.
But while continual reinvention was vital for artistic growth, it could be argued that it chipped away the band's identity. That's what producer Nick Raskulinecz sought to change when he was enlisted to produce Korn's latest album, The Serenity of Suffering. "He stepped in and told us a lot of stuff that was difficult to hear, which was basically, 'What happened to Korn?'" recalls guitarist and cofounder James "Munky" Shaffer. "He said, 'Where's the heavy riffs? Where's Fieldy's [Reginald Arvizu] bass? There's no funky weird-sounding guitars. That's what you guys are good at, but on the last few records I haven't heard that.' It was like, 'Wow, I guess he's right.' It was hard to hear, but at the same time, it was something we needed to hear."
Prior to the recording sessions, the band also got a crash course in early Korn when they performed their entire self-titled debut album in its entirety on tour. This got them in the zone for the recording of The Serenity of Suffering, and with guitarist and cofounder Brian "Head" Welch back in the fold (he left in 2005 to deal with drug addiction and returned in 2013), the result is Korn's heaviest album in recent memory. Adding to the carnage, Slipknot's frontman Corey Taylor makes a guest appearance on the track "A Different World."
"I remember Head saying during the writing process, 'We gotta make sure these songs are fun to play live.'"—James "Munky" Shaffer

Premier Guitar caught up with Munky and Head on the road in Columbus, Ohio—just minutes before Head began a mobile recording session for Waylon Reavis (former lead vocalist for Mushroomhead), and a short while before they hit the stage.

What was the writing process for The Serenity of Suffering?
Munky: Head and I got into a small room and started to write riffs with Ray [Luzier, drums], who had an electronic kit, and it was a little bit different because it wasn't all of us at once. We wanted to just get the ball rolling and stockpile a bunch of riffs and ideas.

Head: We started first in early June [2015] in Hollywood, just ripping out half-song ideas. When we started writing, we used 8-string guitars. We were like, "I want to try something different." It was so fun and sparked a different way to write just because it sounded different, and then we brought the idea to the studio and let Jonathan [Davis, vocals] hear it, and he was like, "This doesn't sound like Korn." And then we went back to the basics. He said it wasn't in his vocal range and was like, "You guys sound like Meshuggah now." We took a couple of those songs and made them into 7-string, just the regular tuning, and only a couple of them worked. The other ones we had to throw away because it didn't sound good on 7-string.
Munky: It was a combination of the vocal range and the fact that it was too outside of what Korn should sound like, I think.
Did you consciously make an effort to not fall back on clichés?
Head: Yeah. There were a couple of riffs that got thrown out because we were like, "That sounds like that song." We just concentrate on the feel of the song and the song quality. A good song is a good song even if it's similar to another one but, yeah, some came too close and so they got canned.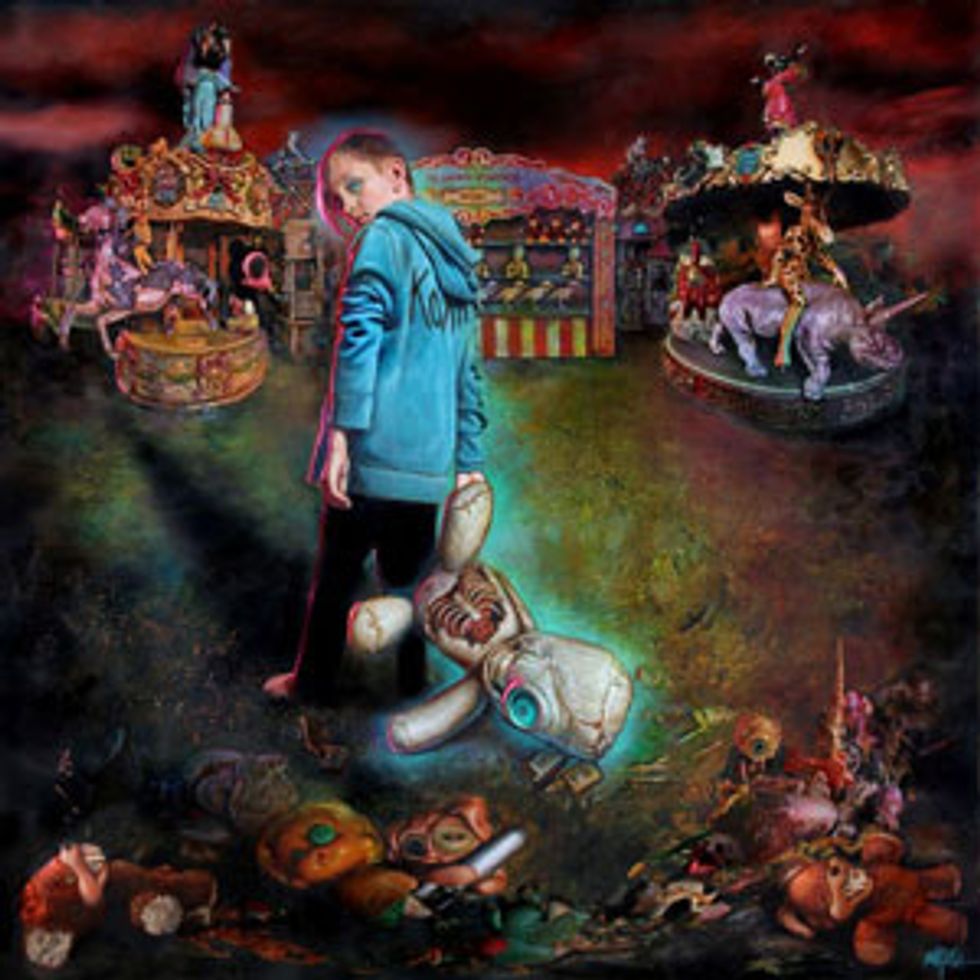 Korn's 12th studio album, The Serenity of Suffering, entered Billboard at No. 1 on both the Rock and Hard Rock charts, and No. 3 in the Current Albums category. It marks the first time guitarists Munky and Head tracked every part live together in the studio.
How did Nick Raskulinecz get involved?
Munky: We started talking about producers once we had 20 or 25 ideas, you know, like a verse and chorus, recorded. Not complete songs, because we wanted someone to help us through the writing process and tell us, "Maybe this is good, maybe this isn't, where do we take these ideas?" And probably a month or two into the writing process we went up to Bakersfield to get everyone in our studio over there with live drums, and have Fieldy and Jonathan be part of the writing process on the music end, and to help with the direction. That's when we started thinking about producers and making phone calls, and Nick's name came up a few times. We're big fans of his work and we love what he did with the Deftones records, and the two Alice in Chains records that he did.
Head: Actually we wanted to talk to him on The Paradigm Shift, the previous record, but he was busy. So his name came up again, and we talked to a bunch of other producers, but you know, he just had an energy about him. He's just a guy that you grow to like instantly and we became friends instantly. He's got that personality and is just a fan of music. He told us he used to flip burgers and listen to Korn while he was working. He was like, "As a fan, I know what you guys need right now. I know you guys have ventured off and done stuff, but I want to take your whole career—your last 20 years—and put together what I would like to hear, as a fan." Once we got him, he started going over songs with us, throwing stuff away, keeping other stuff, and making stuff better. That was the beginning of the process.
Munky: He went out on a limb and was just honest with us, and we had to kind of step back and were like, "We want to go down that road again. We want to experiment with guitar sounds and just let songs develop into whatever they might be," and we hired him pretty much on the spot. It was actually difficult because we were doing a lot of these one-off festival shows, and flying back and forth from Europe, but maybe it led us to have good energy on the record because we were playing in front of a lot of audiences. I remember Head saying during the writing process, "We gotta make sure these songs are fun to play live." Because a lot of songs that we write in the studio, we get them out and play them live, and it just doesn't translate to the audience.