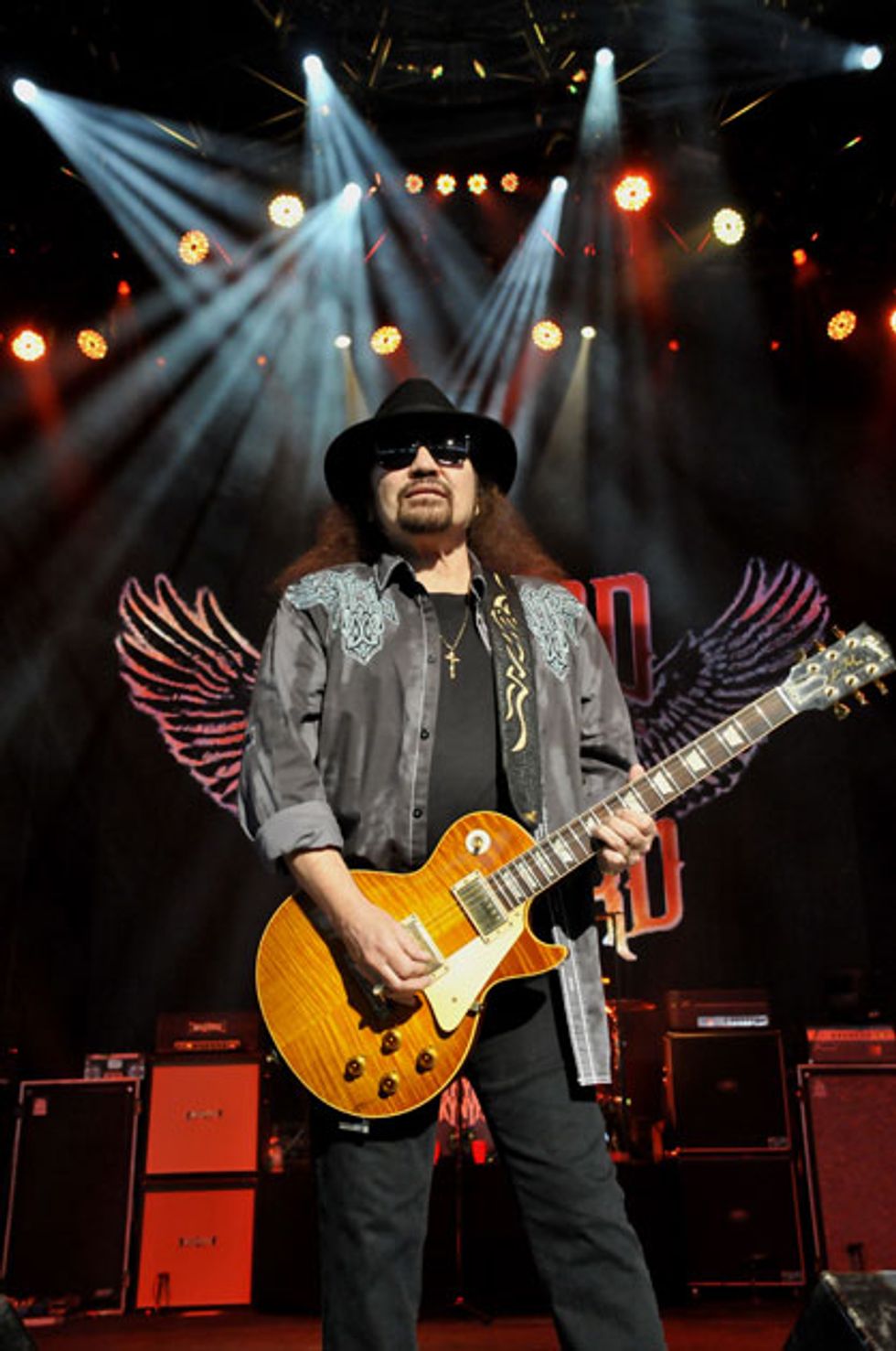 Rossington has a no-frills approach to getting big, sustaining tones from his Les Pauls. He cranks up the pre-amps on his Peaveys or Marshalls and controls the distortion with his guitars' volume pots. Photo by Frank White
A cat on its ninth life would be wise to trade places with Gary Rossington. The seemingly invincible Lynyrd Skynyrd guitarist and cofounder has triumphed over catastrophe numerous times—including one of the most famous disasters in rock history. In 1977, just three days after the release of Street Survivors, a tragic plane crash put the kibosh on the band's meteoric rise and took the lives of members Ronnie Van Zant, Steve Gaines, and Cassie Gaines, and assistant road manager Dean Kilpatrick, among others. Rossington emerged from the rubble with two broken arms, a broken leg and pelvis, and a punctured stomach and liver, yet miraculously lived. He's also endured whiskey-and Quaalude-induced car wrecks, quadruple bypass surgery, and several heart attacks, including one in October 2015 and one this past summer.
As the last original member still touring under the Lynyrd Skynyrd banner, Rossington continues along the route he, singer Ronnie Van Zant, and their friends set out on in 1964 as if he's on a crusade to keep the dream alive. "All these years later, 'Freebird' and some of these songs have taken on an anthem-like feel," says Rossington. "Everybody yells out 'Freebird' or 'Sweet Home Alabama.' I'm the only one left that gets to tell about it."
In addition to his legacy with Skynyrd, Rossington has been part of other projects throughout the decades. Two years after the plane crash, he and Allen Collins, another of the founders, formed the Rossington-Collins band. To avoid accusations of being a Skynyrd knockoff, they brought in Dale Krantz, who had previously opened for Skynyrd as a singer with 38 Special. Rossington and Krantz fell in love making music together and eventually got married. After the Rossington-Collins band disbanded in 1982, the Rossington Band, featuring Rossington and Krantz, formed.
When Lynyrd Skynyrd reunited in 1987, Rossington and Krantz were back in the fold, where they've remained. (By then Collins was paralyzed from the waist down, due to an alcohol-fueled car wreck. He died in 1990.) And now, almost 30 years later, they've released a new album called Take It on Faith. This time, there's no band. The album is simply credited to Rossington. And, in fact, the guitar legend explains that the songs were recorded seven or eight years ago and awaited release. For the sessions, producer David Z (Etta James, Buddy Guy, Prince) chose a diverse group of studio musicians—including Jack Holder on guitar, Bruce McCabe on keys, David Smith on bass, and Richie Hayward on drums—to lay down a foundation that would bring Rossington's vision of a blues-tinged rock album to life. Notably, Holder and Hayward—also legends of Southern rock—died before the album was released.
Rossington, who has otherwise always recorded with bands, says making Take It on Faith was a new experience for him. "A band goes in, works together, and kind of tries to change things here and there," he says. "We just went in there and showed these studio guys the songs real quick—sang it once—and then they went out into the studio, and, bang, it was there. It was so cool."
"Blues never changes. You can play blues from way back in the day until now."

Nonetheless, fans of his big-boned guitar work will be pleased. The title track features his elegant slide playing on acoustic guitar, and his keening bends, recognizable from decades of recorded and live Skynyrd performances, shine through on Krantz' vocal showcase "I Should've Known." Ditto the pinch harmonics that decorate the rocker "Good Side of Good" and recall his stellar opening and solo on the classic Skynyrd smoker "That Smell."
On a break from Lynyrd Skynyrd's still-busy touring schedule, Rossington talked about creating the new album, his love for Gibson Les Paul Standards, and his basic-but-effective recipe for achieving his classic sound.
What inspired Take It on Faith?
We decided to do meet-and-greets with Skynyrd every night, and a lot of the fans kept asking if Dale would ever sing or do another album. So we did it for the fans from the Rossington-Collins Band days, and everybody seems to like it. We're very happy.
I understand the writing process for Take It on Faith goes back a decade?
Yeah. We always write songs here and there. We can't stop ourselves. [Laughs.] We wrote some of them and we took some of them from our producer, who helped us pick a few songs. It came together real quick.
When you revisited the previously written material, did you make any major revisions?
Nah. Most of them were blues songs, and blues never changes. You can play blues from way back in the day until now. We just started writing two or three blues tunes, and we had a few in mind that we thought were great that we didn't write. We figured a blues album would be fun, but then we went more rhythm and blues, and picked a few other songs that weren't hard blues … or I don't know what style you'd call it, but it was different than the blues.
Do you prefer old-school recording methods or today's hard-drive-based approach?
We just did it with tape—analog, you know? Put down a basic, overdubbed a little bit, and "boom," there it was. For blues, that's the best way. But we did a little Pro Tools for tuning up things and moving things and this and that. Pro Tools and computer stuff nowadays, I don't understand all of that, but my engineers did and that was real good.