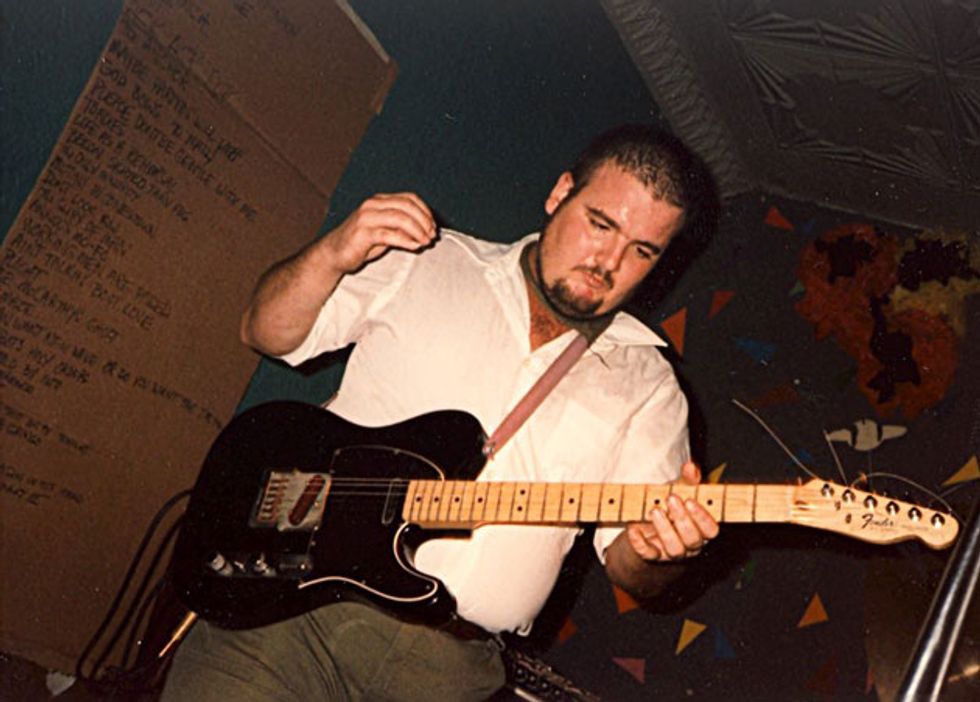 As he graduated to owning better gear, D. Boon developed a passion for playing Fender Telecasters. Note the band's set list on the wall to his left. They'd weave 30 or 40 short songs into a greater whole.
Photo by Dave Rick
DIY may be commonplace for most bands today, but it was a downright revolutionary concept back in the late '70s. That's when punk bands who couldn't land a record deal, get press, tour, book local gigs, or get on the radio pretty much wrote the DIY playbook. Their approach went on to develop into a massive movement and spawn multiple scenes—including the indie-, alternative-, and college-rock scenes—and its bands inspired everyone from the most intense thrash artists to sensitive singer-songwriters.

One of the earliest DIY punk bands, an influential trio that was do-it-yourself in every sense of the term, was the Minutemen from San Pedro, California. If anything, they personified the movement in how they embodied its proletarian ethos and values. They were determined, idealistic, and a prime example of great music that the industry missed or ignored.

But the Minutemen—Dennes Dale Boon on guitar (known as D. Boon, in homage to his hero, E. Bloom—Eric Bloom from Blue Öyster Cult), Mike Watt on bass, and George Hurley on drums—sounded nothing like their contemporaries. They didn't play hardcore. They flirted with genres anathema to most punks, including classic rock, Motown, and post-bebop jazz. They knew how to play their instruments, too, and boasted formidable chops, impeccable time, and wide-open ears.

Although the Minutemen were very much a group effort, it was Boon's guitar playing that stood out as the band's most idiosyncratic element. Boon almost never played power chords or used distortion. His tone was abrasive, his comping—a hyperactive synthesis of' '70s funk and British post-punk—was complex yet rhythmically tight, and his soloing, although influenced by his classic-rock heroes, veered far from the blues scale and often incorporated unusual note choices and dissonance.
"It was definitely the most ear-damaging show I ever went to. He had the treble all the way up with bass rolled all the way down. It shredded my ears." —J Mascis

The Minutemen toured hard and their profitable low-budget road trips are legendary. They were also prodigious in the studio and left behind a large catalog of albums, EPs, videos, and live footage. They were just beginning to get noticed, too—their final tour was opening for R.E.M.—when Boon was killed in an auto accident in late 1985. He was only 27. It was a tragic and untimely end to a story that was just getting started. His bandmates almost called it quits, but eventually regrouped and went on to much greater acceptance, and even a major label deal, as Firehose, among many other projects and collaborations.

But Boon had made his mark. His playing, energy, outlook, and idealism have inspired a generation of musicians. Other guitarists often cite him as a primary influence. He was an outlier, an individual, and not interested in becoming a rock star. He became one anyway, albeit posthumously, although like everything associated with the Minutemen, it's probably more accurate to call him something else—and to acknowledge that he did it, as the band would say, "econo."

Boon's story has been told many times and in many forums, but, surprisingly, very little has been written about his playing, tone, gear, and experiences in the studio. We reached out to Boon's former bandmates, Watt and Hurley, as well as Spot (Glen Lockett), who was the house engineer and producer at SST Records and the engineer on many Minutemen sessions, in addition to his contemporaries Nels Cline (Wilco) and J Mascis (Dinosaur Jr.), to compile a musical snapshot of an idealistic, influential, and sorely missed talent.

Corn Dogs from Pedro
D. Boon was born on April 1, 1958, and raised in San Pedro, California, a neighborhood about 20 miles south of Hollywood. Blue collar and middle class, San Pedro was the opposite of its northern neighbor. Mike Watt was Boon's childhood friend and the pair became musicians at the insistence of Boon's mother. She thought it was a way to keep them out of trouble. "Our first guitars were pawnshop," Watt says. "I think D. Boon had a Melody Plus. His cost $15 and mine was $13. Mine was a Teisco." Boon played guitar and Watt played bass, not that they knew what that meant. "I only had four strings on my guitar because that's what I thought a bass was," Watt says. "I took the B and the E string off and now it was a bass. I didn't know it was tuned lower. I had no idea."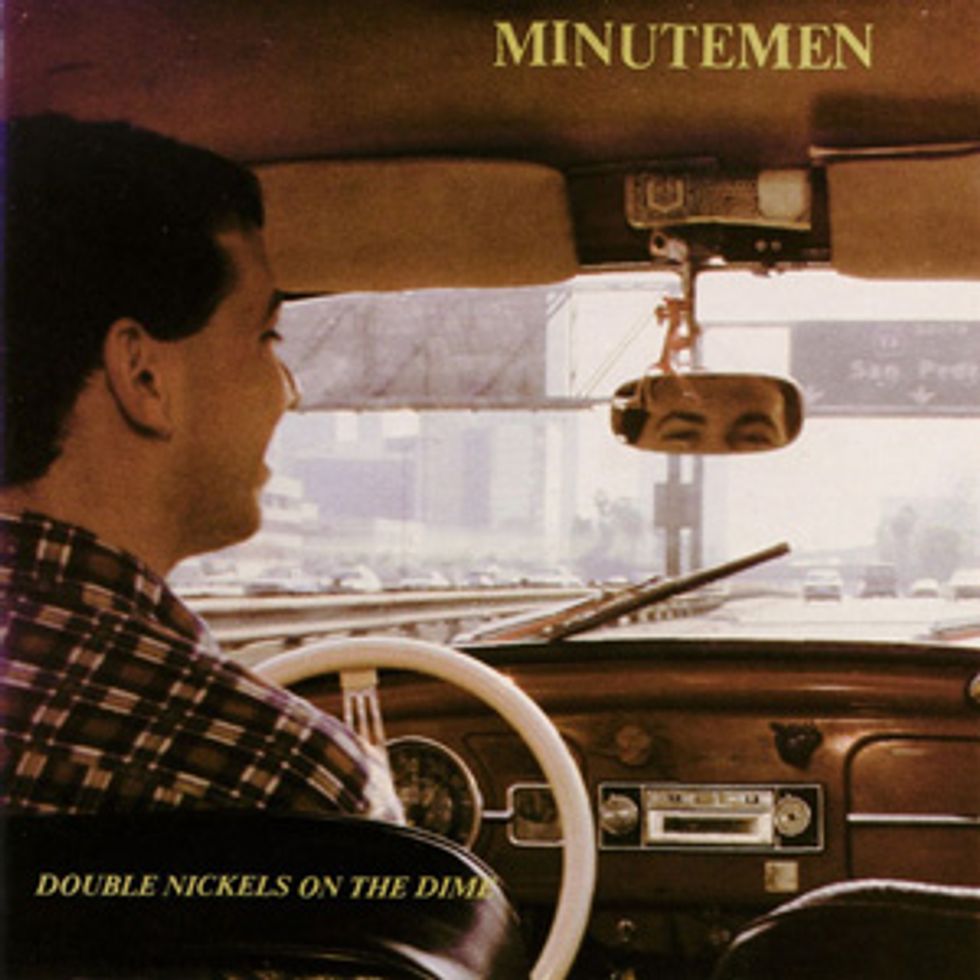 With 33 songs, the band's two-LP classic Double Nickels on the Dime strove to recreate the variety of songs and rapid-fire urgency typical of the Minutemen's concerts.
Boon grew up listening to the music his father listened to: country star Buck Owens and Creedence Clearwater Revival. "When I first met him, the only rock band he knew was Creedence," Watt says. "John Fogerty was a huge influence on him." Watt turned Boon on to Blue Öyster Cult and their guitarist, Buck Dharma, as well as the Who. "He was a strange mix of John Fogerty and Buck Dharma. And then I turned him on to the Who and he got into Pete Townshend."

Boon and Watt spent time together after school, learning songs off records—a tedious process in the days of low-budget turntables and 8-track tapes—and rehearsing the songs they knew. Sometimes it was with Boon's brother Joe on drums, but more often playing along to the record. It was painstaking and slow, but Boon built up impressive chops, which made him stand out in the early days of punk.

"I remember the first song was 'Suzie Q,' and him running that down after school every day," Watt says. "D. Boon never used record covers and so his records would be on the deck and covered in grape juice, and you'd have to put six quarters on the stylus to keep it from skipping. It was terrible."

Boon also took a handful of lessons on nylon-string acoustic from Roy Mendez Lopez, a colorful local character who made a big impression him. "He would teach him songs off records," Watt says. "But then he would sneak in other stuff—some Vivaldi, some Bach, and he showed D. Boon some flamenco." You can hear the Spanish influence in Boon's later playing—particularly in his use of fingerpicked arpeggios and on his solo feature, "Cohesion," off the 1984 release Double Nickels on the Dime. But perhaps Lopez's biggest influence was on Boon's work ethic. "He did impress upon us one thing: practice, practice, practice," Watt says. "And that was one thing about me and D. Boon … and still today, with my bands, I practice every day."

Boon and Watt started to play in bands together. They played covers—mainly rock staples by the Stones, Alice Cooper, Black Sabbath, and others. They finished high school, started college, and that probably would've been the end of their music careers. Writing songs and making records was not something they thought people like them did.

But then they discovered punk.