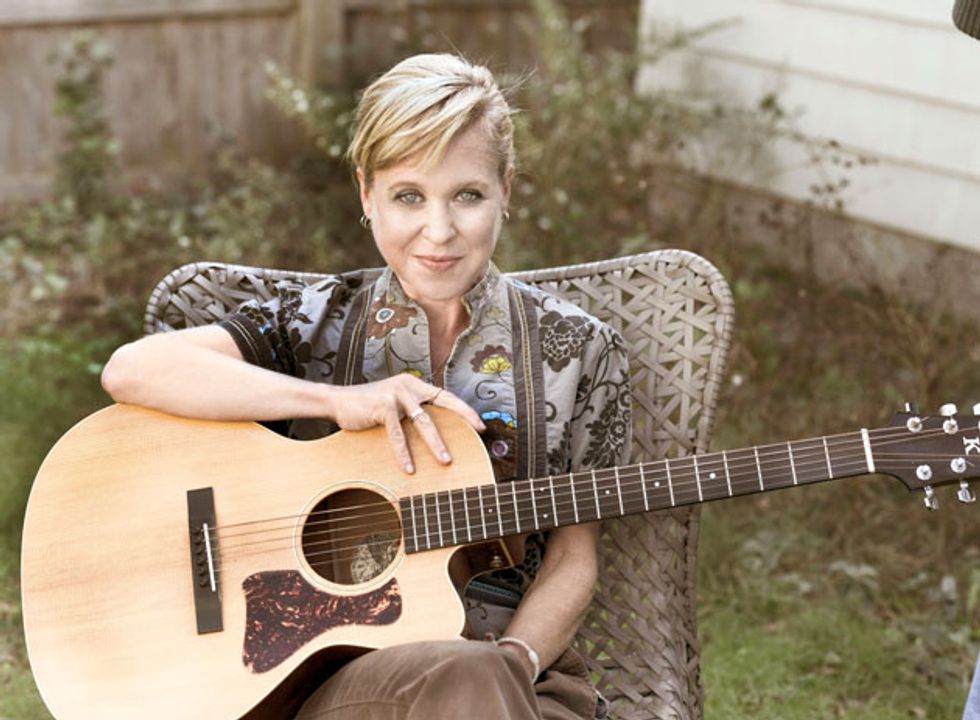 Kristin Hersh's favorite acoustic is a one-of-a-kind, Collings C10 cutaway, handbuilt for her by Bill Collings. She selected the body shape. Note the "K" on the headstock.
None other than Bob Dylan once said about songwriting: "Songs don't just come to me. They usually brew for a while, and you learn it's important to keep the pieces until they're completely formed and glued together."
Kristin Hersh might agree, if only to a certain extent, because for most of her life, the songs haven't simply brewed—they've churned, cascaded, and crashed like an unrelenting flood of pictures, sounds, memories, and emotions. As she recounts in her memoir Rat Girl, it all started after she sustained a double concussion in a childhood accident. After a car struck her while she was riding a bike, the trauma literally flipped a switch in her head, and the music kept coming, to the point where she felt less like a budding songwriter and more like a constantly live wire, unable to shut down the current that possessed her. She was only 16 years old.
"Eventually the songs no longer tapped me on the shoulder," she wrote. "They slugged me in the jaw. Instead of singing to me, they screamed, burrowing into my brain as electricity. Do you want your face grabbed and shouted at? Probably not; at the very least, it's irritating. But now that it's happened to me, I know that music is as close to religion as I'll ever get. It's a spiritually and biologically sound endeavor—it's healthy."
That energy fueled a string of explosive albums by Throwing Muses, the defiantly eclectic indie-rock band Hersh cofounded with her stepsister Tanya Donelly when the two were still in high school in Newport, Rhode Island. The band blazed a humid trail of triumphs and broken dreams, punctuated by soul-baring anthems like "Hate My Way" (from their eponymous 1986 debut), House Tornado's episodic "Walking in the Dark," Red Heaven's slow-building gem "Pearl," and, in 1995, the yearningly sweet, critically lauded but commercially doomed University, their last album to be distributed in the U.S. by a major label, Sire/Warner.
Along the way, Hersh and her bandmates helped set the stage for the '90s alt-rock craze, influencing the rise of the Pixies (who in their early days often opened for the Muses), Pavement, the Breeders, the Lemonheads, and, yes, even Nirvana and Radiohead. By 1997, in the wake of the aptly named album Limbo, the band went on hiatus, but Hersh was just getting revved up.
Wyatt at the Coyote Palace is her ninth solo album, going back to 1994's Hips and Makers. Nearly five years in the making, in a sense it's her Physical Graffiti—a beautiful and unruly 24-song, multi-instrumental, double-disc magnum opus that finds Hersh pushing open strange new doors with her writing, arranging, and recording chops. She also plays every part, including bass and drums. Coproduced with longtime friend and confidant Steve Rizzo at his Stable Sound Studios in Portsmouth, Rhode Island [see sidebar, "Studio as Sanctuary"], it's a concept album that's rife with expertly layered acoustic and electric guitars—including Hersh's go-to Collings C10 cutaway acoustic, custom-shaped for her by Bill Collings himself in 2008. She still refers to it as "the guitar that love built," because her fans helped buy it for her after she lost her house, and everything in it, in a flood.
Love in all its permutations, in fact, is the driving force behind the music here. Hersh named the album for her third son, Wyatt, who made his own discoveries while exploring an abandoned apartment building near Stable Sound that was taken over by coyotes (hence, the "coyote palace"). She was also working through the painful dissolution of her 25-year marriage, lending songs like the Bowie-esque "Hemingway's Tell," with its sheets of distorted lap-steel guitar, a poignant aura of catharsis. It's just one of many moments where Hersh sounds palpably inspired, excited, and maybe even a little terrified by the possibilities of trying something new.
"When I step into the studio, I always know what I'm gonna walk out with, even if it's five years later—and I'm always completely wrong," she gushes. Hersh speaks animatedly, with a sharp, self-deprecating wit that goes a long way toward explaining how her music appeals to so many: she's always open and authentic, never striking a pose.
"You can pretend," she warns, "but the songs know how they want to be raised up. They know what colors they want to wear. It's like telling your kids what to say and what to wear, when you shouldn't. You can't really, because when a song presents itself to you in a superficial way, it's not skin deep. It's just using the colors of this plane appropriately. I find that charming, and humbling. So this time I walked into the studio saying, 'Yeah, I'm gonna Nick Drake this shit up,' and then I suddenly realized, well, I'm not Nick Drake. It needed deconstruction as well as incessant layering, which makes no sense at first. I thought 'raw bones'—then you can't lie, and everybody knows you're not lying. But there are also layers of color. I can respect that as long as you don't make any mistakes."
"Vinyl, as much as we like it, is still kind of presumptuous. It's like suggesting that someone adopt your soundtrack or your religion."

Adding to the layers of color, wonder, and meaning, Wyatt at the Coyote Palace is packaged as two CDs accompanied by a 64-page hardcover book designed by Throwing Muses drummer David Narcizo, complete with lyrics, photographs, and interstitial prose passages. It's the third time Hersh has released an album this way, starting with her 2010 solo album Crooked, and followed in 2013 by the Muses' Purgatory/Paradise, which was their first full-length release in 10 years, and a harbinger of things to come. The band has tentative plans to begin work on a new album in early 2017.
"Hopefully what I'm doing is ear-catching without turning everybody off," Hersh quips. "I know that what I do isn't for everybody, but I wouldn't want to come between them and the music. That's why I thought a book would be a nicer gift than a piece of plastic. Vinyl, as much as we like it, is still kind of presumptuous. It's like suggesting that someone adopt your soundtrack or your religion. But a book is a nice little keyhole view of the world. It's saying, 'Here's some pictures. Here's some stories. You can come in.' It's like a sweetness, I guess."
Overall, Wyatt at the Coyote Palace has a much bigger sound than your last solo album, Crooked.
Oh yeah, absolutely. Crooked was almost like recording a garage band. I just couldn't make this one small, and I really do love small. I like the character actors in every sphere, but this just isn't one. It's so big. Wyatt likes to call it my "big-budget home movie." [Laughs.]
Did you talk with Steve Rizzo beforehand about what you had in mind?
Poor Steve. He never knows what to expect when I walk into the studio every day! I mean, there's never been a harsh word between us, but I walk in, and he knows that's when the mad scientist part begins. Sometimes it means breaking instruments or building instruments, and layering them or using these field recordings I made, which seemed to replace the room mic this time. The room mic is useful when you don't feel like the listener is being invited into the atmosphere. If you can identify the track-within-the-track that's too dry or too removed from the human body, then you just bring up the room in that track.
And yet this time that wasn't enough. I needed more idiosyncrasy without just crawling up my own ass, you know? I don't want to be pretentious, but I needed something to catch people's ears, and that's a difficult thing to do. You don't want to be willfully kooky. So I found that I was compulsively recording things all over planet Earth. At first, I would just send them to friends because they were funny or interesting, but then I thought I'd try treating them like instruments.
There are street sounds like that in "Soma Gone Slapstick" or "Elysian Fields," for instance.
I worked on "Elysian Fields" for a few years—intermittently anyway. I can't remember everything that went into it right now, and I don't want to make shit up, but it's about a street in New Orleans, like a bunch of my songs.
You're doing some nice flatpicking there. You've said the Collings guitar figures prominently in all your solo albums.
It just has a nice bite. I don't always like sparkle, but it has an edge. I went for something more percussive on this record, too. That's more a reflection of the foam that I stuck under the strings, and the duct tape and all the crap that I used. Sometimes I would put down eight tracks of the same guitar, so it sounds like brush strokes. That's a little hint of the versatility that a Collings affords, because the sustain inherent in that instrument is so similar to an electric that you can play leads that don't sound like Spanish guitar. It's a striking sound. It almost reminds me of a banjo, sometimes. There's a slight slap, because there's an attack and then a sustain.
It's similar to playing an electric, but you can relate to the muscles. You can hear that it's being played physically. That's been a frustration for me with electric, because you're sort of lying. You use pedals to mimic muscles, and with acoustics, you don't do that. It's all about the body.