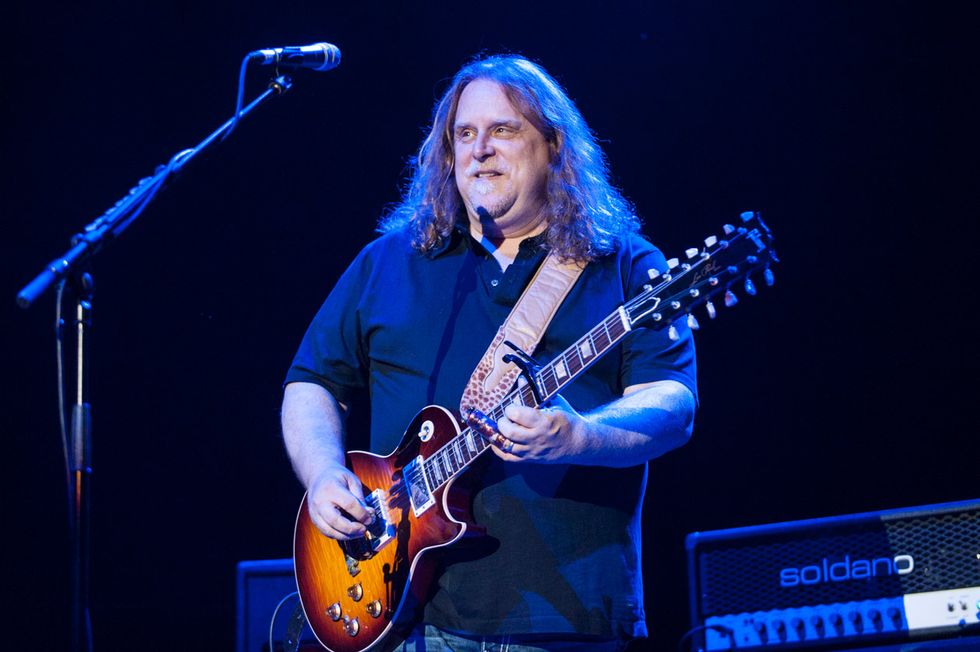 Haynes loves Gibson electric 12-strings. On the new album, he played both this Les Paul 12-string and a Firebird 12-string. Photo by Jordi Vidal
Warren Haynes' résumé would make even the most elite guitarist flush with envy: A 25-year tenure with the Allman Brothers, a successful solo career, stints working with the Grateful Dead, John Scofield, and Don Was, and a wide portfolio as a producer would all place him among his generation's most productive players—even if he'd never teamed with fellow Allman bassist, the late Allen Woody, to form Gov't Mule.
In the 23 years since the band's inception, Haynes and his Mule mates—Danny Louis (keys, guitar, trumpet), Jorgen Carlsson (bass), and Matt Abts (drums)—have used American jam-rock as a launching pad to explore their unusual combination of virtuosity, fluent improvisation, strong songwriting, and soulful singing.
The band's latest album, Revolution Come…Revolution Go delivers all of that and more, with a collection of songs that swings from the political (exemplified by the title cut and the album's searing opener, "Stone Cold Rage") to the personal. Revolution was primarily recorded in Austin and coproduced by Haynes and his longtime collaborator Gordie Johnson (who adds some tasty pedal steel to "Traveling Tune"). Other key contributors include Don Was (who coproduced two tracks) and Austin icon Jimmie Vaughan ("Burning Point").

"We're all really happy with the way this turned out," Haynes says. "It's the most diverse record we've ever made. The energy is really 'live' in the way the four of us play together. It's very important to us that the interplay comes across, even in the more straight-ahead songs. As opposed to building things one instrument at a time, we're really committed to maintaining this approach: recording live, keeping the solos from the live takes, and capturing band chemistry."
"I've always been drawn toward guitar players who also sing or sound like they're singing through their instruments.
I love that vocal quality."
When we reached Haynes by phone, the band was preparing to take Revolution on the road. Yet despite a busy rehearsal schedule, he was generous with both his time and his insights into writing, producing, arranging, playing, and gear. While you're reading, you can stream four songs from the album—"Stone Cold Rage," "Sarah, Surrender," "Pressure Under Fire," and "Songs & Dreams."

You started recording Revolution Come…Revolution Go on Election Day. Did the outcome influence the sessions?
We joked that it was going to be a different kind of record if everybody was wrong and Trump actually won [laughs]. And it definitely changed our perspective and the overall feeling of starting the record. The songs that had political connotations—and there are only a few, like "Stone Cold Rage"—had already been written. It just made us look at them differently. When you look back at the lyrical content, it's just an observation that no matter who wins, approximately half the people in American will be pissed off about it. And it's really more about the divide and the anger and the intensity that's going on right now, which is more than at any time in my adult life. There's a tongue-in-cheek aspect to it, but the music has an intensity that goes along with the message.

Did you arrange the song to match the lyrics or did the music suggest the message? What usually comes first?
Through the years, more of my songs have started with the lyrics, as opposed to a musical hook. But in the last five or six years, I've been making myself do the opposite—concentrate on writing music first and lyrics later—just so I don't get stuck in a pattern. Also, when I look back, I realize most of the up-tempo songs start with music, and most of the mid-tempo and down-tempo songs start with the lyrics.

"Stone Cold Rage" started with that guitar riff in the very front. That's the first thing I wrote. I had other little pieces here and there, and Danny wrote the instrumental section. He'd been playing that part in a different context, and I thought it would fit great in the middle of this song. We often do that—a riff winds up somewhere other than where we originally thought.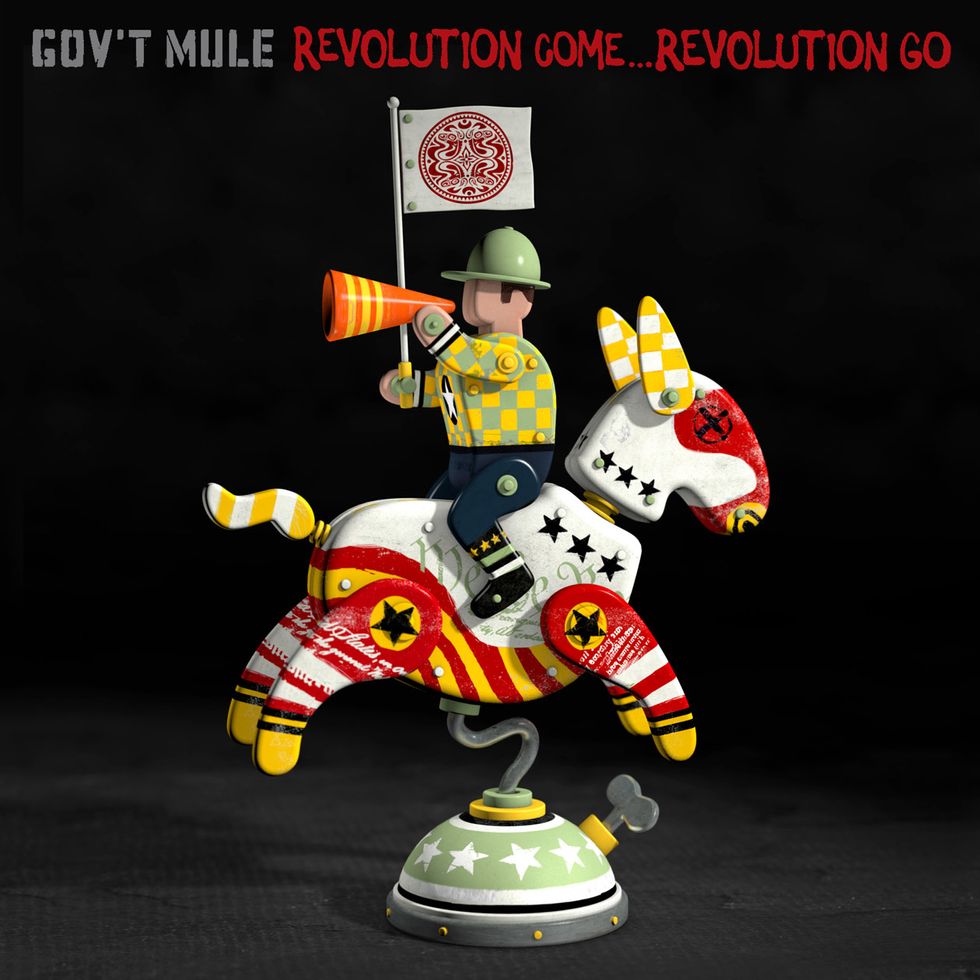 "It's the most diverse record we've ever made," says Haynes of the band's 10th studio album. "The chemistry is really 'live' in the way the four of us play together."
The guitar has a vocal quality, but then you're also a singer. How does your role as a singer factor into your thinking in terms of guitar parts and tone?
If I'm improvising, hopefully I'm not thinking at all. But if I'm coming up with a melody or a hook line, sometimes the guitar and whatever amp you're playing through inspires it. In the case of "Stone Cold Rage," I wrote it on an SG, but I played it on a Telecaster, which is new for me. I never recorded a Tele on a Gov't Mule song other than one little overdub on [Mule's 1998 album] Dose. This was the first time I made a Telecaster my main guitar for a song, and I wound up using it for three songs.

Because I started singing before I started playing guitar, I've always been drawn toward guitar players who also sing or sound like they're singing through their instruments. I love that vocal quality. Most of my favorite players, whether it's guitar or any instrument, have that way of sounding like a singer. It goes back to gospel-blues phrasing and where you put the breath. But it also transfers over to jazz and any sort of music where the punctuation is very important—how short or long the lines are. Phrasing is such a tricky thing. We don't think of it this way, but a lot of instrumental phrasing comes from singers, and singers have to take a breath. Where you take that breath is very important.

The music has such a live feel to it. Did you all record together in the same room?
Our normal recording process is to have everybody together in the same room looking at each other, and the majority of everything that winds up in the mix is live performance. Occasionally, we'll overdub something. Since we're talking about "Stone Cold Rage," Danny played organ on the track and overdubbed clavinet, but sometimes, he'll actually play two keyboards at once if it feels like the right thing. I played the middle guitar solo live on the take. Most of my guitar solos wind up being recorded live with the band. But the solo during the outro is an overdub because at the time I didn't realize the song would need another solo at the end.

Aren't you ever tempted to go with the layered overdub approach?
I keep going into each new record thinking I want to do more overdubs, so I can experiment more. But I always wind up keeping the performances I track with the band because the interplay is better. It's a special conversational call-and-response among all of us. That's more important to me than whether or not I played my best solo.

Plus, this is something I learned from [legendary producer] Tom Dowd a long time ago. I was fortunate enough to make four studio records and two live records with Tom. He said when the band sounds the best, you play your best solo. I once asked him, "Is it a coincidence that all my best solos are on the takes you wind up keeping?" And he said, "Have you ever thought that maybe it's the other way around?" The best takes inspire you to play the best.