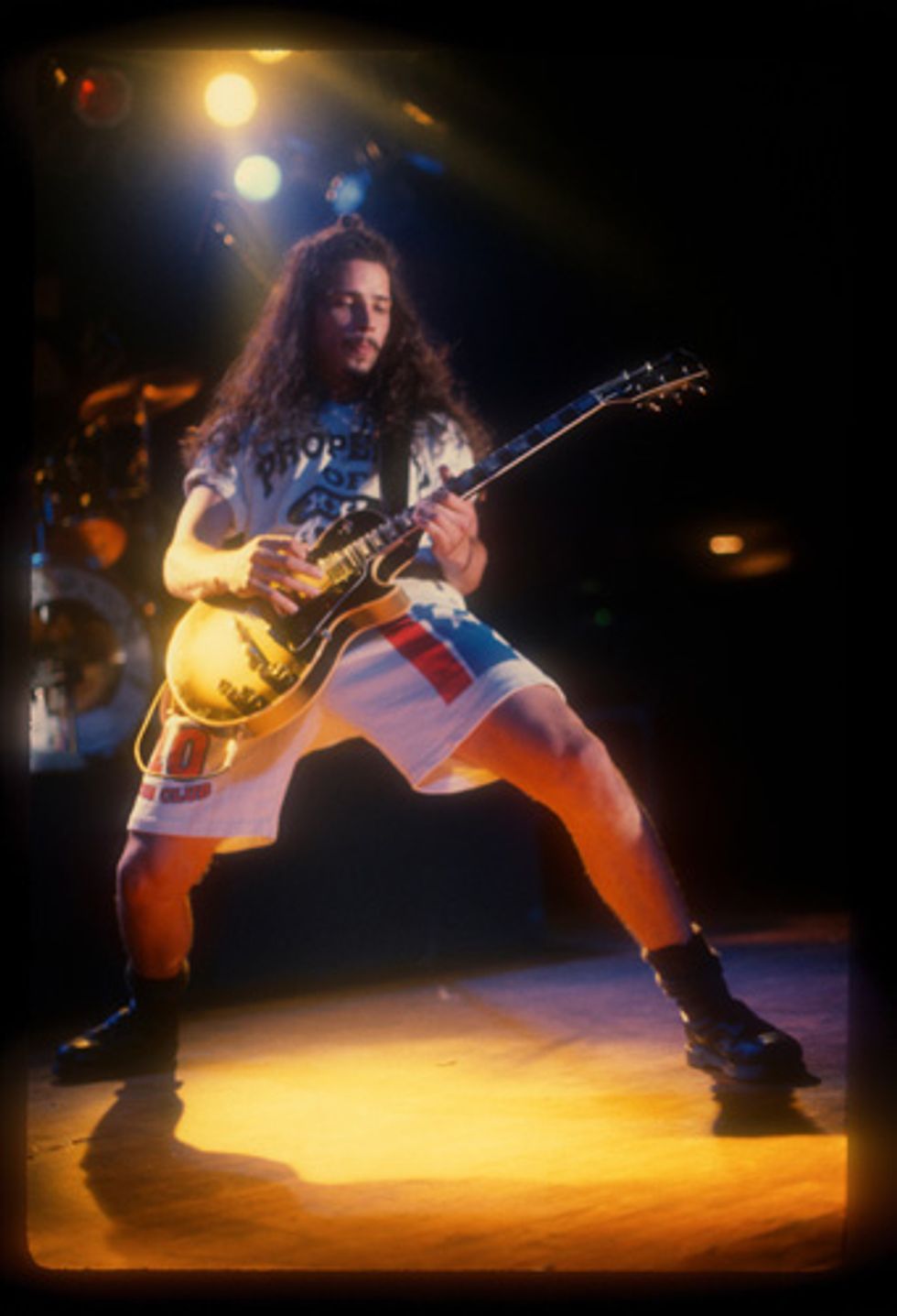 The inimitable Chris Cornell and his silverburst Les Paul onstage with Soundgarden circa 1991.
Photo by Eddie Malluk/Atlas Icons.com
My wife never tires of reminding me that she gets up for work in the wee morning hours while I'm still puffing away with my quiet but annoying snore. Sure, I haul myself up on one elbow to give her a sleepy smooch as she heads out the door, but it's usually a couple hours till we have a more coherent exchange via a quick text or two.
But today was different. Today she found it difficult to preface her stunning early-morning text.
"Chris Cornell died."
Still groggy, I typed the first words that came to mind: "Holy shit."
Then, "how?"
Although the medical examiner's report was still in-process, the words "suicide" and "overdose" came to mind well before reading internet speculation or details of how his lifeless body had been found in the bathroom of his hotel suite mere hours after he and Soundgarden cohorts Kim Thayil, Ben Shepherd, and Matt Cameron had performed Led Zeppelin's "In My Time of Dying" as an unplanned final encore number at the Fox Theatre in Detroit. By lunchtime it was confirmed: Cornell had hung himself.
A chronic depressive since his teens, he'd sung about suicide—directly or indirectly, but always poetically—on innumerable occasions during his years with Soundgarden, as a solo artist, and as frontman for supergroups Temple of the Dog and Audioslave. There was "Let Me Drown" and "Like Suicide," from Soundgarden's 1994 breakthrough, Superunknown, but there were also regular allusions to corrosive spiritual conflict (including "Holy Water," off Soundgarden's 1991 album, Badmotorfinger), as well as chronic insomnia and harrowing existential crises (as on Audioslave's "Gasoline" and "Show Me How to Live"). In all, Cornell's lyrics were usually at least melancholy, but more often than not they were flat-out tortured.
Chris Cornell's work has a special place in our family—particularly the era that coincided with the earliest years of our three boys' lives.

But for the last few years he appeared to have a handle on things. He was frank about his struggles with substance addiction, but by all reports he'd been sober for a long time. Last year he relocated to Florida with his wife and two children, and appeared to be happy and stable. His most recent single, "The Promise" (written for the 2017 film of the same name), ended with: "And one promise you made / One promise that always remains / No matter the price / A promise to survive / Persevere and thrive / And dare to rise once more / A promise to survive / Persevere and thrive / And fill the world with life / As we've always done."
But then this….
• • •
Chris Cornell's work has a special place in our family—particularly the era that coincided with the earliest years of our three boys' lives. Audioslave's eponymous LP debuted in late 2002, three weeks after our last child was born. For the next several months we pretty much wore out the CD. When we took a road trip from Salt Lake City to Denver the following spring, the three little dudes in the backseat were fine most of the way—all except baby G. He absolutely lost it during the last little bit. The only thing that stopped his inarticulate infant screams of "Get me the fuck out of this car!" was playing Cornell's hypnotically soothing "I Am the Highway," over and over again for the last hour. We tried comforting words. We tried feeding him. We tried reaching over the top of his car seat to hold hands and play. We tried other mellow songs. Nothing worked. But as soon as we hit that rewind button and those volume-swelled chords came back, he'd calm right back down and everything would be fine.
Late that same summer, I took our oldest son, Klein—then a wizened old kindergartner—to see Audioslave play Lollapalooza. Neither of us will ever forget it. It was his second-ever concert, and not only was it his favorite band, but he got to watch it from atop my shoulders whilst a massive lightning storm cracked across the darkened sky. The intensity of the electrical display briefly sent the crowd scurrying to the restrooms, but soon Cornell and bandmates Tom Morello, Tim Commerford, and Brad Wilk resumed their own electrifying show beneath the stars. A couple of years later, we took Klein to see them again, this time at the Warfield in San Francisco.
To this day, Audioslave (and Rage Against the Machine) have a special place in our sons' lives. I haven't even been able to discuss today's tragic loss with them yet. I'm certain it will be devastating.
• • •
Despite his obviously crucial role in writing and playing rhythm guitar on so many of the tunes that made him famous, the olive-skinned, perennially mustachioed Seattleite—an avowed Gretsch and Gibson fan (he even had a signature ES-335)—wasn't renowned for his 6-string work. What set Chris Cornell apart from virtually all hard-rock vocalists of the last three decades was his inimitable voice and haunting lyrics. Though he could sing across a four-octave range, it wasn't prissy grandstanding for technique points. His vocals were ferocious, galvanizing, and terrifying in equal measure—yet he could also stir your heart with his enigmatic approach to mellow numbers. Imagining Soundgarden or Audioslave without him is like contemplating Zeppelin without Plant, Sabbath without Ozzy. Sure, there would've been some cool music without him, but he was the magic final ingredient that transformed it all.
We will miss you, Chris.