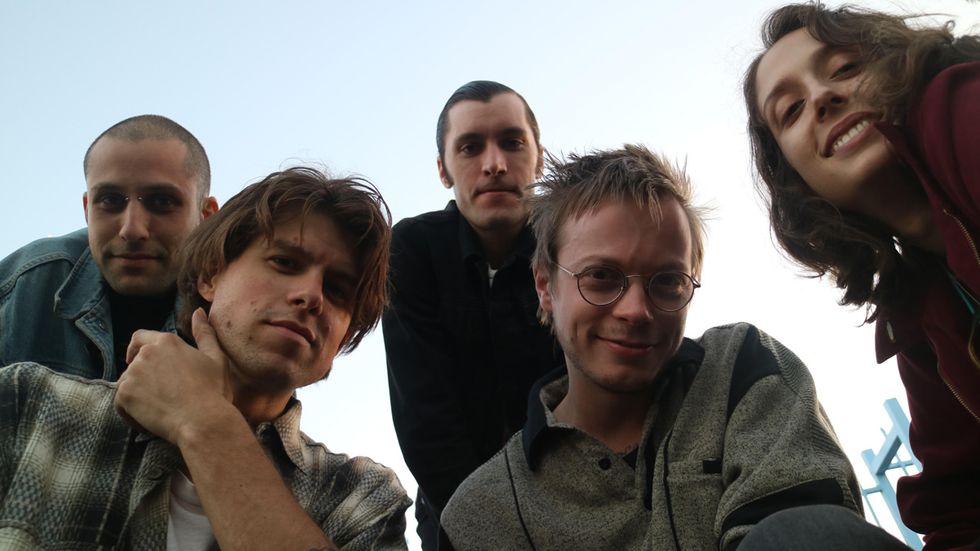 Wand is, from left to right: Lee Landey on bass, Cory Hanson on guitar and vocals, Robbie Cody on guitar, Evan Burrows behind the drum kit, and Sofia Arreguin on vocals and synth. Photo by Abby Banks
Guitarist Cory Hanson performed with Mikal Cronin, together PANGEA, and Meatbodies before forming Wand with art school classmates Lee Landey and Evan Burrows in 2013. The Los Angeles-based group is already releasing its fourth LP, Plum, coming out on September 22. Here you can watch an exclusive premiere of the video for the new track "Bee Karma." If you have an aversion to clowns, don't fret: There's plenty of hooky guitar here to keep you preoccupied from the visuals.

Before going into the studio to record Plum, Wand road-tested all the songs while touring in Europe. Hanson says "Bee Karma" was the trickiest of them all.

"It was biggest pain in the ass to play live," he remembers. "The guitar parts were impossible to nail, and the tempo drop from the introductory riff to the verse was either too rushed, or too slow, and someone in the band was always dragging. I'm sure it sounded horrible. I remember before our soundcheck at La Maroquinerie, Paris, we took our time and made a final ending with the interlocking guitar riffs, and had Lee do that Holger Czukay-inspired bass line to thicken up the leads. We worked out all the kinks and then it finally sounded right."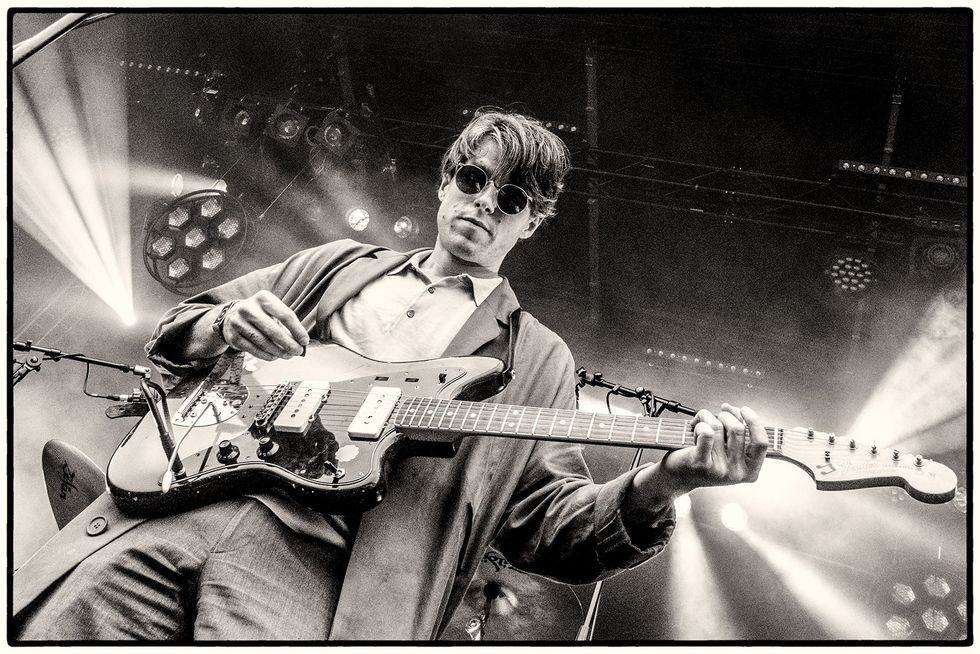 Wand founder Corey Hanson plays a Fender Jazzmaster. Hanson and drummer Evan Burrows were part of Ty Segall's touring band in 2016 for the Emotional Mugger tour. Photo by Clemens Mitscher
The guitar parts were co-written by Hanson and guitarist Robbie Cody, who joined the band in late 2016. "Robbie and I spent a lot of time working on different guitar techniques for this song. The verses are subtle and have more to do with responding to each other's parts. Robbie was writing these beautiful melodic lines, and I would then write a counter-melody to play behind his parts. I didn't want to divert attention from his playing, so I'd have to pick right under my fretted fingers just to stay under him. Very delicate. For the climax, we wrote lead lines that start in unison, then tumble over and under each other."

But what about the clown in the video?

"The video starts with my brother Casey as the clown that I drive around," Hanson says. "It's an age-old story. In the end, the good clown wins and gets to be free. He dances."

Whether in the circus or a song, all's well that ends well.