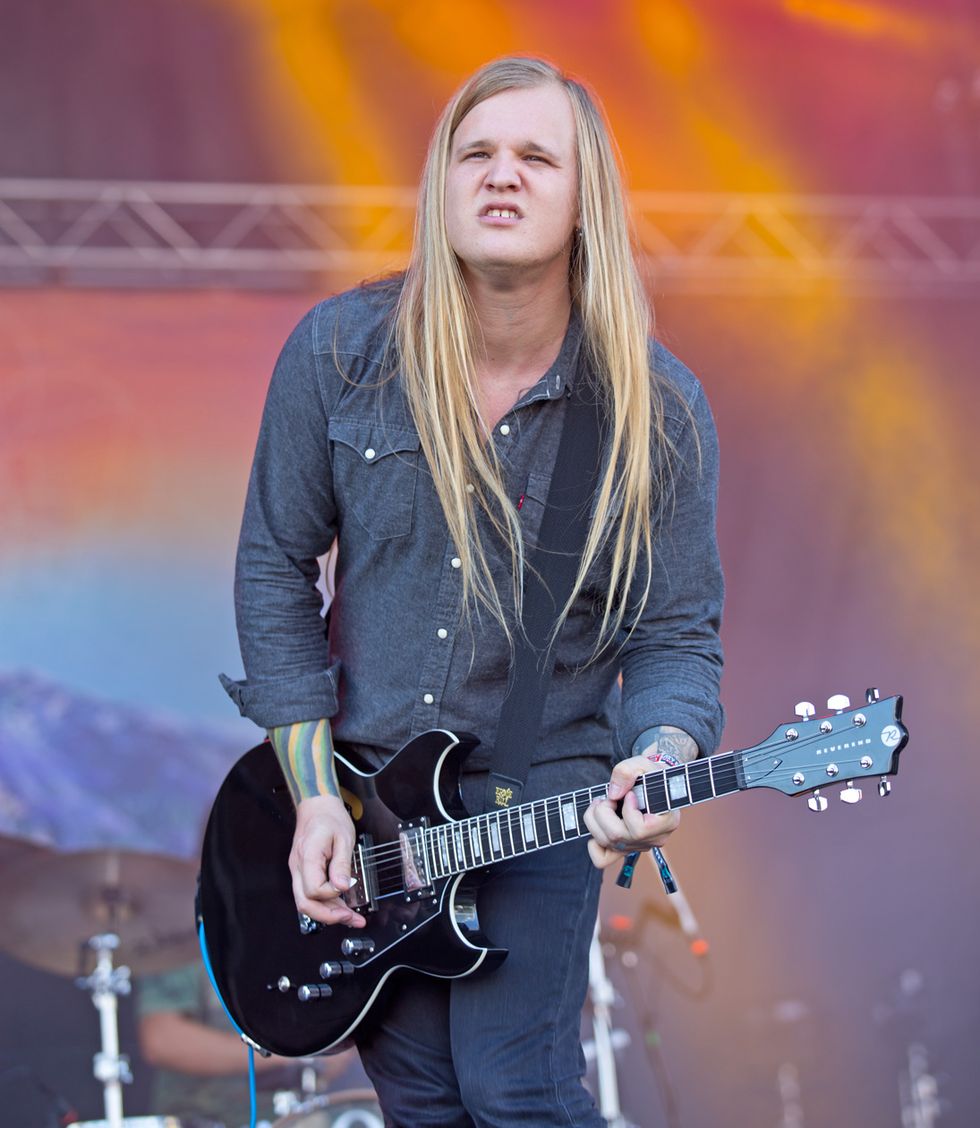 While Shutt used to rely on several silverburst Gibson Les Pauls, he's seen here onstage with the Sword in 2016 at Atlanta's Shaky Knees Festival playing his Reverend signature model that was a main tool for recording Doom Side of the Moon. His sig model has two Railhammer pickups, a korina semi-hollow sealed body, a synthetic bone nut, pearloid fretboard inlays, and a 4-knob control set that includes a bass contour. Photo by Chris Kies
How did you get the arrangements together?
I had them all in my head, basically. Me, Jimmy, and Brian would just get together and make demos, which is what we do with Sword stuff. They were just one or two takes—get the idea down and save the sense of immediacy for when we're tracking. Sometimes that can be lost if you pore over your demos.
Then I was like: "How do you make this metal? How do you make a song like 'The Great Gig in the Sky' into a heavy thing with doing a total rip-off or getting someone in there going 'wha-ha-ha.'" That got me doing things Pink Floyd didn't do. Often, Roger Waters' bass line will be the only riff in the song—the guitar is so sparse. I was like, "Why don't I just put layers of guitars on this, like a huge-ass riff?" Where there's a [vocal] scat solo, we'd have a sax solo, and then replace the sax solo from the original with a guitar solo.
"I wanted as many people to be into it as possible, and it's just not gonna happen if you have some asshole growling like a pro wrestler. I wanted this to be a Pink Floyd party."
How did you get the guitar sounds?
I mainly used my signature Reverend guitar. For every song, there are at least four layers of rhythm, which means there are at least eight tracks going on, because I was running through two amps using a Lehle A/B/Y pedal.
What were your main amps and pedals?
My friend Brooks Harlan co-owns Big Crunch Amp Repair & Design [in Baltimore, Maryland]. He built me two amps that I A/B'd. I used my Dual Three Knob Big Crunch and my One Knob Big Crunch. I think there was an [Orange] OR100 in there somewhere. I also used a blonde Fender Bassman for a lot of the lead overdubs.
I use so many different pedals it's hard to keep track, but for a lot of it, I was using an EarthQuaker Devices Erupter fuzz for a baseline gain and then added their Spires Double Fuzz to kick it into overdrive, sometimes along with an Xotic EP booster. I tried to have as much going as possible so we'd have stuff to choose from. It was cool sometimes to run the same [gain] pedal into both amps and listen to the difference.
Kyle Shutt's Gear
Guitars
2017 Reverend Kyle Shutt signature model
Amps
2016 Big Crunch Dual Three Knob (100 watts, four 6CA7 power tubes, four 12AX7 preamp tubes, Mercury Magnetics transformers, and carbon composition resistors)
Big Crunch One Knob (50 watts, two 6CA7 power tubes, two 12AX7 preamp tubes, Mercury Magnetics transformers, and carbon composition resistors)
Orange OR100
Marshall 4x12 with Celestion GT-75s
Effects
EarthQuaker Devices Erupter fuzz
EarthQuaker Devices Spires Double Fuzz
EarthQuaker Devices Levitation reverb
Fulltone OCD drive
Rocktron HUSH noise reduction
Wah and various other custom pedals built by the Sword bassist Bryan Richie
Lehle A/B/Y amp switcher
Strings and Picks
Ernie Ball Super Slinky (.009-.042)
Dunlop Tortex .66 mm

That's when you can tell what your amps are made of! At first there were only six layers of rhythm, but then Stuart was like, "I got one of those original Russian Big Muffs." And it sounded so fuckin' good, we had to layer it on everything. Once again, a Big Muff saved the day.
The metal elements are definitely there, but they're not overstated. There's no squeezed and scooped guitar or screaming vocals.
I entertained that idea. I've heard other bands do straight-up metal covers of Floyd songs, but I think a whole album of that would just fall flat. I hate to sound conniving, but I wanted as many people to be into it as possible, and it's just not gonna happen if you have some asshole growling like a pro wrestler [laughs]. I wanted this to be a Pink Floyd party.
Was there a song that set the tone for the whole project?
When the big note hits in "Time," it's sort of the first time the album kicks into high gear.I used my Dual Three Knob Big Crunch for the solo, along with a Fulltone OCD overdrive. I wanted it to blend in with everything else.
As a guitarist, was it intimidating stepping into David Gilmour's shoes?
Gilmour's a tough one. His playing sounds effortless. It doesn't necessarily look that impressive, but when you really break it down, that guy can emote more on a single note than most people can in a whole song. He plays with such an attitude. You're never gonna be able to replicate that. It's like trying to play an Eddie Van Halen solo. You can do all the proper finger tapping in the world but you're not gonna recreate that kind of magic. So I approached it from what I would do, trying to reference some of the licks he played, but also taking them a step forward. It takes a certain amount of commitment. Growing up, he wasn't that big of an influence. I was way more into guys like Dimebag Darrell, Prince, and Brian May. The older I've gotten, I'm way more into guys like Steve Lukather, Gilmour, and that "Slowhand" kind of stuff that's a little more emotive.
How do you think interpreting a band like Pink Floyd influences your work with the Sword?
I was thinking about this the other day. The Sword's been around for, like, 15 years—much longer than I envisioned when I was 20 years old and we started this band. We just hit the gas for, like, 10 years. It's only been on the last two albums that we were able to stop and reflect on how much time has passed. We've actually been more creative than ever. We did High Country, and we did an acoustic version of that record, we just put out a live album, and now we're gonna do a new Sword record. We just trust ourselves more. I want to keep going. I feel more creative than ever. When we all play together, this badass magic happens, which I really treasure, and I look forward to making music with those guys for many years to come.
YouTube It
Kyle Shutt's Doom Side of the Moon band goes a bit beyond The Dark Side of the Moon in concert. Here, they're playing the title track of that album's successor, 1975's Wish You Were Here, at their debut show, at Emo's on Austin on August 5, 2017.