Rig Rundown: The Sword [2021]
See how these bad hombres bridge Texas boogie and mystic Birmingham vibes with stylish, striking 6-strings—including a signature Reverend goldtop—and boisterous British behemoths.
There's no doubt ZZ Top trademarked Texas boogie. And over 30 years later, the Sword furthered the Lonestar shuffle's legacy by darkening it.
---
The Austin outfit's 2006 debut Age of Winters combined the rhythmic bounce of Tres Hombres with the power and might of Master of Reality. The cross-pollination of Gibbons and Iommi continued in 2008's Gods of the Earth, with heavier right-hand picking and tempos shading towards thrash-y Priest and Thin Lizzy's "Emerald." Traces of proggy psychedelia, like 2112 Rush and late-'70s Genesis, turned 2010's concept album Warped Riders into a swirling voyage of sci-fi conquest and space exploration, with the music matching the otherworldly narrative. And 2012's Apocryphon saw the band settle into themselves, collectively cherry-picking all the things that worked on the previous three albums. Songs like "Cloak of Feathers" and the title track show their musical certainty. High Country, from three years later, showcases a once-singular-sounding band finding a home between Houston and Birmingham that could be best classified as classic mid-'70s hard rock. And 2018's Used Future—as its cover depicts—shows the band comfortably, calmly, confidently pressing the accelerator of their Bombshell Betty 1952 Buick Super Riviera and racing towards their own horizon.
This fall 2021 run had the Sword members—J.D. Cronise (guitar/vocals), Kyle Shutt (guitars), Bryan Richie (bass/keyboards), and Santiago "Jimmy" Vela III (drums)—handling double duty, with a headline tour woven around opening shows for Primus.
Before their top-of-the-bill show at Nashville's Mercy Lounge, Shutt, Cronise, and Richie showed PG how consolidating gear (and volume) has helped them sharpen their blade.
[Brought to you by D'Addario XPND Pedalboard: https://www.daddario.com/XPNDRR]
A Signature Goldtop … but Not That Goldtop
Since our last encounter, in 2014, the Sword guitarist Kyle Shutt has been honored with his very own Reverend Signature KS-1 model. The latest iteration is this eye-catching golden axe that comes with Rev's typical formula—korina body (with a maple cap), 3-piece korina neck, and their bass contour control. (The asymmetrical center block is 1" wider on the bass side than Reverend's similar Manta Ray.)
Standing it apart from other Rev doublecuts and offering some of Kyle's tonal thumbprint is the additional master volume (for stutter effects) and the inclusion of his signature Railhammer humbuckers. The bridge model has similar output and clarity to their Hyper Vintage 'bucker, but aims to add in smoother highs and a thicker tone overall. The neck Humcutter is voiced to mimic a hot P-90, but Kyle wanted it beefed up to match the output of his bridge pickup, so he didn't have to adjust settings. (In the Rundown, he mentions Tom Scholz's DiMarzio Super Distortions and 1968 Gibson Les Paul goldtop as reference points for this collaboration with Reverend.)
Kyle plugs into his Laney with a Ray Raydecker custom cable, strings it up with Ernie Ball Skinny Top Heavy Bottom Slinkys (.010–.052), and is tuned to C standard.
Heads Up!
Other hallmarks of Shutt's sig is that the headstock was the first Reverend to feature an abalone inlay logo, and his John Hancock is etched into the truss rod cover. (All the previous models had the logo painted on, and most of their sig models don't have a truss rod cover.)
Burst Me, Bro!
Here's a Shutt signature Rev that backs up the Venetian gold model—finished with a metallic alpine burst.
Longtime Laney Love
Shutt states that he fired up this Laney AOR Series Pro-Tube Lead head for 2006's Age of Winters, 2008's Gods of the Earth, 2010's Warp Riders, and 2012's Apocryphon, but admits it's not his amp. It belongs to Sword bassist Bryan Richie.
Hey Cabby!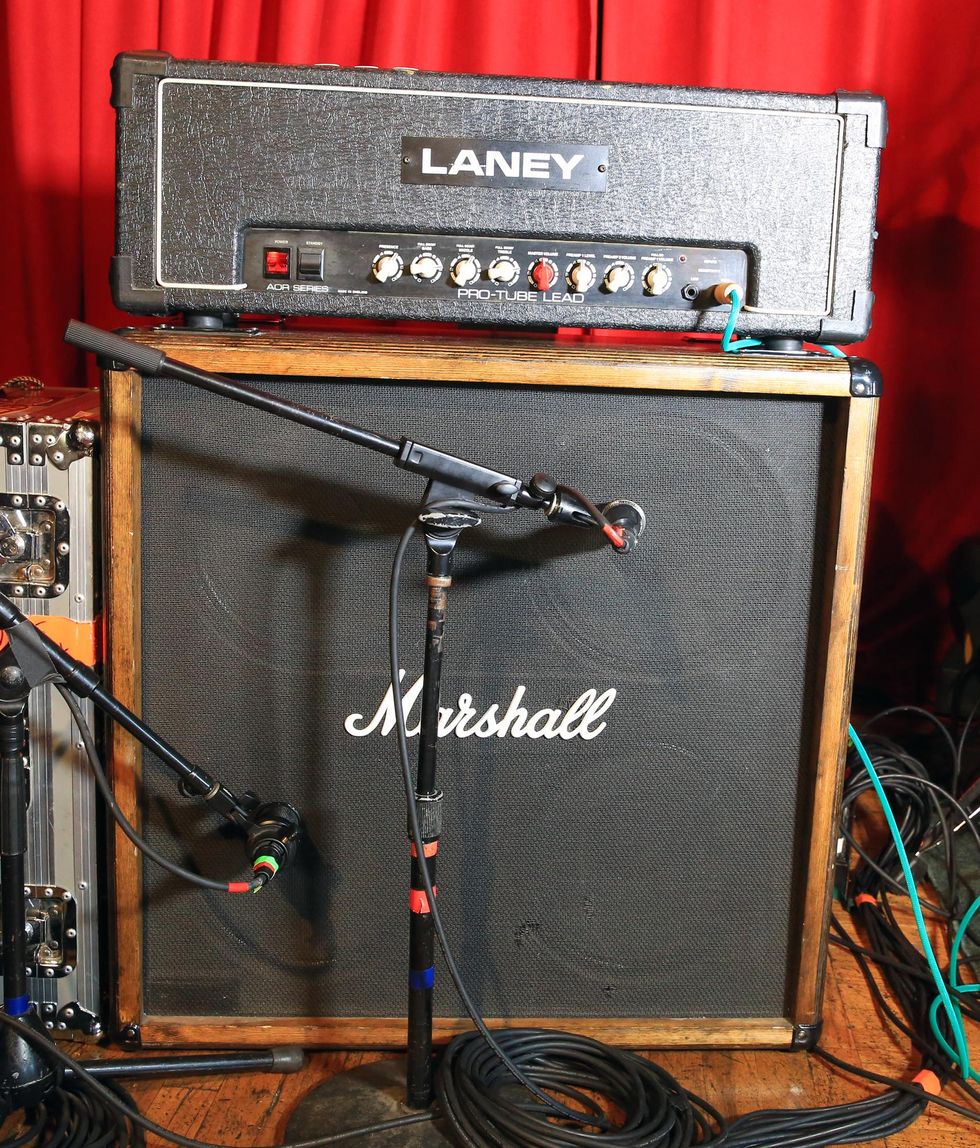 Shutt runs Richie's AOR Series Pro-Tube Lead head into a (beautifully) stripped Marshall 1960B straight 4x12 loaded with a quad of Celestion G12H Creamback 75W 12" speakers.
Shutt up and Stomp!
Kyle's pedal playland keeps it classic with just a Dunlop Cry Baby 95Q Wah, a signature Idiotbox Effects Wild Kyle distortion, an Electro-Harmonix Micro POG, and an EarthQuaker Devices Levitation reverb. A Boss TU-3 Chromatic Tuner keeps his Reverends in check.
JD-V
Cofounding frontman and the Sword's main lyric scribe J.D. Cronise has always been attracted to outliers. This mid-2000s Gibson 1967 Flying V reissue caught his eye while on tour in support of Apocryphon. (He believes the V was built in either 2005 or 2007.)
He's upgraded the hardware, pickguard, and adopted a set of DiMarzios (originally a Super Distortion and a Super 2, and now a pair of PAF 36th Anniversary humbuckers). Like Kyle, he rides in C standard all night and laces on Ernie Ball Mondo Slinkys (.0105–.052).
Billy-Bo for Texas
When the once-all-Texas band boogie on ZZ Top's "Cheap Sunglasses" each night (a cover included on 2012's Apocryphon), Cronise struts with this Gretsch G6199TW Limited Edition Round Up Billy-Bo Jupiter Thunderbird that was an exclusive run for Fuller's Guitars in Houston. (Very fitting, since the original tres hombres started rocking H-town in the late '60s.) It still has stock TV Jones Power'Tron pickups and carries enough swag to be a museum piece or swing all Saturday night at Billy Bob's Texas. He tunes it to Eb standard, but uses a DigiTech Drop pedal to morph it to C. For the tighter tuning, he wraps on Ernie Ball Primo Slinkys (.0095 –.044).
Decked Out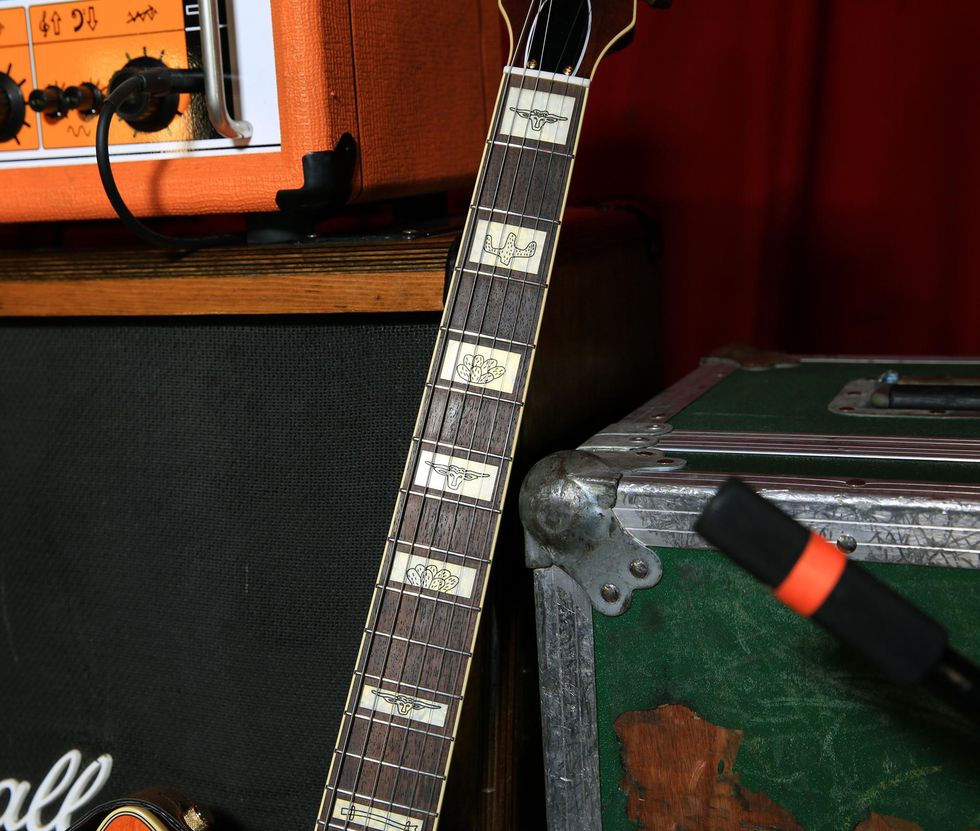 Check out some of the intricate, cowboy-and-Western-themed inlays.
And Ready to Dance
The Billy-Bo's classy golden knobs radiate in the orange finish and you can see a few of its bronze, circular rivets on its side.
Orange You Glad to See Me?
If you watched the band's first Rundown from 2014, you'll recognize JD's Orange OR100, as it's the same head featured in that episode.
It's a British Thing
Last time he was hauling a pair of Orange cabs (4x12 and 2x12), but this time Cronise opted to bring his 1990s Marshall JCM 900 Lead Series 1960A slant 4x12 that has a quartet of Celestion G12H Creamback 75W 12" speakers.
Packed Pedal Playground
JD maximizes his flight-friendly board by filling nearly every square inch with an effect. His guitar hits the TC Electronic PolyTune 3 before reaching a pair of necessary oddballs—the aforementioned DigiTech Drop and an Electro-Harmonix Freeze. The bottom row contains the basic food groups for most rockers: Way Huge Conspiracy Theory (drive), EarthQuaker Devices Tone Job (EQ), MXR Phase 90 (modulation), MXR Carbon Copy (delay), and EHX Holy Grail (reverb). The Rocktron HUSH pedal helps control any unwanted noises and buzzing.
Friends at First Sight
When bassist Bryan Richie joined the Sword in 2004, he brought this 1994 Fender MIM Jazz bass. (He was 14 at the time.) Richie's made just two improvements to his first ride: He dropped in some Seymour Duncan Quarter Pound Jazz Bass pickups and screwed in a Leo Quan Badass II Bass bridge. The thin neck and lightweight body are a pair of reasons he continues to grab it, despite a bounty of options. And he plays with Ernie Ball Power Slinky Bass strings (.055–.110).
Ample Amp
Reducing from a SVT stack and 300W Verellen Meat Smoke, Richie now travels with this Ampeg V-4B. For years Richie, would hit the road with a fridge-sized 8x10, but now he matches his V-4B with an Ampeg 4x10 cabinet.
Warp Riders on the Taurus
"Producer Matt Bayles put a bunch of keyboard shit on the record [Warp Riders], and afterwards we wondered 'who was gonna play that?'" Bryan Richie raised his hand and put his feet to work on this Moog Taurus III.
More Moog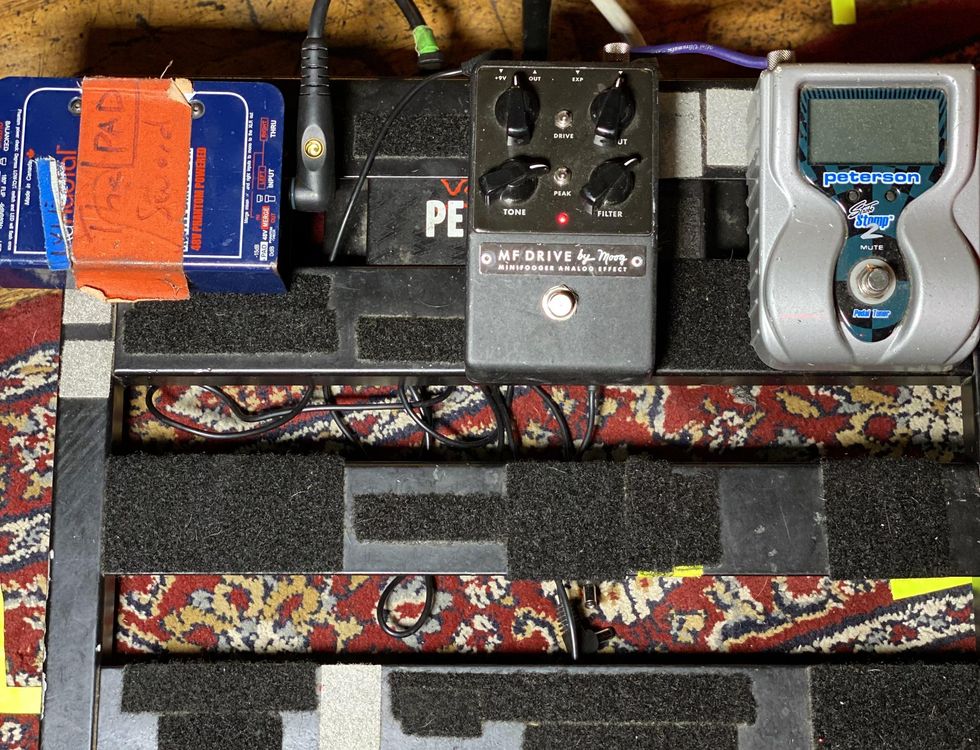 Bryan really only has one pedal—a Moog MF Drive. The other stomps are a Peterson StroboStomp and a Radial J48 1-channel Active 48V Direct Box.