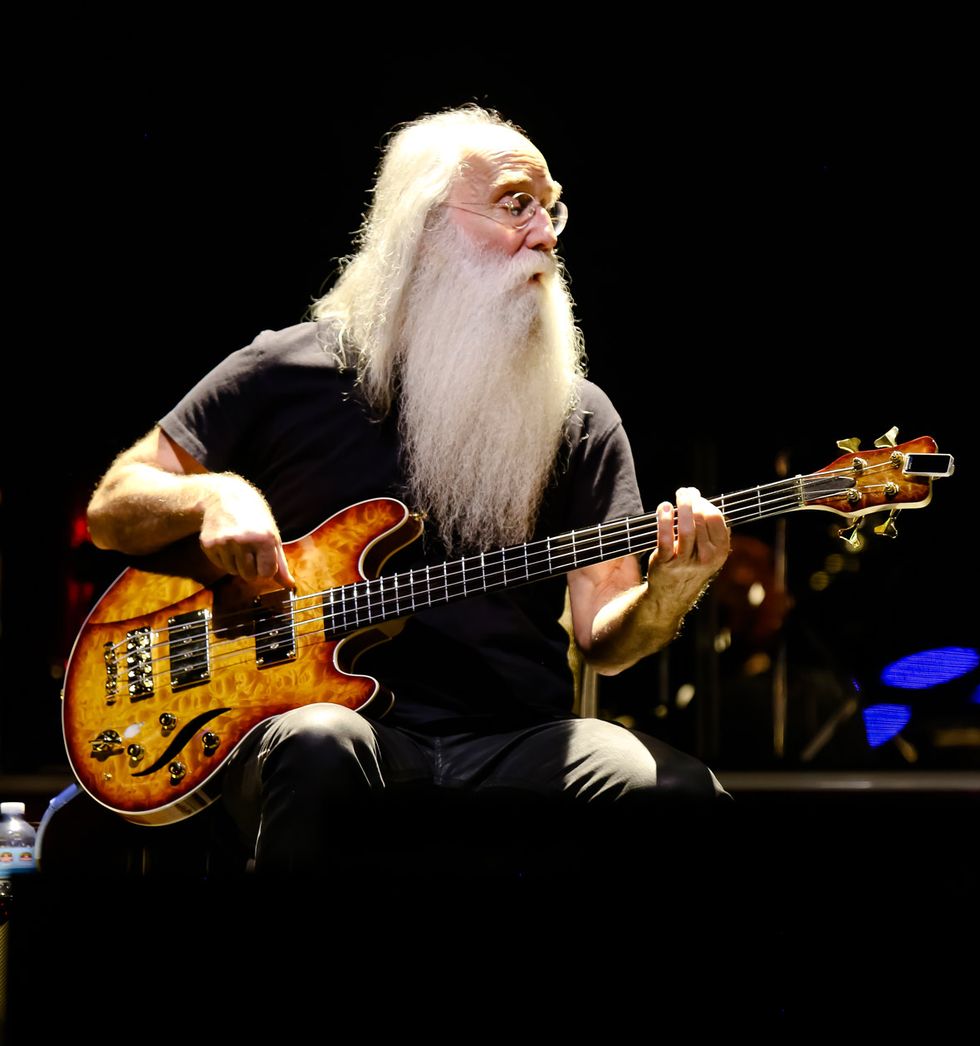 Photo by Matthew-Becker
Leland Sklar is sitting in his hotel room in Denver, Colorado, watching Law & Order. It's a creature comfort he indulges in frequently while on the road. "The one good thing about it is, any time day or night, anywhere I go, I can always find it," he admits. Similarly, one could argue that Sklar's bass playing is also a universal creature comfort. He's played with so many artists and recorded so many hits it's hard to go anywhere there's music, day or night, without hearing him.
Whether it's his groundbreaking session work with singer/songwriters like James Taylor, Jackson Browne, and Rita Coolidge in the '70s, or his contributions to the slick, polished productions of pop icons Phil Collins, Reba McEntire, and Warren Zevon in the '80s and '90s, or his forays into the country canon via artists like Clint Black, Vince Gill, and Faith Hill, Sklar's bass playing has literally dominated the airwaves for five decades. It's hard to condense his track record, which includes more than 2,500 recordings, but a smattering of Sklar-supported songs one might hear on the radio during any given day includes "You've Got a Friend" by James Taylor, "I Am Woman" by Helen Reddy, "Running on Empty" by Jackson Browne, "It's Raining Men" by the Weather Girls, and "Another Day in Paradise" by Phil Collins.
But it doesn't stop there. Sklar isn't simply a fixture in popular music. He also has an uncanny knack for effortlessly transcending genres. From his performance on Billy Cobhams's seminal jazz-fusion album Spectrum in 1973 to sessions with Toto guitar phenom Steve Lukather over the past three decades to film soundtracks like Doctor Detroit (1983), The Prince of Egypt (1998), and Legally Blonde (2001), it becomes evident that Sklar's playing is free of stylistic constraints. And if you thought his skill set was any less desirable outside the States, forget it. He seems to transcend cultures, too. He just finished cutting a 33-track album with French artists Eddy Mitchell and Johnny Hallyday (who passed away after the sessions), and has recorded and/or continues to record extensively with artists from around the globe, including Marta Sánchez (Spain), Garou (Canada), and Vasco Rossi (Italy).
"There's no chops in playing a whole note. If that's what it demands, then I'm quite happy."
"I really feel quite blessed to still be as busy as I am," Sklar, who's 70, confesses. "I still get completely jacked when the phone rings or an e-mail comes in. I just finished a Japanese hard-rock project with Mari Hamada and was in the studio for a few days with Judith Owen working on material for her next album. Everything is still vital and fun. That, to me, is the essence of the whole thing. I still love this as much as the first day I did it. I still have that giddiness when someone calls and asks me if I'm available to do something."
Sklar recently came off a "fabulous run" with Phil Collins in the U.K., where he played in front of 70,000 people in Hyde Park and 45,000 people in Dublin. He'll be back in the U.K. with Collins in November at the Royal Albert Hall in London. PG caught up with him over the summer in Denver, while on the road with singer/pianist Judith Owen in support of her 2016 release Somebody's Child. It's a record that epitomizes his playing style as he complements piano parts and enhances vocal melodies all while establishing killer, seemingly simple, grooves. He seemed delighted to take a break from Law & Order to talk about the foundation of his prolific career and playing style, the "Old Frankenstein" bass he's used to cut those 2,500-plus recordings, and his predilection for playing whole notes.
How's the Judith Owen tour going?
It's great. She's a unique artist to work with. Her style of writing really harkens back, for me, to my early days with James Taylor and Jackson Browne. She's a beautiful writer from the standpoint of storytelling and is very succinct in the way she expresses her stories. They are incredibly relatable. She's also a gifted pianist and singer. There's a wide breadth of stylistic things and I never find it dull. It's fun to get your teeth into musically. And the instrumentation we use on the tour is great because she's playing piano, I'm playing bass, Pedro Segundo is playing percussion, Gabriella Swallow plays cello, and Lizzie Ball plays violin, so it's a unique musical lineup that really complements each other well.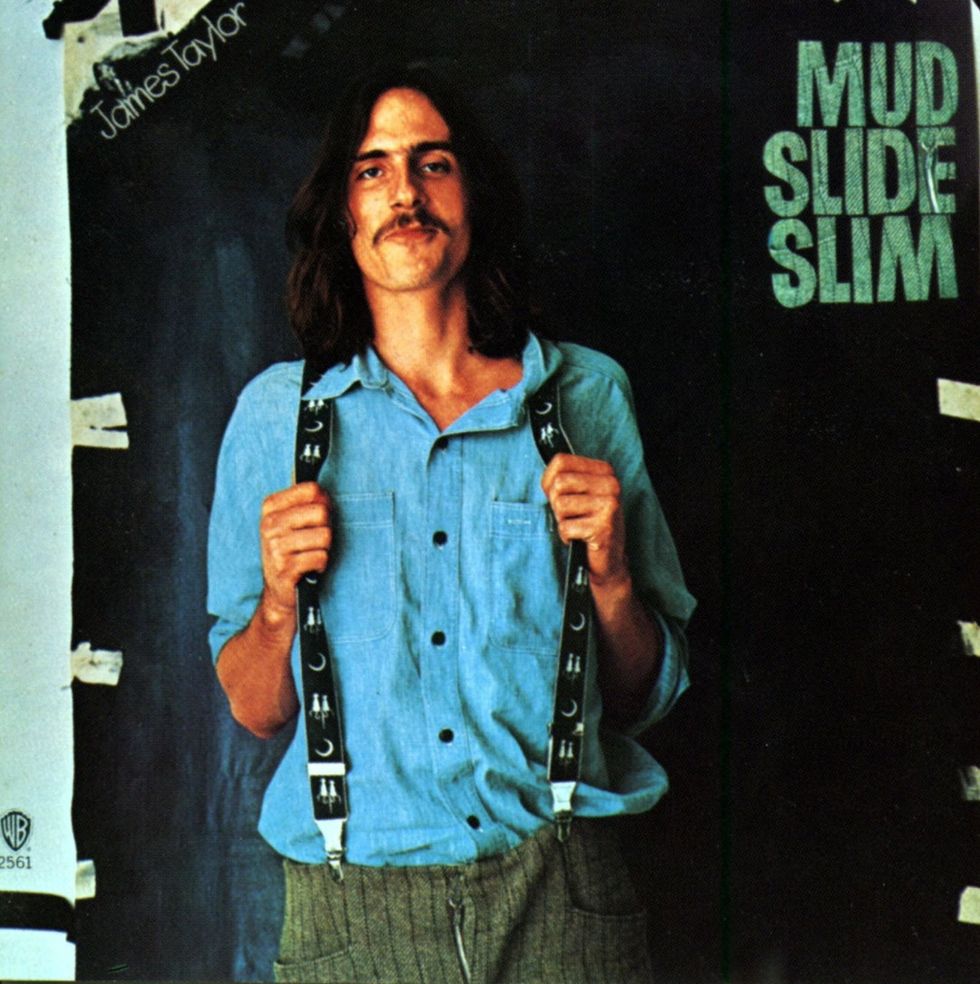 James Taylor's manager insisted his studio bands' names appeared on the back of Mudslide Slim and the Blue Horizon. "So, when this new movement came along of singer/songwriters, people could look at James' record, which became the benchmark, and they would see our names," says Sklar. "The next thing you know, I'm getting calls to do studio work."
How did you develop your playing style?
Working with James Taylor really required a particular approach, musically. He's probably one of the most underrated guitar players ever. He plays in such a comprehensive style—with his constant, moving thumb bass going through all his songs. It was really a challenge for me to sit there and think, "What the hell am I going to do? How do I justify being here when he's already got it covered?" And so, I immersed myself and really tried to find ways of lyrically weaving things together.
Can you articulate how you weave things together?
In one moment, you're aping them [singer/songwriters] and joining in with what they're doing, but then you must be able to step away from it and find alternative patterns that keep the thing moving. I've always tried to justify my being there without becoming intrusive. I find it a great challenge to listen to a song and figure out, "What does this ultimately need? Or not need?"
Does it relate to the age-old "less is more" adage?
There's no chops in playing a whole note. If that's what it demands, then I'm quite happy. I remember doing a dissertation on a whole note once that lasted about five minutes, and these guys in the room, I think it was at the Bass Centre in L.A., asked, didn't I find it boring to play simply on a song? And I said, "Absolutely not. Sometimes the simple ones are the absolute hardest to play." It was an enlightening evening for all of us.
Did you have any formal education, musically?
I started as a classical pianist when I was 4. I studied until I was 12. I was the proverbial prodigy kid. When I was 7, I won an award from the Hollywood Bowl Society for outstanding young pianist in Los Angeles.
---
---