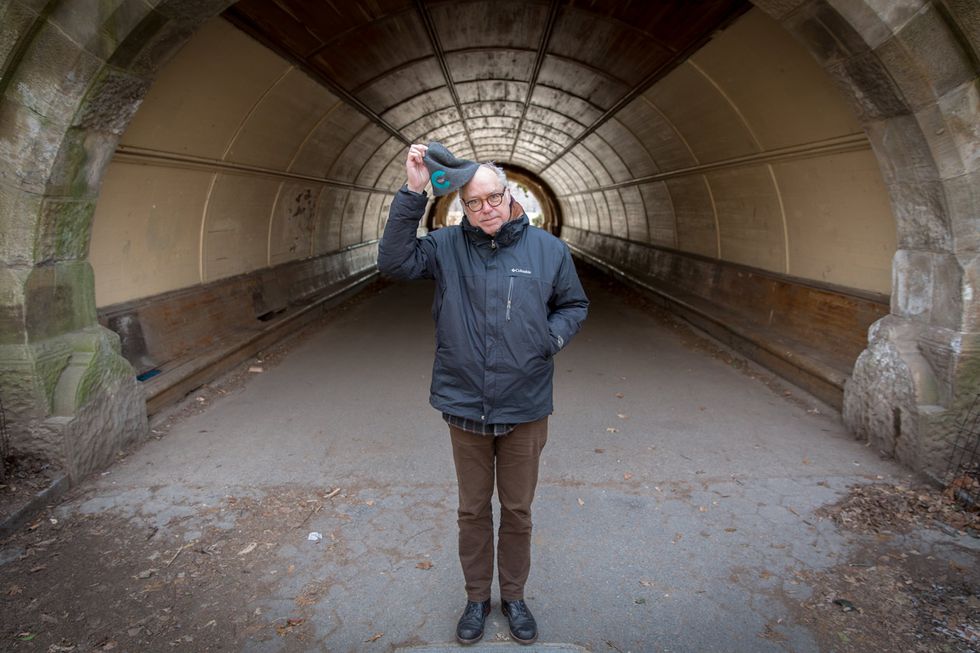 Bill Frisell's daughter Monica is a professional photographer, and captured this recent portrait of her father tipping his hat in Central Park. Frisell moved from New York City to Seattle in 1988, but recently moved back to the Big Apple.
Photo by Monica Jane Frisell
"They're sort of floating around out there, and we don't even know where they're coming from or how far they are or what's going on." Bill Frisell is talking about melodies and stars, but what he's saying illustrates a lot about his sound. From the tones he conjures out of his guitar to his improvisational vocabulary, Frisell draws from ideas that seem to be floating around in the musical cosmos. At any moment, he can sound equally referential to early rock 'n' roll, classic country, jazz of all eras, and the cutting edge of experimentalism, but he always sounds completely personal and instantly identifiable.
Frisell thrives on fitting his sound into unique musical situations, which can range from playing alongside jazz saxophonist Charles Lloyd to the Grateful Dead's Phil Lesh to doom-metal lords Earth. Variety seems to dictate many of the guitarist's artistic choices, and his discography is full of a wide range of highly focused projects, from his early avant-garde-quartet releases on ECM Records to country and bluegrass-tinged projects like Nashville and The Willies to his world-music album The Intercontinentals or his recent take on classic motion picture themes, When You Wish Upon a Star.
For his newest release, Music IS, Frisell has chosen to make a return to solo guitar. He's explored solo music throughout his recording career, starting with the four solo pieces on his debut album, 1983's In Line. He returned to the idea on 2000's Ghost Town, which featured layers of guitars and bass ruminating on dark Americana themes, and then took a much different approach on 2013's Silent Comedy, freely improvising in the studio.
Music IS feels like a culmination of those previous efforts. While many of the pieces feature carefully layered guitar parts, there is an openness to Frisell's playing and choice of tone that feels live and spontaneous. Despite referring to solo playing as an "ongoing challenge," Frisell sounds at home on the album's 15 tracks—some of which are new compositions and many of which are new versions of tunes that he's recorded in other formats on previous albums. "It was like seeing it as if someone else had written it, so I was almost learning it for the first time all over again, or seeing things that I never knew were there," he told Premier Guitar during our phone interview, explaining why the tunes on his new album sound as fresh as ever.
"I was just so terrified to sit there and try to play alone. It was like torture or something. I swore I would never do it again."
Music IS is warm and welcoming, much like the man himself, and Frisell has plenty of stories to share. We discussed his ideas about playing solo, why it was time for another solo guitar outing, the cool things about getting older, finding guitars with a story, and more.
This is your third all-solo album and they are all such different recordings. What was your path to making these albums and why was it time for a new one?
Playing by myself has forever been this ongoing challenge. Even my first album on ECM [1983's In Line] started as a solo record, but then I wasn't quite ready for it and Arild Andersen ended up playing bass on some of it. From when I first picked up a guitar, what I loved about it was the way I interacted with people. That was what my social life was: getting together with people and playing. I'm talking about the early '60s. I know there's the whole singer-songwriter, one-guy troubadour thing, but I was never that. For me it was always about being in a band. Seeing the Beatles on The Ed Sullivan Show or, even before that, the Ventures and all that stuff, it was a bunch of guys getting together with their guitars and hanging out. Not just the guitar, but music in general is about this community and being together and having a conversation.
So, way, way back, it was always in my mind that I wanted to be able to play by myself. At first I was so scared to do it. I felt like, I've gotta try to do this. In the early '80s, I remember the very first time I tried to do a solo gig. It was in this tiny little loft place in Boston and there had to be five people there: my wife and my friend and a couple other stragglers. I was just so terrified to sit there and try to play alone. It was like torture or something. I swore I would never do it again. But it was just this challenge. I felt like, I'm supposed to be a musician. I ought to be able to sit there and play something. So, I tried again a year later and it was still hard, but I got through it a little bit better and I kept trying to do it and finally something broke through. Now I'm at a point where my confidence is up to where I can at least get through it without having a nervous breakdown. There's also an aspect to it that's really great. The kind of freedom you have playing alone is amazing, too. Whatever the mood or whatever you're thinking about, you can just go off in whatever direction you want.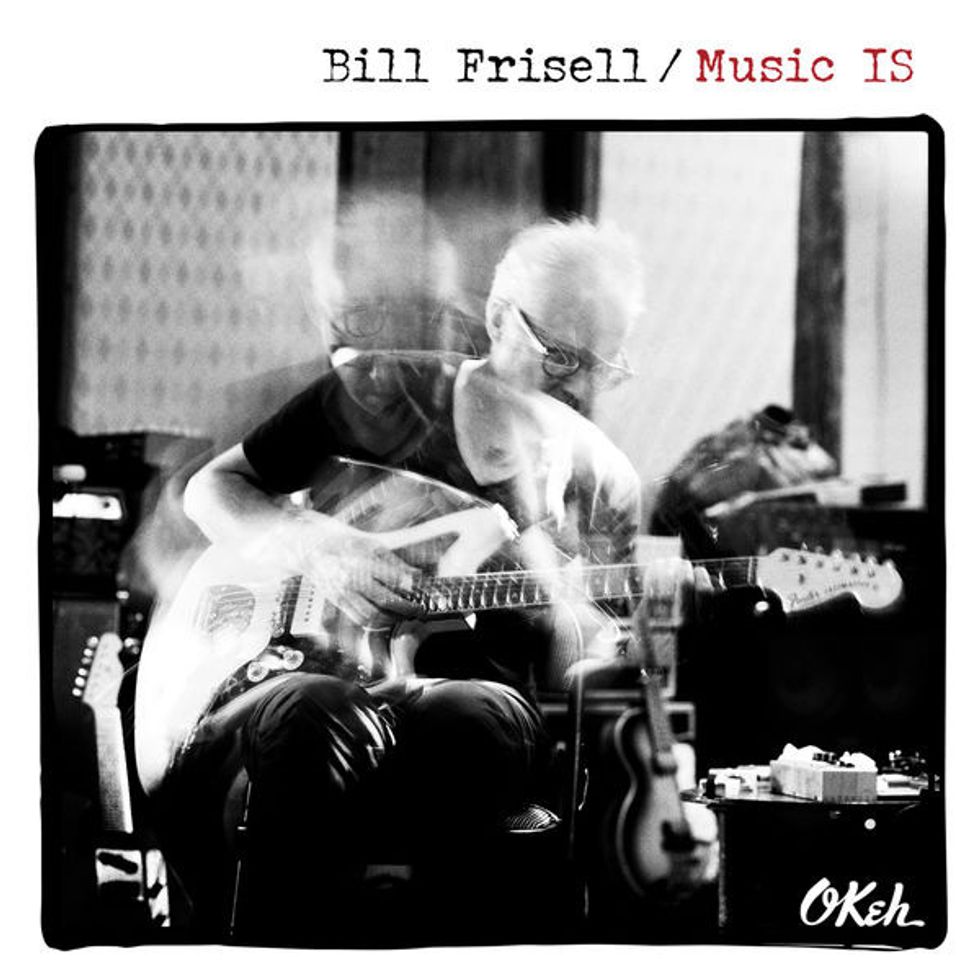 TIDBIT: To prep for recording Music IS, Bill Frisell played an off-the-cuff, six-night solo stint at the Stone in Manhattan. "I just brought in a pile of music and every night I'd try to play stuff that either I hadn't played for a long time or stuff that was brand new," he says.
It's also my nature. I flunked speech class in school. Just to be alone and standing up in front of people and making statements … even if I know what I'm talking about, I've never been comfortable with that. Playing alone, it's a similar thing, where you play an idea and it goes out there and what are you going to do next? If nothing comes back at you, it's like there's this space that you have to get comfortable with, and it's just you generating all the information. It's been this long, ongoing process of me getting more and more comfortable.
There's been a kind of narrative through your solo work.
It's interesting to have these markers along the way, like from the first ECM record, and then there was Ghost Town. Silent Comedy. [For Music IS] there was absolutely no thought. I didn't prepare. I didn't do anything. I just walked in there and "bam," in a couple hours the whole thing was done and that was a whole other way of thinking about it. It was completely improvised. I realize I've made some progress in my comfort level. I played some tunes that I'd written many years ago, but I hadn't played them in a really, really long time, so it was far out to look at my own music. There are certain parts of getting older that are cool—where you can see that you actually have learned something.
You've been revisiting your own tunes throughout your career—re-arranging and re-recording songs that were on earlier albums using different groups. How did you determine which songs you would revisit this time?
I wasn't conscious of it. The preparation was that, prior to the recording, I played six nights at the Stone. [Editor's note: John Zorn's venue in Manhattan.] I was trying to keep myself in this state of not being sure what I was gonna do. I didn't play stuff that I knew was gonna work when I went into the Stone. I just brought in a pile of music and every night I'd try to play stuff that either I hadn't played for a long time or stuff that was brand new. And when I went to the studio, I did the same thing. I didn't wanna have it all mapped out beforehand.
I don't remember even what we started with or what caused the decision to make the first choice, but that determined what was gonna happen next—even the guitar. I wanted to stay in that kind of spontaneous, in-the-moment state for the whole recording. However, I would decide to orchestrate a particular piece, or whether it was just naked guitar or a bunch of guitar or some loops or whatever. That all just happened right as I was doing it and then we mixed it as I was doing it, too. So, each piece was finished before I went on to the next one.
---
---