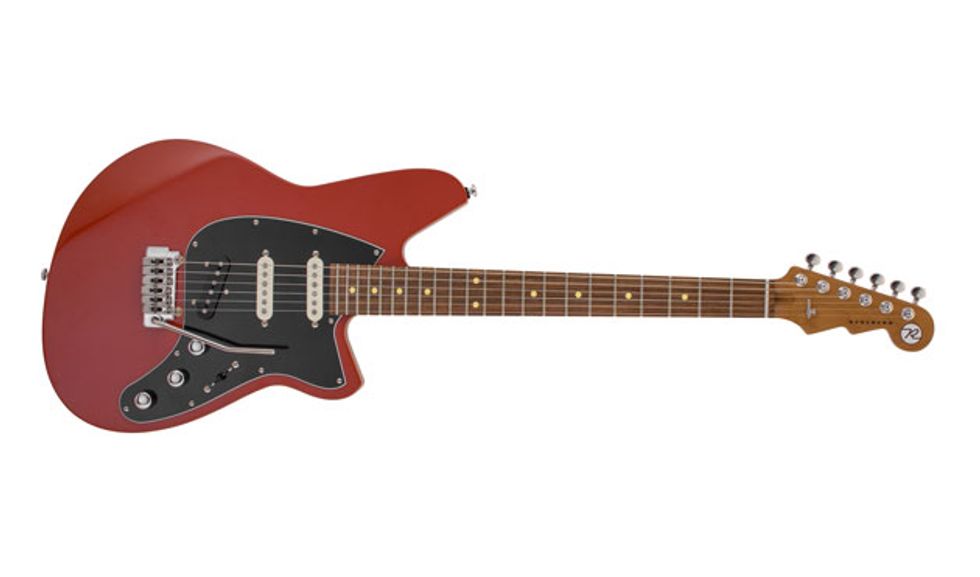 Toledo, OH (June 28, 2018) -- Reverend Guitars has rebooted the classic Six Gun model by swapping out the regular single-coil at the bridge for their own T-style Talnico pickup. The beefier, early 50's tone contributes lots of traditional twang but is never harsh. Reverend's single coil Salnico pickups in the middle and neck positions are traditionally voiced with a little extra warmth, so the whole effect is balanced and pleasant. Reverend also changed up the look for more modern styling in Burnt Brick, Metallic Silver Freeze, or Chronic Blue, with black pickguards on all three colors.
The Reverend Six Gun TL sports a Wilkinson WVII 50 tremolo system on a sleek, offset Korina body. With the Talnico bridge pickup and Salnico middle and neck pickups, the five-way switch, and Reverend's own Bass Contour Control, players can go from a rich shimmer and twang to a leaner more traditional tone.
On all Reverend Guitars, there is a Boneite nut and locking tuners, Reverend's Bass Contour Control, and a dual-action truss rod – all for maximum performance. You can't be different if you're playing what everyone else is. Visit www.reverendguitars.com to start your journey towards being an individual.
For more information:
Reverend Guitars