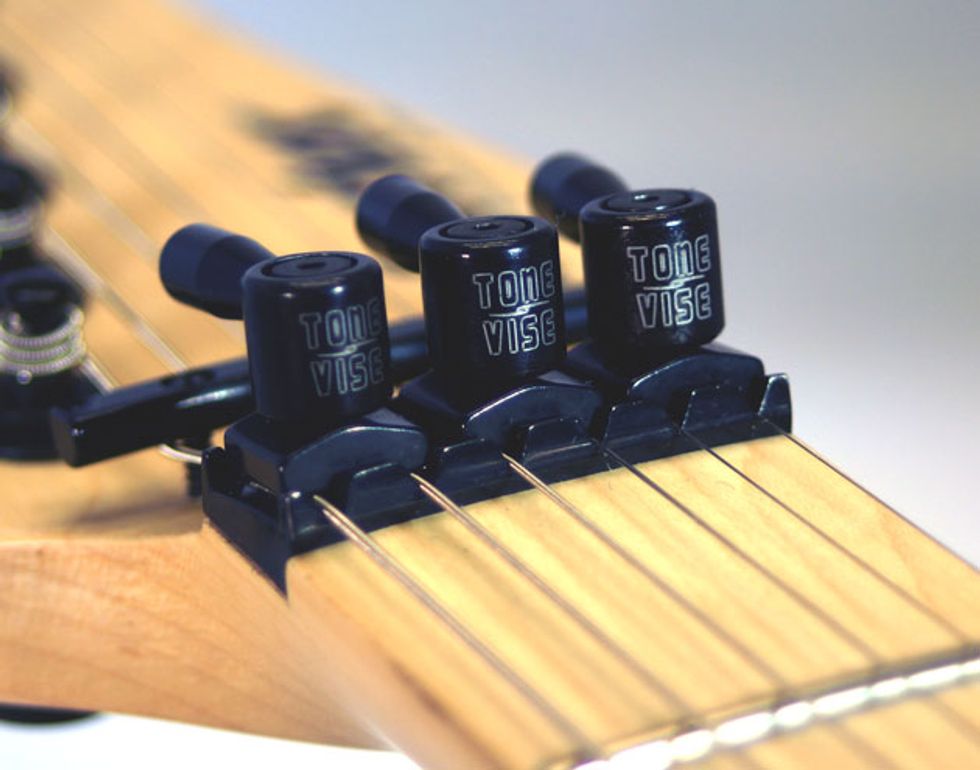 Houston, TX (June 30, 2018) -- Tone Vise is excited to announce that their new patented Keyless Locks for locking nuts are now being distributed by Allparts.com. This patented device solves the age old problem of needing hex keys to unlock guitars equipped with a locking nut. Hunting for misplaced keys or wrestling with worn out screws on locking nuts are now just a thing of the past.
After receiving a positive response from prominent industry insiders during the 2017 Winter NAMM Show, these first prototypes were further refined for production and retrofit kits are now available through Allparts, their dealer network and international distributors.
Custom engineered and precise machining allows for a simple DIY retrofit onto Floyd Rose, Gotoh and Ibanez style locking nut bases in just a few minutes. The innovative locking design includes custom spring loaded clamping blocks that automatically lift when unlocking making string changes a breeze. These clamping blocks also help to prevent detuning of the strings when locking back down.
After installation the hardened steel Keyless Locks may be lifted and indexed to a player's preferred position. The headstock tuners can now be easily access for tuning in just a second with a quick turn. Due to the superior design, unlocking and locking does not require readjusting as with cam lever based solutions often may.
Currently available in both black and chrome finishes each retrofit kit includes:
One set of 3 Hardened Steel Keyless Locks
One set of 3 Hardened Stainless Steel Tightening Posts and Screws
One set of 3 Custom String Clamp Blocks
One set of 6 Conical Springs
One 2mm hex wrench for installation
Installation Instructions
For more information:
Tone Vise