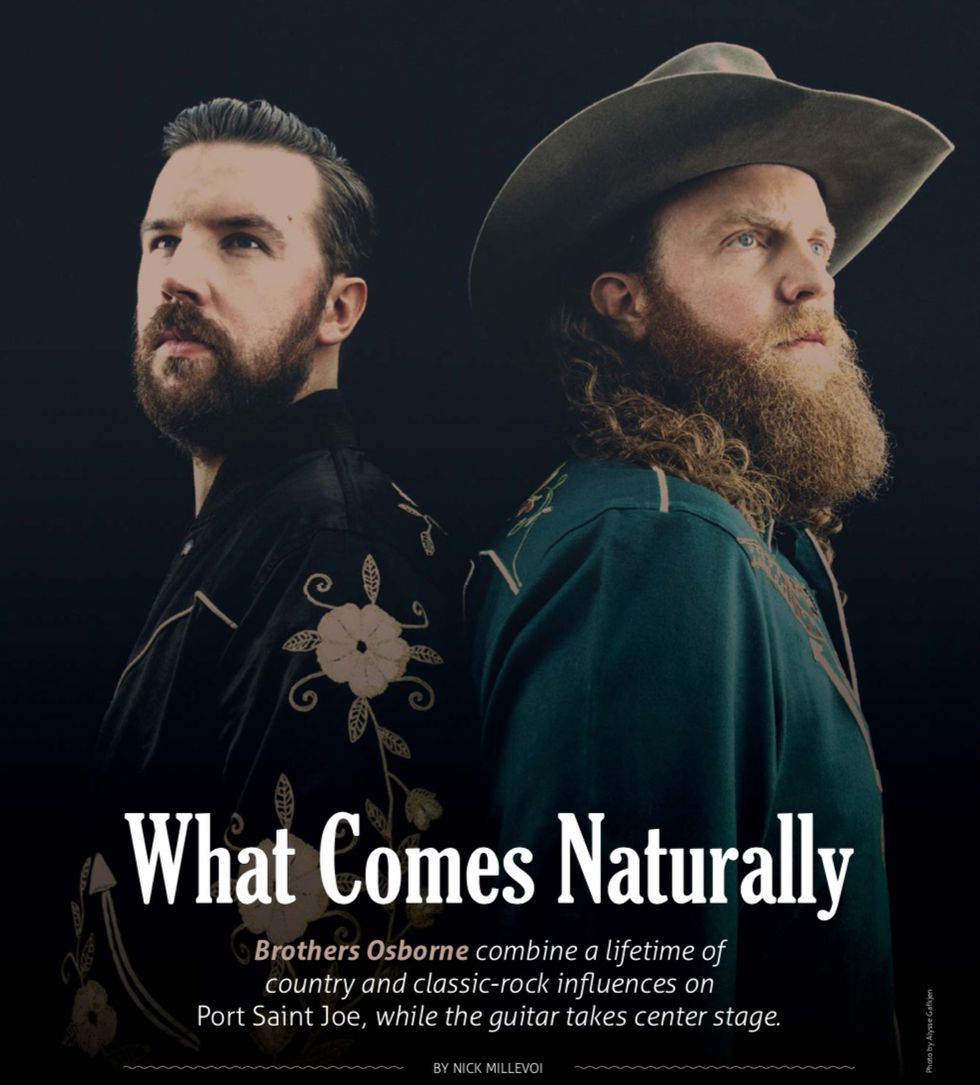 Brothers TJ and John Osborne grew up in Maryland with songwriting parents who inspired them to learn how to play instruments and pursue a musical career in Nashville. Photo by Alysse Gafkjen
Brothers Osborne seem to live and breathe guitars. When they're not writing songs and working on records, they're searching for vintage gear in pawnshops and scouring Craigslist for deals while they tour around the country. Even though many of their songs reference partying, both brothers insist those days are behind them: The way they have the most fun these days is through their music. Older brother John Osborne told Premier Guitar, "I've finally hit that spot in my life where I'm married, I have a house, a dog, and responsibility. But when I go out on the road and I'm playing guitar, I might as well be 14 years old all over again. It's so much fun."
Growing up in a musical family in Maryland, brothers John and TJ learned to play, sing, and write songs at the kitchen table with their family. They decided to follow in their songwriting parents' footsteps, so the two brothers moved to Nashville in the mid-2000s. That move paid off when they signed to EMI Nashville. They've since had gold and platinum singles, their debut full-length release, 2016's Pawn Shop, went gold, they've been nominated for three Grammys, and they've won three Country Music Association awards and two Academy of Country Music awards.
The follow-up, Port Saint Joe, is an album full of hook-laden songs about partying and growing up, and the Brothers' sound is as equally referential to modern country as it is to radio rock from the '70s through '90s. John Osborne's guitar playing is where the line between classic rock and country often gets blurred. Between his leads, funk-guitar breakdowns, and hard-rock riffs sprinkled throughout their songs, his playing organically bridges genres. This makes a song like "Shoot Me Straight," Port Saint Joe's lead single, hard to quantify: It's a rocking anthem with a huge sing-along chorus that follows many of the melodic and lyrical hallmarks of country songwriting, but also features two extended, high-energy rock guitar solos over the course of six minutes and 24 seconds.
The Brothers recently discussed with Premier Guitar their process behind writing and recording, and explained how they managed to track down their great guitars now that they aren't pawning them. While we probably could've spent all afternoon talking gear, we dedicated most of our time to discussing how John and TJ grew up and what inspires their sound.
How does the songwriting process work for you guys?
John Osborne: Typically, we'll get in a room together, usually with a third person, which helps two brothers trying to collaborate, and every day is a different animal. Some days we'll show up with a concept or a hook line, a title, a guitar riff. Sometimes we just sit down and talk until something falls out, and other days we just sit around and chat for a couple hours and don't write anything. The key is just trying to do what comes naturally and not forcing anything. Sometimes when you're fleshing out an idea in your head, you don't want to stop that muse. You just want to keep writing and keep feeling it out, and then if you hit a wall, you bring it in and have someone help you to push through it.
"Someone asked the other day, while we were watching a Guthrie Trapp video, 'When you get that good, does it get boring?' I'm like, 'No, you get that good because it's never boring.'"—John Osborne
Your new album, Port Saint Joe, was recorded at your producer's beach house? That sounds awesome.
John: Yeah, it was really awesome. It wasn't necessarily us wanting to go to the beach per se. We just wanted to get out of Nashville, get out of our comfort zone, and also get out of our home. When you're in the studio and you're tracking all day, you're also dealing with your daily concerns and responsibilities. The second you leave it's like, "Alright, I gotta go by the post office," or "I gotta run by the bank," or "I gotta take the dog to the vet," and then you get your head out of that creative zone. Being on the beach allowed us to stay in a creative mindset the whole time and not once over those two weeks did we ever snap out of that creative zone.
You've each said that this set of songs reflects who you guys are and your inspirations. I would say a fair number of songs are party songs. Is this a party album?
John: Yes and no. We love to have a good time. We grew up in a family that had an open-door policy and was always throwing a party. We left for Nashville and when we would go back home to Maryland, the first thing we would do was have everyone over and we would party. Being in the company of artists, you learn a lot from hanging out with people. That's just how we are.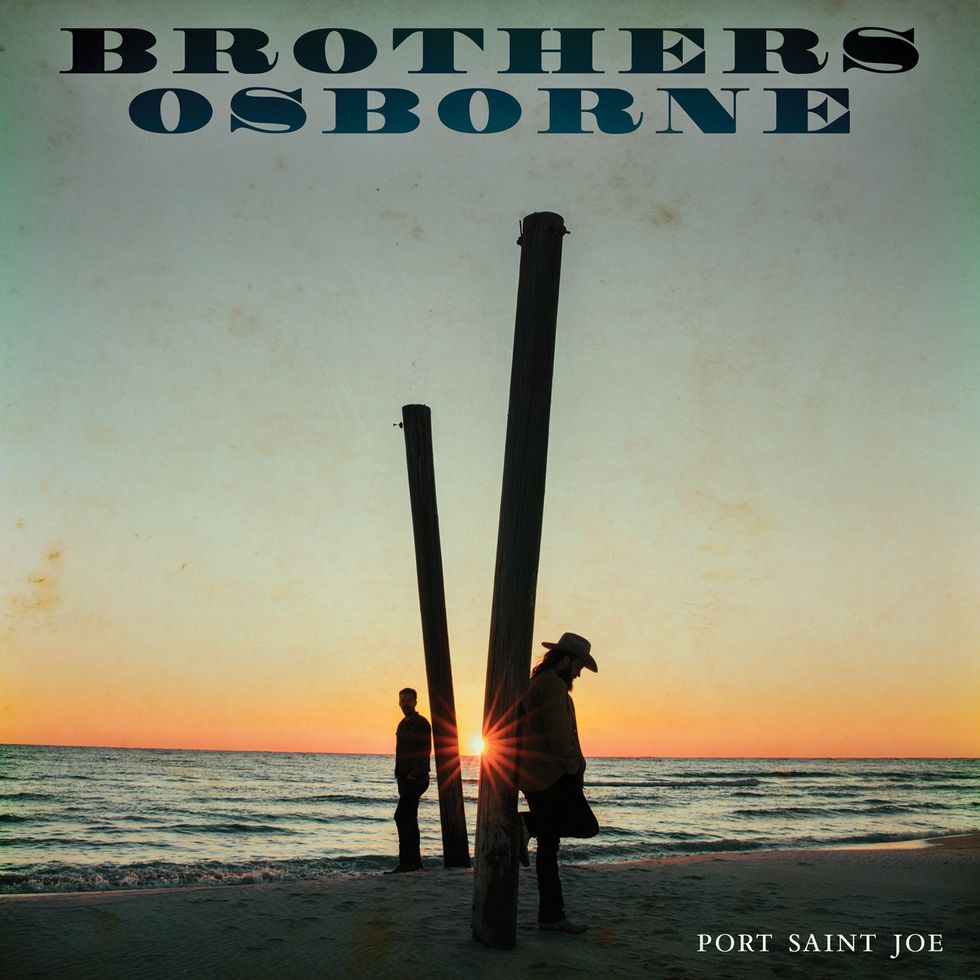 For Port Saint Joe, the follow-up to their critically acclaimed 2016 debut album, Pawn Shop, the Brothers Osborne headed to the Florida beach to make a record in an uninterrupted creative space. For the single, "Shoot Me Straight," producer Jay Joyce recorded the track live in front of a small group of the duo's friends.
But there's more maturity to the record than there was with our first record. If you listen to certain songs, like "Weed, Whiskey and Willie," it's not so much a party song. It's about succumbing to vices when you're down on your luck. Or if you listen to "While You Still Can," that's a reflection on life's impermanence. So, there's a good balance, I think, of fun and party and real life and maturity with this record. We have grown a lot as people over the past few years, but we still throw down and party with the best of them.
TJ Osborne: "Weed, Whisky and Willie"—the drinking there is kind of the classic heartbreak kind of style. And then you have "Tequila Again," which is really a song that we wrote from a tumultuous relationship, but really it's your relationship with tequila. The only real partier one is "Drank Like Hank." I don't think we even realized at the time how many damn drinking songs are on the record. But they're all from totally different drinking hats.
"Shoot Me Straight" was recorded live in the studio with some friends around, right?
John: That was the song that we showed up most prepared with, and I think Jay Joyce, our producer, thought we were being a little too comfortable with that song. He likes the way we are with songs we're a little bit unfamiliar with, because we're playing them in more of a spontaneous way. So that was the first song we tracked and we re-tracked it about halfway through the two-week span, and then, on the last day, we had some friends come from Nashville. We had a crawfish boil at the house, we all had some beers, maybe a few left-handed cigarettes, and we were all just hanging out. Jay was like, "Man, since we got a crowd here, there's a little bit of an audience, and everyone's having fun, just perform the song one time down for these guys. Don't even think about it; play it down."
We had eight people sitting in the room and we just sat down and played the song through and that was the take. There's a ruggedness and a looseness to the take that wasn't there before. The solo was just me having fun and not thinking about it, and there's a spot where I'm trying to hit a sextuplet sort of thing and I miss a note. Where I typically would want to fix that, Jay was like, "Leave that part there because it shows that it's a live moment. If you replace it, you'd be taking the live essence out of it." We went in and overdubbed some harmonies and stuff like that, but what you hear, including the lead vocal—that's all one take.
---
---