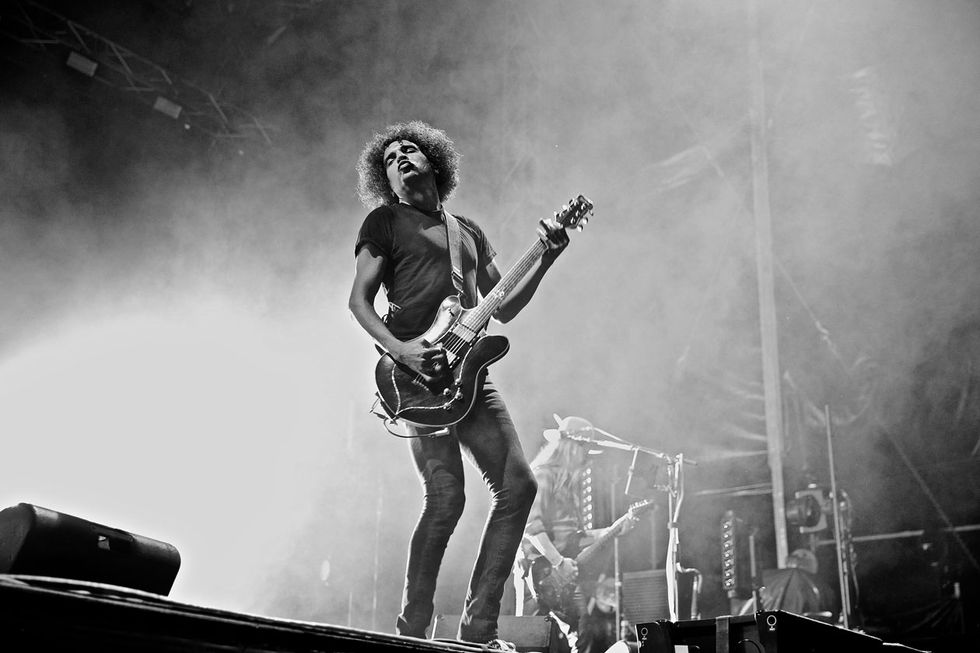 William DuVall helped design his signature Framus Talisman guitar, which features custom PAF-inspired pickups handmade by Dave Stephens of SD Pickups. Photo by Scott Dachroeden
Will, you recently released a couple of new signature pieces of gear with Framus and Metropoulos Amplification. Tell us about the guitar.
DuVall: Well, it's the result of working with Framus for about five or six years. Every year I'd go out to NAMM and Marcus Spangler and Hans-Peter Wilfer would say, "When are you going to come up with a guitar that you designed?" Every year it was a running topic. But one day, I was in a hotel somewhere, and I got out the stationary and started doodling around. I thought, "This is pretty cool. This is worth showing Marcus." So I sent it and we went back and forth a little bit dealing with technical and engineering things. And the end result is the Talisman. It's something that, from the first sketch to the guitar that I'm playing onstage now, I was involved in every step, and very proudly so. I went traditional in terms of my particular guitar that I'm playing. It's a mahogany body with a maple cap, like a Les Paul. I just wanted something that was slimmer, sleeker, and my own personal take on it.
And to take it even further, I got these Dave Stephens pickups. He's out of Washington state as well. That man has reverse-engineered the PAF in a way that I don't think anybody ever had. I sent him one of my Les Pauls, and when he sent the guitar back, it was night and day. The very next day I recorded the guitar solos to "So Far Under" on that Les Paul. So when we got the production model Talismans ready, the first two they sent me I sent straight to Dave. And honestly, I've ripped out all the rack stuff that I had in my setup. I was like, "This is so great that I'm not trying to complicate it in any way." So I have a few floor pedals, I've got my [Metropoulos] DVL-1 amp, the Talisman, and we're done.
"When I walked out into the Seattle dawn, I felt like I'd had a spiritual experience and a little bit of a reckoning with all the things we're talking about. But it couldn't have been written like that in any other place." —William DuVall
Talk a bit about your signature DVL-1 amplifier.
DuVall: George Metropoulos and I have known each other for over 10 years, and I love the man. And on a technical level, he is obsessive. He is the foremost authority on Marshall plexi amps, particularly from the mid to late '60s. It was like, "You know, we should do something together." And because I was just working out the thing with the Talisman with Framus, it was perfect timing. I think the DVL-1 is the highest, in terms of signal purity to functionality, of any amp in that style. His plexi-style stuff is my baseline. But I need a clean thing that's a little more Vox-y, and I wanted more functionality. So we ended up going with a 2-channel, 4-mode design. I'm just over the moon.
How did recording at Seattle's Studio X—the same studio the band recorded its 1995 self-titled album in—impact the record's sound?
DuVall: I can definitely say there was some level of trepidation on the part of all of us. For them, it was sort of a confronting a part of their past that maybe wasn't the happiest period of the group. And for me, it was coming to grips with their past and confronting what my place in this history is.
I mean, the lyrics to "Never Fade" were written at Studio X. And there's a reason for that. It was a moment where I was letting all of that stuff channel through me, wash over me, and not being shy about it. I stayed in there pretty much all night, alone. And by the time I walked out, I had "Never Fade." When I walked out into the Seattle dawn, I felt like I'd had a spiritual experience and a little bit of a reckoning with all the things we're talking about. But it couldn't have been written like that in any other place. It had to be written there. So that's a direct result of working in Seattle at Studio X.

Guitars
Framus Talisman William DuVall Signature
Gibson Les Paul VOS '59 Sunburst reissue
Framus Diablo
Framus Panthera
Framus Idolmaker
Gibson Hummingbird
Amps
Metropoulos DVL-1 William DuVall Signature Head
Hermit Cab iso cab
Metropoulos 4x12 with Celestion Greenbacks and Celestion Golds
Effects
MXR Phase 95
MXR Carbon Copy Analog Delay
Boss CE-5 Chorus Ensemble
Strings and Picks
Ernie Ball Slinky .010–.046 strings
Dunlop Tortex 1.14 mm purple

From tracking there, to the title of the album, and even the subject matter, it seems Seattle is almost a character in the album.
Cantrell: It absolutely is. Some things just start popping up that start pointing in a single direction. For instance, I was doing some early demos at my house and having Duff [McKagan, Guns N' Roses, Seattle native] come over and put some bass lines down for some songs that I was trying to put together for the band. And then having Chris [DeGarmo, Queensrÿche] on the record, us deciding to track it in Seattle, and then writing a song like "Rainier Fog," things just started to line up. So when it came time to name it, it made sense.
Like you said, Chris DeGarmo's performance on the song "Drone" is another of the album's connections to Seattle. How did that come about?
Cantrell: It was really cool having Chris come down. He just showed up the day we were working on "Drone." I was tracking that middle part. I hadn't played it in a while and it's a weird spider chord where the base of it is your pinky on the low E with your fingers kind of bent back across the neck. On an acoustic guitar, you kind of need to warm up a bit to do it [laughs]. So I was chowdering it, and was like, "Dude, you want to try this?" And he said, "Fuck yeah! I'll fucking try it." So he sat down and I showed him the part. He had it tracked within an hour or two.
Very few Seattle bands throughout the decades sound anything alike. Yet there's a noticeable thread that connects them all. What do you think that is, and why do you think Alice in Chains plays such a pivotal part in that?
Cantrell: I think the big picture is that there are so many creative people that were all in sync without planning anything out. There was just a vibe. And I think we have a bit more individuality than other places in the States because we're just up in the corner, in our little outpost, wedged up next to another country. So I think that geographical isolation probably added to it.
I'm just really proud to have gone through that. The fucking bar got set so fucking high, even before the rest of the world knew about it. We'd be going to each other's shows and be like, "Holy shit!" You're seeing Nirvana, or seeing [Mother] Love Bone, our early shows, or the fucking Screaming Trees, or Mudhoney. And a lot of other bands that were important.
It was a distillation of a movement. And it was centralized to our hometown, which was unbelievable. The music still stands the test of time. And they're some of the finest people that I've ever met in my fucking life and some of the people that I've known the longest in my life. They're good friends. Good friends, good music ... dude!
Jerry Cantrell and William DuVall put their mammoth-sounding signature rigs through their paces in this live bootleg of Rainier Fog's lead-off single, "The One You Know."