Playwright and polemicist George Bernard Shaw is the chap who coined the phrase, "He who can, does. He who cannot, teaches." But in the world of recording, guitarists who are also producers and engineers get some of the coolest 6-string sounds being put to actual or virtual tape—both doing and leading the way by example.
Three sterling exemplars are Nick Raskulinecz, Buddy Miller, and Dave Cobb, whose work—which embraces rich-sounding recordings of some of the finest guitar players around, including Dave Grohl, Alex Lifeson, Richard Thompson, Marc Ribot, Jason Isbell, and Scott Holiday—is abundantly audible across the spectrum of rock, metal, Americana, country, bluegrass, and pop.
We recently talked to them about how they record guitars—including, for Miller and Cobb, their own instruments—and gleaned tips on tone, microphone selection and placement, amps and guitars, how to inspire sterling performances, and how to capture good vibrations along the way.


---
Nick Raskulinecz: Hyperrealism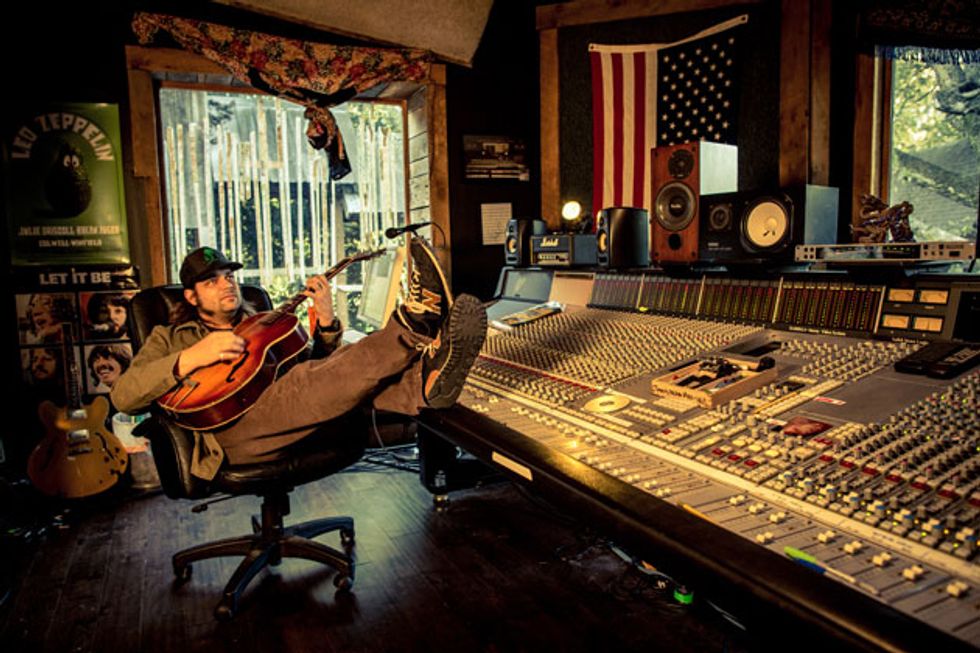 The point for guitarists, Raskulinecz declares, should not be mastering recording, but mastering their instruments and songwriting and arranging skills. Photo by Rich Tarbell
"I'm a guitar nut," says Nick Raskulinecz, whose studio resume makes the confession seem like a drastic understatement. The list of 6-string kingpins he's captured explosively big sounds for includes Rush's Alex Lifeson, Mastodon's Brent Hinds and Bill Kelliher, Foo Fighters' Dave Grohl, Guns N' Roses' Slash, and Alice in Chains' Jerry Cantrell. "It's always interesting for me to work with different people and see what the level of their real playing is," he says. "Sometimes the guys you're not expecting much from can rise up and blow your mind."
When we spoke, Raskulinecz—who has been nominated for 16 Grammys and won three—had just completed Korn's new The Serenity of Suffering. "The challenge was recording an album that sounds fresh with a band that's already made 11 albums," he says. "That involved finding new approaches for each guy's guitar sound, writing great riffs, and working hard on the sounds. Brian ["Head" Welch] and Munky [James "Munky" Shaffer] are both guitar heroes, and we spent a fucking year making the record. We spent a lot of time finding the right amps, cabs, and guitars. For the first time ever, I had them both in the control room with their pedals on the floor, facing each other. We cut every guitar track on every song that way. The three of us went on a guitar journey together."
For Raskulinecz, whose Rock Falcon Studio is located in Franklin, Tennessee, "every parameter of recording is different for every player. But one thing that's consistent is about players' picking hands. A player's right hand"—for righties, at least—"determines the dynamics, their rhythmic precision, and how chunky or open their sound is. When somebody is really heavy-handed, that affects the front of the amp—how the preamp reacts. It also comes down to tuning, which can go way out if you play hard. The first thing I do before a single take is get heavy-handed players to increase their string gauge. If you play .009s, I take the gauge to .010s. With .010s, it's up to .011s."
His go-to microphones are classics: the Shure SM57 and the Neumann U 47. "That's my combo," he explains. "These are good, dependable microphones to invest in. My first batch of mics was five SM57s and a Shure condenser mic, and I've been using them for 25 years. Sometimes I use a Neumann KM 84 condenser and sometimes a ribbon mic. It's important to me that I don't repeat myself session to session, so I mix it up. I even make sure I place amp cabinets in different spots."
"I've heard certain Vox AC30s that sound so beautiful you want to cry because the tone is so pure. That's the sound I'm looking for."
—Nick Raskulinecz

Asked where he typically places his favorite mic combo, Raskulinecz says, "I put both of them on a different speaker, on a different part of the cabinet, and combine the sound. For most of the hard rock and metal stuff I do, it's pretty close—1 1/2" to 2" off the grille cloth. I often put it right where the dust cover meets the speaker."
DI recording is a key part of Raskulinecz's strategy, too, although he says it's primarily for editing purposes. "I want to see the attack in the waveform—where the pick hits the string—instead of having a waveform that looks like a hot dog bun from beginning to end. And I split the signal so there are no effects—just the natural sound of the guitar. With a lot of effects on, it's sometimes impossible to hear exactly what's going on clear enough to edit efficiently. When I'm done editing, the DI recording gets erased, because I don't want that track to be able to be reamped."
That said, he's got at least 200 pedals on hand at Rock Falcon (an Electro-Harmonix Memory Man, MXR Carbon Copy, various wahs, and Fractal Audio's Axe-Fx are staples), and he is a fan of printing effects as a performance goes down. "If you're playing a part and you've got the sound—and it has an effect on it—that makes you play differently," Raskulinecz says. "It makes you create around that vibe and sound." However, he reserves the right to keep tremolo and vibrato out of original performances, often opting to add them in later using plug-ins. "The timing on both of those can affect the mix, and once you put them on with an amp, you're stuck with it."
Asked how the famous "staple" modeler factors into his lineup, he explains, "I use the Axe-Fx for overdubs—never the main guitar sound. I love big, powerful amps that you have to turn up about halfway to get them to speak and feel the power and the bottom end, with a big cab,. It's all about the low end for me. To me, none of the profiling amps have the same low end a real amp does. To get the right bottom, I love old Orange amps, old Marshall plexis, old Hiwatts … They're undeniable. I've heard certain Vox AC30s that sound so beautiful you want to cry because the tone is so pure. That's the sound I'm looking for."
The production maven captures the sound from said amps to Pro Tools. "I came from the analog world, but I'm all about moving forward," he says. "There's not one thing I miss about tape."
YouTube It
At work in his "full-on rock 'n' roll clubhouse," Rock Falcon Studio in Franklin, Tennessee, Nick Raskulinecz conducts the Hold Steady's Steve Selvidge in a soaring, melodic lead (at the 1:50 mark).
If he's got a band of killer players, Raskulinecz likes to record them performing together live to capture that energy—unless he doesn't. "It's 50/50," he says. "Sometimes the right thing to do is lay down a scratch guitar track, let the drummer play to that, and work from there. Some guitarists don't want to play the song the 10 to 20 times it'll take to get the drum take. They want to lay it down once and split, or come into the control room with me to listen. It's whatever works for the band—nothing written in stone." Bleed, however, is a no-no, live or not.
"I don't find anything positive in bleed," he says. "People talk about how it can be part of the vibe, but it's just a pain in the ass at the end of the day. When you add EQ to the guitar and it makes the cymbals brighter because they're in that track, or when you add more bottom to the drums and it brings the guitar up, that's not good."
For acoustic guitars, it's about environment. "It starts with finding a great place in the room," he relates. "That's usually a spot that's not too reflective or too dead—usually a wood floor with a reflective wall. But sometimes the best place to record an acoustic guitar isn't in the studio. A lot of them sound great in the control room—and then it's just mic technique. It's got to be an SM57 or a Neumann M 49, or both. I like to put one where the soundhole meets the fretboard, and the other right above the player's head, pointing down."
Asked what his biggest piece of advice is for guitarists wanting to record, Raskulinecz chuckles a little and replies, "Don't. Find somebody you enjoy recording with and just worry about playing your guitar and what's coming out of the speakers. Being able to record doesn't make a musician a better player or songwriter. Once technology takes over your life, you're cooked. You forget why you're really doing this, which is the music and the songs."